It's the holiday season so this income report will be short and to the point.
I made $5,512 in November.
It's the second month now where I broke $5,000 and it feels good.
The top reasons for this recent income bump include:
I now run Facebook Ads to the blog
I'm better at affiliate marketing
My friends made awesome courses that people love
Blogging Income: $5,420.73


You may notice that my expenses this month were above $3,000.  Yikes!!
The reason I don't mind my high expenses is that I spent the money in the following ways.
Hiring freelance writers to create content for me for $20 that might *potentially* make me thousands in display advertising and affiliate commissions in future.
Running Facebook ads that expose thousands of new readers to this site and increased my email list.
Running Pinterest ads to specific posts that are proven affiliate performers.  (To learn more about my Pinterest Ads strategy see this previous income report).
Spending money to learn how to run ads properly and keeping a net positive month while doing it.
If you want to learn Facebook Ads, take this course (ON SALE NOW):
If you're reading this before Sunday, December 16th, you can use the code 'EGGNOG' for a discount on the course.
Bobby Hoyt & Mike Yanda crush the Facebook Ads game and take bloggers through everything you need to know to increase your page views.
I personally took their Facebook Ads Side Hustle course they released earlier this year and it was epic so I know this course must be good too. My review is linked above.
I've come along way with Blogging.
Here are my 2017 & 2018 income reports so you can see the growth.
Side Hustle Income Reports: 2017
Side Hustle Income Reports: 2018
If you want to start blogging, here is my free 7-day course:
Next Up: Etsy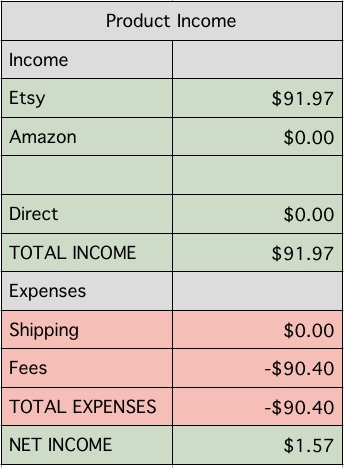 Etsy isn't looking too good this month. After my $500 month in August, I'm way, way down.
But… I sell bachelorette party printables and games and November is just NOT the month for this seasonal product.
I also haven't updated the shop in a long time since I'm trying to cut back on side hustles in November & December.
AND.. I didn't ship a big order out within 24 hours and had to refund the order. 🙁
Related Etsy Posts:
I'm stepping back from side hustles for the holidays
We moved our podcast from twice per week to once per week and stepping back kind of killed some of my nightly blogging motivation.
I also am focus on learning how to cook after purchasing an instant pot and a sous vide immersion kitchen gadget.
But… I have some big things planned for the new year and can't wait!
How was your November?  What side hustles are working for you?

Latest posts by Millennial Boss
(see all)