Learn how to complete a butterfly drawing with this how to guide. This is the perfect project for kids and beginners.
Drawing butterflies is a fun and easy project for all ages. 
Everyone loves butterflies, and your family will love this easy how to guide.
Included with the butterfly drawing how to guide are two black and white butterfly coloring pages. 
These coloring pages are fun for little ones and for all of your butterfly craft projects. 
Re-purpose your butterfly coloring pages into DIY craft ideas!
The nature lover in you will love using your butterfly coloring pages and learning how to draw your own butterfly with the how to guide.
Personalize each project and give what you create to family and friends.
Learn how to draw your first butterfly and color the butterfly coloring pages. 
Have fun with this simple and easy drawing project!
Butterfly Drawing for Beginners
Drawing a butterfly has never been simpler with this guide for beginners. 
To begin, you will need to download a copy of the guide. The printable is in the PDF file format.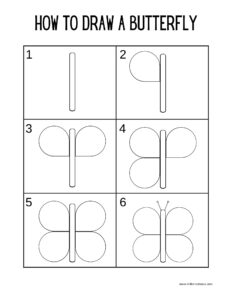 Print on 8.5" x 11" paper. You can use plain copy paper for this drawing project. 
Next, choose the paper you would like to practice drawing your butterfly on. You can use plain copy paper, scratch paper, or any paper you have around the house.
Using the materials you have on hand makes this a frugal and budget friendly project.
Once your how to guide is printed, take a minute to review each visual guide on the document. 
There are six steps to the drawing process.
Step 1: First draw the body of the butterfly
Step 2: Draw the top right wing. You will draw four wings total for your butterfly. Make each wing a teardrop shape.
Step 3: Draw the top left wing. Make the top right and top left wings the same shape and size.
Step 4: Draw the bottom left wing.
Step 5: Draw the bottom right wing. Make the bottom right wing the same size and shape as the bottom left wing.
Step 6: Draw two antennas on your butterfly. 
You are done! You can now color in your butterfly or decorate with different lines and circles on each wing. 
After you have mastered drawing your first butterfly, you can draw butterflies with different shaped wings, and make them different sizes. 
Get creative! This is for fun!
Butterfly Coloring Pages
You will find three butterfly coloring pages available for download with your butterfly drawing guide. Print them all, or only print what you would like. 
Download the butterfly coloring pages and print on 8.5" x 11" paper. You can print on copy paper, or a heavy weight paper.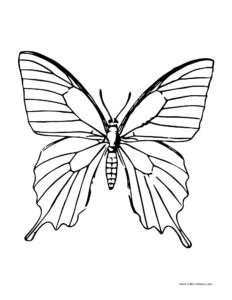 The butterfly coloring pages consist of two big butterflies and a page with medium and small butterflies. 
Color the butterflies and then cut them out. 
Mix and match the butterflies to re-purpose the coloring pages into craft projects!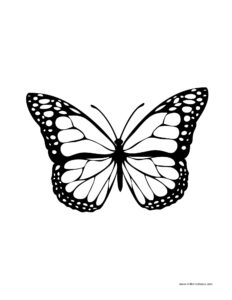 Your whole family will enjoy these coloring pages. 
You can color your butterfly coloring pages with crayons, pens, colored pencils, watercolors, and paint. 
Decorate with glitter and any other found objects in your home.
Other Projects for Your Butterfly Drawing and Coloring Pages
There are many ways to use the butterfly drawings you create. 
Re-purpose the coloring pages to turn them into new crafty ideas!
Butterfly Drawing Project Ideas:
Butterfly Journal Cover
Butterfly Greeting Card
Butterfly Journal Cover
Journaling has made a big comeback due to people spending more time indoors this year. You can create an art journal or a bullet journal.
A fun project with your butterfly drawing is to turn it into a journal cover page.
Before beginning this project print your butterfly drawing on a heavyweight paper, or create your own butterfly drawing. You will also need coloring pencils, crayons, paint, or glitter, glue, and scissors.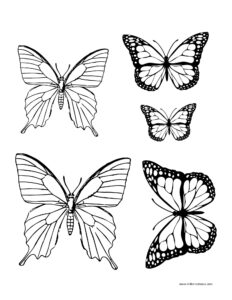 First, draw your own butterfly or use one of the coloring pages provided. 
Second, color your butterfly drawing template. 
Now it is time to decorate your butterfly. 
Decorate your butterfly by first coloring and then adding adornments like glitter!
Make your butterfly as colorful as you'd like.
Lastly, cut out your finished butterfly or cut the butterfly drawing. You will now attach it to your journal cover with your glue. 
You can also turn your butterfly page into a journal page as well as a journal cover.
Once you are done, enjoy your creation!
Butterfly Greeting Card
My children love to send "just because" greeting cards to family and friends. Your kids can use their butterfly coloring pages, or the butterflies they draw, to create greeting cards for everyone they love.
For this project you can draw, or print out, butterflies on heavyweight paper.
You will need your printed or drawn butterflies, glue, crayons, colored pencils, or watercolors, scissors, construction paper, and a pen to write your greetings.
To start your project, first print out or grab your completed butterfly drawings. 
Color the butterfly drawings in a multi-colored combination or make the colors simple.
Cut out the butterflies and glue them to your cards. You can make cards out of folded card stock or construction paper. 
After the cards have dried, you can now personalize the greeting cards with sayings for any occasion. 
Add butterfly greeting card sayings such as:
Spread Your Wings and Fly
Butterfly Kisses for You
Sending You a Hug With My Butterfly
Until you spread your wings you never know how far you can fly!
Everyone loves to receive handmade butterfly cards. Send one to family and friends for holidays or just because!
If you need a more complex butterfly template check out this one.
How will you use your butterfly drawing guide?
The butterfly drawing guide for beginners will provide your entire family with hours of fun.
Learning how to draw butterflies is a quick and easy project.
Use your finished butterfly drawings, or the butterfly coloring pages, to make all of the arts and crafts projects on your list. 
Make a handmade journal cover or create greeting cards to send to family and friends. 
We love this idea for using the butterfly template!
Have fun with your butterfly drawing printables and start creating today!
Related posts:

Latest posts by Sasha Hutchison
(see all)