My strategy for August was all about scaling my time.
I spent two weeks visiting family and working on the East Coast and knew I wouldn't have time to spend on the blog (or the podcast).
I also came to the realization that even if I were a full-time entrepreneur, which is something I've thought about in the past, I wouldn't want to spend my entire day working behind a computer screen.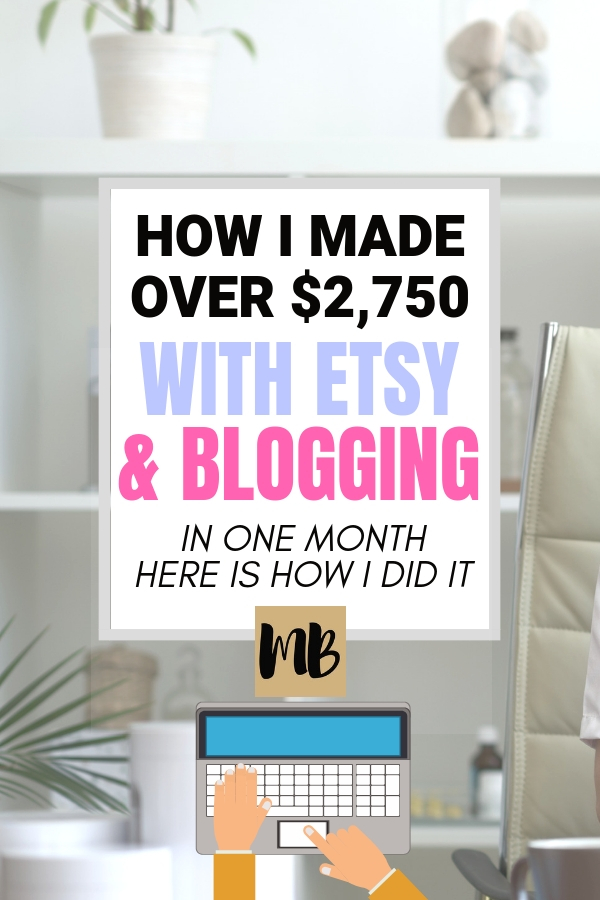 The benefit of working full-time and side hustling is that I can spend more money early on than a full-time entrepreneur who needs some of their business revenue to live.
I decided I'm OK spending at least $1,000 per month growing my business.
The hope is that this capital will scale my income way beyond what I would have been able to do myself.
Experiment 1 :  How can I scale with Facebook Ads?
August was all about experimenting with Facebook Ads.
I was inspired by a Teachable Facebook ads course I took in March called the Facebook Side Hustle Course as well as the breakout month blogging post from the Savvy Couple blog.
They both mentioned driving thousands of clicks to their sites at a cost per click that was so low it was made up by the ad income and affiliate revenue those clicks drove.
I decided to run about $100 worth of ads myself to see if I could replicate their success.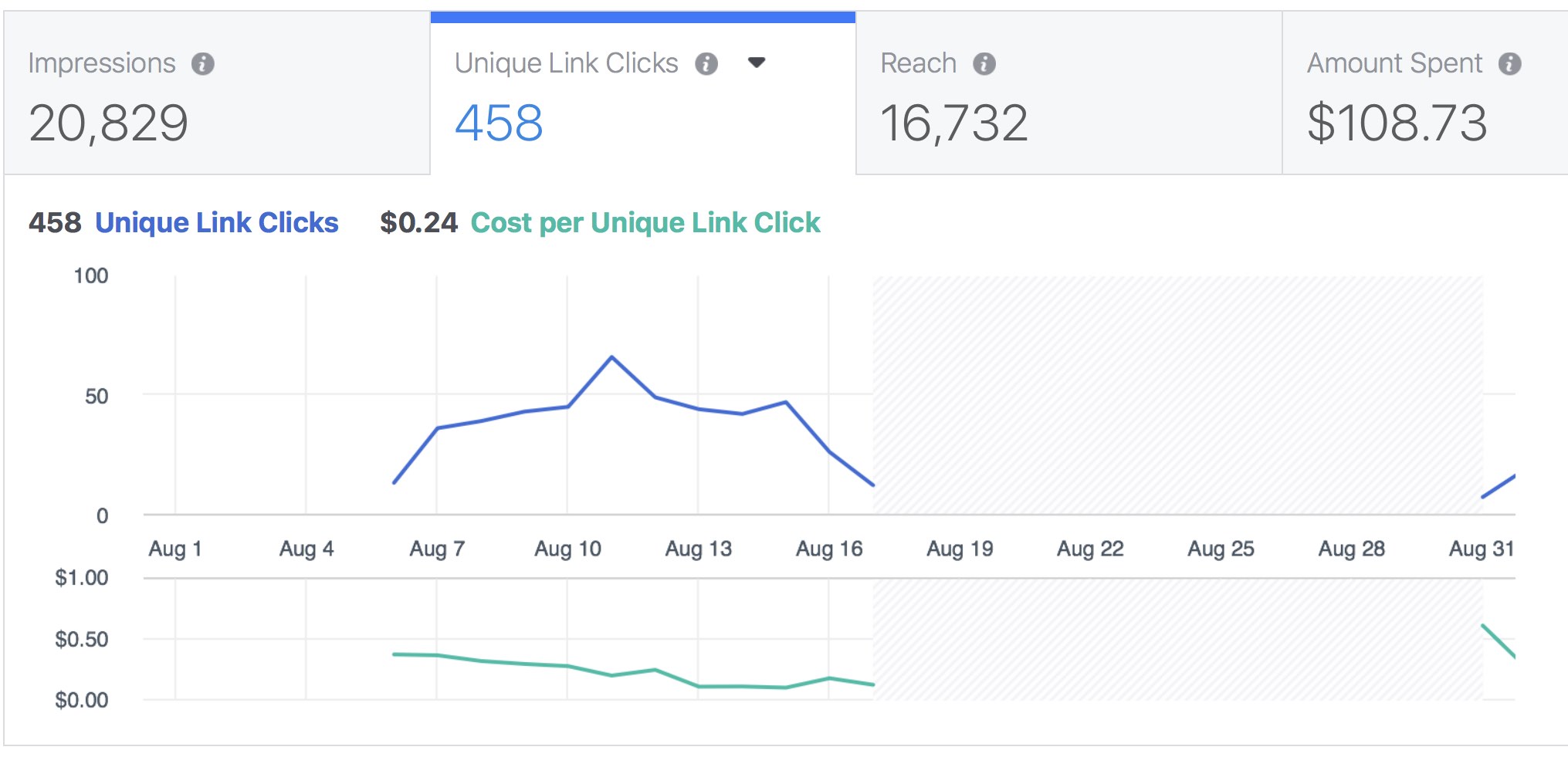 I think 24 cents per click isn't low enough for me
As you can see in the above pic, I got down to an average of 24 cents per click which just doesn't cut it.
Now, 24 cents per click could be worth it depending on the product I was promoting on the landing pages.  If I was promoting a $100 product, it could be a good deal.
I was just going for straight up traffic though so I ended up pausing the ads.
I did notice that the cost per click on individual ads kept going lower and lower the longer I let them run.  I also had some ads that performed better than others in their ad set.
I quickly turned off the ads that were underperforming their peers in an ad set to not waste money.  Facebook also seems to balance that out automatically.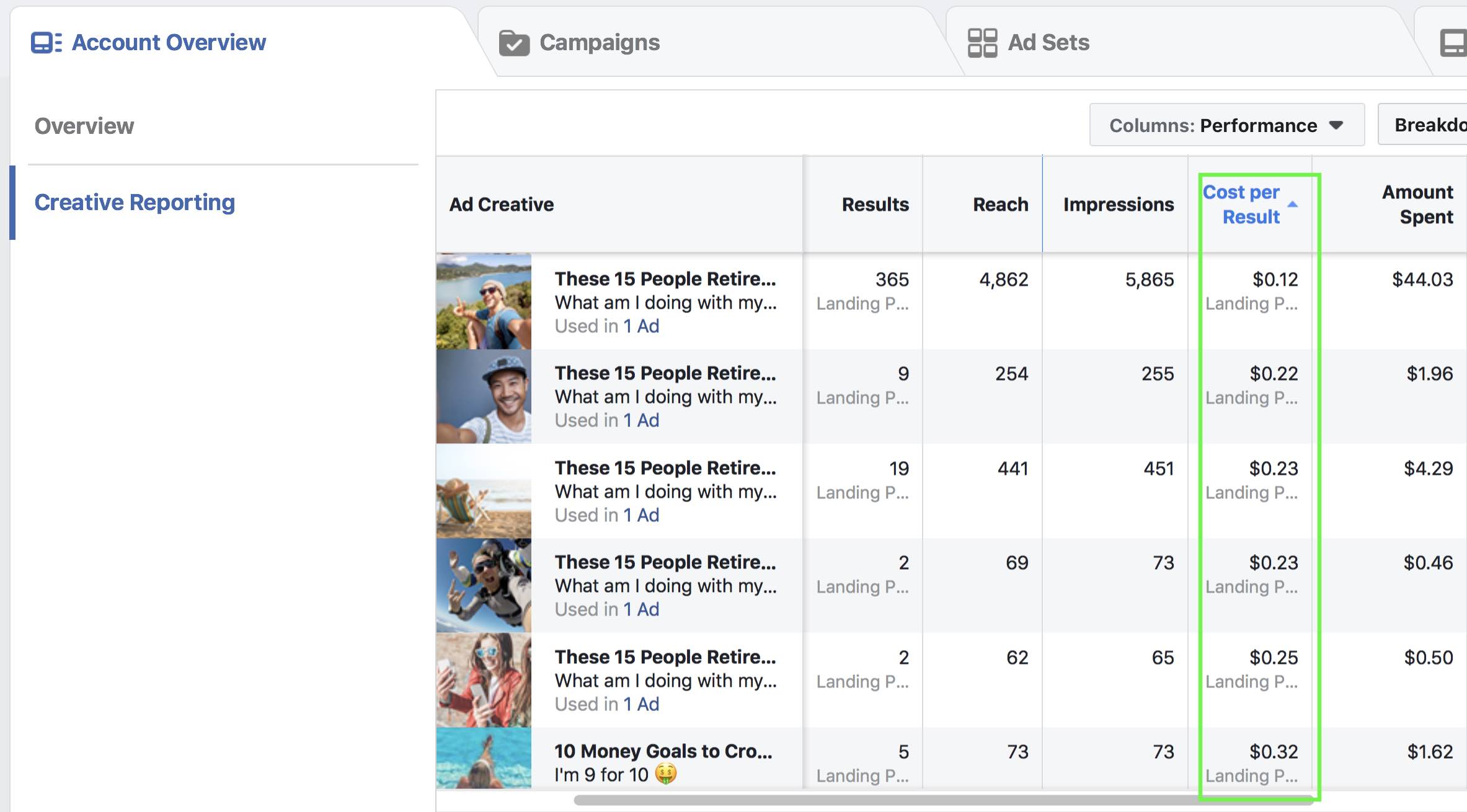 One ad was down to 12 cents per click!
One ad was down to 12 cents per click and that made me super hopeful!  Perhaps I could figure out better targeting to drop that cost even lower.  Or, I could put an affiliate link on the landing page and make up the cost with a sale.
As you can see from the above image, I chose multiple images for the same ad to see which one had lower cost.   The images are all provided by Facebook through shutter stock and you can choose them when you set up the ad.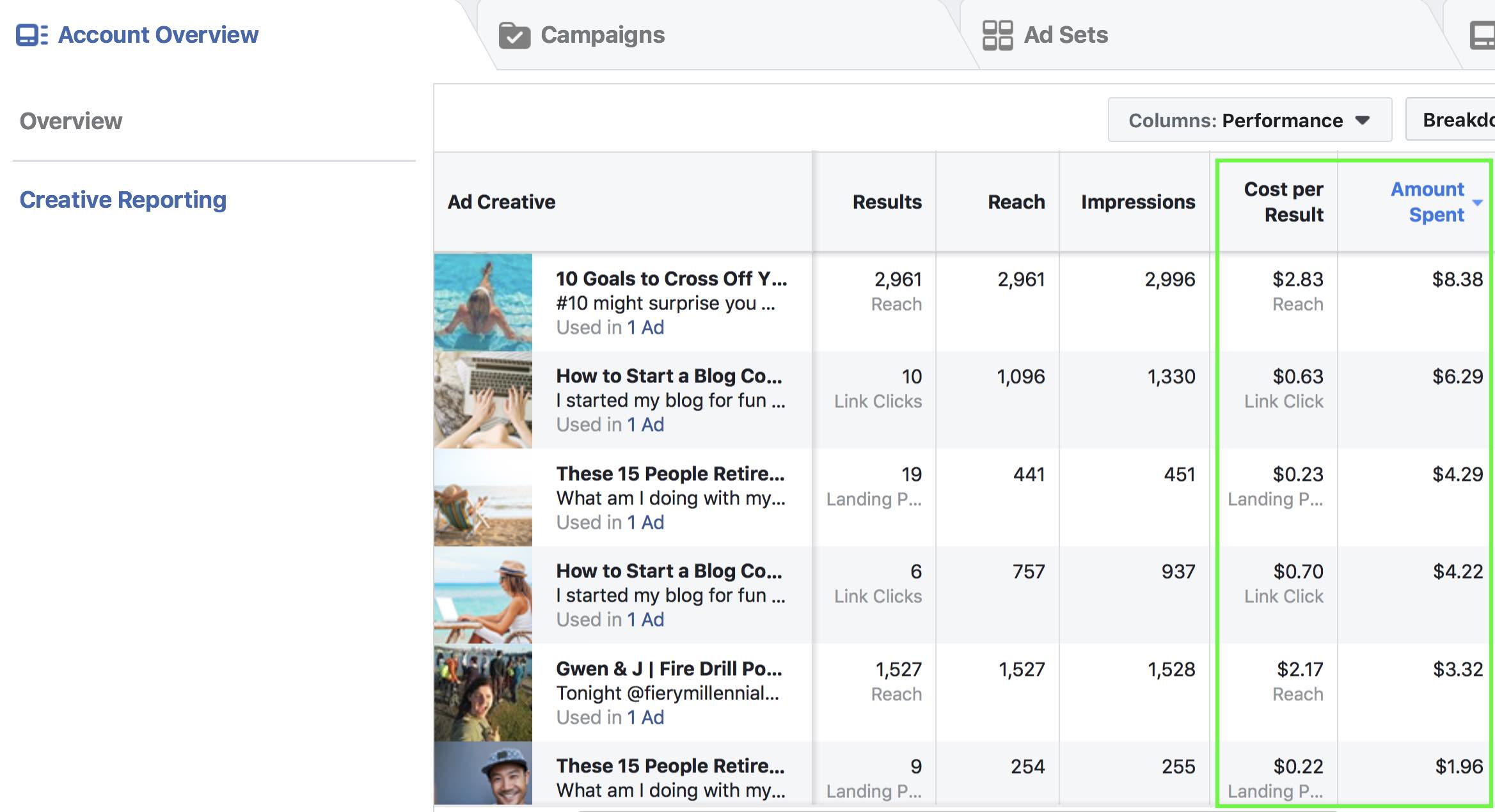 I also tried two reach campaigns as well to see the difference there.  That is why you'll see cost per results in the $2 there.
In addition, I tried to do a "How to Start a Blog ad" that I've been targeted for by other bloggers on Facebook. I assumed, if they're running this ad, then maybe I should try it?  It didn't work for me.  Too expensive and no result.
Perhaps I didn't have the right targeting for people who want to start a blog.  I do have this How to Start a Blog Tutorial that I wrote for this ad though.
What will I do next month with Facebook Ads?  Take this course.
There is a new Facebook Ads for Bloggers course that just came out as I'm writing this (and is $100 off until Sunday).  This is the second Facebook course from Bobby from Millennial Money Man and Mike Yanda from Laptop Empires.  I LOVE their podcast for bloggers and marketers.
Bobby drove 2 million visitors to his site last year with Facebook Ads and if this second course is anything like the first course I took in the Spring, it's going to be awesome.
Sign up for their course while it's $100 OFF here.
The price goes back up after Sunday but is definitely still worth the value.
Almost $2,300 in Blogging Income
Blogging revenue is down from my July income report and that's OK.
Everyone is probably on vacation and not reading blogs.  I did go up in display ad revenue though.
That is due to the hard work of my VAs who have helped me produce Pinterest pins and new seasonal content.


If you only had the money for two tools on your blog I would choose ConvertKit (for emails) and Canva for Work (for making pictures). Canva is free but I have upgraded to the "for work" subscription.
If you do have the money for one more tool though, MAKE IT TAILWIND!
I started using Tailwind more regularly in July & August and it's made the $10 per month cost worth every single penny.
Tailwind is a social media scheduler particularly for Pinterest and Instagram.
Those two social media platforms reward you for posting regularly every day and are great traffic drivers to your site.  (I first got to 50,000 page views per month primarily through Pinterest traffic).
It's annoying to have to post every single day though.


Tailwind is mostly known for Pinterest scheduling (and the tribes feature is AMAZEBALLS if you haven't tried it) but lately I've been using Tailwind for Instagram scheduling.
I upload pictures, add descriptions and schedule them out with Tailwind's suggested hashtags.
I'm now scheduled out through October.
Tailwind also suggested the optimal time to post which has resulted in at least 20% more engagement with each of my posts.  I can't even count the number of re-shares on Pinterest I've received from the Tribes feature either.
Try Tailwind for a $15 FREE credit here.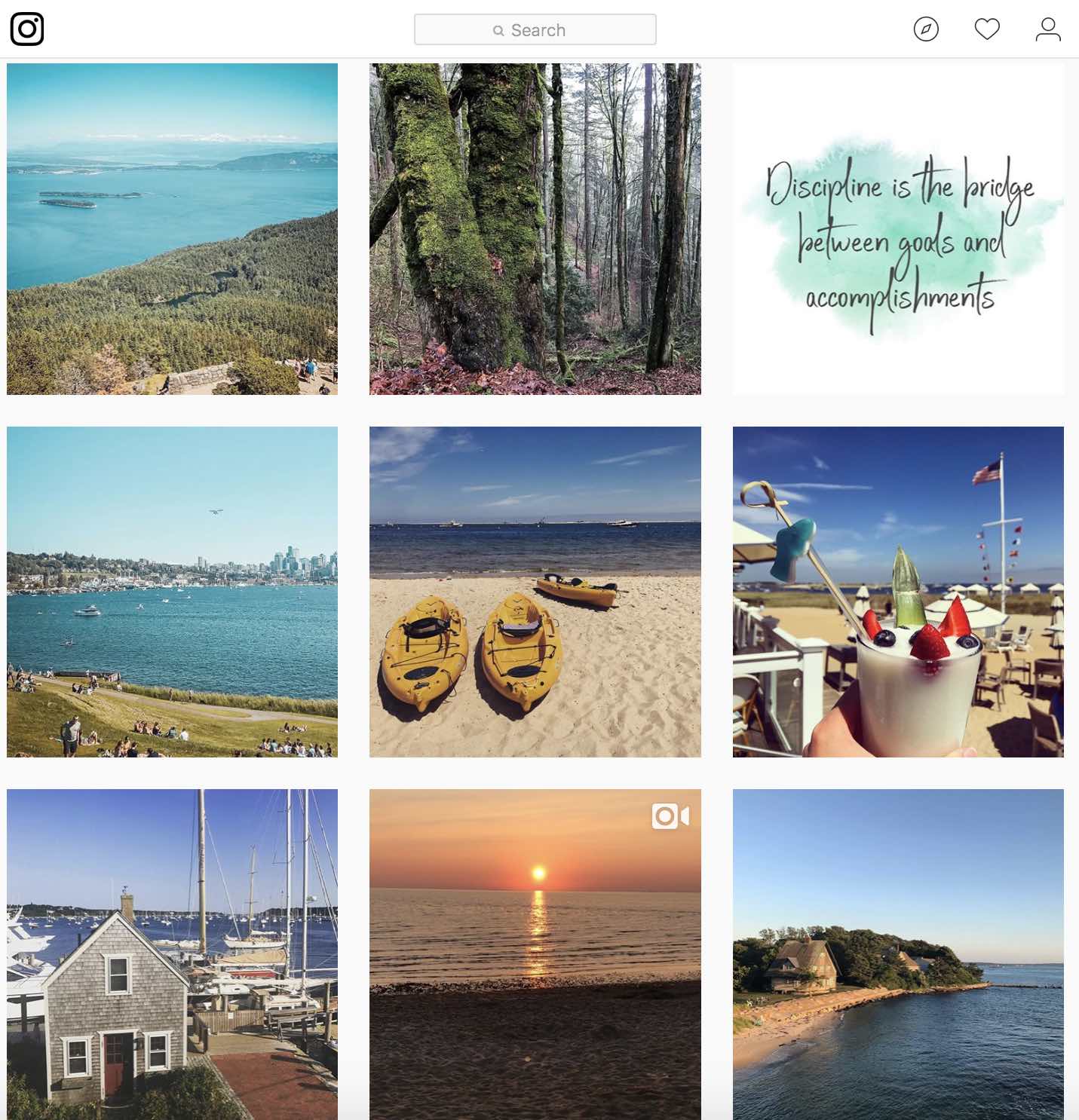 Follow me on Instagram @millennialboss for more adventure pictures.
Related Posts:
Experiment 2 – Pinterest Ads
I also tried Pinterest ads this month and also spent around $100.
The goal here was to drive email sign ups to free courses.
I was able to get low cost per click but no commissions from affiliate sales on the courses.
I also had a lot of unsubscribes.  Way more than usual.
The 7-day free challenges I hear are working so well for other bloggers are not working for me.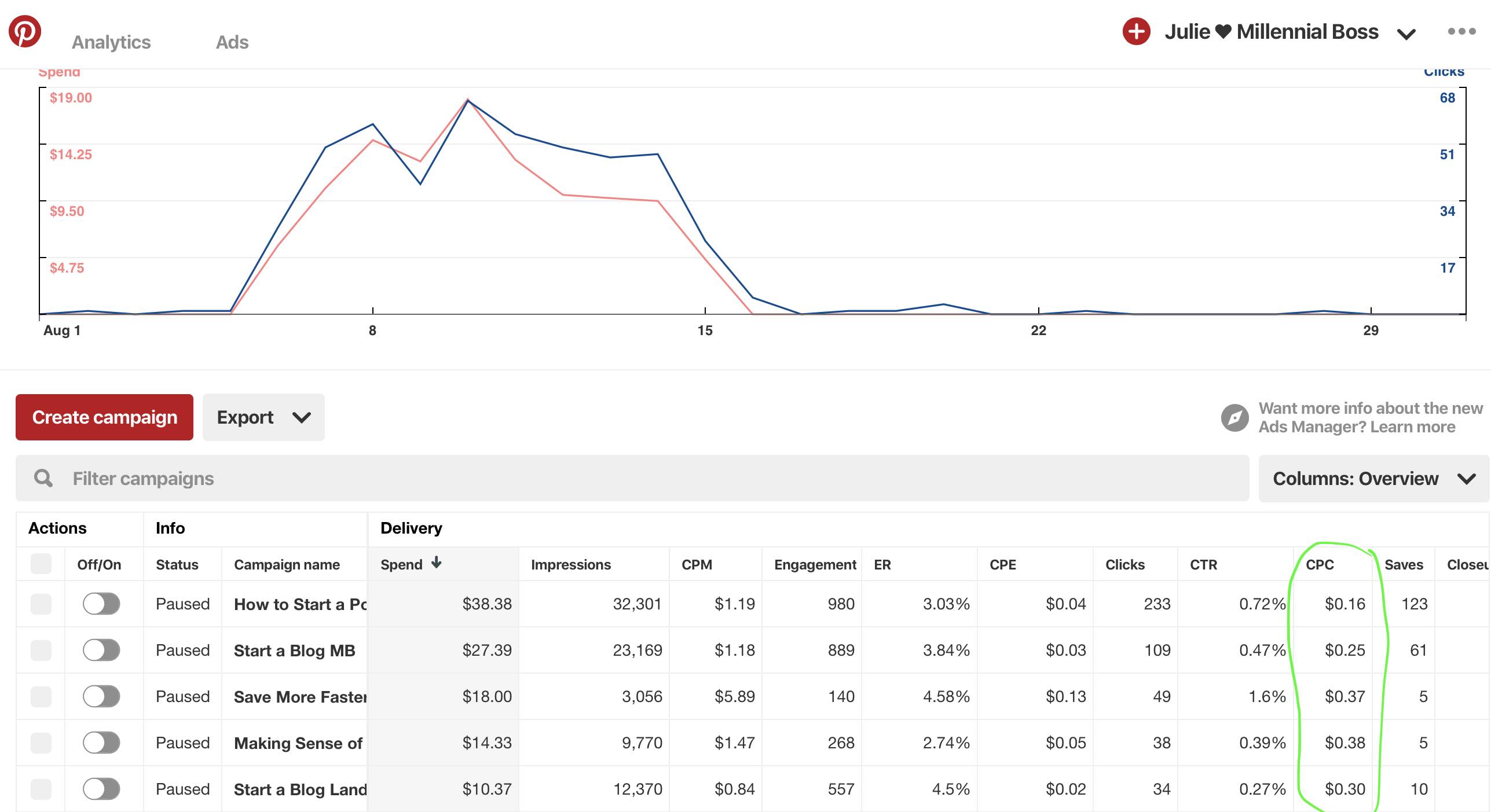 If I could actually convert on the email sequences I created than it would be no problem since I'm getting low enough cost per clicks (at least on some of them).
I was listening to the latest Blog Millionaire Podcast episode and he said that his email sequence open rate improved when the text was shorter in the email.
I've been trying to provide 100x value and stuff as much helpful stuff as I can in the emails.  Looks like that's the wrong strategy to keep people engaged and that makes sense.
I also tried to run traffic campaigns like Facebook with Pinterest ads but couldn't quite figure it out.
What will I do next month with Pinterest?
I'm back to running Pinterest ads again but this time to some of my top converting affiliate posts which are mostly reviews of wedding things and tutorials.
I'll report back next month!
(If you want to be notified, join the email list at the bottom of this page).
Etsy revenue is up!  $460
So Labor Day Weekend is apparently HUGE for the bachelorette party industry.
Sales were off the charts at the end of the month and I thought I was going to hit $500 for the first time but fell short.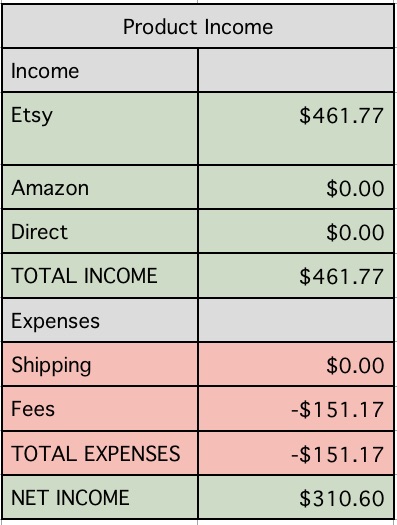 This result was due to the hard work we all put in during the summer Etsy masterminds.  Check out the Etsy shops our mastermind members built here.
I should mention that we also had a blogging mastermind which was also super motivating and awesome.  Gwen wrote a nice recap of the blogs our group built here.

The 1 Bad Thing about Etsy this Month
The customer is always right is easier said than done sometimes.  I started to have a lot of people interested in my 'WOLF PACK' bachelorette temporary tattoo line (modeled after the Hangover) but not for bachelorette parties, for wolf themed kids birthday parties.
One mom bought the half "bride tribe" half "wolf pack" bachelorette party pack not realizing that half the pack would say bride tribe, even though the pictures, the description and the title all say that.
I refunded her order after she complained to me via message.  It was a $30 revenue loss but since the tattoos are so cheap, not much of a physical goods loss.
Bummer.
Are Etsy Promoted Listings Working?  Yes.
As you can see I'm making triple the revenue (almost) on the cost of promoted listings.
I was extra careful to only promote my best sellers which helped keep promoted listings profitable.


Promote listings just mean that my listings show up near the top in search if I win the bid.
Google promoted listings are not working!
Google wasn't so profitable for me though.  This is something you can turn on automatically with Etsy.  I have the cost so low though that I don't mind right now.


Now to my last side hustle… real estate!
Rental Income is $0 but we close on Tuesday!
The house closes on Tuesday! YAYYYY!
We had 3 offers at list this summer (the first buyer backed out and we had two offers the second time around). All offers were within one week of putting the house on the market.
This is all due to the amazing renovation work that my husband did earlier this summer.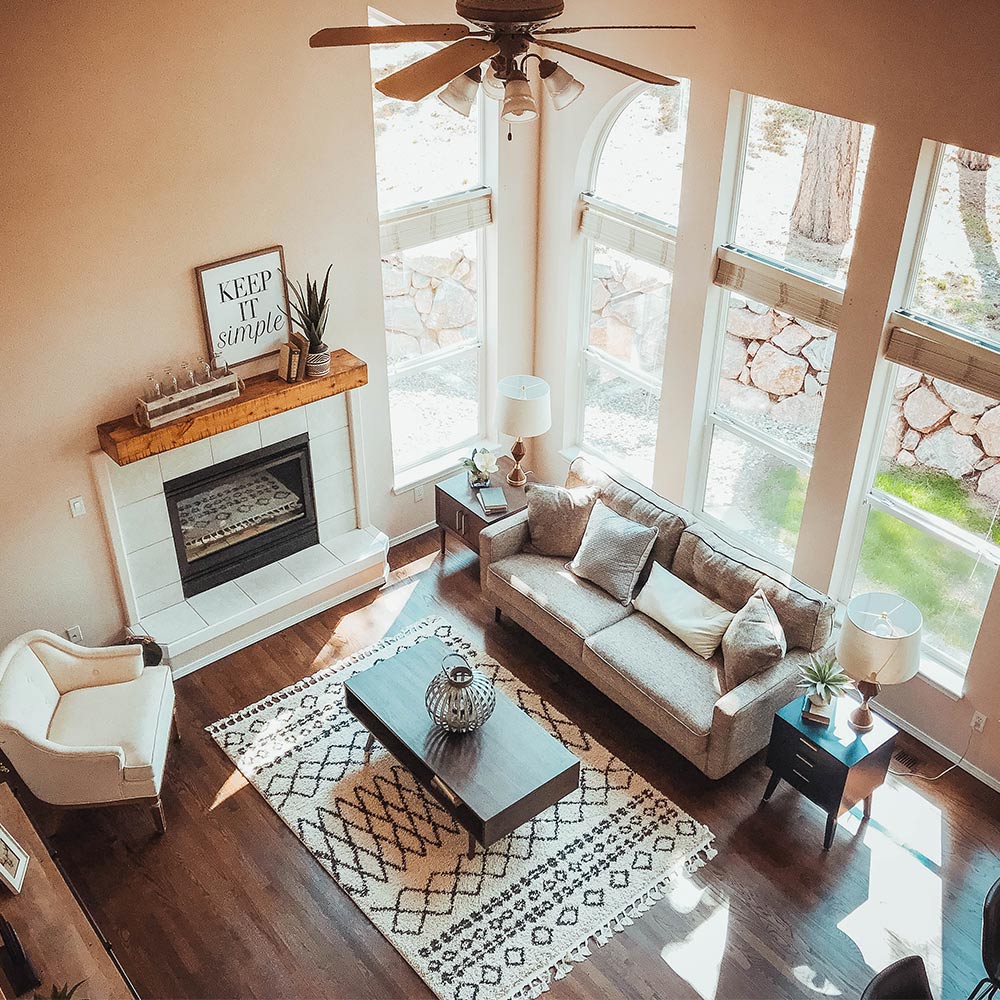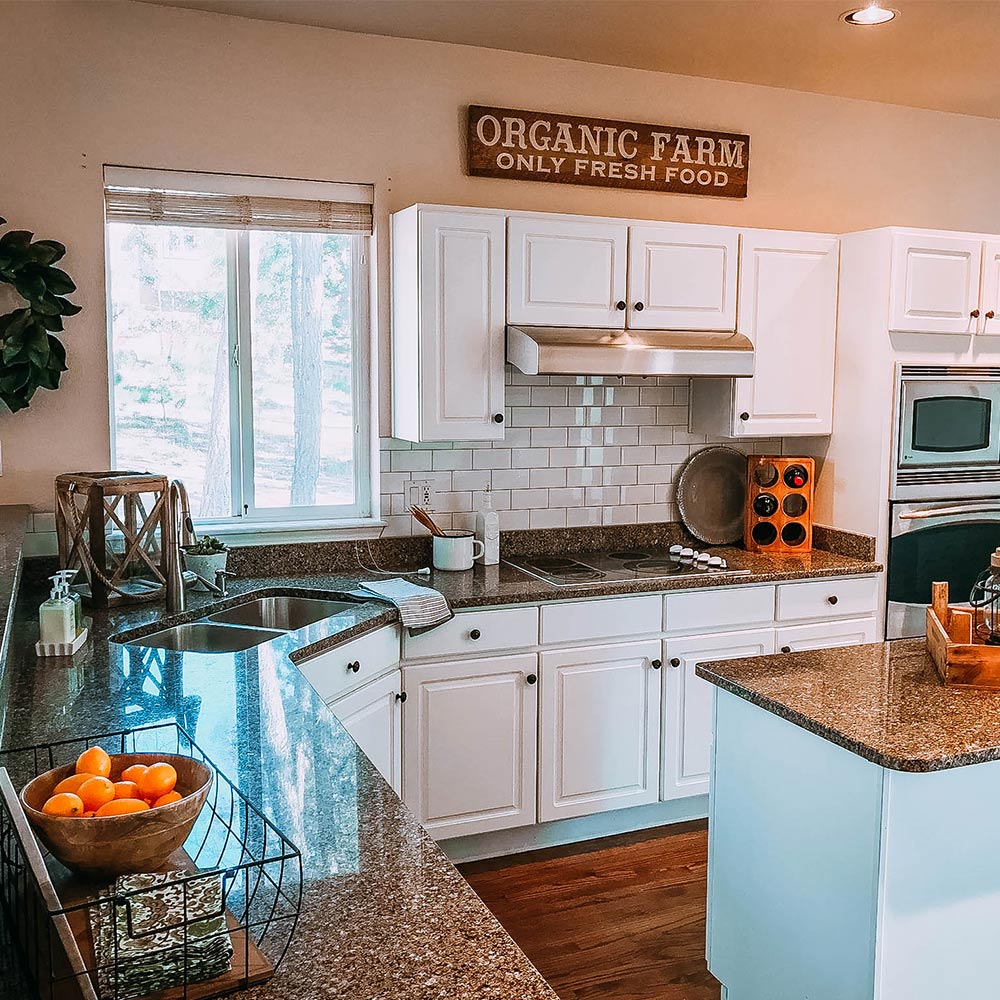 Read a few of our renovation tutorials here:
PS – I realize that I'm not including tax benefits, principal pay down or anything in the calculation below but the house is almost off our books.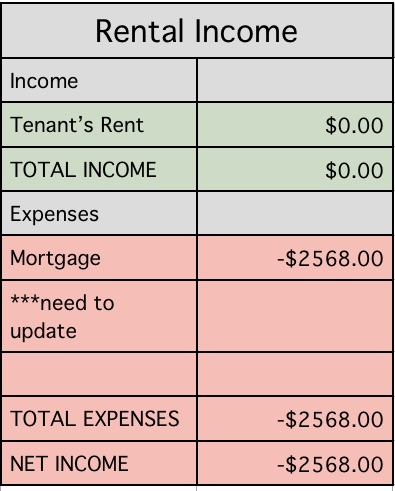 What's next for real estate?
We want to invest the proceeds of the sale into more real estate.  Stay tuned.
How did your summer side hustles go?

Latest posts by Millennial Boss
(see all)