Add to your craft supplies with these free heart templates! As a frugal mom, I like to DIY as many activities as I can for my kids. 
You can never have enough heart stencils for your Valentine's day projects, school projects, or for love notes to give to your sweetie.
With schools going online, I have found myself scrambling to have enough craft supplies for my kids. Playing outside in the Texas summer heat can only entertain them so long!
That is where crafting comes in. 
These free heart stencils will keep your kids entertained for hours. Whether they are a preschooler, bigger kid, or a kid at heart, everyone loves creating with hearts.
Free Printable Heart Templates
Six pages of heart templates PDF are included. Download and print the free heart templates. You can print out on card stock and trace them onto colored construction paper, or use them as printed.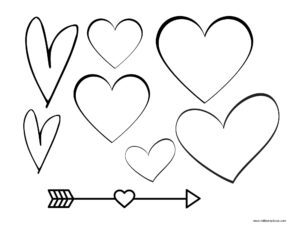 Cut out your hearts and mix and match to customize each of your projects.
There are small hearts, medium hearts, a large heart, and even hearts made of a stitched border. You will also receive a selection of hearts with love messages to give to all of the sweethearts in your life. 
Heart Template Project Ideas
Valentine's Day Card
Valentine Anytime Card
Heart Love Notes
Heart Shape Garland
Heart Template for Quilting
Love Coupons
Heart Template for Pictures
Heart Template for Cake Topper
Candy Heart Template Gift Tag
Valentine's Day Cards
Every year for Valentine's Day, my children like to make homemade cards for all of the people in their lives. They will take a heart template and trace out the heart shape from different colored paper. They will then glue the heart onto different card shapes. You can make cards in the shape of squares, triangles, hearts, anything!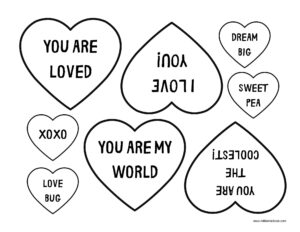 When the heart has dried onto the card, they will paint it, or write a message on it to the person receiving the card. People love receiving homemade Valentine's Day cards.
Valentine's Anytime Card 
You don't have to save giving cards to the people you love for Valentine's Day. Send a Valentine to Grandma during the summer. My children did this last year, and I couldn't believe how much their grandparents loved this idea.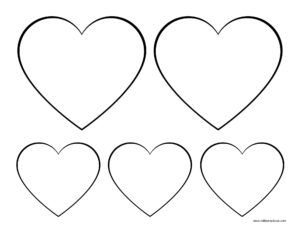 For our "Valentine's Anytime" cards, we wrote summer themed messages on them such as "You're Berry Sweet" or "You are my Sunshine."
Heart Love Notes
Create love notes with the heart templates to put in your spouse's lunch box, to put on your child's door, or to leave in a hidden spot for your loved one's to find.
A great idea is to write love notes on your cut out hearts and then tape them to your child's door. They will be excited to see these notes made just for them.
Click the image below to download the free heart templates!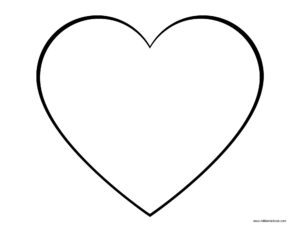 You can also glue the love notes on a decorated piece of cardboard. Have your family and friends write special messages to the love board recipient. This would also be a great idea for students to do for their favorite teacher!
Heart Shape Garland
A heart garland is a simple way to make a room more festive. You can do this project in under an hour. I recommend using felt for the hearts in this project. Felt gives the garland a good weight, the material is cheap, and you can use the scraps for tons of other fun projects.
To make the garland, gather a piece of string, or yarn, a pen, some scissors, and fabric glue.
Print out your heart templates. You can make a large heart garland or a mini heart garland.
Cut the heart shapes out and trace the shape onto the felt with your pen. Take the fabric glue and put it on one side of your felt shaped hearts. Line the hearts down the length of the string, one on each side, and then sandwich them together. Make sure to press the hearts firmly.
Once the garland has dried, hang it up. You can hang it in a place that will surprise your sweeties. Be creative! Your Valentine, or Galentine will love this adorable garland.
Heart Template for Quilting
You can use the heart templates for your next quilting or sewing project. Use the template for applique as well.
Click the image below to download the free heart templates!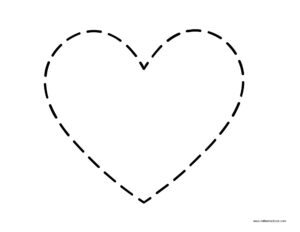 For these projects, you will use the heart shapes as a stencil. Trace onto your fabric of choice and cut out. Let your imagination guide you!
Love Coupon
Love coupons are a unique gift to give to your Valentine. I would recommend the stitched heart template for this project. 
Print out your heart shapes. Cut them out and add your own special message to each one. 
Messages you can use for this project are: good for one night without the kids, romantic dinner for two, breakfast in bed or chore of your choice.
Heart Template for Pictures
Create your own pictures with your heart templates. 
Print out your heart shapes. Cut out your heart shapes, and then use as a template for your pictures.  You can make a heart cutout and then place it as a frame around a picture. Glue your heart shape over your picture.
Additionally, you can also use the heart templates as a stencil for your pictures. Trace your heart shape over your picture and cut the picture out. Frame this picture and give to your loved ones.  
This is a very easy and versatile project that anyone can do.
Heart Template for Cake Topper
Use the heart templates with messages on them as a cake topper. You will need heart template cutouts, glue, and toothpicks for this project.
Print your templates. Cut out one template and a blank piece side the same size as your heart template.
Click the image below to download the free heart templates!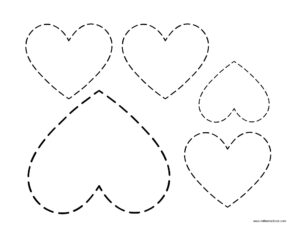 Glue one side of the template and sandwich around a toothpick onto the blank piece.
After they are dry, stick your toppers in freshly decorated cake. These are adorable finishing touches to any baked good project.
Candy Heart Template Gift Tag
Every year my children's school throws a Valentine's Day party. I started making DIY candy gift bags for my children to give to their classmates. 
Making personalized heart gift tags for candy bags, or other candy gifts, is the best way to create a unique gift.
To use your free heart templates for this project, print out your chosen templates. Cut out the templates and decorate them for each candy gift. You can write messages on them or color them. 
After you are done decorating the gift tag, punch a hole in the top and attach the tag to the gift with a piece of ribbon. 
This is an affordable way to make a lasting impression with your homemade heart gift tags.
What will you use your free heart templates for?
The project ideas for these templates are endless! Print them out and make your next frugal DIY project with them. Celebrate the sweeties in your life with a homemade gift made with love.

Latest posts by Sasha Hutchison
(see all)