My online income is down nearly 800 dollars this month and I.DON'T.CARE.
I'm enjoying the start of summer and having a blast spending more time taking care of me.
I used to spend every free minute that I was not in my 9-5, working on my side businesses.
Ever since I made my health a priority, I've had less time to work on this blog and my Etsy account.
And that's OK.
The cool thing is that my income stayed over $2,000 despite putting less time into it.
Passive income is a cool thing.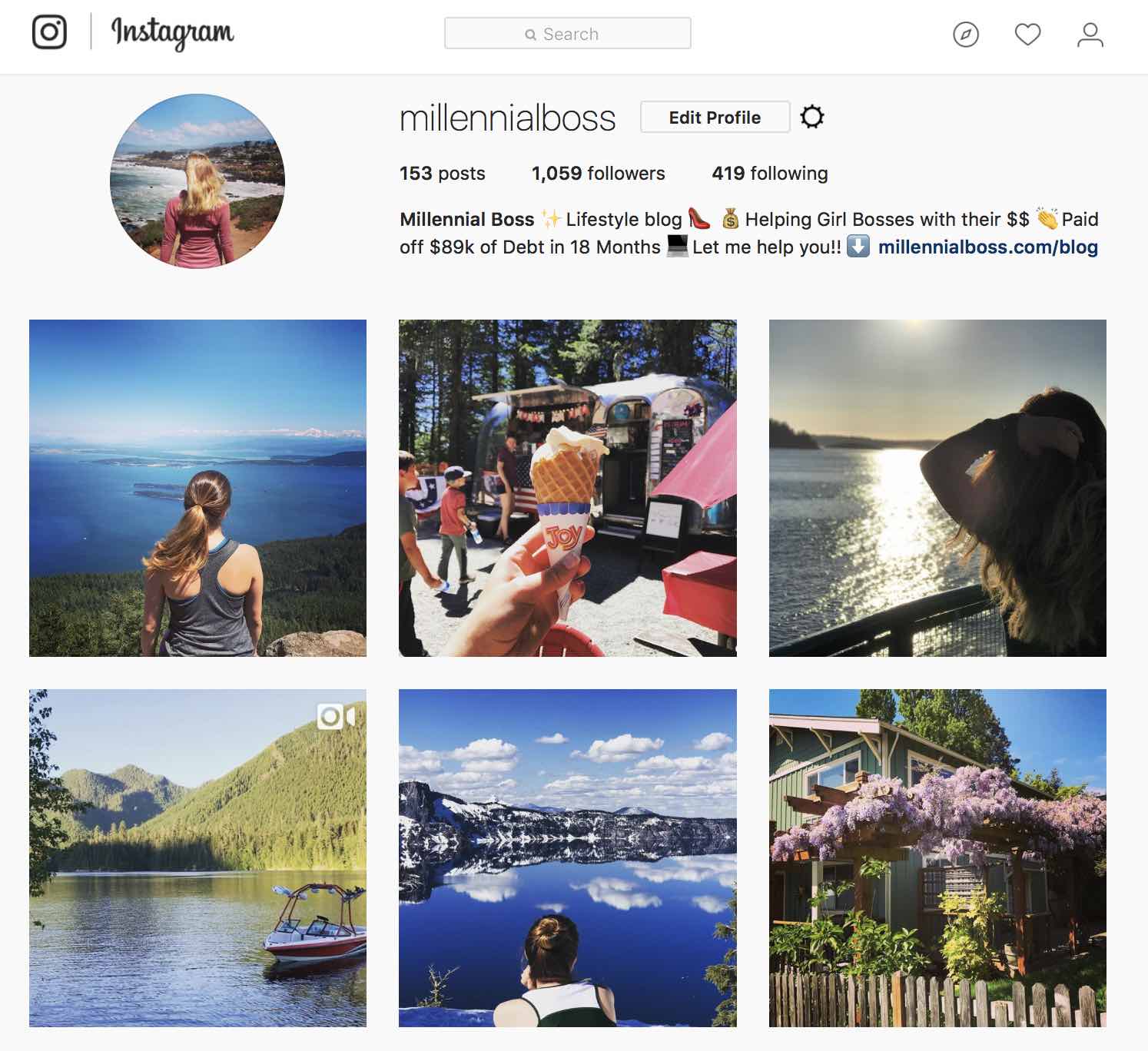 If you want to see what I'm up to in real life, follow my Instagram account @MillennialBoss.
Doing Yoga & Learning New Things
As I mentioned, I've been working on my health this month and have started hiking a lot more, doing yoga with ClassPass, and lifting.
ClassPass has been pretty awesome and I still can't believe I signed up for 5 yoga classes this month for only $10.
I like that I can schedule classes at different studios and even when I'm traveling.
It's also really easy to cancel as long as you cancel within 12 hours. I've admittedly cancelled twice but I'm a busy gal (and sometimes I lose my motivation to workout that day).
If you want the discount I received, sign up for ClassPass here and get your first month for $10.
Why I Share My Online Income Reports
This site has changed over time.
I actually named it "Millennial Boss" because I wanted to share tips for millennials who found themselves in management positions.
I then started writing about debt payoff because that is what I was going through at the time. I paid off $89,000 of student loan debt.
The "Millennial Boss" title quickly took on a different meaning. I started learning more about the FIRE movement and getting into that, so it became more about being a "boss" of your finances.
My latest kick I would say is entrepreneurship. I find side hustles intriguing so I started posting this monthly income report series to catalog those adventures.
I still work a 9-5 (THAT I LOVE) so this is just a fun side gig for me.
In no way does this money pay my bills.
I find it pretty cool though that I'm earning money on this site, and I want to share my experiments and progress in these income reports.
Related post: The Millennial Boss tutorial to creating your own blog
Every Post from June
I posted 7 times in June which is about average for me. Here are the posts:
It's been fun to add the "Feature Friday" posts in to the lineup.
On Fridays, I share stories about people who have paid off student loan debt or are entrepreneurs.
**If you want to be featured on Feature Friday, learn how.
Blogging Income – $2,148.69
I had a traffic spike at the beginning of June but something weird happened with my FlexOffers account where the reporting stopped working.
It showed no income earned despite the crazy traffic I was getting to one post (and when that post gets traffic to it, it makes money).
I still do recommend FlexOffers since I've earned thousands from it already this year, but I switched one of my highest performing products to another platform.
FlexOffers has since credited my account for the money I earned but it took a few weeks. They were very responsive during the time that the reporting was messed up so points to them.
Try out FlexOffers here and see if any products you love are available for promotion.


New Blogging Expenses This Month
 New online photoshop tool
I started paying for PicMonkey which is a cool image editor/online photoshop tool.
One of the pins I made using PicMonkey is starting to go viral on Pinterest which is cool.
It's an image with a gold sparkly overlay which is very easy to make with PicMonkey.
As you can see, PicMonkey is pretty cheap too.
Sign up here for PicMonkey and try out its features.

     2.  Rockstar Finance promotion
Rockstar Finance offered an opportunity for promotion on their site and I jumped.
They have really great personal finance content from a variety of bloggers.
I've actually never been featured on Rockstar Finance so this was a cool way to get on the site.
Cheating maybe?
Either way, $50 is not that much money for promotion.
I'm still calculating the return, however. The amount of referral traffic I'm getting is lower than expected.
Related post: The Ultimate Boardbooster Tutorial – Zero to Pinning in 30 Minutes
Beyond the new blogging expenses, I write about my regular blogging expenses in the 15+ tools I use to monetize my blog.
I recommend reading the post if you don't know about any of the expenses I have listed.
EDIT: I just downloaded the Pinterest Strategies Ebook and read the whole 95 page ebook in one night. If you're a blogger and you haven't read this – I'm not joking- get this. 100% endorsement here. This is the first "meaty' ebook I've bought and the Pinterest Strategies in here are legit. Check out Pinteresting Strategies here.
JOIN THE OFF-THE-BLOG EMAIL LIST
If you want my off-the-blog blogging tips (where I share all the good stuff) then join my email list:
Physical Product Sales – $24
What happened this month, Etsy?
I had only 2 orders this month to 9 orders and nearly $200 earned in May. I'm so bummed.
Truthfully, I need to spend the time investigating why my products are not converting this month.
I had many views to the listings and people favoriting the listings but lower conversions.
Either another seller came into the space or my ads need tweaking.
Probably both.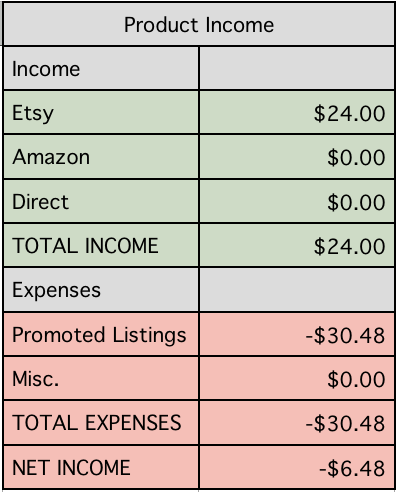 Alas, I need more time in my day to get to this stuff.
It's just lower on my priority list for summer.
I did take a bunch of pictures that I can use to promote the products and probably should take more when I have a free weekend.
I need to edit them and upload them to the listings.
1×1 Coaching – $0
I didn't work with any clients this month for 1×1 coaching.
Usually people sign up with very specific questions they want answered about blogging or entrepreneurship.
If you want to talk to me about something specific, schedule an hour with me here.
I'm no expert by any means but I can help someone get to the point that I'm at now.
Social Goals & Following
I started reporting my social goals and following the past few months.
Last month I said I wanted to grow the Millennial Boss Facebook page but I just didn't have the time to focus on it.
Hopefully I'll have more time this month (but likely not).
I share things on social media that I don't share on the blog, so I recommend you following me there if you like the site.
Follow me on Twitter and join 3,488 followers
Follow me on Instagram and join 1,058 followers
Follow me on Facebook and join 407 followers
Follow me on Pinterest and join 4,216 followers
That's a wrap on the monthly income report.
Let me know if you have questions in the comments below.
Also, share what you're doing! What is working for you in the side hustle space?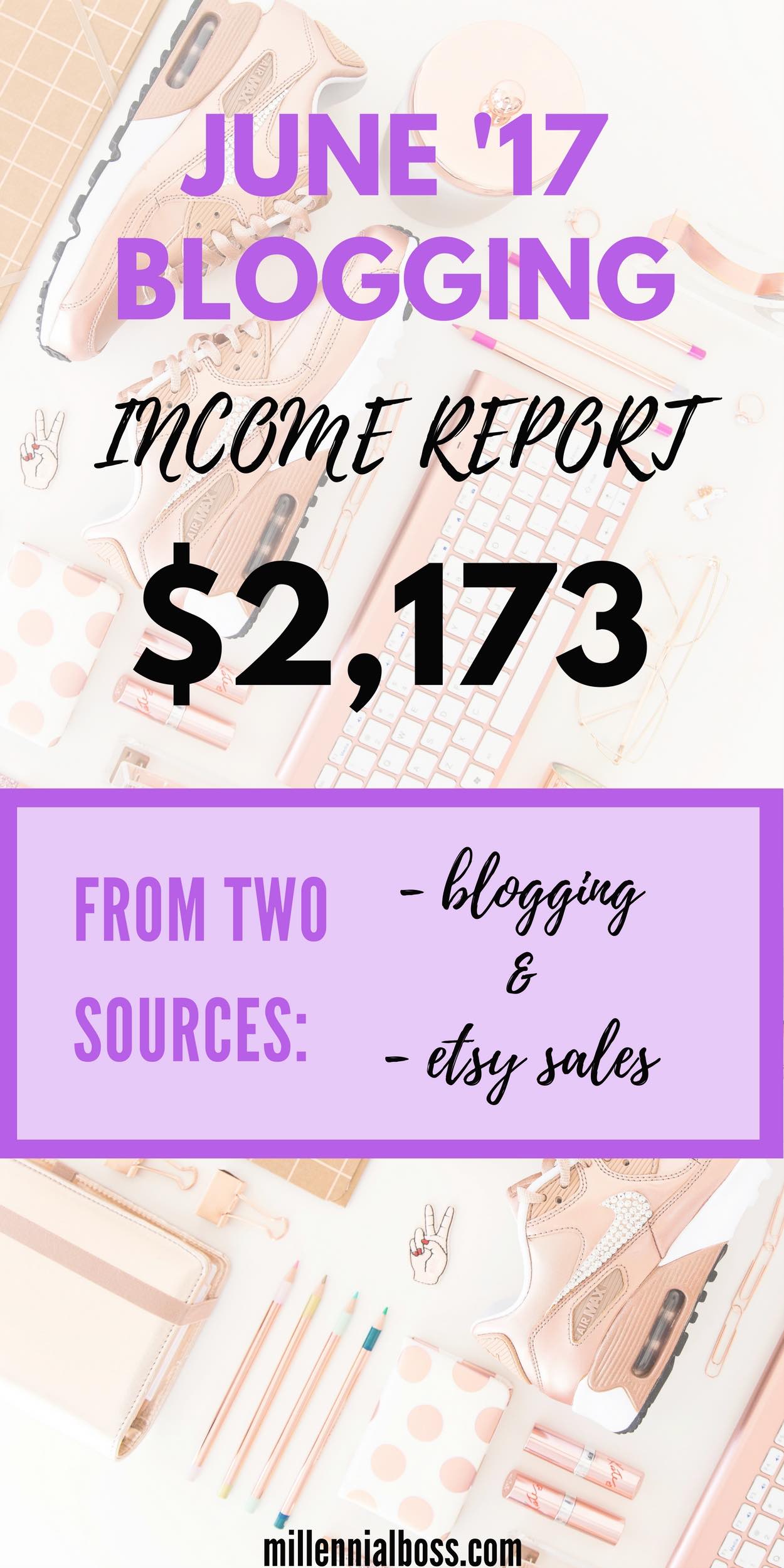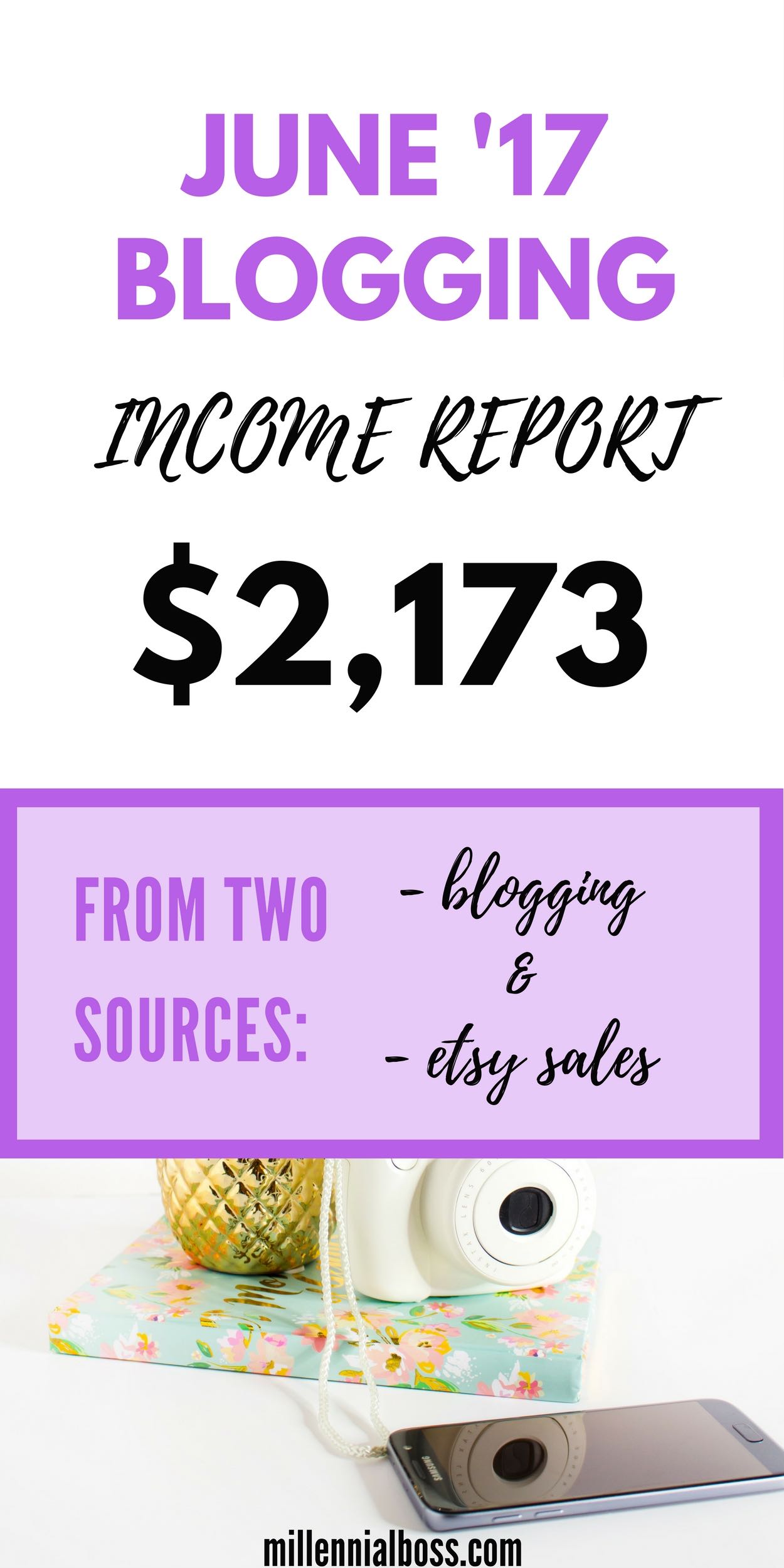 Latest posts by Millennial Boss
(see all)