I've saved over $26,000 in the past 7 months. Even saying that number surprises me because it didn't feel like I was saving that much at all! Below is exactly how I saved over $26,000 in 7 months which I know is not possible for everyone but something that actually happened to me.
First Choose Where to Save Your Money
The first step I took was to educate myself about all of the different places I could save money. I grew up in family where money was not discussed with kids – ever – so I felt like I had no idea what to do with my money as an adult. I didn't understand where to save money, how to save it faster, and most importantly why I should even be saving money in the first place. It just wasn't a conversation that we ever had as a family.
I became interested in money as an adult when I realized that I would be in student loan debt forever if I didn't do something about it. One day I just finally had enough. I'm not sure what was the final straw but something snapped and I realized I didn't want to be in this position forever.
I started learning everything I could about money from that day onwards. I spent hours and hours on Google, listening to podcasts, and educating myself about money.
Through my research, I found that there were places where I could save money. I could save money in a retirement account like a 401(k), an IRA which is another retirement account, a Savings account, and a Health Savings Account (HSA). I then started automating my savings in each of those accounts.
Where the past 7 months of savings went:

Automate your savings to make it super easy
After I increased my income enough to cover my savings, I set up auto-deposits directly into my savings accounts. I highly recommend that approach because then you are not tempted to spend the money.
The beauty of this approach is that it's a quick and easy way to save more money. You don't even have to think about setting reminders to deposit money periodically into savings accounts since you've automated the process.
But what if you don't have the $26k to save?
Hard stop – this only works if you are able to generate enough extra income to save money. Most people simply don't generate enough income to actually save $26k or more in 7 months. For this reason, it's important to increase your income and that's exactly what I did.
Once you reach a point where your income is significantly higher than your expenses, then you'll be in a position to throw extra money into your savings accounts.
Here are 15 ideas on how to make extra money so you can save more.
1.  Get cash back for things you're buying online with Ebates.
Ebates has been a huge money-maker for me! It's a cashback website where you buy things and then if you click through Ebates links before you buy them you get a percentage of your purchase back. I have $230 in cash back sitting in my Ebates account right now.
The key is to download their browser tool so you can see every time you are on a website that offers cash back. And if you refer three friends to Ebates, you can get a $75 bonus.
That's $85 right there, plus all the cash back you will earn with your regular shopping. Of course, you can't spend more than you should because that will cancel out the benefit of the cash back but it's a nice bonus to get money back on your regular online shopping.
Sign up here for Ebates and get $10 FREE.
2.  Sell items you don't need to consignment shops and on Craigslist.
I made $4,500 in April selling stuff I had lying around the house. You would be surprised by how much money you can make with your extra stuff!
I sold everything from mugs to frying pans to furniture. It might sound crazy, but there are people out there who are looking to buy pretty much anything from home goods to furniture to appliances to knick-knacks and everything in between.
It takes a bit of hustle to sell stuff online but once you get going, the feeling is addicting and you can make some quick cash. The #1 tip is that people are flaky. Sometimes people say they are going to pick up an item and they never do! Be prepared to be a bit frustrated but it will be worth it in the end when you are able to get rid of things you aren't using and make extra money.
3.  Start an Etsy business
Okay this is my absolute favorite side hustle and I hope that I can sway some of you to start an Etsy business too! I actually started an Etsy shop a few years ago and I have made $6,000 since it opened!
I started selling temporary tattoos at first but then switched to selling digital files that can be printed and LOVE IT! My printables are actually scavenger hunts that bachelorette parties can print out and check off activities as they go on a bar crawl! It's super silly but I charge $7.00 per game now and have made over $500 in a month!
I'm not a graphic designer but it was pretty simple to design the printable using a free online tool. I uploaded the file to my Etsy shop and my customers could download the printable hundreds of times after that with little action from me.
I don't have to do anything really to maintain the shop but answer customer service questions and I only get a question once every few months. It only cost me 20 cents to start my shop!
Would you be interested in a passive side hustle like this? I have a free ebook about getting started selling printables on Etsy that I'd be happy to share with you. Download my free Etsy business ebook here.
4.  Start batching your meals
I broke down and finally got the Instant Pot after my friends have been raving about it for a year. I hate to say it but I love it too! I guess this isn't an "earn more" thing but it will definitely help you save what you earn.
I've been making meals in about 30 minutes and batching them for multiple days. The best part about batching is that it saves you both time and money. Since you can make several meals at once, you don't have to spend time later in the week making additional meals.
Before, I used to get home from work and be too tired to make dinner and then order takeout.  Now, I'm making more meals at home. I've accumulated a significant amount of savings from this one simple change. You can invest in an Instant Pot here on Amazon.
5.  Save when you buy things online with Honey.
Honey is a browser extension that automatically searches for coupons when you buy things online. It searches for any code that may be available for you to use and save on your purchase.
I was just buying something online the other day and Honey automatically popped up with a coupon and it was awesome! It's free to join and you get a $5 welcome bonus for signing up using this link:
6.  Cut cable.
I recently cancelled my DirecTV subscription and now put that money towards savings. No one should be paying for cable TV when they don't have to!
I now use an HDTV antenna from Amazon so I can watch my favorite shows (the bachelor – guilty pleasure!)
I get all of the channels I want to to watch (around ~40 channels)
You can still get your favorite premium channels by using a service like Hulu for Live TV.
Related: Saving Money with Cheap Alternatives to Cable (Sling TV, Roku, Indoor Antennas).
7.  Start a blog.
Nothing keeps me more accountable to saving than having to post my numbers online each week.
At first it was kind of embarrassing to put myself out there on the internet but I'm so glad I did it. Blogging motivated me to achieve my financial goals.
I'm also making some extra money on the side from blogging. I started making a few hundred dollars per month and now I'm a six-figure blogger. It took three years to go from a few hundred dollars per month to multiple thousand but it is possible if you are willing to keep at it and never stop learning.
If you want to learn more about starting your own blog, check out my free 7-day course, How to Start A Blog Course.
Related: My April 2017 Income Report – $2851
8.  Apply for new jobs and negotiate your salary.
I was afraid the first time I negotiated my salary but it worked! I'm now super confident.
Here is my story of how I negotiated my compensation.
The best part about negotiating is that it only takes a little bit of time (and a little bit of courage), but the benefits can be enormous. It's possible to increase your salary by 20% or more just by being a bit stingy and asking for higher pay.
One thing to keep in mind when negotiating is that the employer doesn't want to have to spend any more time or money searching for a different candidate, so you actually have more leverage than you think when it comes time to negotiate your salary.
9.  Track your spending with the free app Personal Capital (and get $20)!
And try to stay away from your spending weaknesses!
Mine is Chipotle.
I used to go out to eat every day for lunch and it adds up.
Personal Capital is 100% FREE.
The net worth tracker is the best part of the whole app.
My net worth used to say negative $100,000 but with some dedication and time, it improved quickly.  I'm motivated to keep saving when I see it go up each month.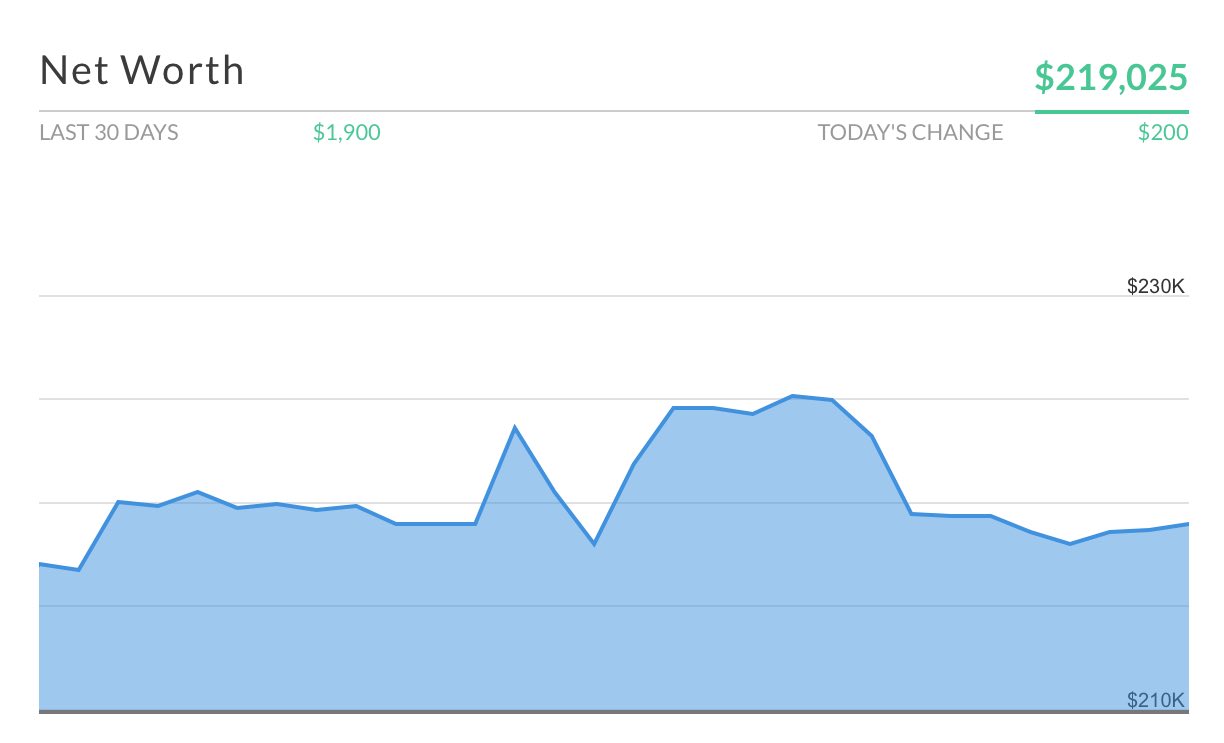 10.  Have a side hustle!
I'm all about side hustles and have a few extra income streams in addition to my day job.
Below are the ways you can side hustle in the next 15 minutes.
The more money you have coming in, the easier it is to save.
11. Practice the 24 hour rule:
If you are tempted to buy something, wait 24 hours and see if you still want it. If you still want an item after waiting 24 hours, give yourself permission to buy it. However, you'll find that more often than not you don't actually feel the impulse or urge to buy that item after all.
This simple rule allows you to keep more money in your pockets by avoiding impulse purchases and by forcing yourself to identify what things are actually worth spending money on.
12.  Avoid social spending.
Invite your friends over to dinner instead of meeting out at a restaurant.
If you like eating out, try meeting friends for coffee or lunch instead of dinner and drinks.
This simple change can lead to a serious amount of savings without actually hurting your social life.
13.  Get outside more.
Hiking, going to parks, and going to the beach are all cheap activities if you do them right.
Before you assume that you need to spend money to have fun, try spending some time outside in nature and you might realize that the great outdoors actually offers some of the best free entertainment.
14.  Save money on travel by collecting hotel miles and airline points.
I no longer pay for flights and hotels after collecting thousands of points. I went on a 10-day trip to Europe with points.
15.  Get a roommate.
I made $550 a month while I was paying down debt by living with a roommate. It wasn't fun to live with a roommate as an adult but it was worth the money.
Pay off your loans so you can put that money towards savings!
I recently paid off nearly $90,000 of debt.
It was super hard but so worth it. I now have an extra hundred dollars going to savings each month.
If you still have student loans, consider refinancing them for a lower interest rate. It doesn't make sense for everyone because you may lose some of the benefits of your loan program such as income based repayment should you fall on hard times but it does make sense for some people.
If you can get a lower interest rate on your loans, you can put more money towards savings each month.
I paid a 6.8% interest rate on my student loans and wish I had looked into refinancing sooner. I might have qualified for a lower interest rate, which would have saved me thousands.
Remember why you're saving in the first place
I was in massive debt two years ago and now I'm aggressively saving as much as I can.
I hated living paycheck to paycheck and feeling like I was never going to get out of the hole.
I'm saving all of this money now so that I can give my family a good future and so that I can eliminate my stress.
I used to get SUPER stressed out about money and I never want to feel that stress again.
Related: From $60k in Debt to $200k Net Worth in One Year
Related: 28 Simple Ways to Improve Your Finances This Year

How do you save more money faster? Are you contributing to any savings or retirement accounts not mentioned here?

Latest posts by Millennial Boss
(see all)