When it comes to side hustles, you want to choose something in demand and part of a growing industry. That's why lashes are a perfect choice.
According to a study conducted by Grand View Research, the false eyelash industry is expected to grow to $1.6 billion by 2025. That's more than four times larger than the $270 million spent in the industry in 2018.
In other words, the false eyelash industry is hot, and now is the time to jump in. With a little practice, you can start your own strip lash business quickly and easily from home.
Starting A False Lash Business From Home
One of the first things you want to do before starting a lash business is to learn the terminology. Terminology is what's going to help you decide what kind of eyelashes you're going to sell.
What Are Mink Lashes?
According to the site Minkklashes, "Mink lashes are handmade with real mink fur; they have a natural quality to them that you cannot get from synthetic lashes. Real Mink lashes come from minks, usually from either the Siberian Mink or the Chinese Mink. The hair is attained when the minks shed."
While mink lashes are among the best on the market, there's an animal cruelty issue to consider. As PETA Australia outlines, even when mink lashes are labeled "cruelty-free," it never guarantees that they are.
If animal rights are something you care deeply about, then mink lashes may not be the kind you want to sell.
What Are Faux Mink Lashes?
To try and avoid animal cruelty issues, some people sell faux mink lashes.
"[Faux mink lashes] are made usually either from polysynthetic fibers or silk fibers meant to imitate mink strands. There are some brands that have styles that look quite natural, but generally, faux mink still has a 'fake' look to them, requiring some mascara to blend the lashes and eyeliner to hide the band," writes blogger Nu Bounsom.
What Are Synthetic Lashes?
According to Le Salon, synthetic lashes are the most popular and least expensive option for people looking for false eyelashes.
"While these do tend to look the least natural as they are completely synthetic, it doesn't mean that they will look fake. Ultimately, it depends on how much volume and curl you ask for – you can easily book a half set of synthetic eyelash extensions which will just make your eyes pop a little," writes Le Salon.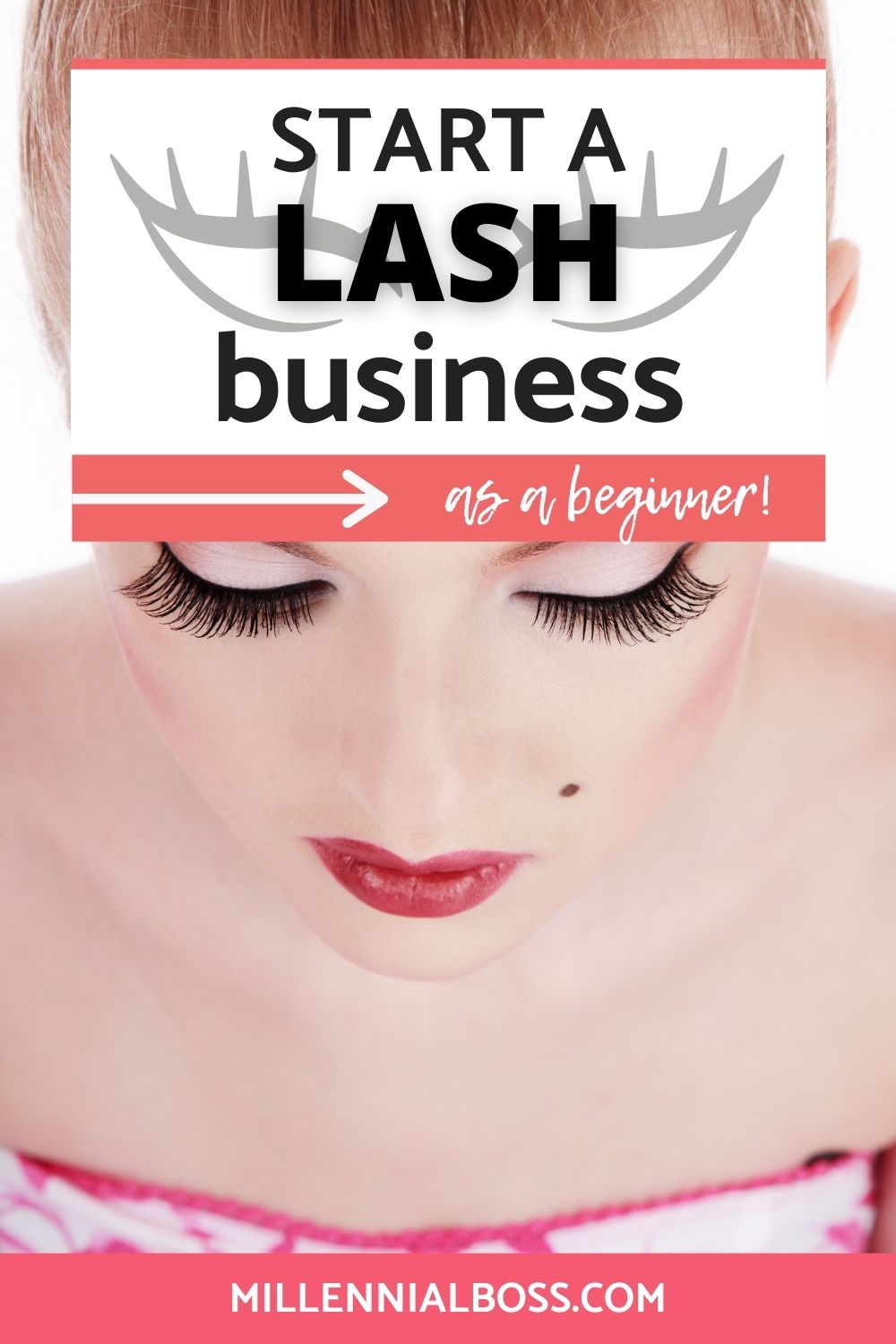 Types of Eyelashes for False Lash Business
You can attach eyelashes a couple of ways. Most eyelashes use adhesive, however, some use magnets.
What Are Strip Lashes?
"Strip lashes are a pre-made band of lashes that are applied with a removable adhesive. These are worn for a special occasion or during the day but are not to be slept in. Strip lashes are meant to be an enhancement that can get applied every day, but also must be removed every day," writes Skin Renew Day Spa.
What Are Cluster Lashes?
Similar to strip lashes, cluster lashes attach with adhesive.
"Cluster lashes are little sections of a strip lash or a group of lashes that are glued together in a cluster with a thick base. These can give you more of a natural look compared to strip lashes but are still very heavy to the eyes. These also should not be worn for more than a day and should not be slept in," writes Skin Renew Day Spa.
What Are Magnetic Lashes?
Some people are allergic to the adhesive used in strip lashes, so they opt for magnetic lashes.
"Magnetic eyelashes, a way to wear falsies without literally any of the annoyance usually associated with them. Instead of using lash glue — which, in addition to being wildly messy, can also cause allergies — these babies stick on your lashes with magnets. Think of it as all of the glam with none of the goop," writes Teen Vogue.
Magnetic lashes pinch your natural lash between two fake lashes using magnetic strips.
What Are Lash Extensions?
Make sure you understand that false eyelashes are not the same thing as lash extensions. Lash extensions require a much more intense process. Someone with lash extension experience should apply lash extensions.
"Lash extensions are semi-permanent synthetic, faux mink or silk fibers which are applied strand by strand to your natural lashes," Clementina Richardson, founder of New York City's Envious Lashes, told Harper's Bazaar. "The extensions are carefully applied one at a time using a specially-formulated, semi-permanent glue that will not irritate or damage the natural lash."
In other words, eyelash extensions attach directly to your lashes, not to the skin surrounding your eyelashes.
State Requirements For Lash Business
If you're selling lash extensions, then license requirements will be different than if you're selling strip eyelashes.
"Lashing is still a relatively new industry, so different states and countries have different requirements. Some states require that you have a cosmetology or an esthetician license to do eyelash extensions services. Some don't. Some will automatically grant you a license based on the years you've been practicing. There's no set rule: it all depends on the state that you live in," writes Her Lash Community.
If you're selling strip lashes, the rules a less strict. Selling the lashes will not require a cosmetology or esthetician license, however applying them might.
Selling Eyelashes Online
If you plan only to sell lashes without applying them, you may still need other licenses, such as a business license or a seller's permit.
I explore whether or not you need a business license to sell online in this post here.
Starting A Lash Business From Home
Now that you know what licenses you need, it's time to build your business.
You can choose to purchase lashes from wholesalers and then resell those lashes, or you can make your own lashes and sell an original product line.
Wholesale Lashes
If you choose to go the wholesale route, there are a few things to keep in mind. Emeda Eyelash says you want to pay special attention to the following:
The glossiness of the strip lashes. If they're shiny and smooth, they're high-quality.
The hardness of strip lashes. Too hard, it's not comfortable, and it doesn't look natural. Too soft, and it doesn't curl well.
The bend of the strip lashes. You're looking for a natural bend.
The band of the strip lashes. You're looking for a quality band.
Anytime you're considering a new wholesaler, purchase a sample first. Then you can examine the product yourself and measure shipping time without a large outlay of capital.
How To Make Strip Lashes
If you're really ambitious, you can make your own strip lashes.
Lash Business Supplies
You'll need some supplies before you start, including:
Lashes;
Practice Lashes;
Tweezers;
Glue Rings;
Mascara Brush;
Micro Swabs;
Marble Tile;
Lash Sealant;
Glue Aid (Primer);
Shaeestheticsss by Fiercemf has a YouTube channel that talks about the supplies you need to make your own eyelashes. She suggests going to Home Depot to get your marble tile because it's much cheaper there. She also says most of the other items you can get on Amazon.
You may also want a bottle of hand sanitizer to make sure that the lashes you create are germ-free.
How To Create Strip Eyelashes
Creating strip lashes to sell is not like lashing a person. There's more leniency.
Just the same, some of the techniques are similar.
The aforementioned Shaeestheticsss by Fiercemf has a YouTube video explaining how to create lash strips here. She also has other videos for different types of strip lashes.
Where To Sell Strip Lashes
Whether you make your own lashes or sell ones you have purchased wholesale, you need to figure out where to sell them.
You can check out local beauty supply shops, nail salons, etc.
You can also create your own website and sell your products, using Facebook and Instagram ads to advertise.
If you want something that's a little less labor-intensive, then an online marketplace like Etsy may be your best option.
I like Etsy because it does the work for you. All you need to do is create a quality listing.
I have created several posts about listing items on Etsy, including How to Sell on Etsy and 20+ Etsy Online Courses for Traffic, Marketing, and Sales Tips.
Conclusion
If fashion is something that you're passionate about, then selling eyelashes could be a great side hustle for you. Whether you're the creative type that wants to make your own or the resourceful type with an eye for what looks good, there's a place for you.
Related Posts:
Best Etsy Shop Ideas
How I Made My First $1,000 on Etsy


Latest posts by Erika Towne
(see all)