Get crafty this holiday season with these gingerbread man templates. Growing up, I always had the best time making gingerbread man crafts. I have carried that fun into my adult life by doing these same crafts with my children.
As a child, gingerbread was my favorite dessert to eat in the winter months. The smell of gingerbread baking always combines the warmth you feel during the holidays with the coziness of winter time. It is perfect.
Grab your copy of these gingerbread man templates to cut out and start crafting with your whole family. These activities and craft ideas are perfect for preschool children to adults.
Gingerbread Man Templates
There are three pages of templates available to you. The first page contains a large gingerbread man, the second page has two medium sized gingerbread men, and the third page has small and tiny gingerbread men.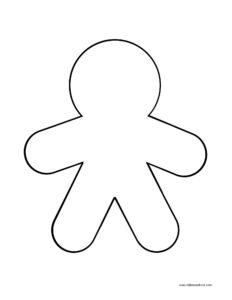 You can mix and match your templates to customize your projects.
The gingerbread man templates are printable PDF files. Download and print on 8.5" x 11" paper.
The templates can be used in craft projects and activities. Get creative with these templates!
Using Your Gingerbread Man Templates
To use your coloring page templates, first print out your gingerbread men. You can print them on regular copy paper or on a heavy weight card stock.
You will cut out your gingerbread men and then color them. Add eyes, a mouth, circles for their buttons on their chests, and any other festive decorations. Color them with crayons, markers, colored pencils, or glitter.
The coloring pages are a simple and fun project for everyone. Have fun coloring your gingerbread men. If you need a blank gingerbread man coloring page, it's here. If you also want some gingerbread that have funkier designs on them check out this gingerbread guide.
Project Ideas With Your Gingerbread Man Templates
The gingerbread man printables can be used for fun craft projects. Try the craft project ideas below to have lots of crafty fun!
Gingerbread Man Stencil
Gingerbread Man Ornament
Gingerbread Man Painting Project
Gingerbread Man Stencil
Stencils are a simple craft you can create to use for a ton of fun projects and gifts. You can make stencils from your gingerbread man templates.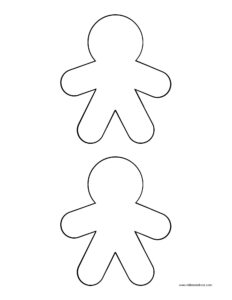 To make your stencil, print out the gingerbread man size you think would be best for your project. I recommend using a heavy weight paper for this project so that you have a more durable stencil.
Then cut out the gingerbread man out of the paper. You will use this part as your stencil.
Now you are ready to use your stencil! Use your stencil to make a stamp for painting crafts, as a stencil for making ornaments, or for any craft you would enjoy.
You can make a stamp from a sponge, a potato, or a piece of foam. Making stamps is a frugal craft.
This is a kid friendly project for the whole family. Use your stencil to make gingerbread men crafts or gifts to give to others.
Gingerbread Man Ornament
Use your gingerbread man stencil that you created to make a festive ornament!
For this project you will need your gingerbread man stencil, a pencil, glue, scissors, card stock, hole punch, ribbon, buttons, paint, and glitter. 
To do this project, you will first create your gingerbread man stencil. Trace your stencil with your pencil onto your card stock. You can use brown card stock, or use white card stock and paint it brown.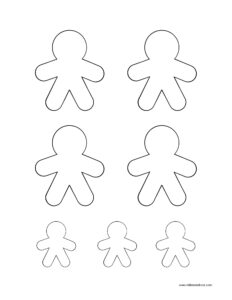 After you have traced your gingerbread man onto the card stock, cut it out. You will paint your gingerbread man brown if needed. 
Once your gingerbread man is brown, draw eyes and a mouth on your gingerbread man. You can also use buttons for the eyes. Now you are ready to decorate your gingerbread man.
To decorate, you can use the glue and glitter to make "gumdrop" buttons. You can also use your buttons to put on your gingerbread man. You can also use white paint to paint white lines on the cuff area of the arms and the ankle area of the legs. Get creative with how you decorate!
When the decorated gingerbread man is complete, punch a hole in the top and place a ribbon through the hole. Tie the ribbon into a bow. Hang around your house, on doorknobs, or onto a Christmas tree.
Paper ornaments are a simple and fun craft for toddlers and adults alike. Have a fun gingerbread ornament making party this holiday season!
Gingerbread Man Painting Project
Have a gingerbread man painting party with your gingerbread man stencils and stamps! 
To do this project you will need your gingerbread man templates, pre-made stencils, and stamps. You will also need painting materials such as paintbrushes, and paint, newspaper to put down under your craft area, paint holders, a container for water, some paper towels to clean your paint brushes on, and paper or canvas to paint.
For your stencil, carefully cut out your gingerbread man. You can use the cut out gingerbread man as a stencil and the paper with the cut out as a stencil for your painting project. Just tape the place where you cut into your paper.
There are many ways you can do your gingerbread man painting project. One way is to lay your paper with the gingerbread man cut out on your paper and paint over the paper. Another way to use your gingerbread man stencil is as a stamp. Dab into paint and then stamp onto your paper or canvas.
Once you have put gingerbread men on your paper or canvas, decorate your painted gingerbread with different colors of paint. You can leave them as is, or add faces and outfits.
Give your gingerbread paintings to family as holiday gifts. Kids will love making painted gingerbread men greeting cards to give to family and friends as well.
Related posts:
How will you use your free gingerbread man templates?
The free gingerbread man templates are the perfect addition to any craft project you do this holiday season. Use them for all of the projects on your list.
Cut them out, decorate, and hang around your home in a window, turn them into a garland, create paintings with them, and so much more. Feel free to share the templates with family and friends so that they can also enjoy the free printable gingerbread templates.

Latest posts by Sasha Hutchison
(see all)