April was a good month for Millennial Boss.
Traffic was up 33% from March.
I published the following 4 posts.
I also continued to increase my online income and my social following.
I Messed Up Last Month and Reported My Income Incorrectly
Ugh, I reported the wrong income for the last two months!
In good news, I actually made MORE than I had reported.
I forgot to include the income from LendEDU, which is an awesome student loan refinancing marketplace which allows you to compare interest rates from multiple companies.
I earned $280 promoting LendEDU in March and $200 promoting LendEDU in February.
I've updated my March and February totals below:
It doesn't make a huge difference but always fun to find money that you didn't know you had!
LendEDU stayed strong for me this month and I earned another $200 from working with them.
It feels good to know that I'm helping students get lower interest rates on their student loans.
The 6.8% interest rate that I paid for my federal student loans is crazy high and I wish I knew about student loan interest refinancing back when I had them.
If you want to see if you can get a better interest rate on your student loans, check out LendEDU here.
I also recommend SoFi which is another student loan refinancing company. As of February 2018, I actually recommend SoFi for student loan refinancing for Millennial Boss readers.
Related: How I Paid off $89,000 of Debt in 18 Months
The Change I Made Last Month to Make My Life Easier
I wrote a tutorial last year about how I use Tailwind to pin 50 to 100 pins per day.
Check out my Tailwind tutorial here
This method saved me major time and effort when compared to pinning manually but it still took hours every week to schedule hundreds of pins.
I dropped the number down to less than 50 pins scheduled on Tailwind per day and I have seen no drop in my traffic from Pinterest.
Phew! This made my life easier.
If you aren't using Tailwind, sign up using this link and get a free 30-day trial.
It's really cheap (only $10 per month after the free trial) and will likely increase your traffic and make your life easier.
Blogging Income – $2663.02


Blogging is turning out to be a legit side hustle for me.
I'm up over $1,000 from my revenue last month and brought in a total of $2663 on the blog this month.
The uptick in sales towards the end of the month can be attributed to a pin share in the Making Sense of Affiliate Marketing Facebook group.
I signed up for the Affiliate Marketing course back last year and highly recommend it.
The course was less than $200 when I signed up and I clearly have had major ROI from it, and continue to get a great ROI from it due to the Facebook group.
Michelle (the founder of the course) also regularly updates the course content which I have lifetime access to.
Click here to sign up for the Making Sense of Affiliate Marketing Course.
How to Promote Products On a Website
If you're a blogger and want to promote products on your site, I recommend signing up for Flexoffers as a publisher.
It's free to sign up and you can find products to promote from all different categories from health to clothing to fitness to financial products.
I make the most money from Flexoffers and most of the products I promote are free to sign-up.
For example, I promote Personal Capital through Flexoffers which is a free app that I use regularly to check my net worth.
Sign up here for Flexoffers.
I also promote non-Flexoffers products such as Ebates which is a cash back site that I use every time I shop online.
I made nearly $40 in cash back so far this quarter and as you can see, I made $160 on referrals.
Ebates has it's own referral program directly through their website.
Sign up here for Ebates.
How to Get Started With Blogging
This is not my first blog but it's my first time making money blogging. I wish I figured this out when I started my first blog almost six years ago.
If you don't currently have a blog but are interested in starting a blog, check out my tutorial on how to start your own website.
It's nice to have extra money coming in each month.
It's also mostly passive. Most of the revenue from this site comes from stuff that I wrote in 2016.
Related: The 15+ Tools I Use to Make Money Blogging
JOIN THE OFF-THE-BLOG EMAIL LIST
If you want my off-the-blog blogging tips (where I share all the good stuff) then join my email list:
Physical Product Sales – $150.56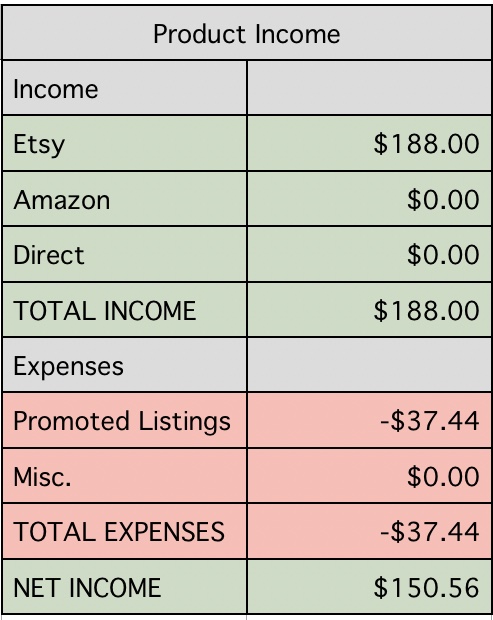 I have to admit that I was a little bit bummed out going into April regarding my physical product sales.
I had spent a lot of money advertising on Etsy in March and didn't get much return.
This last month, I decided to cut the amount of money I was spending on advertising.
I only spent $37 this month and made around $42 in sales on promoted listings. I broke even.
Although, this means that most of my $188 in revenue came from organic keyword searches which is great.
I think I could spend more time optimizing my listings and keywords but my time is very limited. I have not been able to update the listings since the product launch.
The good news is that my sales seem to be picking up the first few days of May. I've made many trips to the post office this week.
Perhaps I don't need to spend any more time growing the Etsy site and the sales will pick up organically.
Rental Income
I'm no longer reporting my rental income in these reports. I want to focus these posts on online income.
We either break even or lose a little money each month on our rental property.
This property was not purchased for rental purposes (although it's something I will consider if I buy another house).
1×1 Coaching
I didn't take on any coaching clients this month so there is nothing to report.
I'm still taking on coaching clients however.
If you would like tips on blogging or to learn more about what I'm doing on Etsy, feel free to sign up for an hour of 1×1 coaching with me.
Check out my coaching page here for more details.
Social Following
My social following increased as well. I'm not actively following people anymore but it's nice to see it grow organically.
Follow me on Twitter & join 3227 followers
Follow me on Instagram & join 1003 followers
Follow me on Facebook & join 325 followers
Follow me on Pinterest & join 3502 followers
Overall, April was a great month and I look forward to May.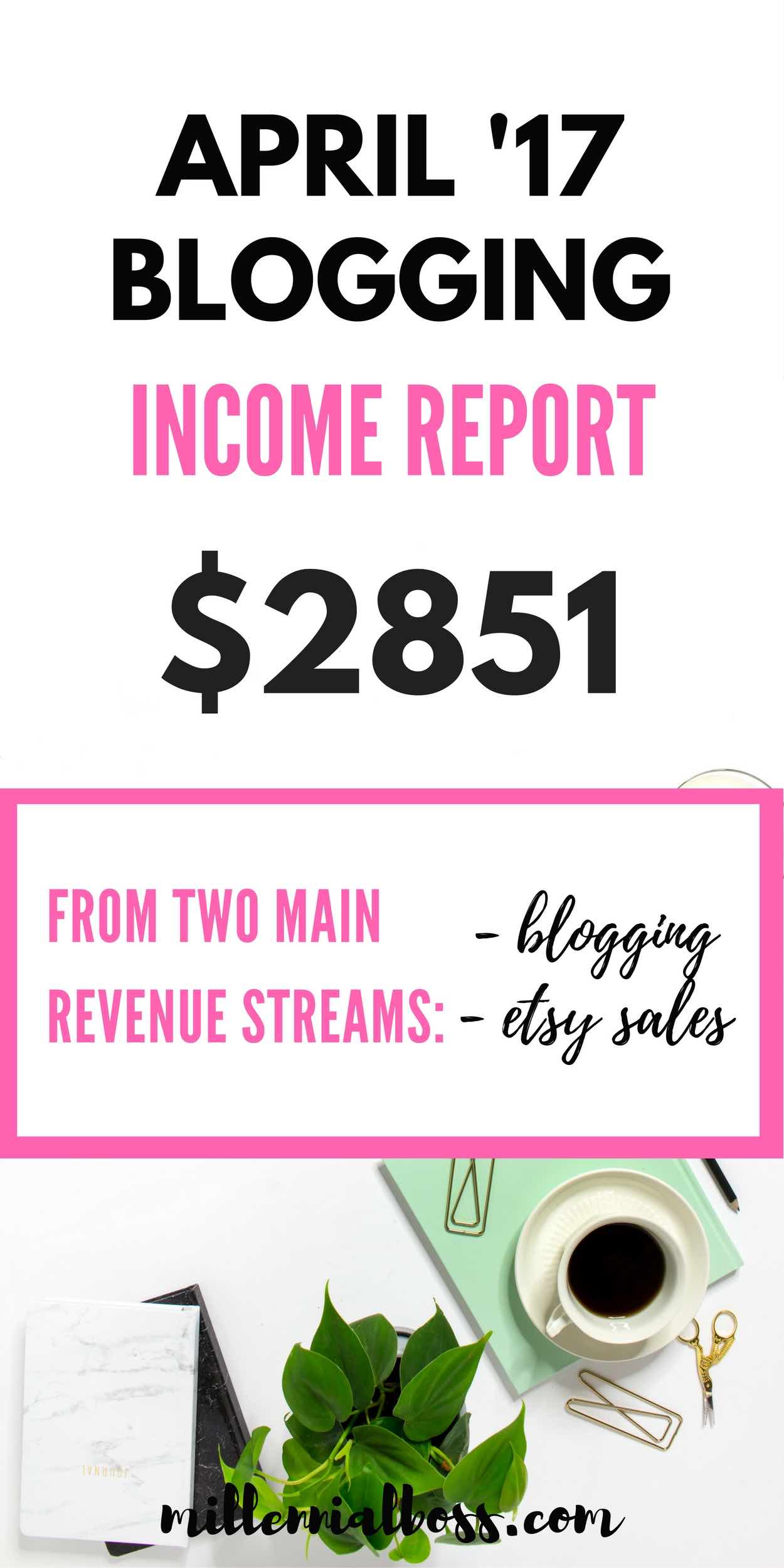 Are you a blogger? Do you have any tips to share?

Latest posts by Millennial Boss
(see all)