Putting a product up on Etsy is a great side hustle, but simply posting the product is not all it takes to make a sale. Putting something on the site doesn't mean people are going to find it. You have to do more and that's where Etsy SEO comes in.
Why SEO on Etsy is Important
SEO stands for Search Engine Optimization.
All search engines scan through the text on webpages looking for certain keywords or key phrases. The more keywords and key phrases that fit what the search engine is looking for, the more likely you are to pop up on the first page of the search results.
Each search engine has its own search algorithm to try and find the best answers for its customers.
Etsy's website has its own search algorithm and that algorithm has a method of looking at keywords and phrases in product listings to determine which products fit a customer's search criteria the best.
You want to use SEO to optimize your chances to appear in as many searches as possible. After all, the more searches you appear in, the better your chances are of making a sale.
Etsy has over 50M customers so making your product more discoverable to those customers is in your best interest.
Etsy SEO
The primary makeup of SEO hasn't changed. It's all about keywords and key phrases.
Your goal with SEO is to know your customer. You need to think like your customer. What keywords and phrases would a customer put into the search bar if he or she was looking for a product like the one you're selling?
What color is it?
What material did you use?
What size is it?
Is it downloadable?
Is it for a gift or a special occasion?
These are all things that you want to include in your title, tags and item attributes because they're things that customers are going to be wondering about and searching for.
Fill in All the Tags
And to make sure your item is found, you need to fill in all the tags that Etsy offers you.
The blog A Girls Gotta Eat says, "Etsy gives you 13 tags to describe your item. That's 13 unique opportunities to attract a new customer coming from a different direction."
When it comes to tags, what matters is the keyword, not the order you type it into the tag line. Tags lines tend to be limited to 20 characters so you need to pick your words wisely and spread them out judiciously.
I'll go into the dos and don'ts of tagging your Etsy items a little later in the article.
Related Posts:
14 Awesome Etsy Printable Shops from our Etsy Mastermind
11 Etsy Shops Created in 6 Weeks for the Etsy Mastermind

2023 Etsy Algorithm
Etsy came up with a few changes to its algorithm. Not only does Etsy look at keywords to decide which items to recommend, but it also looks at the performance of the shop and the listing quality of the item.
You can read the entire How Etsy Search Works article by clicking here, or you can read my semi-quick summary below.
Tag and Title Relevancy
When something you have in your tag or title matches a search term exactly, you are more likely to pop up at the top of a search result. If that word or phrase appears in both the tag and the title, then your listing is considered to be more relevant than if the term appears in just the tag or just the title.
Finally, Etsy considers the words at the beginning of the title more important than the words at the end of the title.
Item Attribute Relevancy
The information provided in the item attributes is also considered during an Etsy search so make sure you're as accurate as possible. Attributes include size, color, material, etc.
Listing Quality
Listing quality is an attribute that Etsy applies to each posting. It's based on how well that specific item does in searches. If a buyer clicks on your item after searching or favorites the item or purchases it, then the listing's quality score goes up.
Etsy does not want to penalize sellers for being new, so it gives them a neutral quality score. This means that listing quality does not impact where new seller listings show up in search results.
Customer & Marketplace Experience
Etsy gives priority to shops that take care of their customers. Great reviews, a complete about section, and a complete set of shop policies will get you better priority in Etsy searches. Use the Etsy's shop policies template if you need help.
New shops have a neutral experience score, so it won't impact your placement in search results.
Recency
To keep things fresh, Etsy gives some priority to items that were listed or relisted recently.
Just because this happens, doesn't mean that you should unlist and relist your items frequently. Etsy is aware that people do this and will catch on fairly quickly if you're one of them and drop you down in the search rankings.
Shop Location
People who have shops in America are more likely to appear in the search results for shoppers in America, while people who have shops in Australia are more likely to appear in the search results for shoppers in Australia.
Shipping internationally can be pricy, so buyers like to shop as local as they can.
Etsy SEO Help
Etsy wants you to succeed because if you make money, it makes money. That's why the site has invested a significant amount of person-hours into creating guides to make sure you succeed.
One of those guides is the article Keywords 101: Everything You Need to Know and it really does encompass just about everything you need to know about posting on Etsy.

Tagging Dos
Remember those tags I told you about? That Keywords 101 article has some great tips on how to tag your items.
Make sure you use multi-word phrases such as "custom bracelet";
Keep an eye on shop stats and change the tags on listings that receive less traffic;
Think about using synonyms and regional phrases. As Etsy points out, Americans call them "flip flops" while Australians call them "thong sandals";
Use what Etsy calls "long-tail" keywords, meaning instead of tagging something "tote bag" try tagging it "canvas tote bag".
Tagging Don'ts
Don't repeat tags, make them all unique;
Don't repeat categories or attributes;
Don't include misspellings;
Don't use multiple languages;
Etsy deals with the plurals so you don't have to. In other words, tagging something "tote" will also call up "totes" in search.
Be Specific
Fuzzy and Birch says be specific in your postings. The more specific you are the easier it's going to be to find your product.
Characters Count
When you're talking about SEO, it's not just Etsy searches you're worried about, but also Google searches and other search engines. That's why characters count.
Google will show the first 66 characters of a listing title. It might be tempting to be creative and descriptive with the title of your Etsy post, but you should also be practical. You want to make sure as many people as possible know and understand what you're talking about within your title.
Characters Count Part II
Also, keep track of the first 160 characters in your description. Not only will they show up in the Google search, but they are also part of the meta description that search engines scan.
Beware of Keyword Cannibalization
Keyword cannibalization is when you use the same keywords or phrases in your titles, tags or descriptions. While this might seem like you're emphasizing what you offer, what you're really doing is allowing your results to eat away at one another.
Search engines get confused and then they don't know which of your pages to rank. The site Moz has an entire article dedicated to how to avoid keyword cannibalization in the first place.
If you're worried about the possibility that it already exists, then there are tools to help with that.
Etsy SEO Tools
There are plenty of tools out there to h
elp you with coming up with keywords for SEO and avoid keyword cannibalization. Here are a few of them.
eRank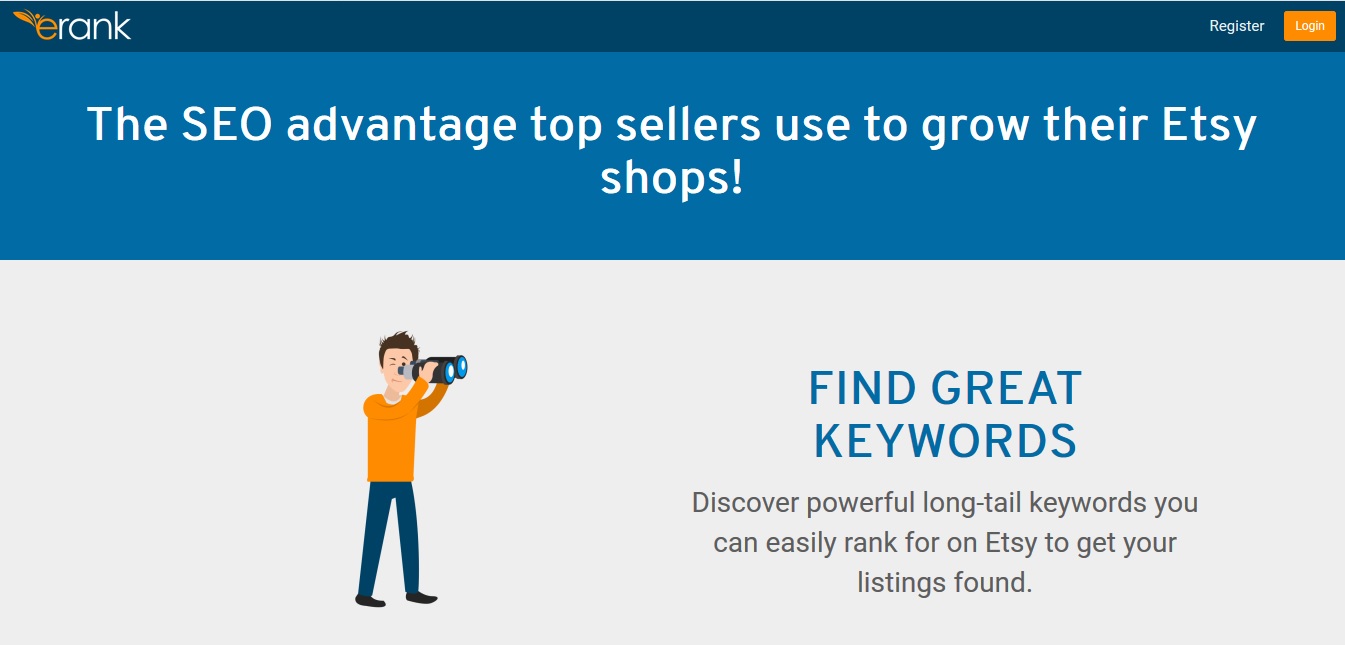 eRank will help you find keywords, especially long-tail ones, that will help you rank higher in Etsy searches. It will also let you track your search ranking and monitor other sellers in your category and find out how your shop compares to competitors' shops.
Best of all, eRank is completely free to signup. There is a pro version of the tool but you can get lots of value from the free version.
I detailed my experience using Erank as an etsy seller here.
Marmalead
Marmalead is a competitor of eRank. Marmalead will also help you come up with long-tail keywords and work with you to get your postings ranked higher on Etsy searches through tracking.
Marmalead is a paid tool.
Google Keyword Planner
If you don't want to pay for a service, there's Google Keyword Planner. The tool will help you research keywords and make a plan.
Site Explorer
Site Explorer will help you see what keywords your competitors are using successfully and which of those words bring the most traffic. The program will also help you check backlinks to see which websites link to competitor sites and it will help you avoid keyword cannibalization.
Searching on Etsy
You can't beat just searching on Etsy and seeing what auto-completes in the search bar. If you sell printables in the bachelorette party space like me, and you type in bachelorette party into the search bar..you can use what auto-completes for keyword ideas.
Learn more about getting started with Etsy printables here.
Related Posts:
Etsy Printables Course Student Reviews
May Side Income Revenue Report (Etsy + Blogging) – $2,335


Latest posts by Erika Towne
(see all)