I learned a new trick recently that I want to share with all of you.
UPDATE: I now use Grow by Mediavine which is a social media sharing app and allows you to hide pins in your blog posts.  I highly recommend it and then you don't have to follow any of the steps below.
You can hide images in your blog posts!
There are two main reasons that you might want to hide Pinterest images in your posts.
You don't want to distract from your post with Pinterest images.
You want to test the response of different images on Pinterest.
Here is step-by-step how to hide images in WordPress.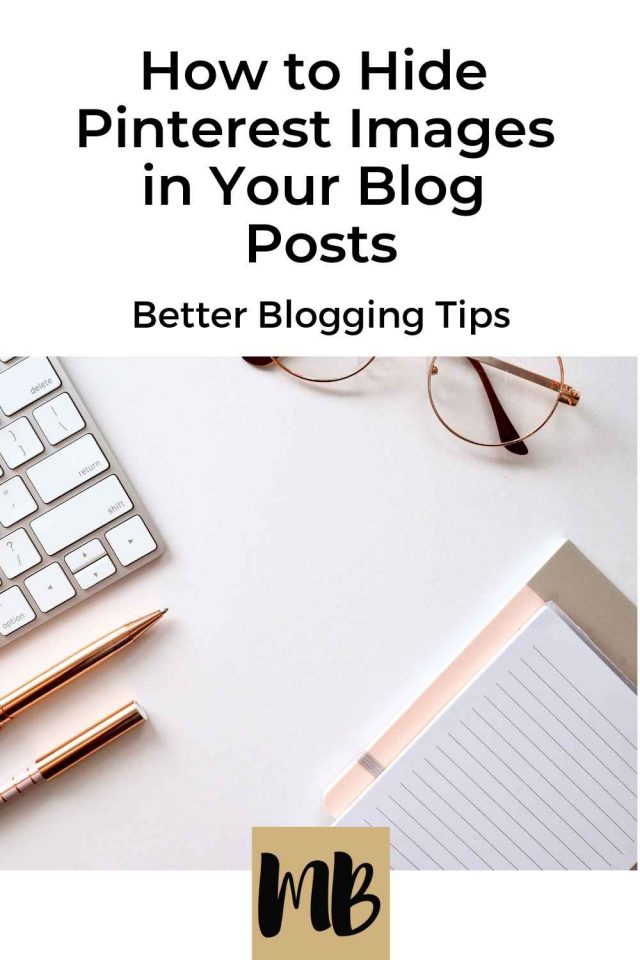 Step 1 – Add this code to your image tags in the WordPress Text editor.
First insert the image(s) you want to hide into your post.
Then, click the Text tab in the upper right hand corner of your WordPress post editor.


Find the image tag for the image you want to hide.
Add this code before the opening img tag. 
<div style = "display:none;">
Add this code after the closing tag.
</div>
EXAMPLE:


Tip: be careful when copy and pasting code because different font styles can show up differently in everyone's editor.  You may have to retype the quotation marks to get it to work.  See comments section for more details.
Step 2 – Confirm your images are gone.
Go back to the visual tab and scroll through your post to check if your image is gone.
If your code worked correctly, you shouldn't be able to see your image.
And you're done!
Your image is now hidden from your post but visible for Pinterest sharing.
Here is an example of how I hid Pinterest pins in WordPress.
I recently wrote a post on how I paid off nearly $90,000 of debt in 18 months.
It is one of my more popular posts so I wanted to create multiple Pinterest images for the post and test which one got a better response.
I also didn't want to distract from my post with too many Pinterest images.
Step 1 –  I created 4 different Pinterest images.
I recommend Canva or PicMonkey to create the images. 
Step 2 –  I added the Pinterest images to my post.
Step 3 –  I added <div style = "display:none;"> IMAGE CODE </div> tags.
Step 4 –  I checked the visual tab to make sure my images were hidden.
Step 5 –  I updated the post and shared the pins on Pinterest.
Even though only one image shows in the body of my post, four Pinterest images appear when you click the Pinterest share icon.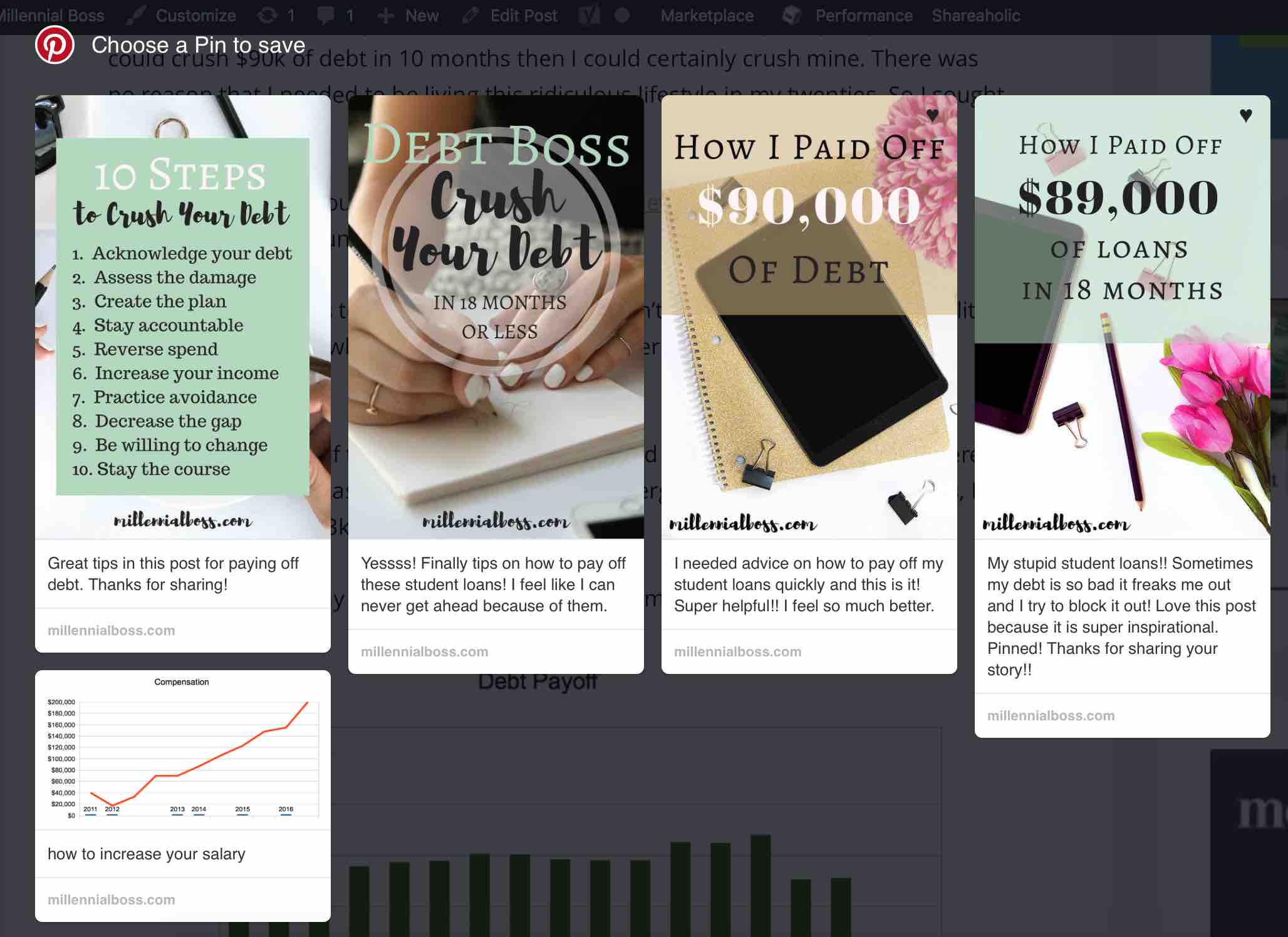 Why should you hide Pinterest images in the first place?


Pinterest has brought crazy traffic to my site.
I also enjoy using Pinterest and find great content from other bloggers from Pinterest.
Don't miss out.
Related: How to Use a Pin Scheduler to Make Your Life Easier
PS- Click the Pinterest share buttons on this post and see my hidden image.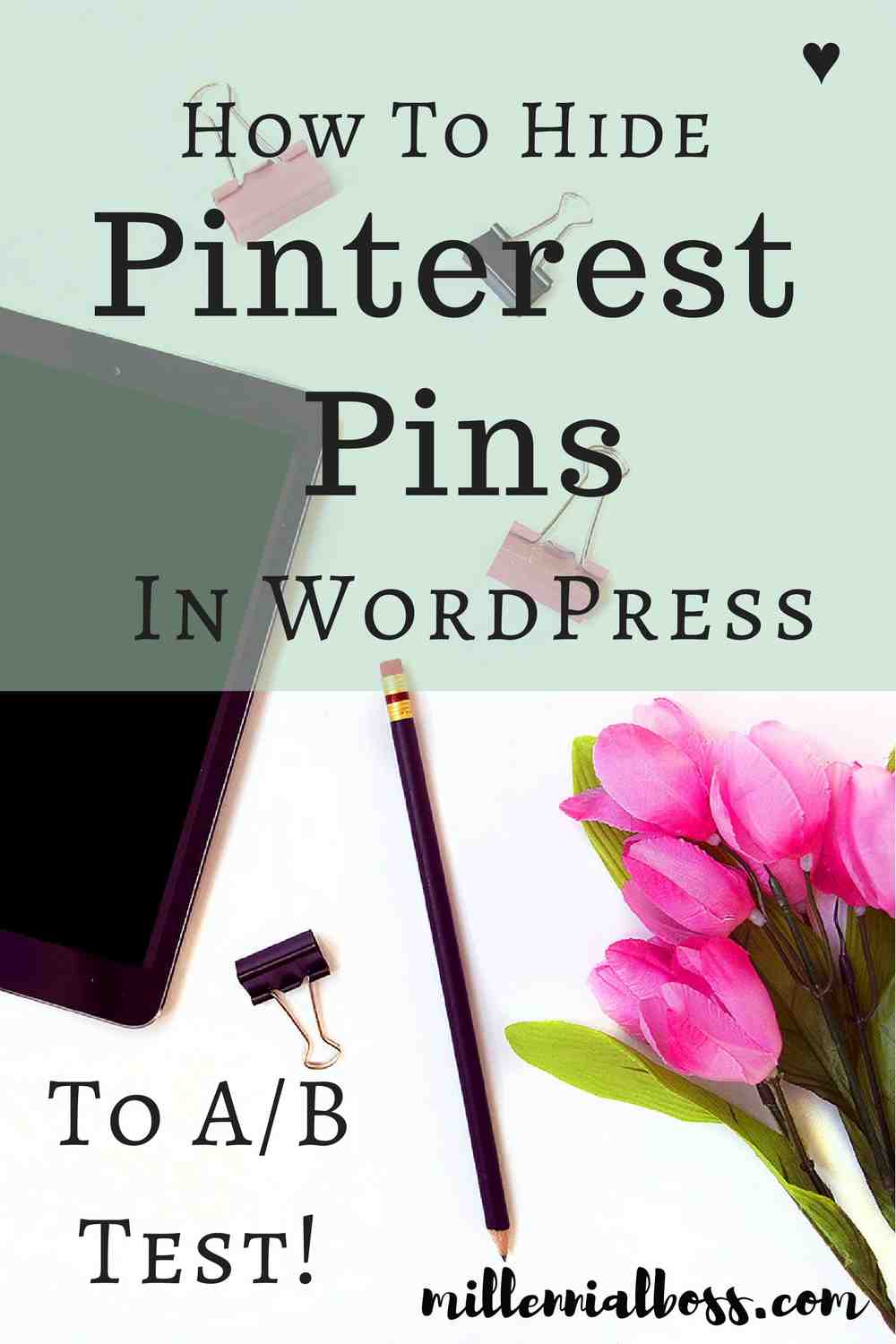 Get Tips on How I Made $25,000 Blogging
I made $25,000 from blogging last year. If you want to join my blogging email list and receive my best tips, sign up here:
More Side Hustle Income Reports: 2017
Do you hide Pinterest images in your posts? Any tips?

Latest posts by Millennial Boss
(see all)