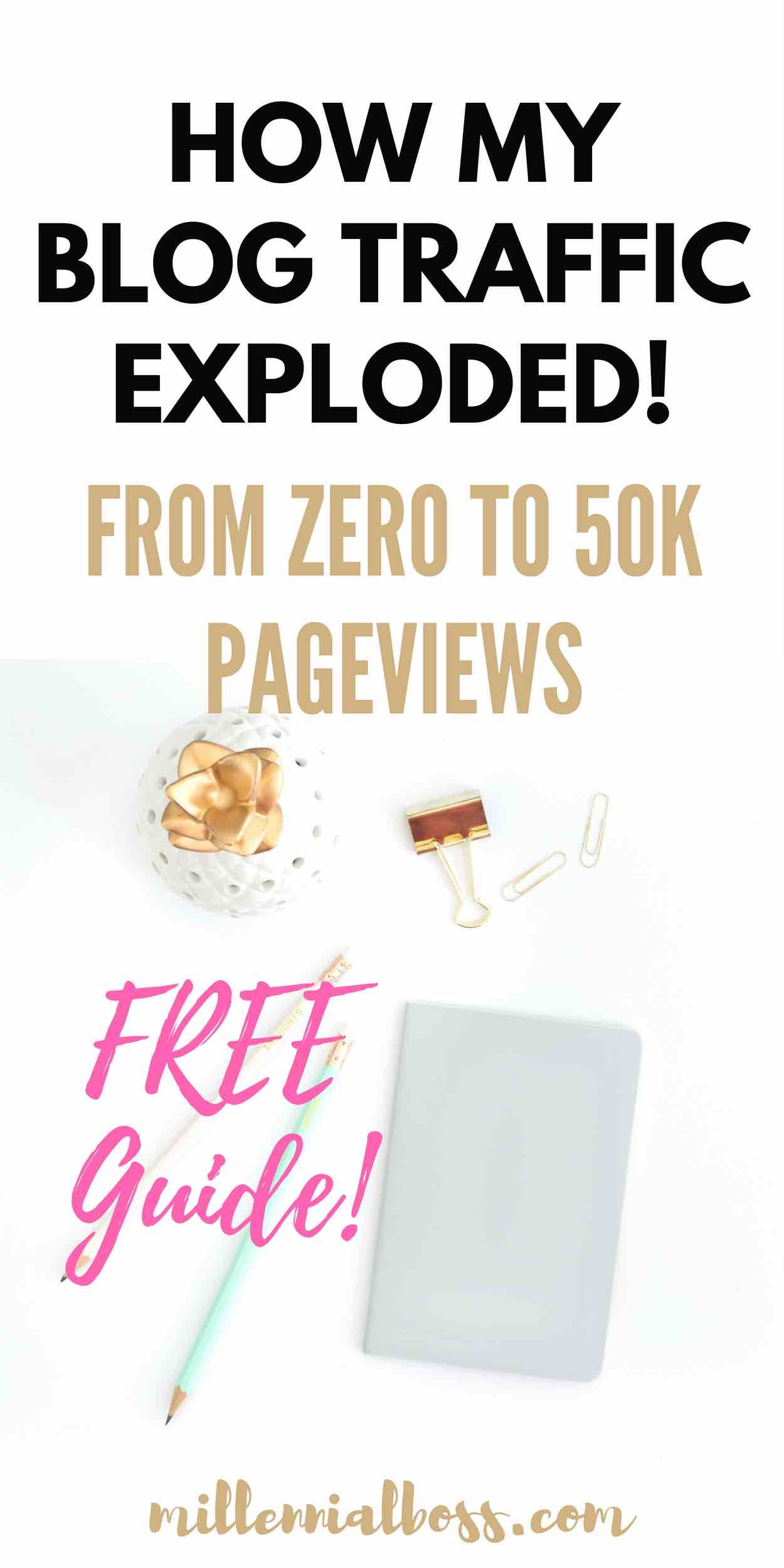 Update 6/29:   The Boardbooster company shut down to all of our disappointment….but!! There is another software called Tailwind which I wrote a tutorial for here:  Setting up Pinterest Pin Automation with Tailwind.
I've unlocked the secret to driving traffic from Pinterest!
I'm now at 50,000 page views per month and climbing.
After seeing no results for 3 months I'm so excited.
There are three key elements that made this traffic explosion possible.
First, Create High-Quality Pins
I started creating pins using high-quality stock photos with lots of white space.
I recommend SC Stockshop and Ivorymix to find beautiful, inexpensive stock photos.
I then uploaded those photos to Canva and PicMonkey which are online photo editors.
My typical pin is 1000 x 1500 but I sometimes experiment with longer pins as well.
Second, Participate in Share Exchanges
Share exchanges are when bloggers ask for shares on their latest post and in return, share other's posts.
These exchanges are common in Facebook groups.
I recently took Michelle Schroeder-Gardner's Making Sense of Affiliate Marketing Course which gave me access to the course Facebook group.
(In case you don't know who she is, Michelle is a blogger that made nearly a million dollars on her blog last year – CRAZY!!).
Some of the bigger name bloggers in the group shared my pins to their thousands of followers, driving traffic to my site.
The course was also super helpful in learning how to monetize my site.
I highly recommend checking it out – Making Sense of Affiliate Marketing.
Third, Use a Pin Scheduler
I had been putting off using a pin scheduler forever because it was intimidating.
I had logged in to BoardBooster a few times and just couldn't figure it out.
Eventually, I sat down and set it up – and I'm so grateful!
BoardBooster has been the #1 reason why my traffic has increased to 50,000 page views per month.
I originally wrote this post a few months ago when I was setting up BoardBooster for the first time.
The tutorial below will take you step-by-step through the process of setting up BoardBooster.
Related: The 15 Tools I Use to Make Money Blogging
How to Set Up BoardBooster
So I know Pinterest is SUPER important for increasing blog traffic.
Without using a pin scheduler, I managed to bring 8,000 visitors to my site in the last two weeks from Pinterest.
I just got BoardBooster though and I am COMPLETELY OVERWHELMED.
I'm currently sitting at Starbucks hopped up on a cold brew iced coffee distracting myself writing this post.
I'm going to set up pin scheduling for my Pinterest account right now, and take all of you with me.
To catch up to where I am, make sure you've done the following:
Placed pinnable images on at least 10 of your most popular blog posts (recommend 1000 x 1500 vertical images).
Created a Pinterest business account.
Created a "Best of [Your Blog Name]" board and pinned your best 10 posts to that board.
Signed up for BoardBooster. (The first 100 pins are free and you can get up to 1,000 pins a month for $10).
If you haven't done that yet, go do it. I'll wait. Just bookmark this page so you can come back to it.
Alright, done?
K, now that we're at the same place…
Step 1 – Set up looping for your "Best of [Your Blog Name]" board.
We're doing this because neither you nor I feel like manually pinning our best content over and over again to this board.
Ain't nobody got time for that.
By the way if you're asking: Why do I have to repin my content over and over again to this board?
It's because you want your content to show up in your followers' feeds.
People aren't going to navigate over to your Pinterest page and click this board.
They're going to see your content magically show up in their feed everyday and repin it and/or click through to your site.
So that's why.
How to set up looping in BoardBooster
K, so navigate to Pinning Tools in the top right of your screen and click Looping. Then click, the button configure looping.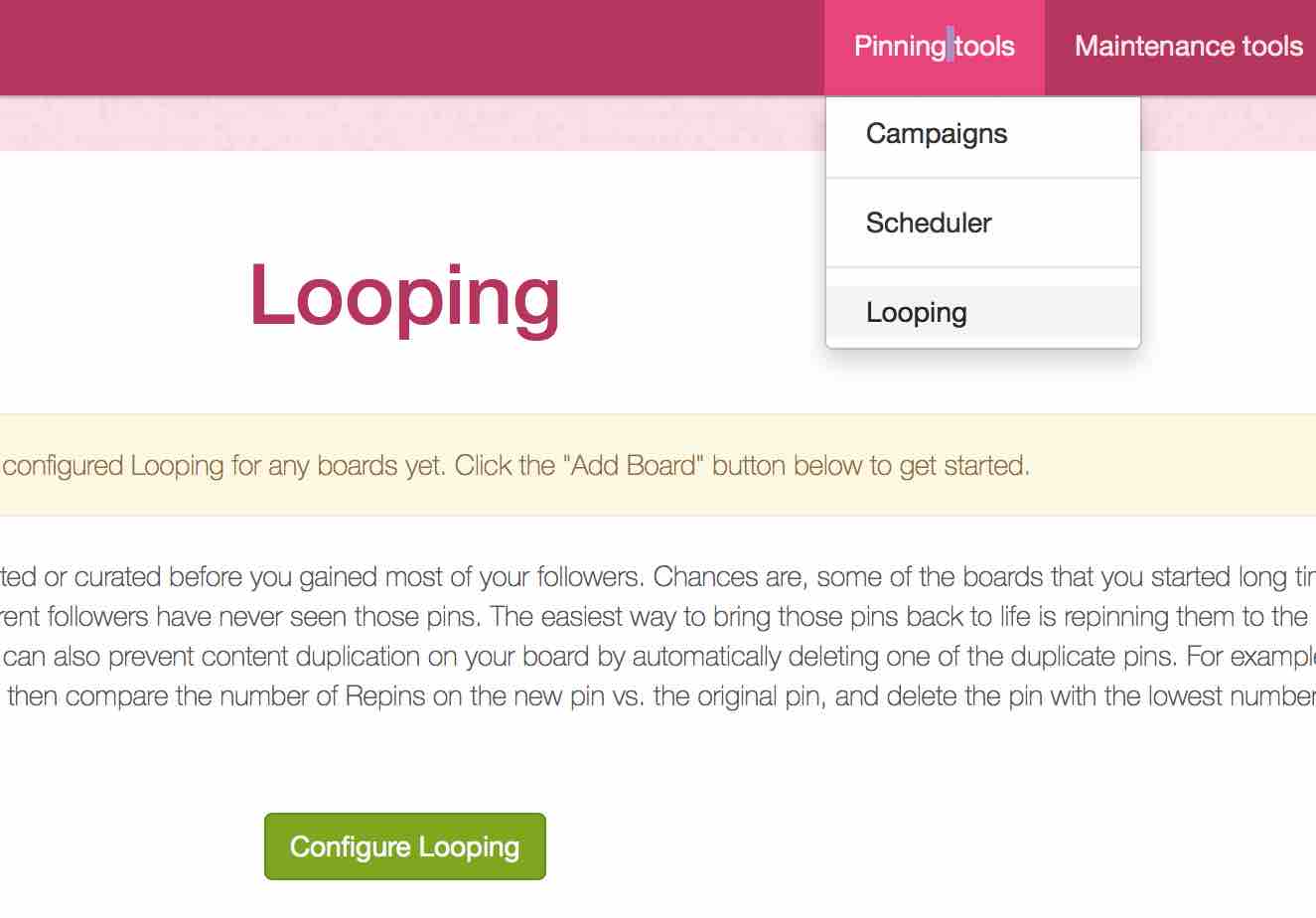 Now, you're going to copy the setup in the picture below EXACTLY as I have it.
Don't freak out trying to understand all of these settings right now. It's going to be okay.
You're not going to mess anything up and you can change all of this later if you wish.
If you're like me, you've been putting off setting this up forever and you just need to get started.
PS – I was influenced by some top pinners when setting up this looping schedule so it's not random. It's researched.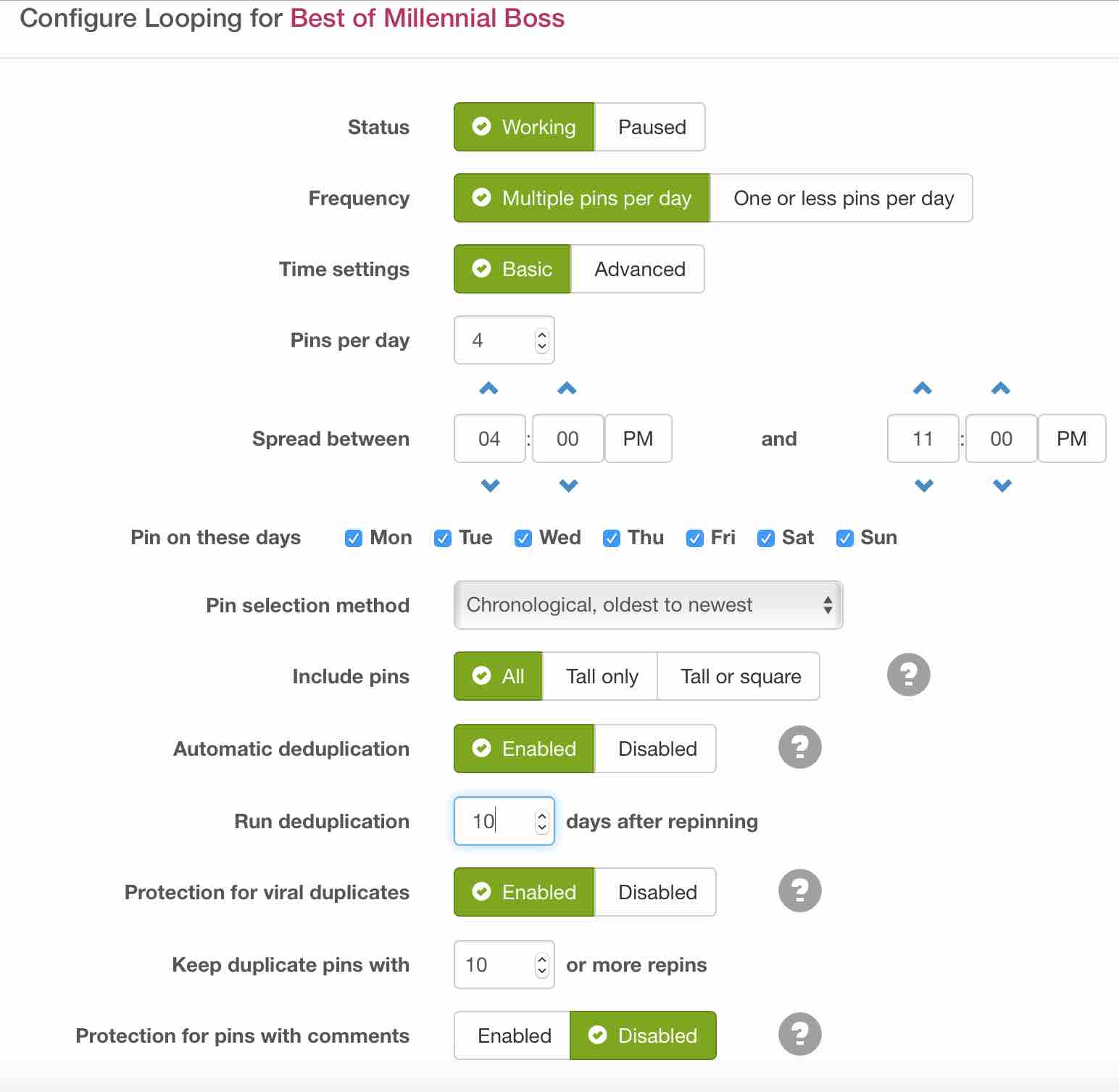 Yay! We've set up looping for your "Best of [Your Blog Name]" board!
You can continue to add new pins to the board anytime you write a new post and they will be automatically looped.
Step 2 – Create secret boards.
What are secret boards?
Pinterest has this concept of "secret boards" which are boards that nobody else can see but you.
Some people use secret boards to pin embarrassing pins that they wouldn't want their friends to know about (like pinning to a wedding board before you're even engaged).
Bloggers use secret boards to minimize their work.
You can setup BoardBooster to automatically pin from your secret boards to your "real" or visible boards slowly over time.
This can save you tons of time since you can pin to your secret boards whenever you can and let Boardbooster do the work.
This also prevents you from spamming your followers with all of your content at once.
Consider this scenario:
Let's say that you have 10 boards on your Pinterest profile. Half of the boards are about saving money and the other half are about fitness.
You only need to create two secret boards in BoardBooster, one for money pins and one for fitness pins.
You can then stock up those two secret boards with pins for the month. Then setup BoardBooster to slowly pin those pins for you over time to the appropriate real boards.
I created the picture below to illustrate the concept.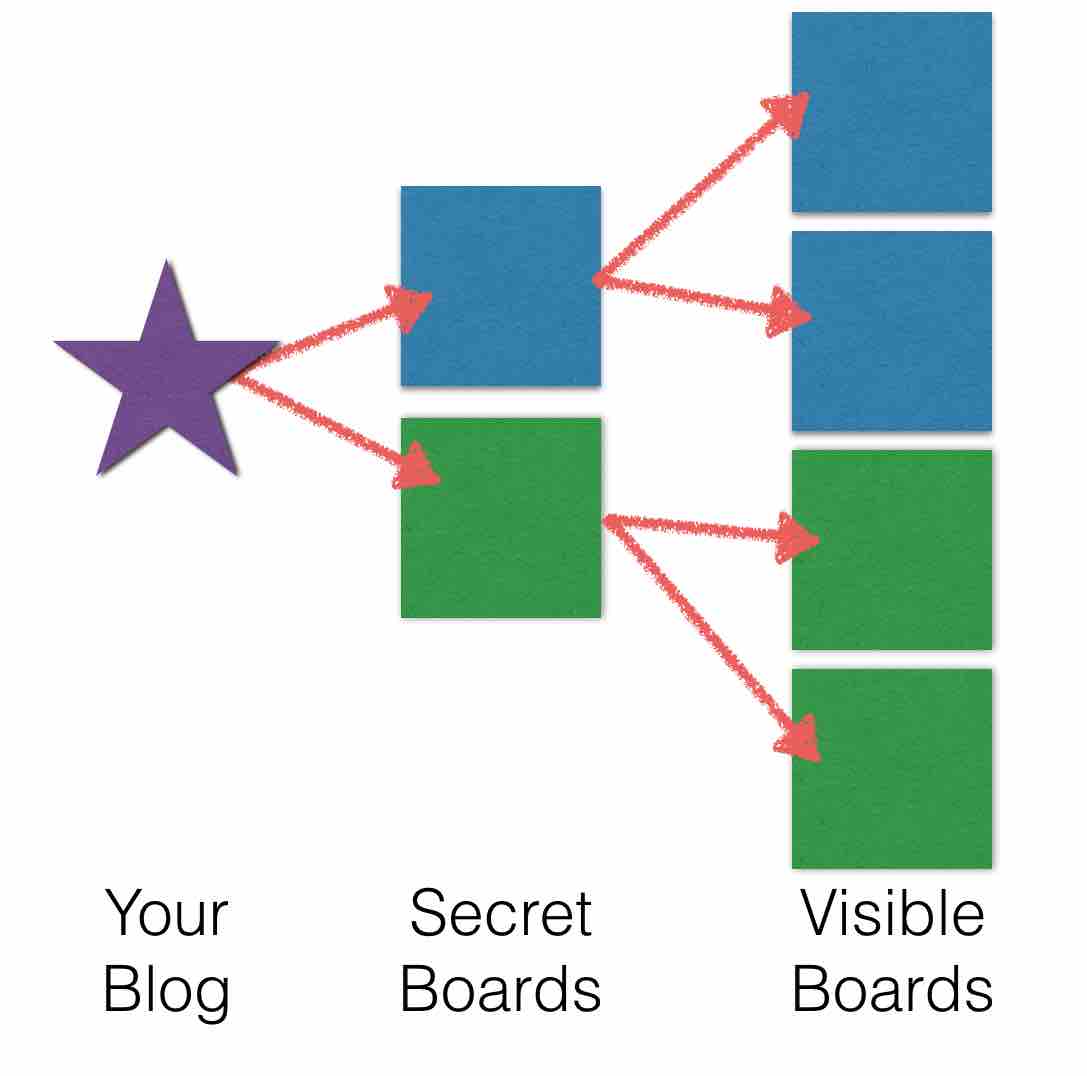 You could create one secret board for every board you have but that would take forever and maintaining it would be a pain.
Why not just create a few secret boards for each general topic you write about? MUCH EASIER. I'M IN.
How to create secret boards
Navigate to your Pinterest profile page.
Click the giant red plus button to Create board.
Click the "Secret" setting to Yes.
Click create.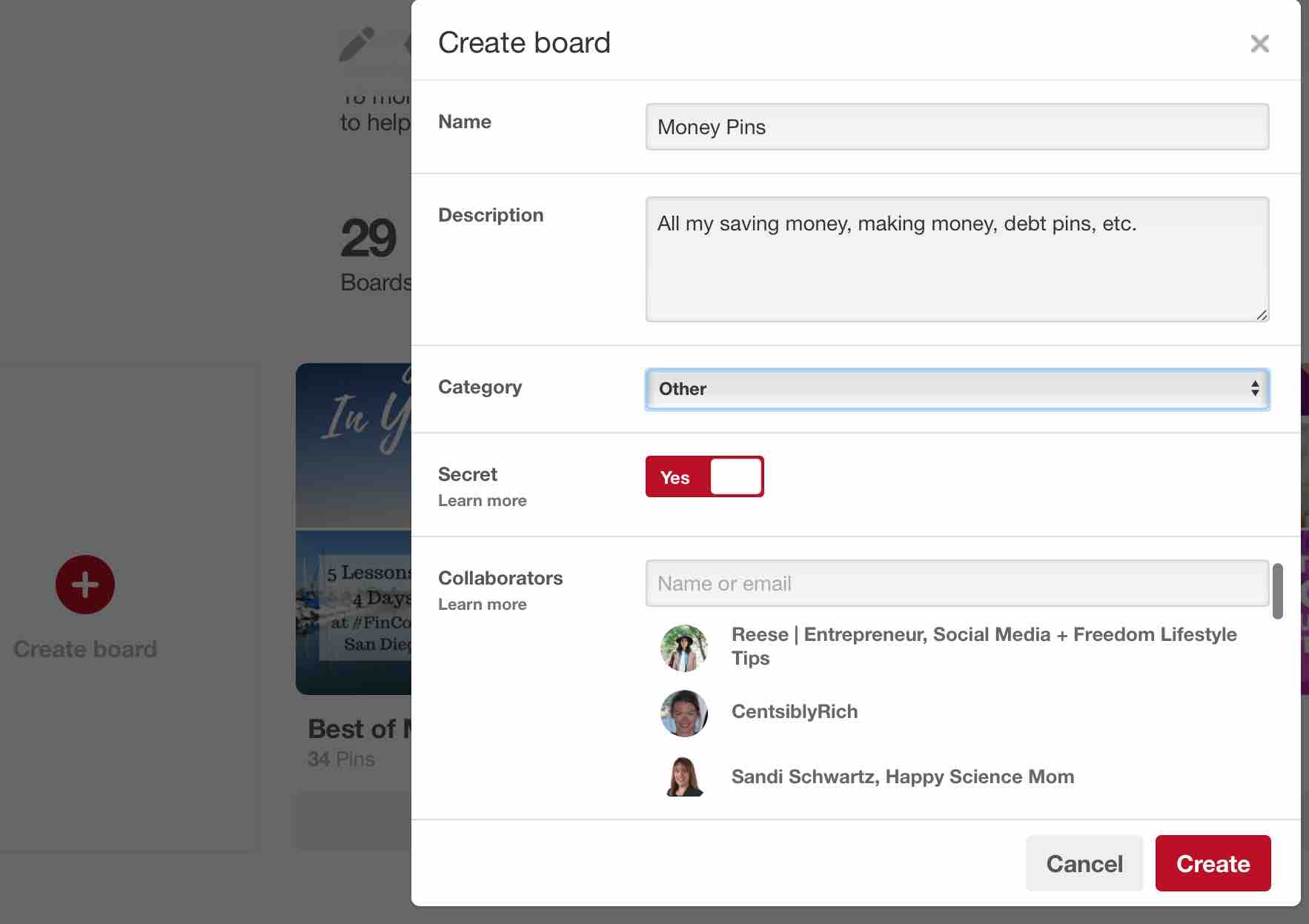 You can create as many secret boards as you'd like.
Obviously, you want to go as general as you can with the secret boards to minimize how many boards you have to maintain but you don't want to go too general that you're pinning to boards that don't really fit.
Later, you can fill up the secret boards with relevant content from your blog.
Just a tip – I put "BB" in the name of every secret board I created so that I could easily tell which boards were my secret boards.
Step 3 – Set up pin scheduling for your content with Scheduler.
First run the scheduler for each board.
Click Pin Scheduler under Pinning tools in the top right menu of BoardBooster.
Select all of the boards that you want to add to pin scheduler. I'm choosing to schedule all of my money boards first.
Note, I asked to be a collaborator on some group boards which is why I have so many boards. More to come on that later.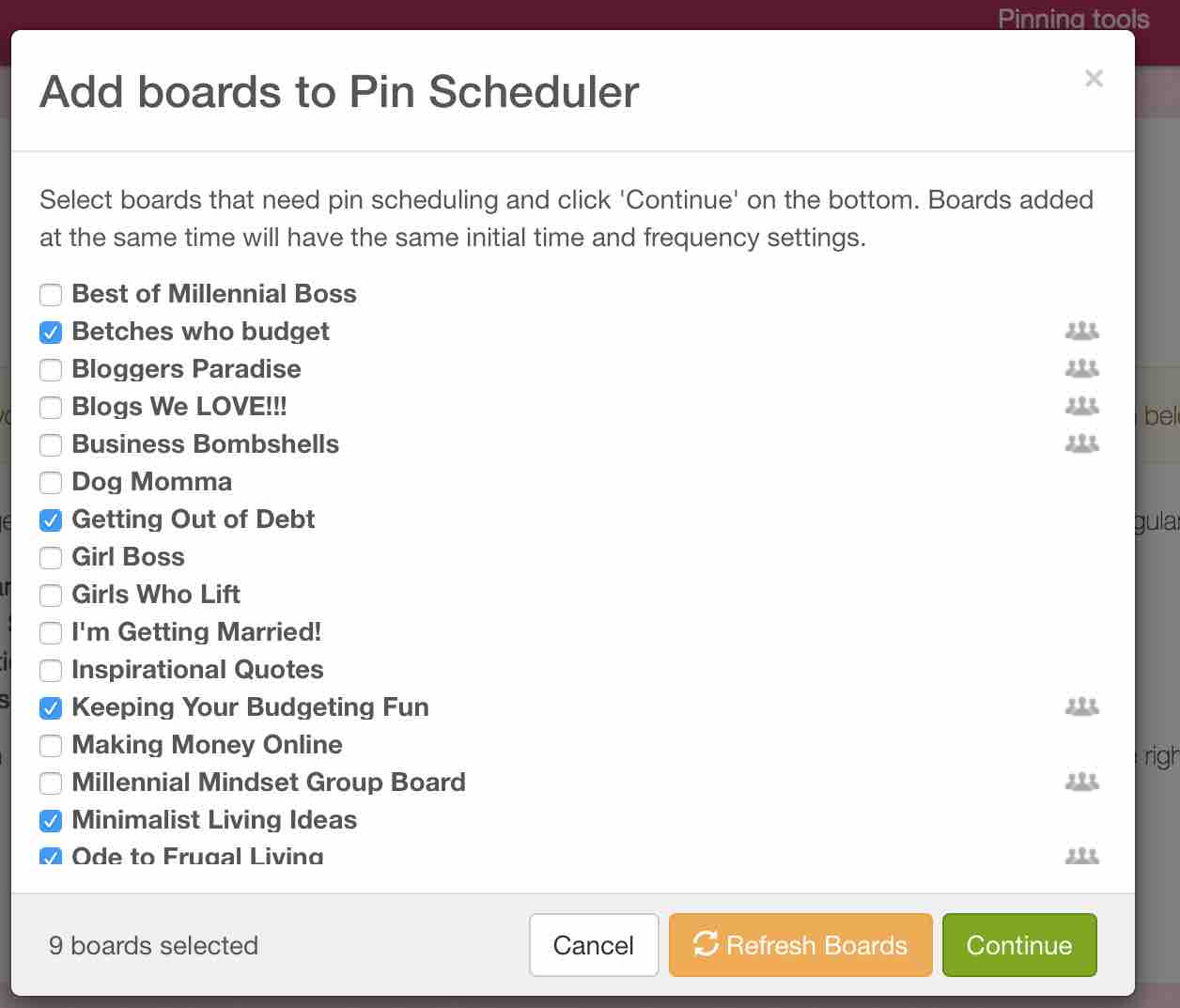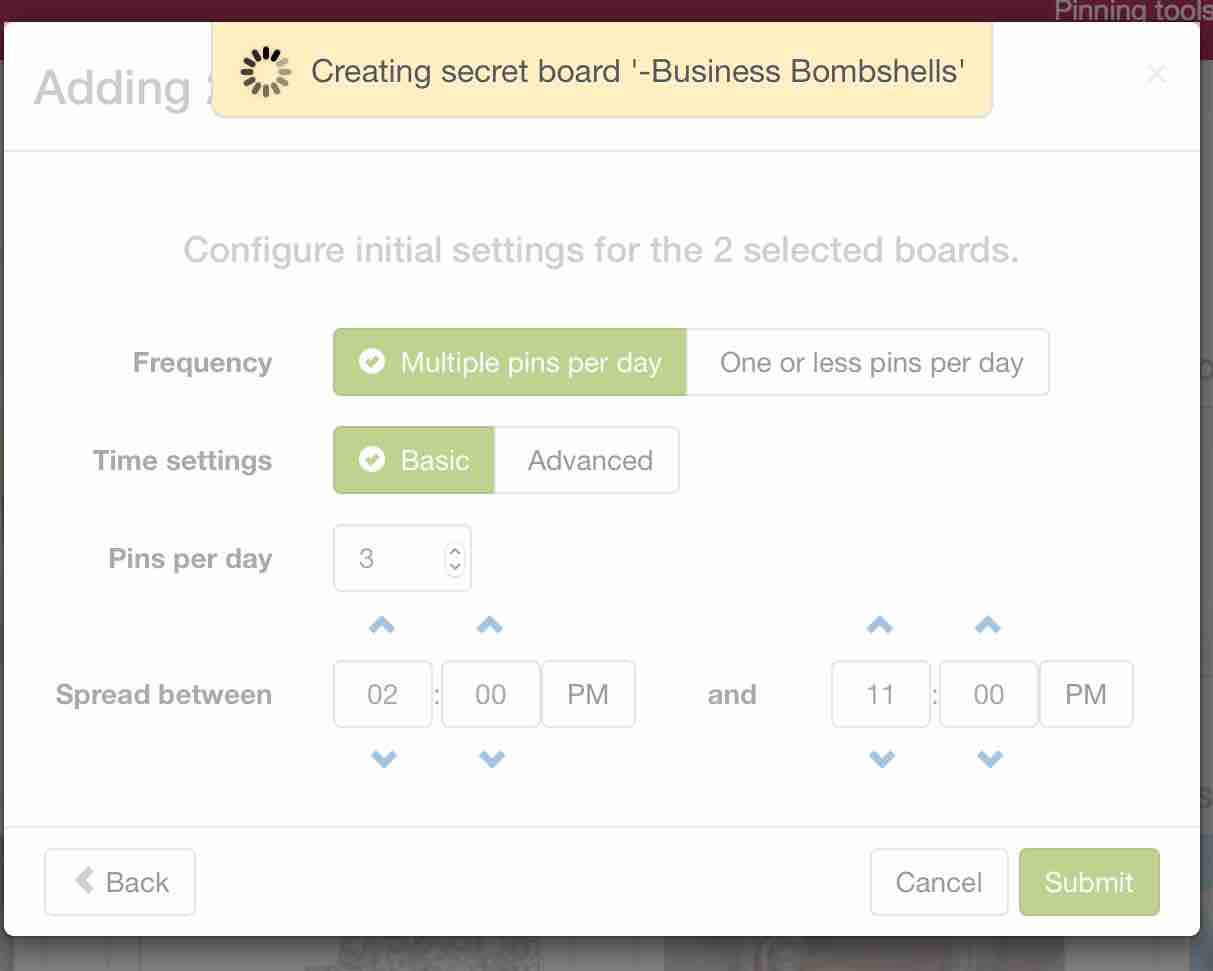 BoardBooster created secret boards for every single one of the boards I checked.
That would have been cool but remember, we're going with a different approach where we create a few secret boards that source many visible boards to save time.
I have to go back and delete the secret boards BoardBooster created for me later in Pinterest but no biggie. It's easy to tell which ones those are because they start with a dash and the name of the board.
And trust me, delete them later not right now.
I tried to delete them as I went along and ended up having to re-load all of my posts in the scheduler. No fun.
Next, configure the settings for each board to choose the right source board.
Now I see my boards under Pinning tools > Scheduler.
I clicked the first board and then clicked the pink gear for settings > Advanced Settings.
I then set the board up as pictured.
I'm doing 2-3 pins a day per board.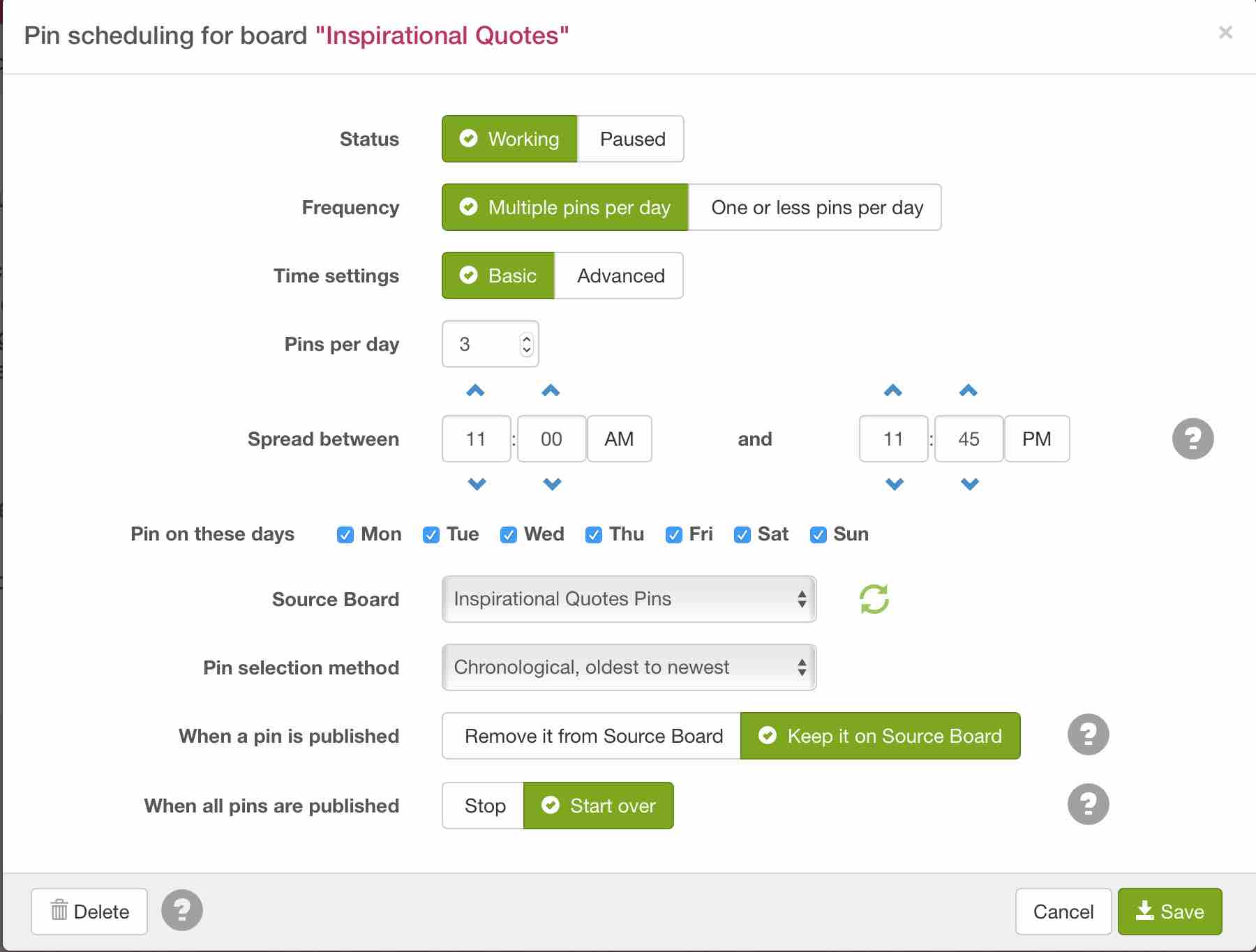 For those of you who are part of group boards, it would be here that you would implement the group board rules.
For example, I'm part of one board that only allows 3 pins per day.
Make sure you check the rules of your group board (usually in the description on Pinterest) as you set this up. See below for an example.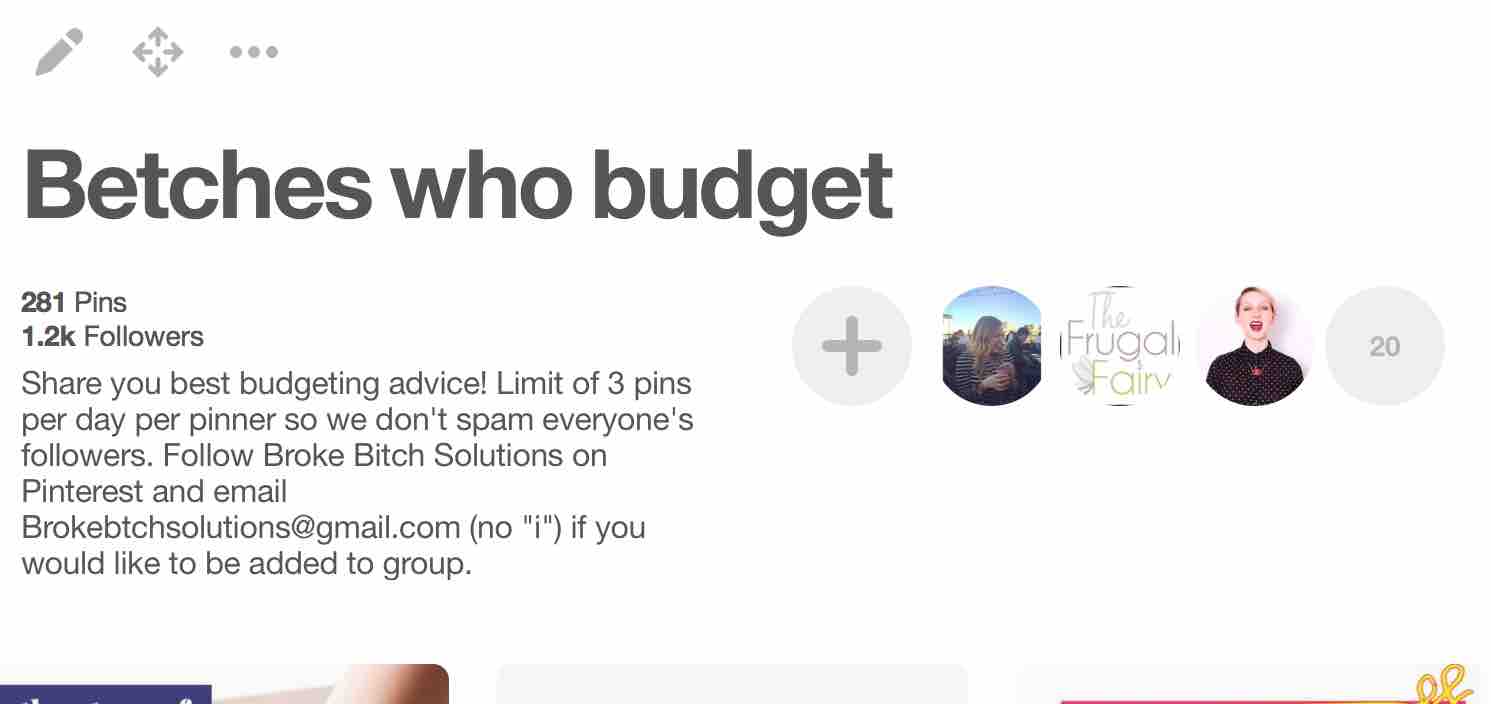 As you can see in the above image, you can get added to group boards by first following the group board and then emailing the group board organizer.
You want to get on group boards so you can rapidly increase the number of people who see your pins.
Thirty minutes later..
Okay, so I just went through and edited the settings for all of my scheduled boards so that they source from the right secret boards.
Ugh. Luckily I only have to do this once.
Now, I have scheduled around 50 pins to go out each day from the source boards to the various public boards.
But – I have not yet loaded the source boards with my own content. Time to go into Pinterest and do so.
Step 4 – Load the source boards with your own content from your "Best of [Your Blog Name]" board.
I'm now in Pinterest pinning all of my pins from my "Best of Millennial Boss" board to my secret boards.
Some pins fit into multiple categories so I'm pinning them to more than one board. For example, I am pinning the post "How to Successfully Negotiate Your Salary" to the money board and the career board.
In Step 3, I set up the automatic scheduling so once I load this content now, I'm good to go unless I want to edit the settings further.
Next, check the secret source boards for duplicates.
Now, I'm checking my source boards for duplicates, making sure I pinned the right pins to the right categories, etc.
Everything looks good!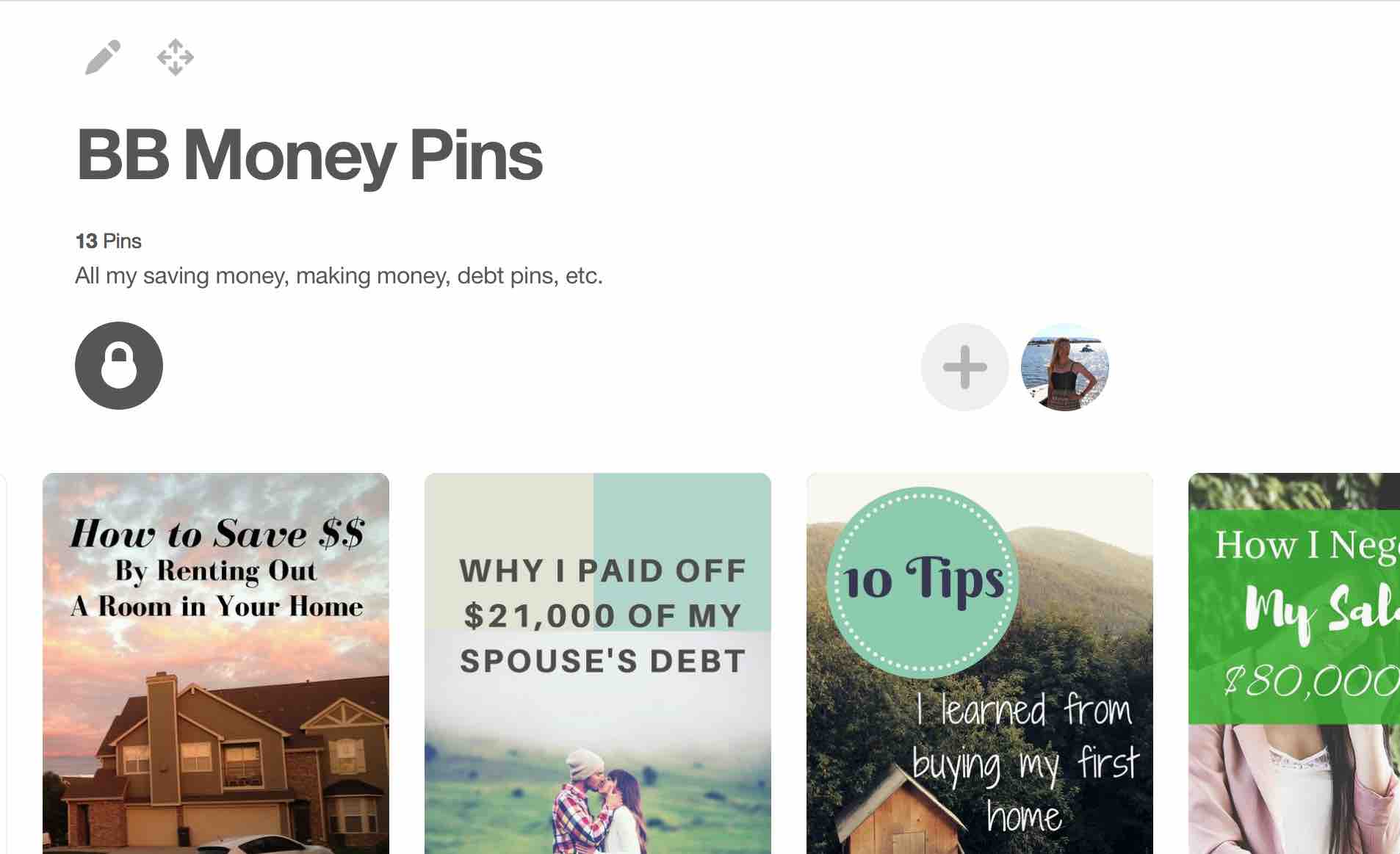 Step 5 – Load other people's content.
I'm using BoardBooster to schedule my own content.
Check out the next post in the series detailing how I use Tailwind to schedule other people's content.
Have you joined our email list? Sign up at the bottom of the post to be notified of new content.
Do you use pin scheduling? How has it increased your traffic?

Latest posts by Millennial Boss
(see all)