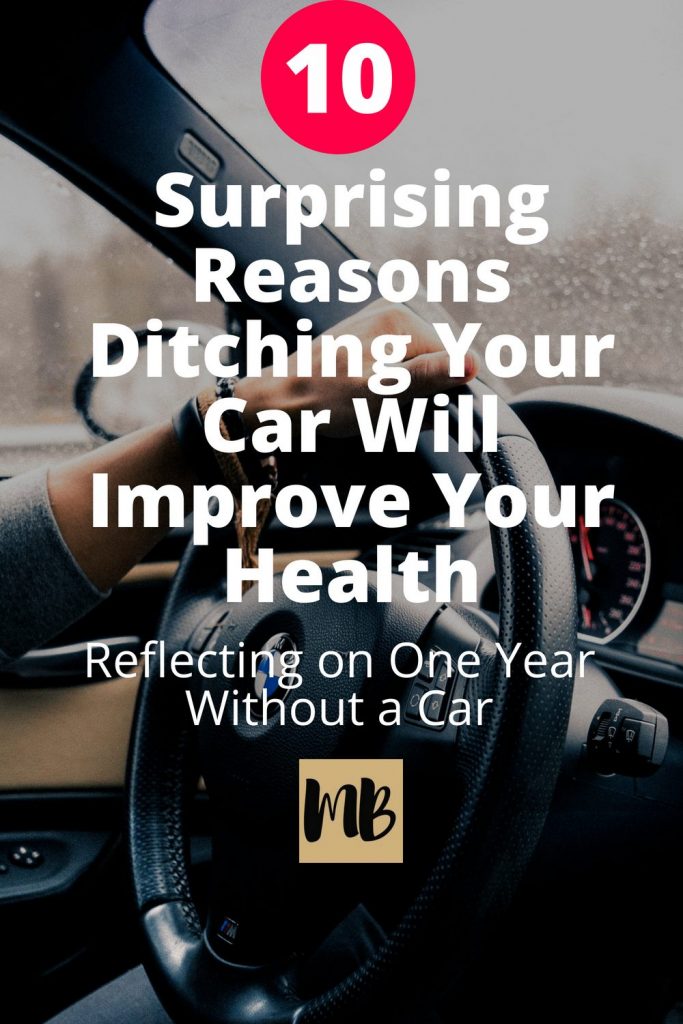 I sold my car exactly one year ago and don't own another car.
This post shows the 'after' picture one year out from selling my car.
But First, Here is the Scoop on My Old Car
Why I Bought The Car
I bought it during a crazy lifestyle inflation run in 2014 when I started making good money and thought I was doing what I was supposed to do (buying a bunch of stuff because #adulting).
I drove 45 miles to work one-way and lived in an area of town that was rarely plowed. For these reasons I justified getting a brand new all wheel drive SUV complete with moon roof, heated seats, 'eyesight' driver assistance, and other cool features.
The two previous cars I had owned were over 15-years-old each so I said #treatyoself.
Everyone wanted me to buy this car and I "had the money" to do it.
Why I Sold The Car
I was influenced by Mr Money Mustache's post, The True Cost of Commuting.
Even though the car payment was less than $400 per month, the total cost of driving the car was $750 per month when factoring in insurance, maintenance, gas, and the crazy-high annual registration fee.
We decided to pay off all of our debt and we still owed over 20 grand on this car.
If you want to read exactly how I sold the car from painting the car myself to negotiating with dealerships , check out this post Selling My Car to Pay Off Debt.
Similarly, here is the story of how my husband and I paid off $89,000 of debt in 18 months.
What It's Been Like Not Owning A Car
I do not have my own car.
My husband has his car but we work opposite schedules so I'm usually home without access to a car.
It's been fantastic and I know we made the right call.
Here's why.
I'm Much Happier Without A Long Commute
I made great use of my old 45-mile commute.
I used that time to call my family, listen to cool new country songs on the radio (Bobby Bones listeners anyone?), and just generally space out and decompress.
At the same time though, that 45-minute commute was rough.
If it snowed, I needed to wake up extra early, keep my eye on the Waze app the entire drive so that I could reroute if needed, and tack on an extra hour at least to my commute.
One time, I got stuck on the highway for 9 hours during a snowstorm.
Not to mention the commute messed with my emotions. I was often tired and cranky by the time I got home.
I also rarely worked out and my poor dog didn't get the exercise he needed because it was dark by the time I got back.
I wasn't a happy commuter.
I Love My 15-Minute Commute
When we moved out of state, we used it as an opportunity to start fresh.
We chose a tiny apartment in walking distance to shops, restaurants, and public transportation.
I take the bus to work and my entire commute takes about 15 minutes. I love it.
I work out way more often because it's actually light out when I get home!
I also take my dog on walks which he appreciates.
I still talk to my family on the phone, but this time from the comfort of my apartment, not a traffic jam on the highway.
I also still listen to music and podcasts on the bus but this time I'm not driving, so I can completely relax.
It's Nice to Not Be Stressed About Money
Now that we're debt free, we no longer stress about money.
Our most difficult financial discussions are about where we allocate our extra money, not how we are going to have enough money to cover our bills and loan payments.
It's pretty great to be debt free.
Surprising Effects of Not Having A Car
I anticipated some of the effects of selling my car that I already listed.
Here are the unintended positive effects of living without a car.
I Eat Healthier Because I'm No Longer Stopping For Groceries Daily
When I owned a car, I used to stop at the grocery store on my way home from work. Mostly because I always thought of something that I needed to pick up.
Many times though, I was feeling lazy and hangry and would pick up frozen pizzas, ice cream, or something else equally unhealthy.
Now that I no longer have a car, I can't stop for food on the way home.
I eat whatever we have in the kitchen which is much healthier for me.
I Save Money Because I Can't Go Out and Buy Things
When I owned a car, I used to think of something I needed or wanted and just go out and get it.
I can't go out and buy things now because I don't have a car.
If I really want something, I need to text my husband and ask him to pick it up on his way home from work, which I rarely do.
I could walk downtown to get something but having to put in the effort to walk there and carry it back makes me realize that I don't really need it.
I could also Uber but that just seems ridiculous.
I Feel Like I'm Doing Better For the Environment
In no way was this a reason that I sold my car but I feel like I'm doing something good for the environment.
I have to admit that I find two-car households a little wasteful now.
Many people feel stuck in their two-car situation but you can always sell or rent out your house and move closer to work.
Car pollution is legit and the facts are scary.
What I Miss About Having A Car
Selling my car hasn't been all butterflies and rainbows.
Here are the downers I've experienced after selling my car and moving into a walkable neighborhood.
Walking Distance Housing is Smaller
Our apartment is tinyyy.
I mean like Harry Potter, 4 Privet Drive, closet under the stairs, tiny.
Most of the affordable apartments we looked at within walking distance to stuff were small.
The lack of space was hard to get used to at first but we got rid of most of our stuff on Craigslist and make it work.
We're Limited To Walking Distance Housing in Future
If we want to move, we would have to limit our housing search to places in walking distance to shops and public transportation.
I guess I could always buy an old car but I really don't want to be a two-car family again, especially with my new view on car pollution.
We Can't Host People Anymore
We used to invite friends over for dinner and to hang out.
We really can't do that in our tiny apartment. It would be super uncomfortable and we only have enough seating space for one other person.
Plus, we have an 100-pound dog who takes up half the apartment (at least it feels like that sometimes ha).
We Go Out to Eat More Often
We live in walking distance to some really good food so we go out to eat more often than we did previously.
I actually love it but it definitely has had a negative financial impact.
We don't eat out $750 worth per month (the cost that I was paying for my car) but I definitely think we spend a few hundred dollars per month eating out.
We also can't invite friends over anymore so we meet out for dinner frequently which contributes to the high cost of eating out.
I Don't Have As Much Independence
This last one is debatable but every once and awhile I feel like my freedom is a bit limited by not having a car.
I can't just decide that I'm going to meet my friend who lives 30 minutes away without planning ahead.
If I really want to do something spontaneous, I have to wait until my husband gets home and I can use the car.
I've definitely planned my way around all of these difficulties but it's occasionally inconvenient.
Overall though, we don't regret becoming a one-car household.
Do you have one car, two cars, or no cars?  What do you think about car ownership?

Latest posts by Millennial Boss
(see all)