The Crazy ROI From Starting Your Own Blog
I've done crazy awesome things because of my websites like getting an internship at the Olympic Training Center, getting discovered by a student travel startup, and paying off $89,000 of loans.
My sites held me accountable to my goals and kept me motivated.
I'm now getting paid from blogging.
I've also met many wonderful friends through my sites that I would never have met otherwise.
If you're reading this post, you're interested in starting a website or blog.
And I'm so excited for you.
I will be getting my eighth site today – and will be walking you through the process step-by-step.
I've also included a review of hosting providers Bluehost and Siteground, so you can make the best hosting decision for your site.
You need a hosting provider to start your own website but luckily they're cheap.
You can get started with Bluehost for less than $4 per month!
How To Sign Up For A Domain Name
This is step 1 of starting a blog!
How to Pick Your Blog Name
The first step to starting a site is picking your domain name, which means blog name.
You could probably spend hours thinking of the perfect name but I recommend not dwelling on the decision too much.
Otherwise, you'll get into this mode where you won't start your site until you have the absolute perfect name and it will hold you back.
#PerfectionistProblems
There are two ways to pick your blog name
There are two approaches you can use when picking a name.
First, you could go with a keyword or phrase that relates to the topic of your blog or business such as "Cali-LifestyleBlog" or "FashionBags."
Or, you can go completely out there and pick something random such as "PiratePuppets" or "PineapplePizzaKing."
Some of the biggest companies out there have names that don't sound related such as Zillow or Trulia.
Don't stress.
Instead of deliberating forever, it might be better to just pick something and go with your gut.
I'm choosing the "The Swag Elephant" for my site, which means absolutely nothing but I think it sounds cool.

Starting a blog but not ready right now?
Put your email address in below and we'll email it to you along with our 7-day free course.
How to Tell if My Chosen URL and Social Media Accounts Are Already Taken
Once you've decided on a name, the next step is to check if your chosen name is already taken.
You should check both the URL and social media accounts.
Luckily, you can kill two birds with one stone by going to Namechk.com.
Just type in your domain name idea and it will tell you what URLS are available and what social media accounts are available.
Don't fret too much if some of your social media accounts aren't available.
You can always include underscores to make the username unique, depending on the rules of the social media site.
As you can see, The Swag Elephant is available across the board. Shocker, haha.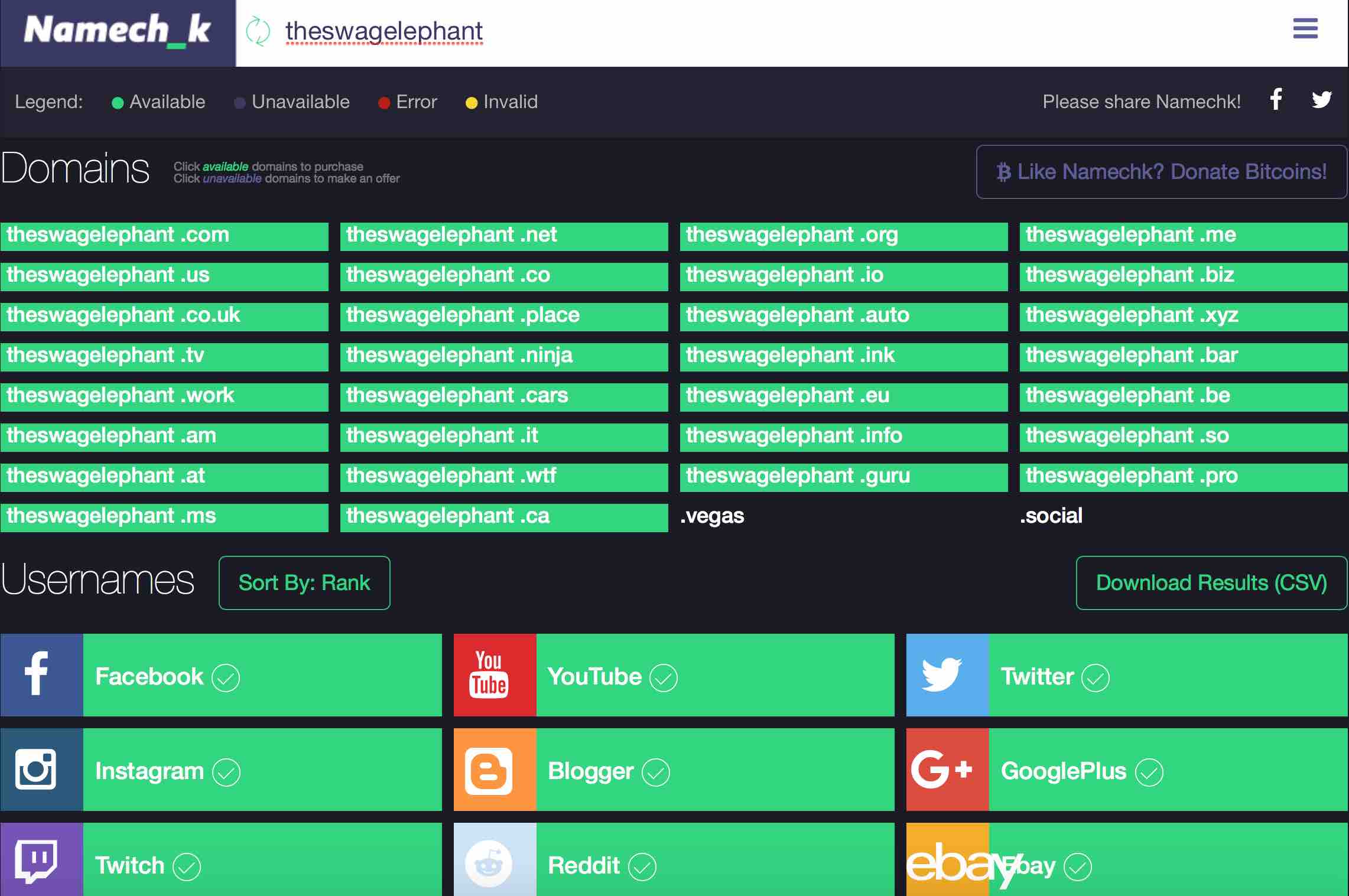 Securing the Domain Name
You need to host your website on the internet if you want people to visit it.
Many web hosting companies give you the ability to add a domain name for free when you purchase hosting.
Luckily hosting is super cheap in 2017.
When I started my blogs, I purchased hosting through Bluehost.
I've heard some great things lately about Siteground, however.
Here is a quick review of the pros and cons to using Bluehost.
After, I'll review the pros and cons of using Siteground to help you decide which one is best for you.
Pros and Cons of Using Bluehost for Your Hosting Provider
Benefits of Using Bluehost
Price – You can get hosting for under $4 per month.
Space – Up to 50 GB for the cheapest plan.
Ease of Use – You can get a site going and download WordPress in 15 minutes. It's also super easy to set-up your email addresses and upload files to the server (which you have to do occasionally when running a website).
Freebies – You get a free domain and advertising credits for Google.
Cons of Using Bluehost
Bad Press – Occasionally I'll run across some bad press about downtime on using Bluehost.
Customer Support – I ran into an issue this week where I needed to reach out to Bluehost customer support. They tried to help but they were not able to fix the problem on my site. This situation reminded me that hosting providers such as Bluehost are not all-inclusive. They can't solve all of your issues. They just offer cheap hosting, that's it.
Pros and Cons of Using Siteground for Your Hosting Provider
Pros of Using Siteground
Good Press – Good press is out there about Siteground's uptime. I also have friends that use Siteground who recommend it and say it's reliable.
Price – The price is also low for smaller blogs (less than 20k page views per month).
Customer Support – I've heard great things about customer support as well.
Cons of Using Siteground
More Expensive – Pricing tiers are more expensive than Bluehost.
Space Cap – The cheaper Siteground plan caps you at 10GB of web space versus the 50GB for Bluehost.
Bluehost Versus Siteground
The decision to go with Bluehost or Siteground is a personal choice.
It depends on the purpose of your site, how much traffic you expect, and how much you're willing to spend.
For my new site, I decided to go with Bluehost instead of Siteground.
I never thought I would get 50,000 page views per month on this site but I quickly scaled up to that amount.
I am expecting "The Swag Elephant" to do just as well so I'm going with Bluehost.
Bluehost is also a better deal price-wise for me.
Below is how the pricing compares between Bluehost and Siteground.
Bluehost Pricing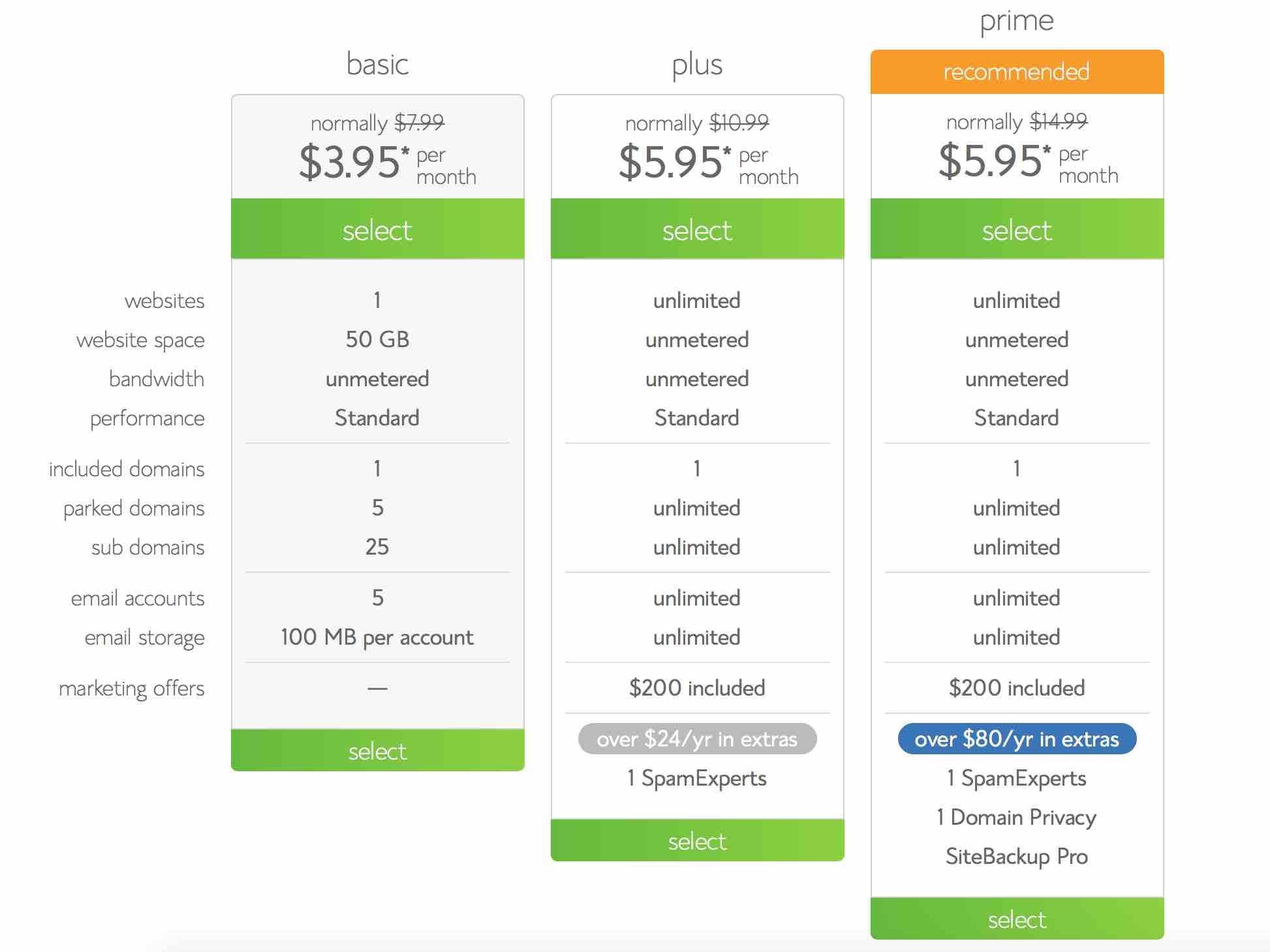 Siteground Pricing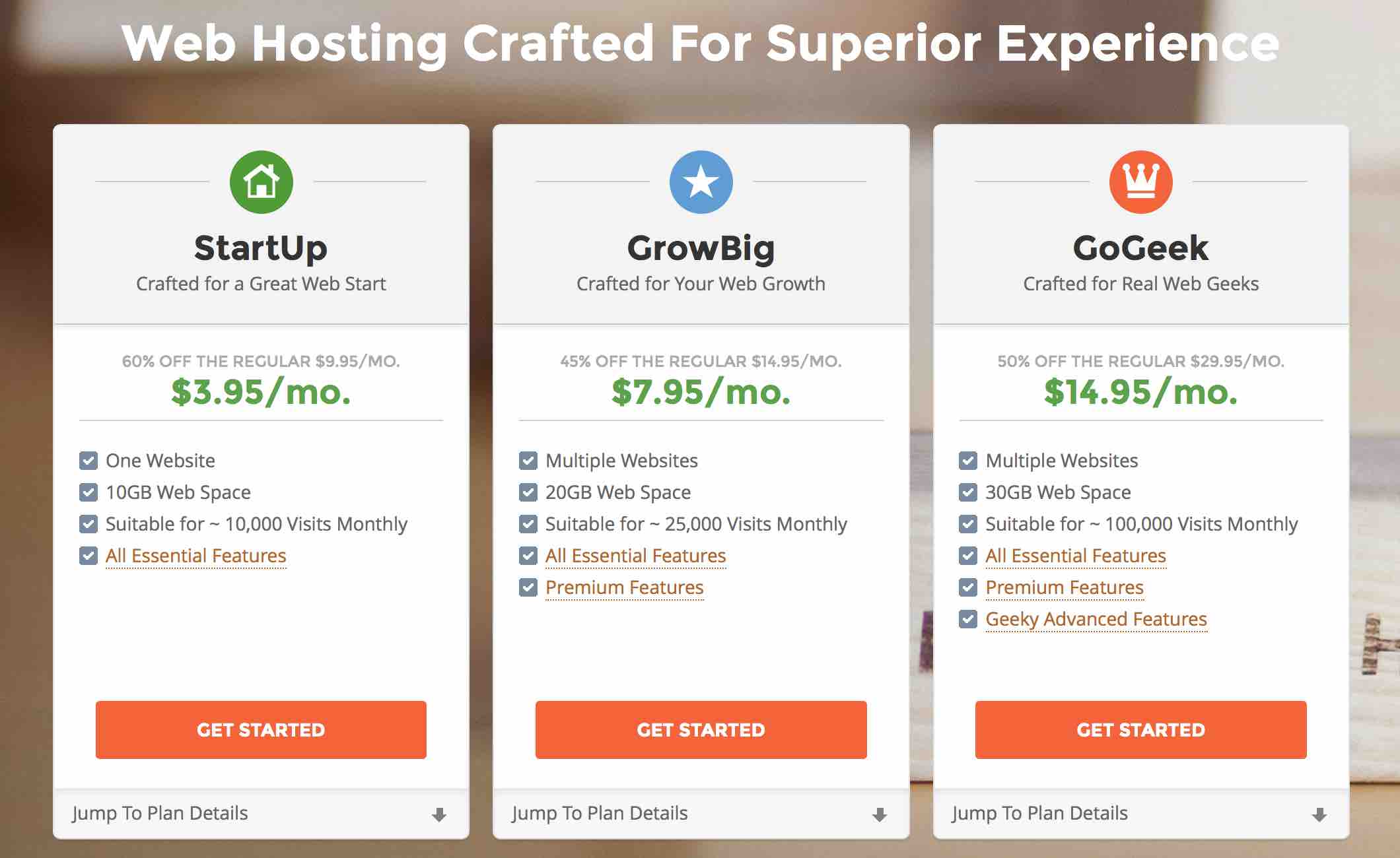 By the way, you're not totally stuck with any web host you choose.
You can easily transfer your site to another hosting provider at a later point in time.
If I ever do have a problem with Bluehost, I can easily switch!
Again just like choosing the domain name, don't freak out and not move forward with starting your site because you're worried about picking the right hosting provider.
Pick one and get the site up!
The tutorial below covers setting up a site with Bluehost, if that is the provider you choose.
I recommend keeping two tabs open.
Click here to  Create Your Account With Bluehost and then keep this post open as well so I can walk you through the process.
It will only take fifteen minutes.
Setting Up Your Site With Bluehost
After signing up for a plan (I recommend starting with the cheapest one), enter your domain name of choice.
At first, I tried to purchase "The Swag Queen" but saw it was unavailable.
I decided to go with "The Swag Elephant" instead.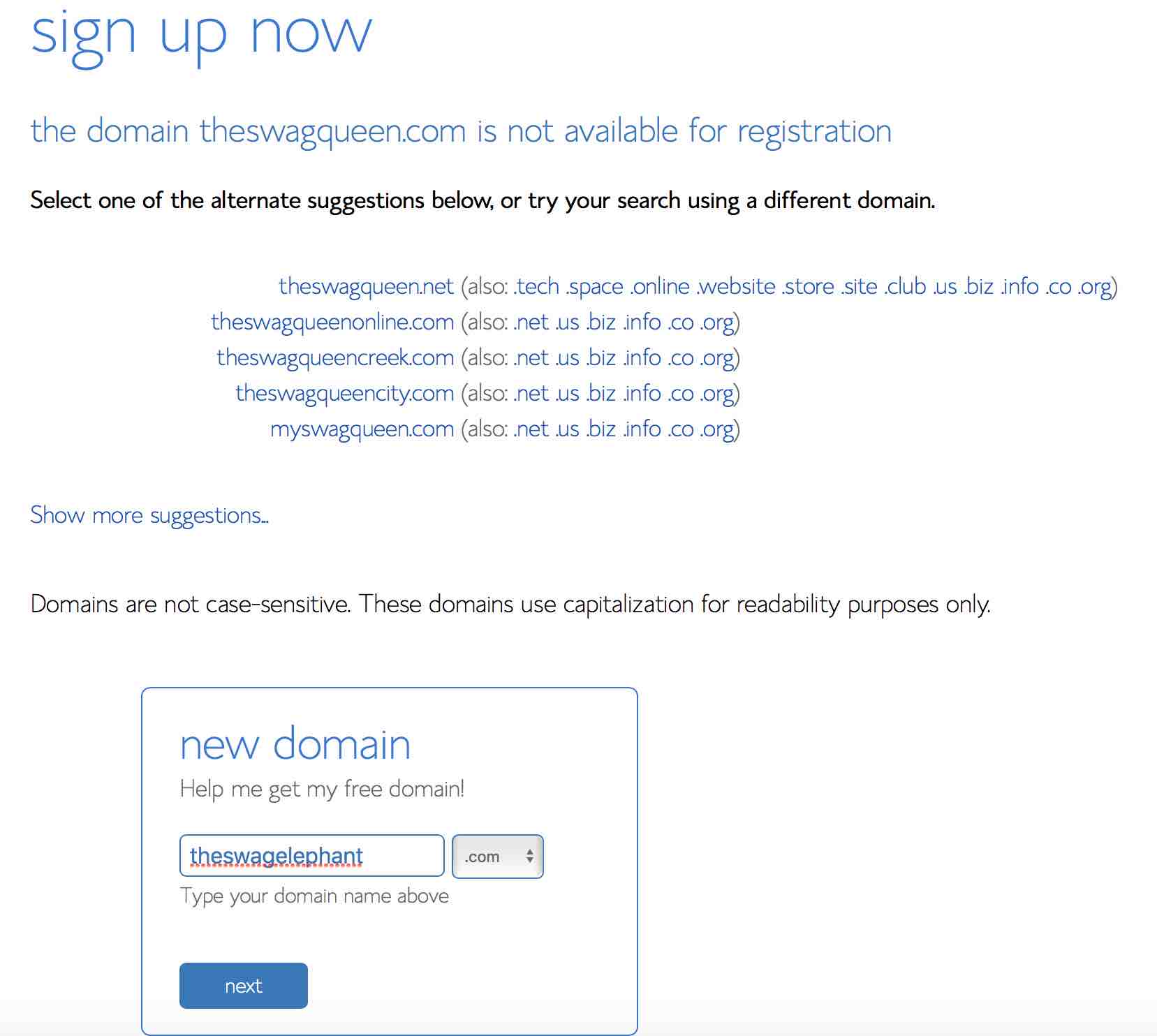 The Swag Elephant was available!
Should I Choose a .COM Domain Name?
I highly recommend choosing a .COM domain name, unless you are an organization.
.COM is easier for people to remember.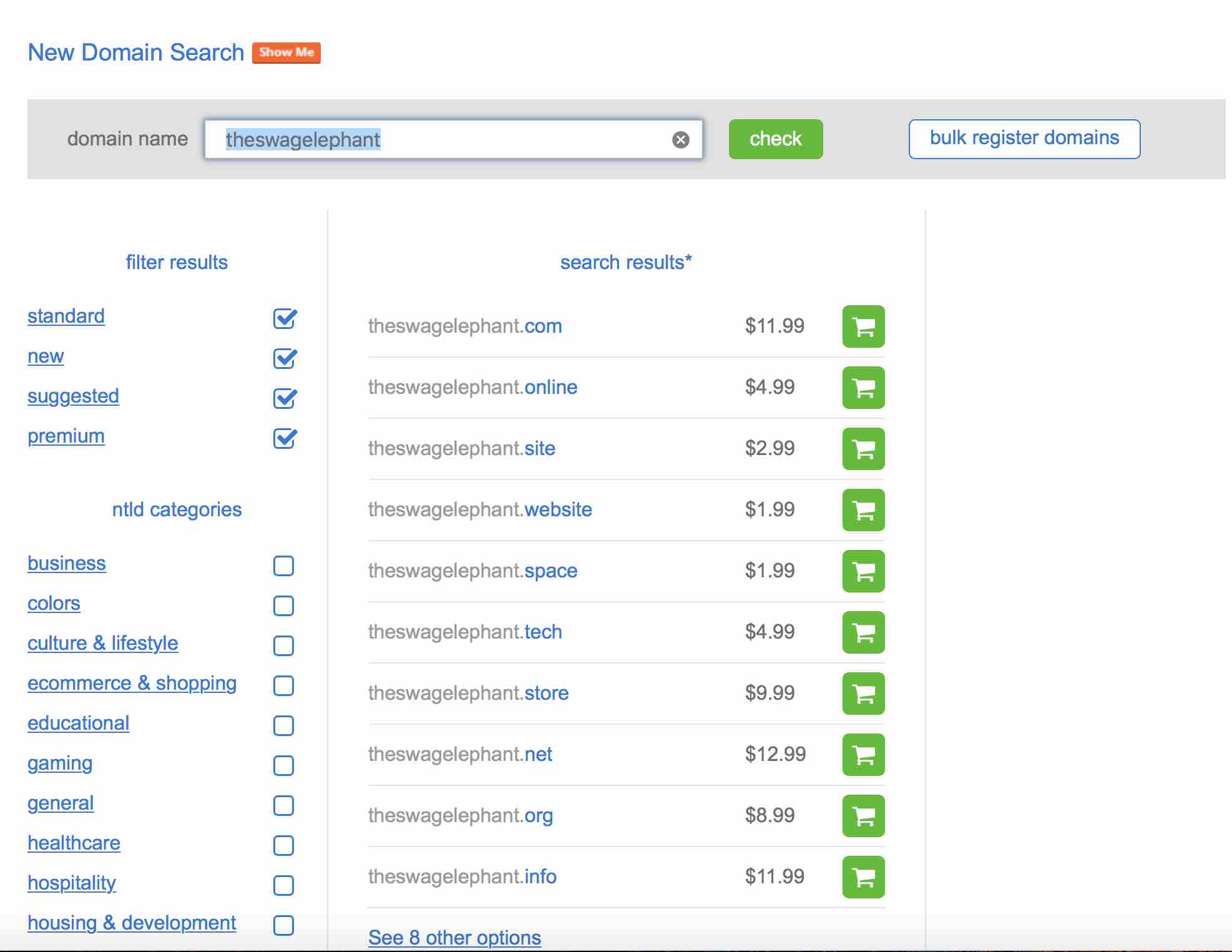 Should I Purchase Domain Security?
I recommend purchasing the security as well.
I was too cheap to purchase the domain security for the longest time but then recently decided it was a good idea and it's less than $15!
If don't want your name and address associated with your account, then purchase the security.
If you don't buy the security, than someone could technically look up your information.
How to Install WordPress With Bluehost
Once you purchase your domain name and hosting plan, you can install WordPress.
WordPress will be the basic framework for your site.
Plus, it's free!
Go into your Bluehost account and into the cPanel. You will see a tile under "website" which you can click to install WordPress.
It's super easy. See the image below.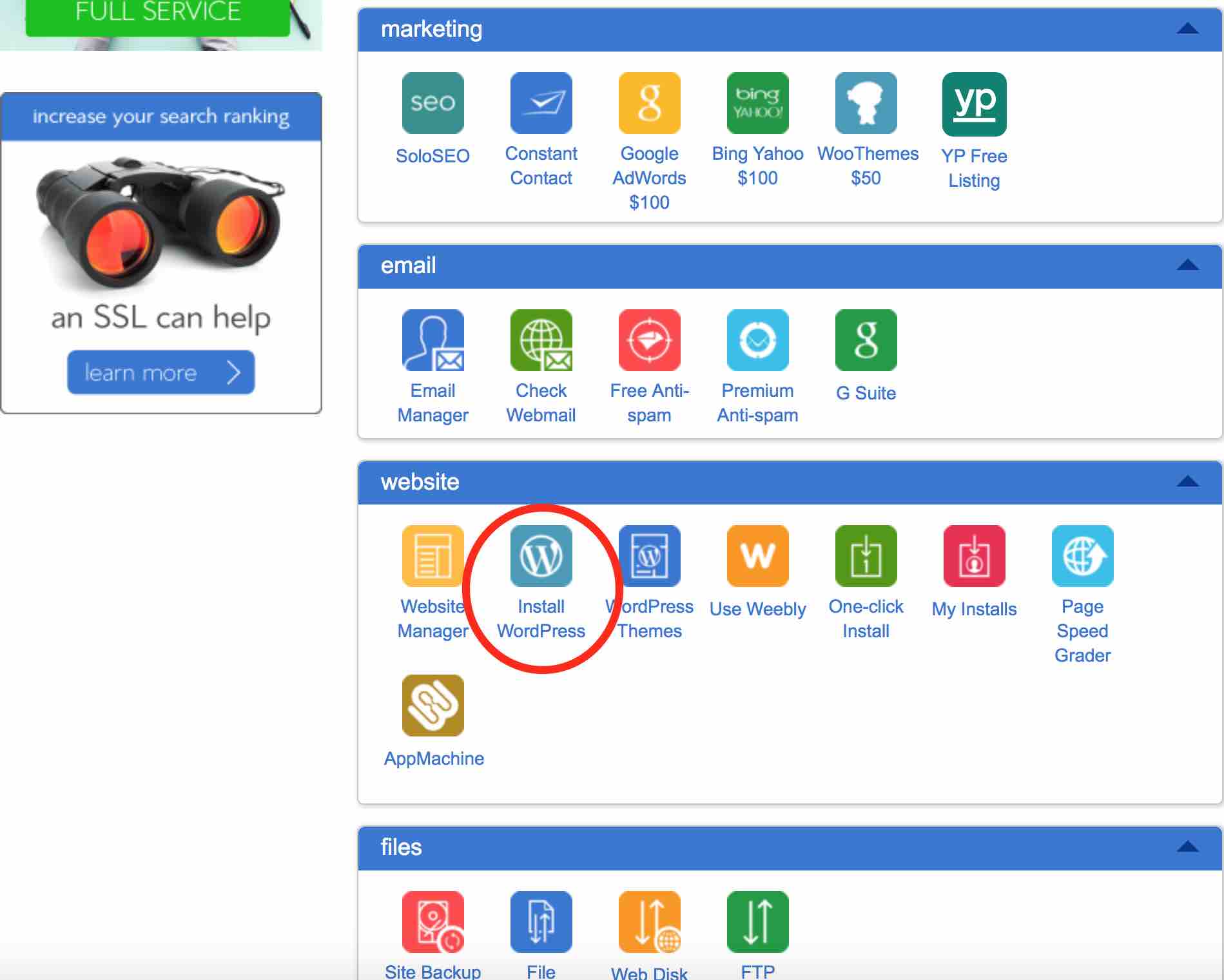 How to Create an Email Address For Your Site Through Bluehost
After installing WordPress, I recommend creating an email account for your website.
You get a limited number for free with Bluehost.
I created myname @theswagelephant.com for this new site.
You can see I also have myname @millennialboss.com as well.
The benefit of purchasing Bluehost web hosting is that you can add on other websites for $12 once you've purchased the hosting the first time.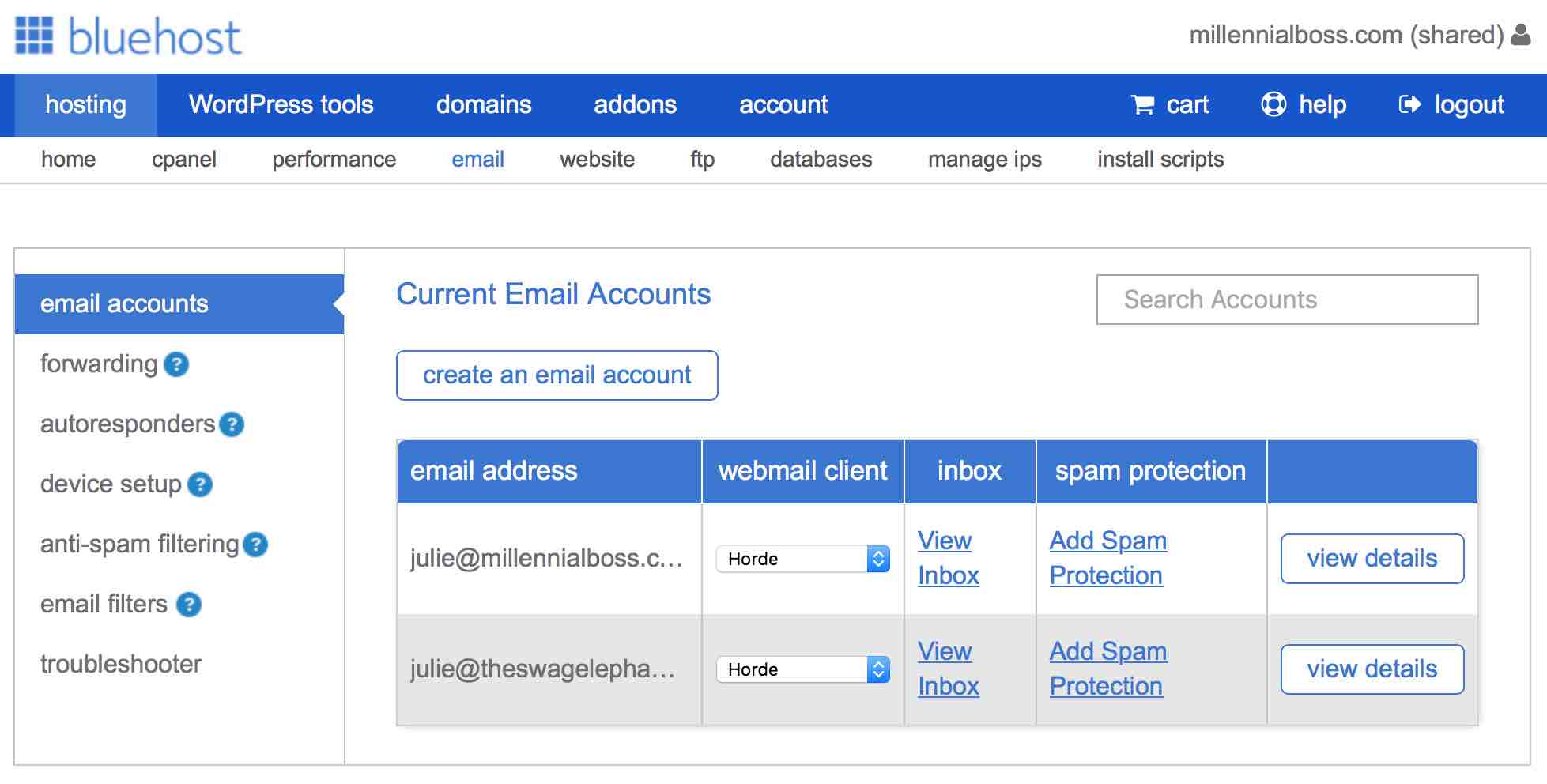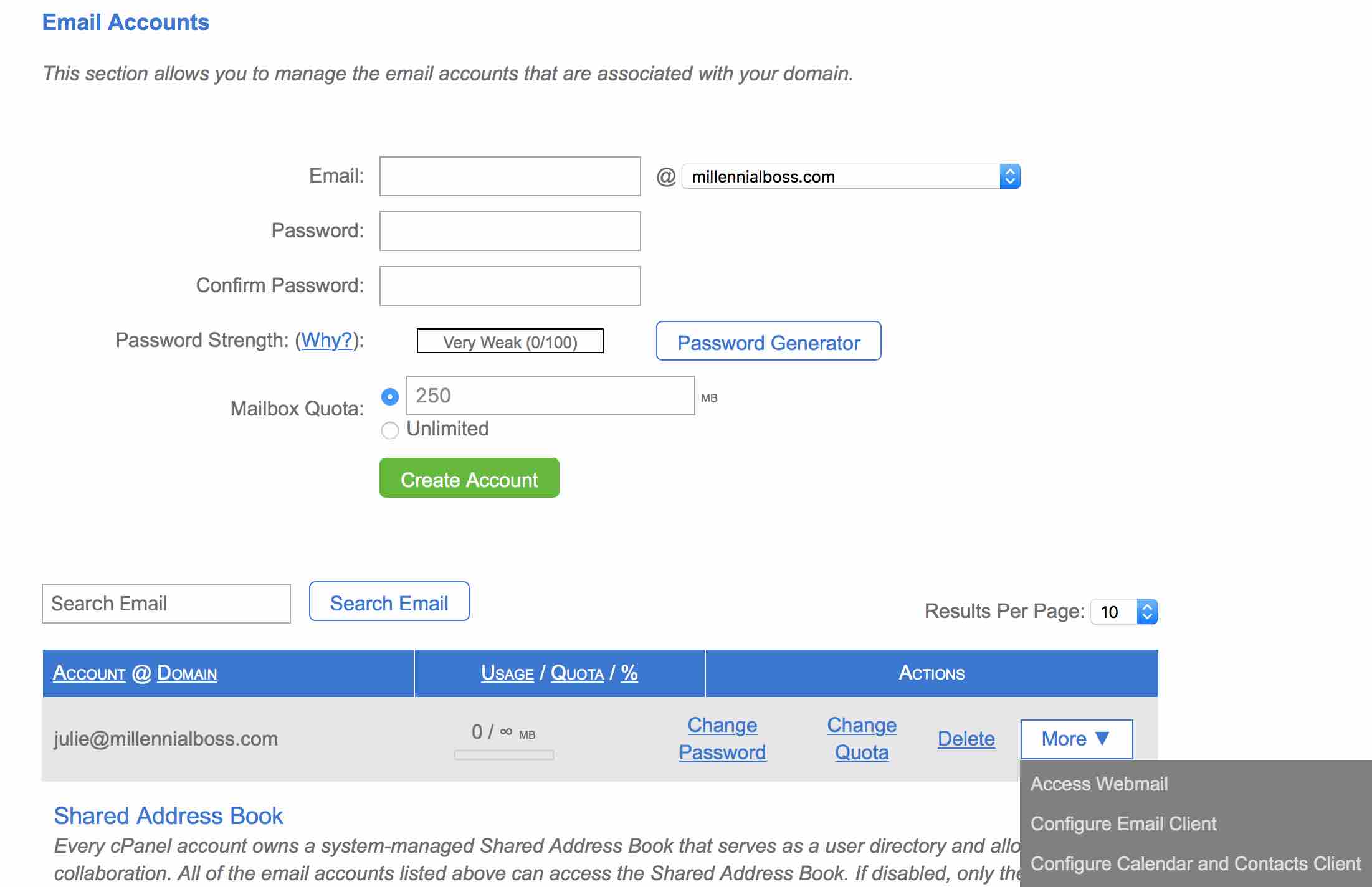 How to Link Your Site Email Address with Your Gmail Account
Gmail is my email provider of choice.
I created a gmail account for this website theswagelephant @gmail.com and then I followed the Bluehost Tutorial for linking the two accounts.
I now can send and receive emails from gmail under the myname @theswagelephant.com account.
How to Download A WordPress Theme
The next step to creating your blog or website is to decide on a WordPress theme.
I used a free theme I downloaded off the internet, by literally googling "free wordpress themes" for the first year of this site.
I don't recommend this approach.
Every time I wanted to make a change to my site's appearance, I needed to google down a rabbit hole find the right forum where I could find this information.
I now use Studiopress which offers top-notch customer support when I have a question and also has really good online tutorials.
Once you buy a theme from Studiopress, you can use it on any of your other websites.
This website uses the Wellness Pro Studiopress theme and I love it.
I think paid themes are more professional so I highly recommend investing in a paid theme if you want to monetize your blog.
Check out my tutorial on how to purchase and setup a Studiopress theme for the details on getting setup.
Secure All Social Media Accounts
The last step is securing your social media accounts.
You want to grab all of these social media accounts now so that someone doesn't take these names in the future.
I created Instagram, Facebook and Pinterest accounts for The Swag Elephant.
The social media accounts you need to secure will depend on your blog or website.
Don't feel overwhelmed, just get the main ones now.
You can always go back and add other social accounts later.
As I mentioned before, if one of the social media accounts is taken, don't worry.
You can reach out to that person and ask (likely pay) them to switch names.
Or, you can create a version of your name with underscores such as The_Swag_Elephant.
Blogging Next Steps
I also have a tutorial on the The Tools I Use to Monetize My Blog if you're planning to make money on your site as well.
I currently receive 50,000 page views per month because I use these tools.
Good luck with your site and comment below if you have any questions!

Want more help from me? Join my email list just for bloggers below.

Latest posts by Millennial Boss
(see all)