Here are 10 money goals to achieve before age 30. How many have you crossed off your list?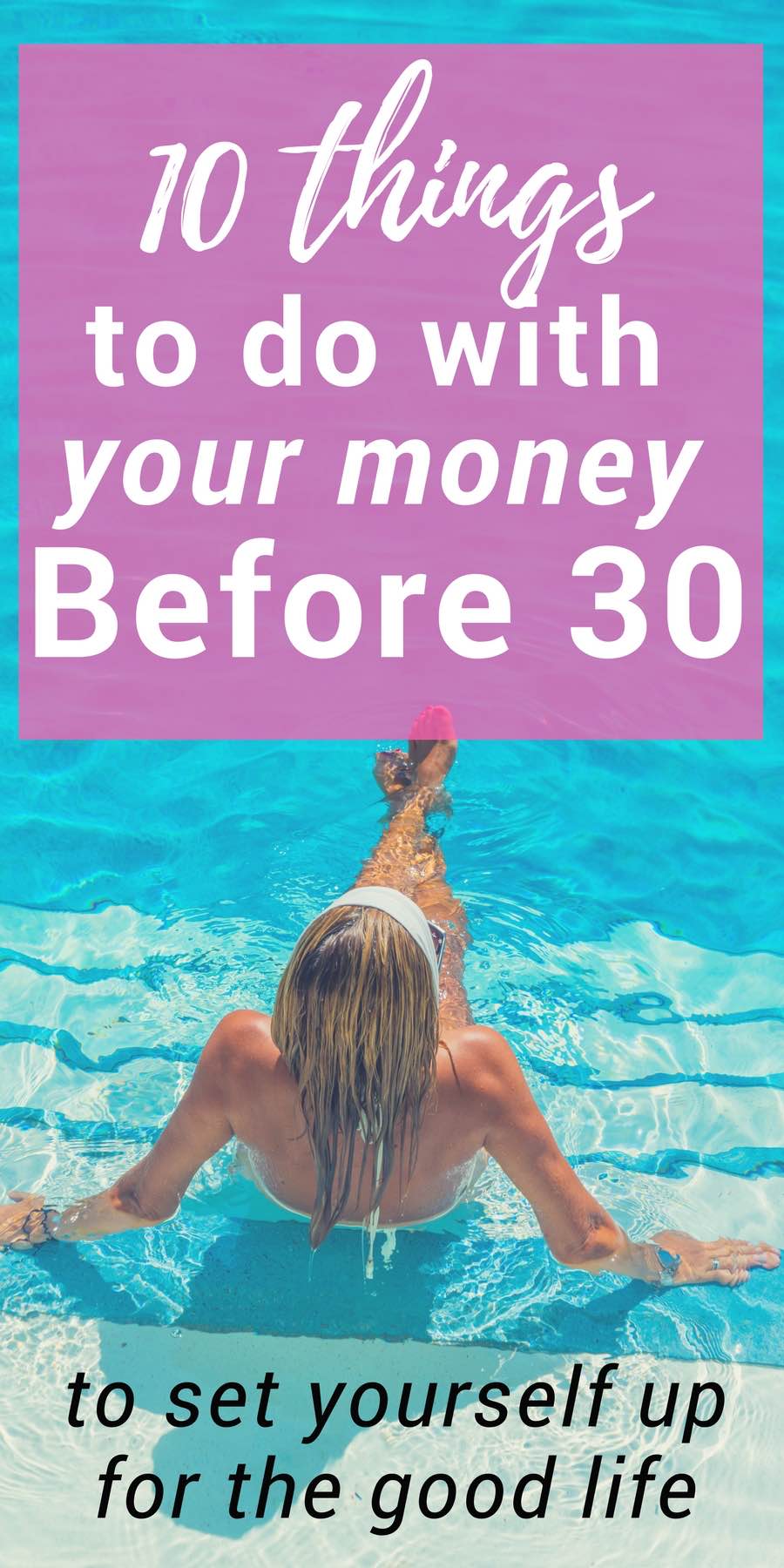 1.  Stop living 1-2 paychecks in the future
This sounds simple but so many people are living 1-2 paychecks in the future.
Meaning, they spend on their credit cards and need to wait until their next paycheck hits to pay them off.
If this is you, cut back for 30 days, build up your cash reserve and stop the constant catch up.
2.  Pay off your student loans
If you're 30 and still paying off debt you incurred over a decade ago, you're probably pretty mad about it.
Check out LendEDU to refinance the loans into a lower interest rate and step up your payments (meaning more of your money goes to the original balance and not interest.
Take this quick survey to see if you qualify for a better interest rate: LendEDU Survey
We've helped hundreds of readers pay less on their student loans through refinancing.
Related: How I Paid off $89,000 of Debt
3.  Max out your work retirement plan – 401(k), 403(b), etc.
This is a stretch goal for many but a good goal for a twenty-something to work towards.
Boost your annual retirement plan contribution by putting in the maximum you can contribute per year ($18k).
These contributions lower your taxable income (meaning you pay less in taxes now) and can grow significantly over time.
4.  Open an Individual Retirement Account (IRA)
On top of your work retirement plan, you can also open up an individual retirement account (IRA).
This is your personal retirement account that you can contribute up to $5,500 per year.
Go to Vanguard and open one today for free.
5.  Have $10k in a savings account for emergencies
We've all done the savings to checking account dance at some point in our lives – you know, when you realize you don't have enough in your checking account so you have to pull from your savings.
Hopefully that no longer happens at 30 and the money in your savings can stay there for emergencies.
6.  Get rid of your car payment
You can get rid of your car payment by selling your car (like I did last year), or you can just pay it off aggressively.
It stinks to have a car payment past 30.
Related: What it was like to live without a car the past year
7.  Know how home buying works
Buying a home is not for everyone, but by thirty – most people should know how it works, but so many don't.
Look into how mortgages work, understand the current interest rates, determine how taxes, insurance, and other expenses fit into a budget, and last know how different down payment amounts affect the mortgage payment.
Don't get yourself saddled into debt while buying your first home because you don't know how it all works.
8.  Start investing on your own too
We mentioned work retirement plans and individual retirement plans but what about individual investing accounts?
By 30, an individual should know how to invest on their own.
These individual investing accounts are also known as brokerage/taxable accounts and they're a ticket to getting ahead financially.
You can open one up in two minutes and $5 with Betterment and start investing ASAP.
Betterment has robo-advisors so you don't have to pay someone to choose your investment strategy.
It bases your investment strategy off an algorithm, your years to retirement, risk profile and age.
Open a free account here with Betterment.
9.  Know your net worth
I would guess that most twenty-somethings have no idea what their net worth is (or they're afraid to calculate it because they fear it's not good).
Use a free service, such as Personal Capital (which I use), to bring together all of your different accounts and add them up to one concrete net worth number.
You can add in your mortgage, work retirement accounts, and bank accounts all in one place – and then add it up with the net worth calculator (pictured here).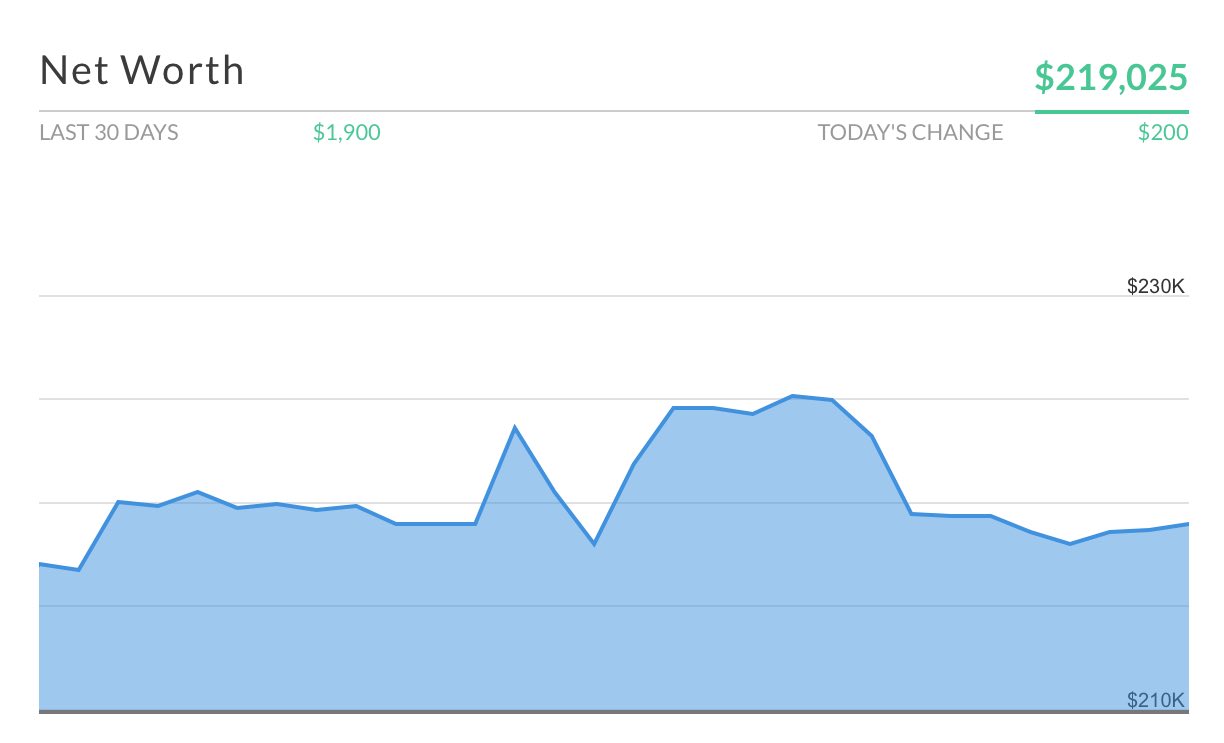 Sign up here for Personal Capital (it's free).
10.  Have a financial plan for 40
Roadmap out the next decade financially and become a master of your money by 40.
My personal quest is to reach financial independence and have the possibility to retire early.
Read more about the movement of young people who want to retire early here: The Secret Cult of Young People Who Retire Early.
What are the top money goals for age 30 in your opinion?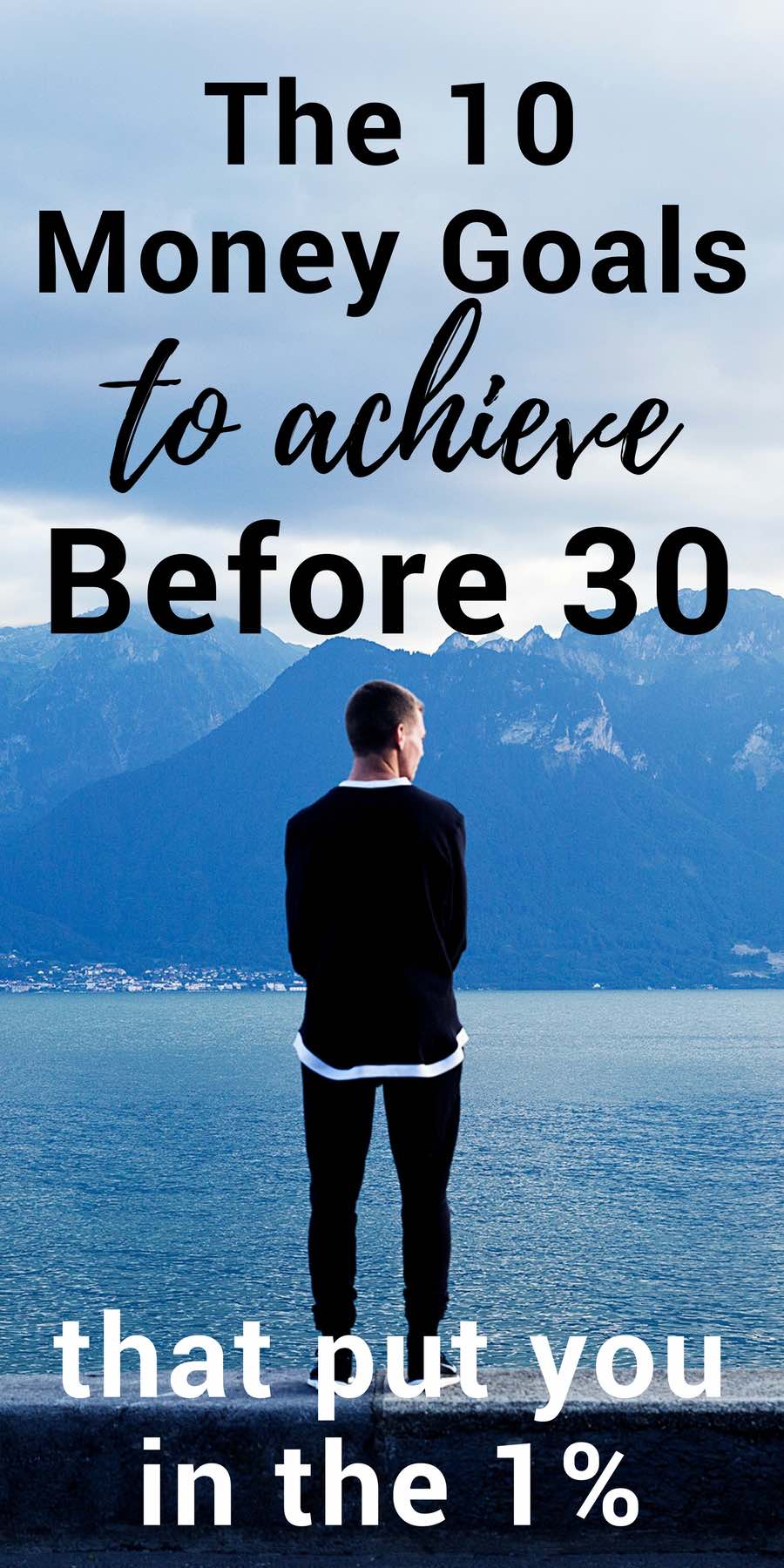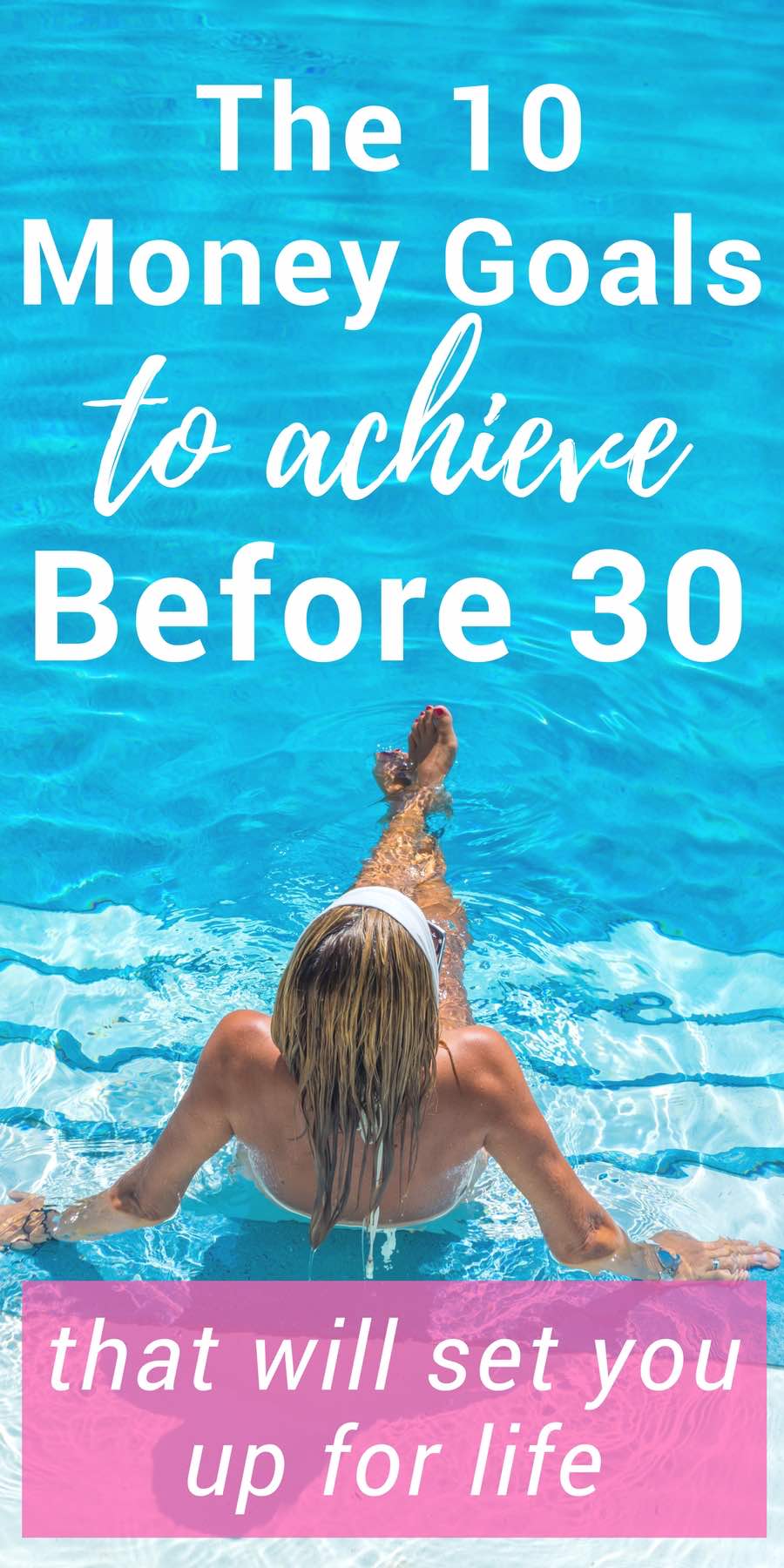 Get FREE Money Tips
Join our email list and receive helpful tips to improve your life and business