The tally is in!
The bad news is that we missed our goal of having a $10,000 wedding.
The good news is that we threw a Game of Thrones style wedding for $15,000.
Our Game of Thrones Wedding Theme
Game of Thrones is one of our favorite shows. While we didn't want the theme to overwhelm the wedding, we did incorporate some Game of Thrones/magical elements in the ceremony music, use of candelabras and antlers, and a custom Game of Thrones seating chart.
We also knew that going wild with the decor would bloat the cost and not add that much value to the guest experience.
What looks good on Pinterest often doesn't look good in your wallet.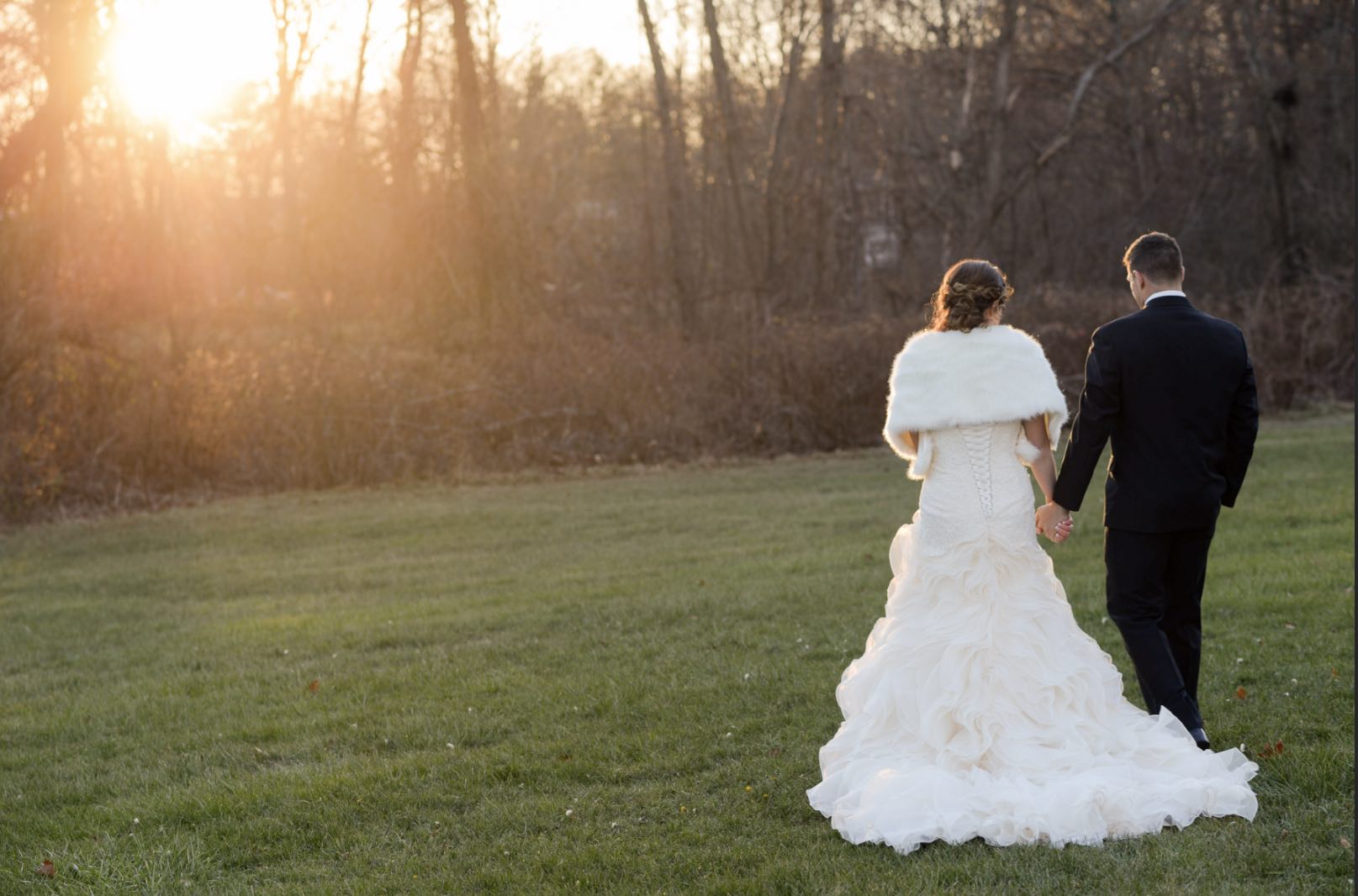 Our $15,000 Wedding Budget
This wedding budget may seem ridiculously high or ridiculously low to you.
For the area where we had the wedding, this is a budget wedding.
It didn't feel budget at all though.
Using a series of hacks, we managed to reduce the cost of our wedding to just under $15,000.
Real Costs for our 95-Person Winter Wedding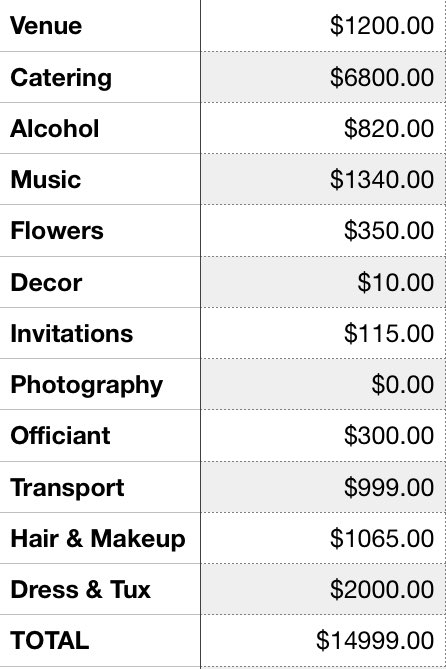 How We Planned a Budget Friendly Wedding – Line by Line
This is the final installment in my frugal wedding series. I'll summarize the expenses line by line and include links to my other posts for more detail.
Grabbing a Game of Thrones Inspired Venue
We searched the Weddingbee boards and found an old estate from the 1700's that was known for its beauty and its lower rates. We chose a December date for off-season prices.
Yes, it was not quite Kings Landing but it was better than a hotel!
Related post: Choosing aWinter Wedding Date for Off-Season Prices
We didn't do Game of Thrones Inspired Catering
The venue had a list of recommended caterers and this caterer was known to be the most budget-friendly. The food was really good and averaged out to $68 per person. We chose to have a sundae bar versus a traditional cake and saved $150. I had a really hard time finding a caterer who would work with our budget so I was psyched with this result!
The food itself was not Game of Thrones themed and I think everyone was OK with that.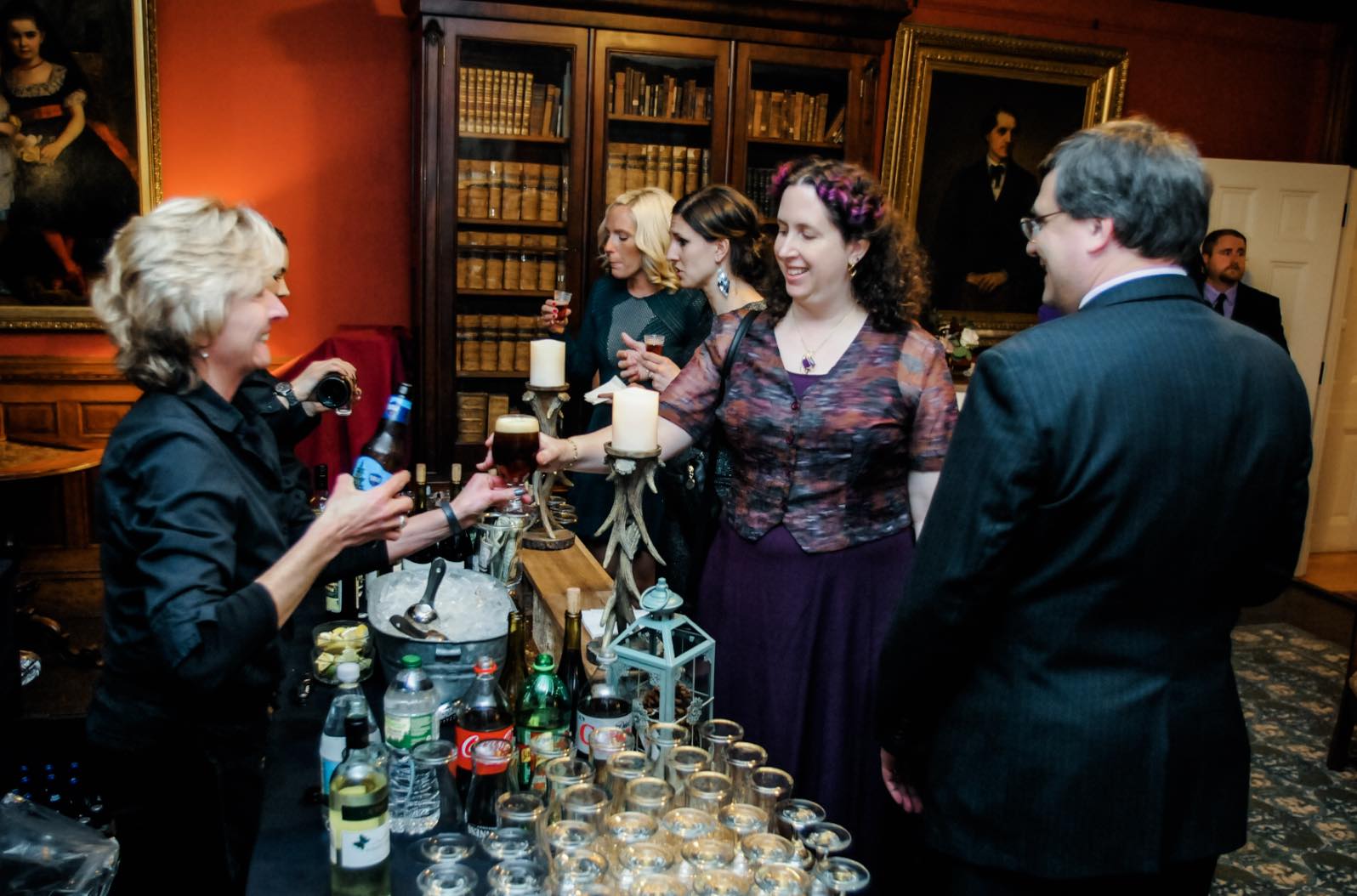 Red Wedding Inspired Alcohol
We used the Estate's recommended beverage catering company which allowed us to order alcohol ahead of time and then only pay for what was used. We had an open bar and only served beer and wine.
We had a signature "Red Wedding" drink of half Samuel Smith's Chocolate Stout and half Samuel Smith's Cherry Ale that guests could try. If you haven't tried this combination, it is good.
Game of Thrones Music – CHECK!
Music – I tried so hard to hack this cost under $1,000 but came up short. We found a DJ that mostly did corporate events but occasionally did weddings.
We negotiated quite a bit and got a few hundred dollars off his referral price, paying $700 less than normal.
We had the DJ play normal songs during the reception but had him play the following Harry Potter, Game of Thrones, and Lord of the Rings songs while guests were waiting for the ceremony to start.
Our Game of Thrones Inspired Ceremony Music:
Game of Thrones Theme Song by Ramon Djawadi
Harry Potter – Secrets of the Castle
Harry Potter – Ollivanders
Harry Potter – Mischief Managed
Harry Potter – Harry in Winter
Harry Potter – Hedwig's Theme
Lord of the Rings – Concerning Hobbits (Violin Cover by Taylor Davis)
Lord of the Rings – Many Meetings
I'm obsessed with Harry Potter and Lord of the Rings too so those songs made it onto the list.
Game of Thrones Wedding Flowers
I'm super proud of this hack! We did our own bouquets and floral arrangements using FiftyFlowers which is an online flower delivery service.
I wrote a wedding flower DIY tutorial that shows exactly how we made the bouquets step-by-step. The flowers came out exactly as I had planned with beautiful blush roses and extra greens!
How to DIY Your Wedding Flowers for Under $500
Game of Thrones Wedding Decor
We asked our caterer if they had any extra decor we could use and they responded that they had table numbers, signs, and centerpieces left behind by other couples in all different shapes and sizes. We borrowed the decor for the night at no extra cost! We could have really went all out with the GOT theme but I realized it was a waste of money for one night. We kept it minimal and our guests took the hint. We didn't need signs and doodads everywhere!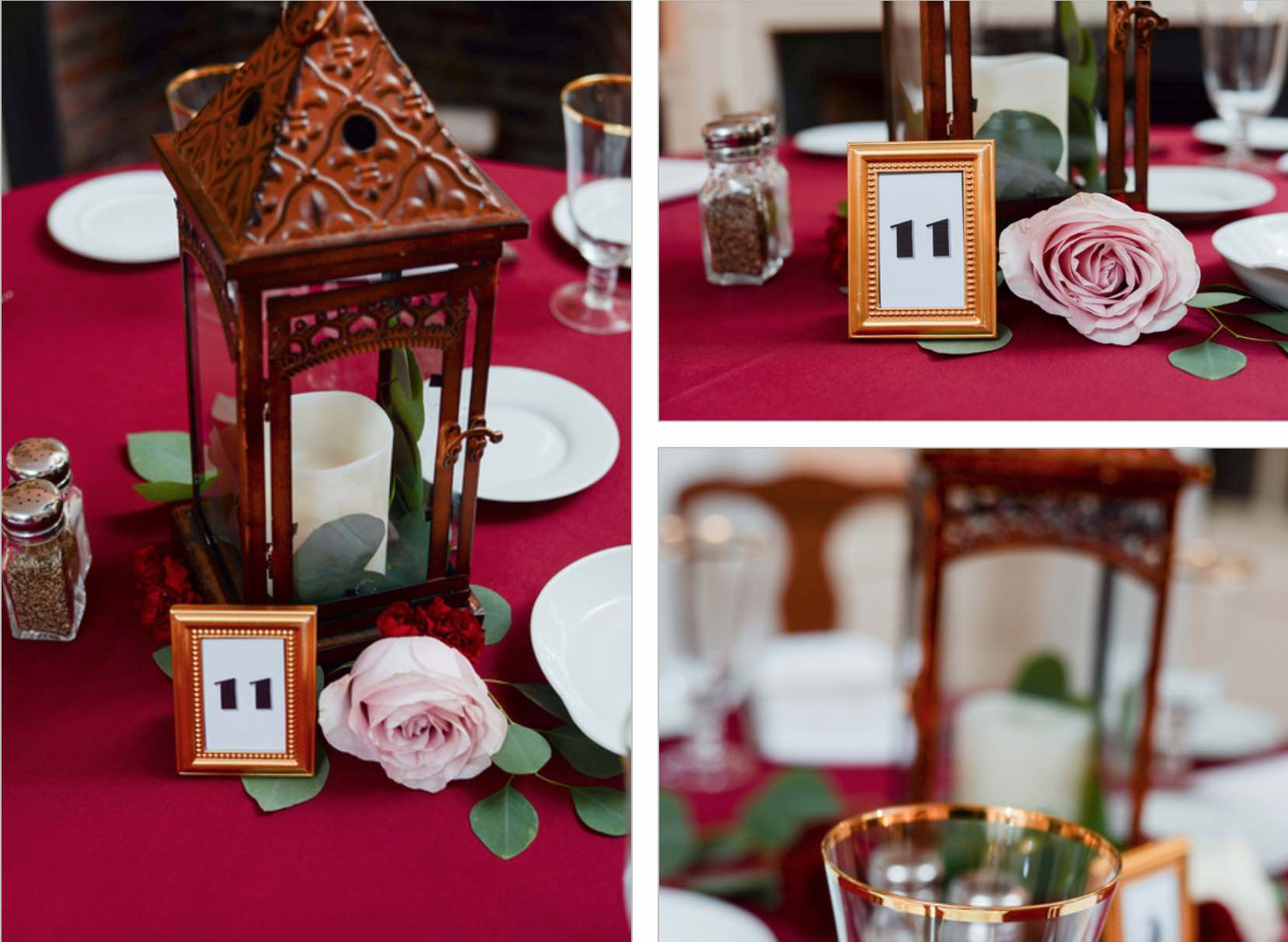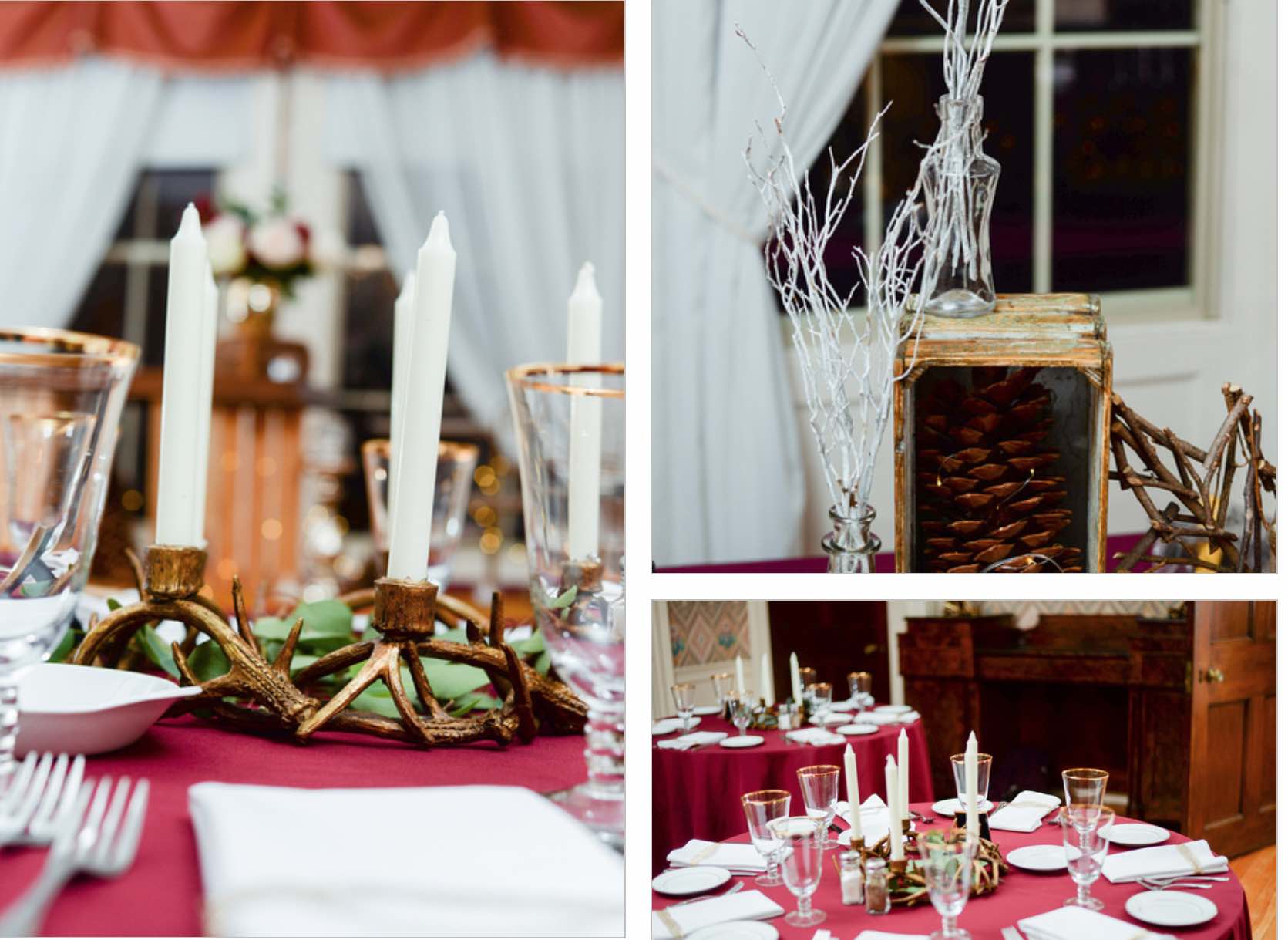 Game of Thrones Seating Chart
I printed a Game of Thrones Seating Chart  using Vistaprint for $10.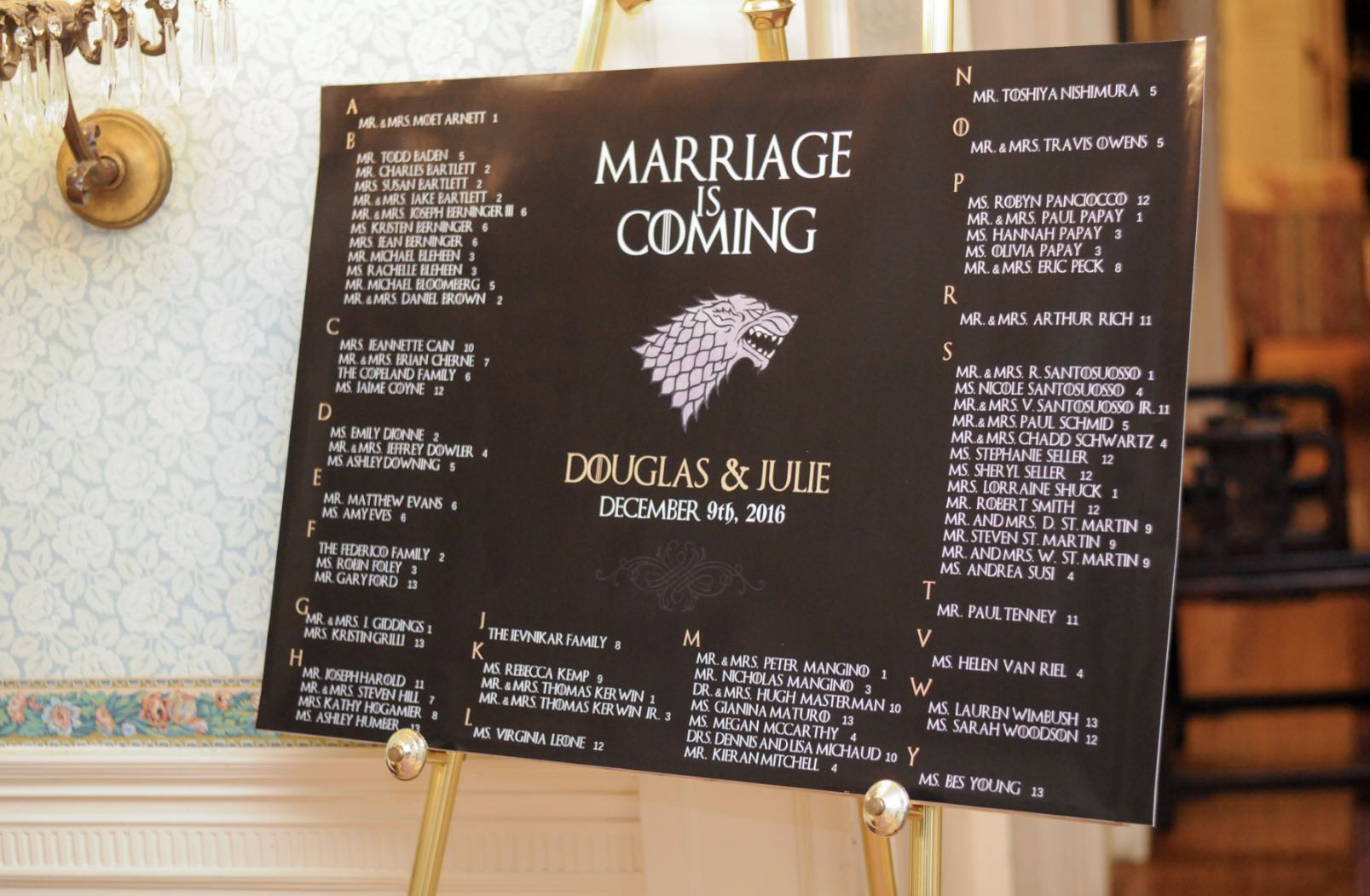 I designed the seating chart for free on Canva by uploading a free Game of Thrones font that I found online and a free vector image of the Stark house emblem.
If you don't want to make this yourself, here is an amazing Game of Thrones Seating Chart available for purchase on Etsy.
Game of Thrones Wedding Hair
Hair & Makeup – I paid two stylists to come the morning of the wedding and do the hair and makeup for myself, the wedding party, my Mom, and my husband.
It was a big chunk of money but it was a good time and I wanted to take care of my bridesmaids. I was trying to eliminate the burden on them by having them choose their own mismatched dresses as well.
I'm glad I did hair and makeup.
I felt like a Game of Thrones queen with my braided hair!
I let the bridesmaids choose whatever hair they wanted of course.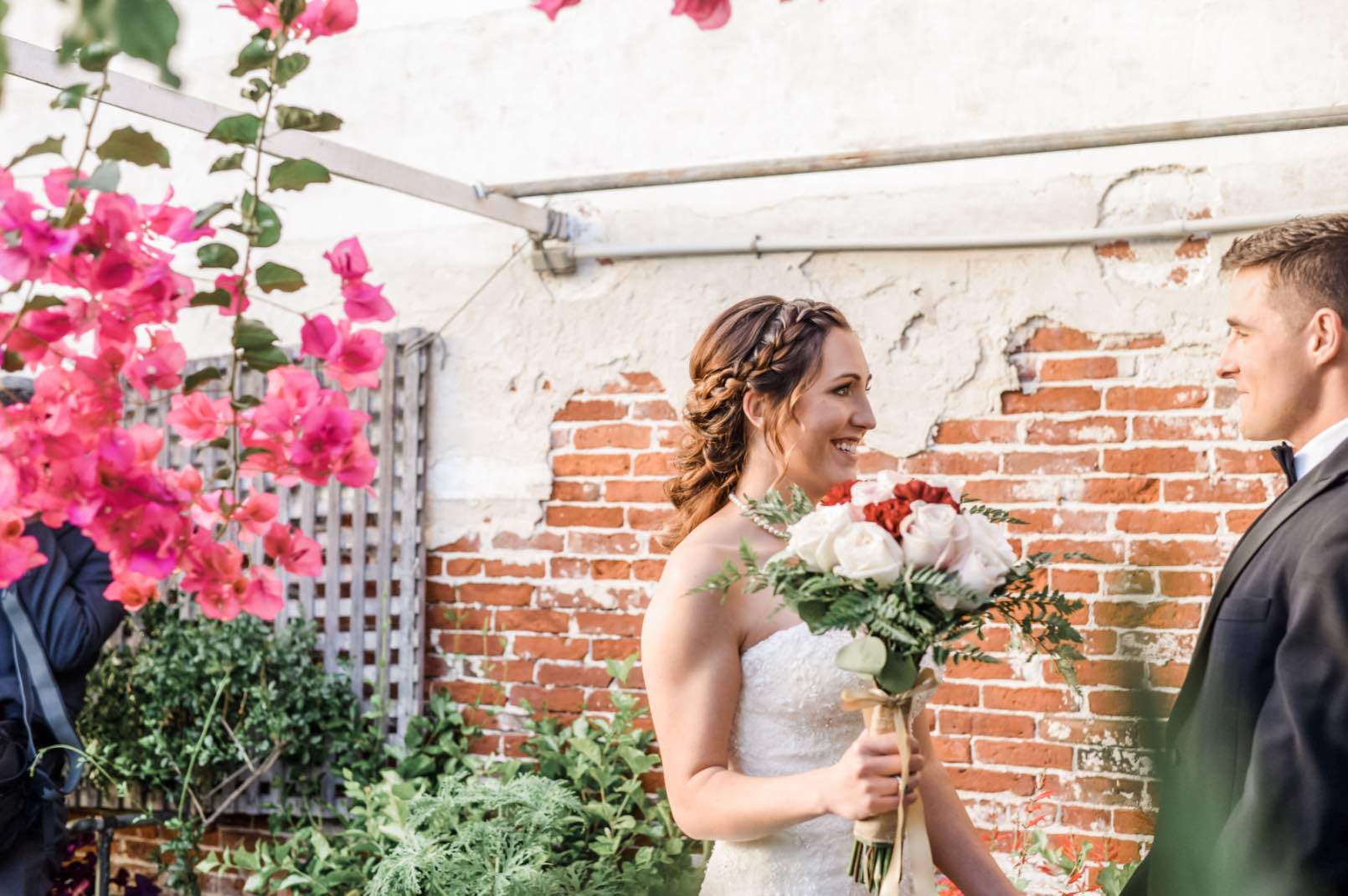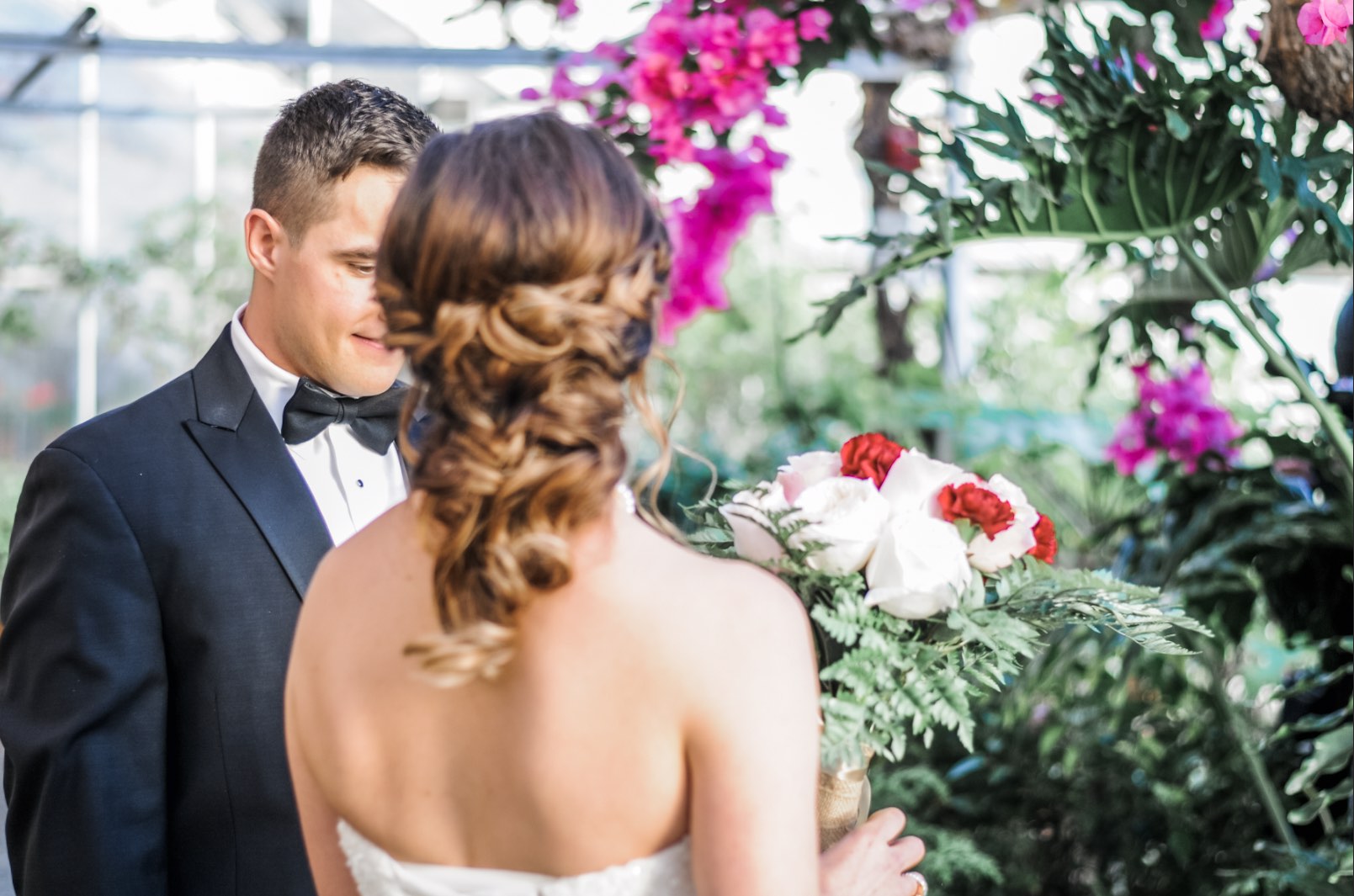 Things We Didn't do Game of Thrones Style
Dress & Tux – I bought the dress at a local bridal store when it was 15% off for a trunk show. I could have been way more frugal with this purchase but I also wanted to get something that was not typically me and a little more glamorous. The tux rental was very cheap (I think around $130) and we used a Mens Wearhouse coupon that let my husband come back and pick out a $500 suit after the wedding for free. I found out about the coupon when I signed up for their emails. He picked out a handsome blue suit that he will wear to some upcoming weddings this year.
Invitations – Invitations and Save the Dates were printed from Vistaprint. I wanted to use Minted but it just wasn't in our budget. They came out great nonetheless.
Photography – Believe it or not, I won a $4,000 wedding photography and videography package from George Street Photo, a nationwide photography company. The package included two photographers for eight hours and a videographer. We got the pictures back and we love them! I entered their online contest and totally thought it was a scam when they called me and said that I won. I've won too many "free Disney cruises" in the past to believe these things. Nope, it was legit!
Officiant – We went with a Justice of the Peace that we found on Yelp. She was FANTASTIC and it was money well spent. It made the wedding feel more special in a way. We could have went with a friend for $40 though and we had considered that at one point. We had the Ceremony onsite at the venue to save money.
Transport – Our wedding venue was a 10-minute drive from the hotel and we had many out of town guests who weren't renting cars. We decided to rent a shuttle to make to easier on our guests. I thought it would be $400. I guess not! It was closer to $1,000. If we went with a school bus, we could have saved around $300.
TOTAL: $15,000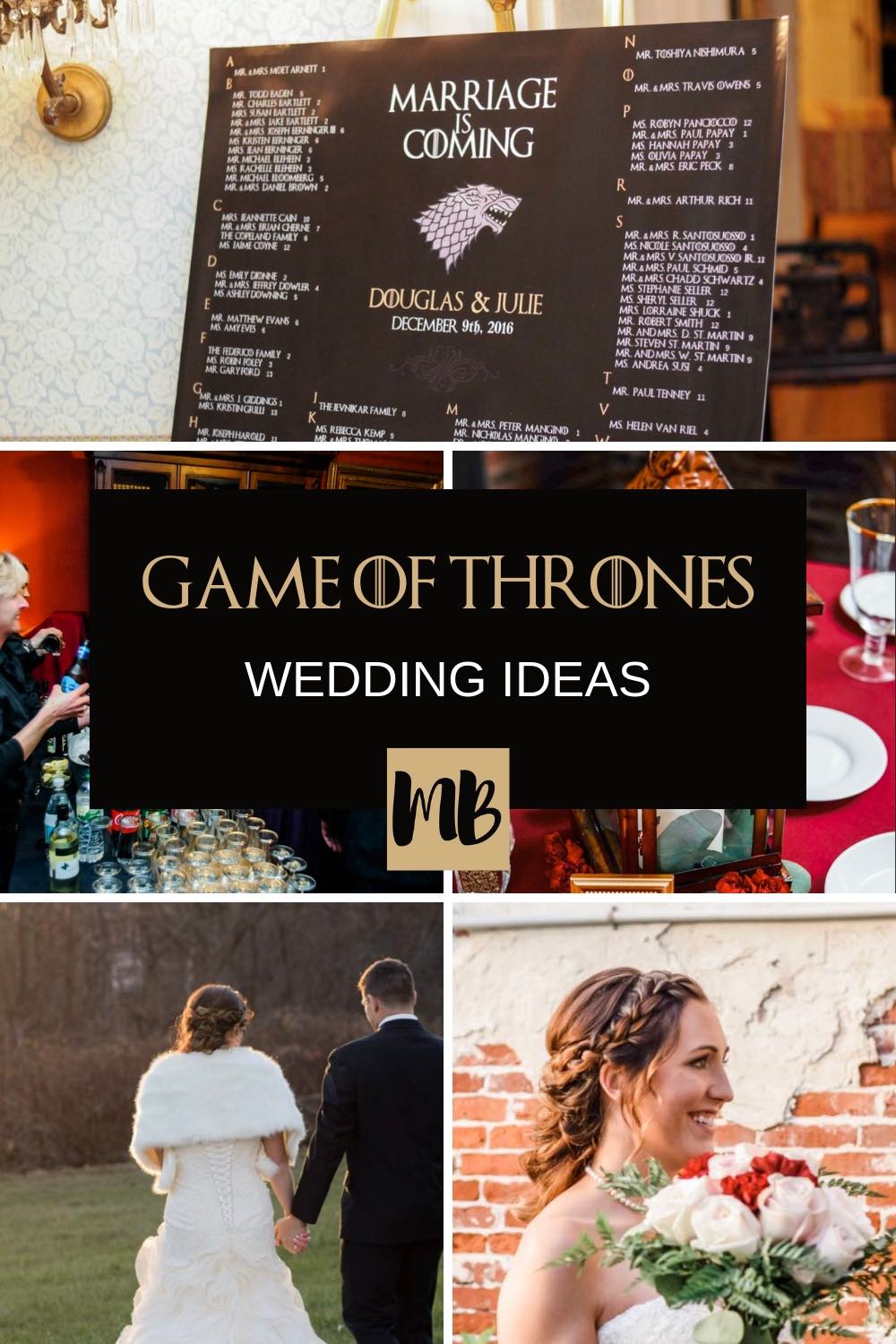 Costs Not Included in This Budget
Sigh, I guess we did spend more than $15,000 in total. Why are weddings so damn expensive?!
Unfortunately, this budget doesn't include our rings, wedding party gifts, the rehearsal dinner, the wedding after-party snacks, and the morning-after brunch.
I don't think the rings count as part of the wedding budget but we hacked those as well.
My engagement ring is actually moissanite.
For those of you who are thinking, "what the flip is moissanite??", here is a detailed post explaining what it is and why we went with a moissanite engagement ring.
We didn't include our wedding party gifts in the total because we don't think they really fit in the wedding budget either.
These are gifts that we gave to our friends and family for helping us out our whole lives, not just for one night. Also, our friends read this blog and we don't want them to know how much we spent! Ha!
I did use Ebates for 10% cash back on the purchases though!
Our Ugly Sweater Party Rehearsal Dinner and Other Events
The other items *not* included in the budget, such as the rehearsal dinner, the brunch, and the after-party snacks, were paid for by our parents.
We had originally said that we weren't taking any money from our parents.
We had a change of heart however.
Hear us out.
As fiercely independent people, our parents have very little opportunity to help us. We live on the other side of the country from them and pretty much have our ducks in a row financially at all times.
Our parents miss out on the opportunity to take care of us and a wedding is a major event in a parent's life to do that.
Our parents seemed bummed when we told them they could not pay for any part of the wedding. They said it would make them feel really good to contribute.
After some careful thought, we decided to let our parents help with some of the weekend events.
Family Contributions
My husband's parents footed the bill for the rehearsal dinner and my parents took the after-party snacks and morning-after brunch. It came to around $1,000 each.
We were grateful for their help.
We wanted to keep these events low-key and stay within a reasonable budget, so we planned the events ourselves.
Our rehearsal dinner was ugly sweater themed and was at a pub. That's different.
It was a fun time with the holidays coming up and it was a relaxed setting for the wedding party to get to know one another. We also invited out of town guests to join us for a drink after dinner which was fun.
At first, this decision upset my parents who had imagined an elegant and typical rehearsal dinner. They ended up having a good time once they were there.
It was pretty funny seeing our parents in ugly sweaters. (We expected them to pull ugly sweaters out of the closets from the 80's but they said they still have them and just can't fit in them anymore, haha!)
Wedding Budget Words of Wisdom
First off, I want to say that we paid for this wedding in cash. Debt has no friends here. (We recently paid off $89,000 of debt).
Second, the greatest way we kept the cost of this wedding down was by limiting the guest list. This was easier said than done. I can't even tell you the number of tears shed over this guest list. Our parents were upset, particularly my mom. We had many tough phone calls leading up to the event.


My Mom still wasn't over it the day of the wedding. She made me take a picture to text to her friend, who wasn't invited to the wedding, five minutes before I was about to walk down the aisle. Whhattt?

If you're dealing with guest list pressure from your parents, I feel you.

Stay strong.

Your parents will want you to be financially sound, more than they want their friends invited to this wedding (even if they temporarily have lost their minds).

We ultimately invited 135 guests and had 95 attend.

This was a destination wedding for more than half of the guests since my husband and I are from different states and we lived for four years in another state.

We were so happy that so many of our family and friends traveled quite a distance to make it to our wedding!

Last words of wisdom – don't spend a lot of money on your wedding because things go wrong. The bus was late, wedding pictures started late a.k.a. things happen. None of these things bothered me in the moment though. If I had spent a fortune or gone into debt over this wedding, I might have freaked out. There was less pressure on the wedding, which I appreciated.
We had a great time and were so glad to celebrate our marriage with our amazing family and friends.
Did you hack your wedding? What do you think of the Game of Thrones theme?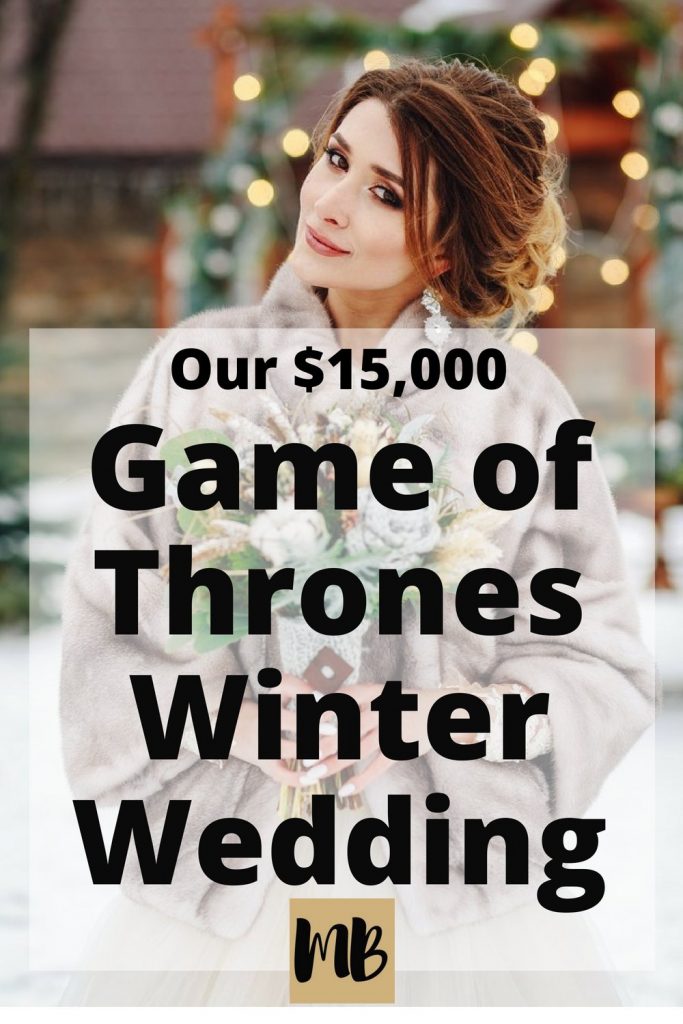 Latest posts by Millennial Boss
(see all)