"There is something different about your engagement ring," says my best friend as she stares intensely at my hand. "It just looks a bit off."
Panic floods my brain. She knows! She knows!
"That can't be a diamond, right?" she asks.
My face turns beat red. "You're right. It's not a diamond." I confess.
Gasp! A look of shock and horror crosses her face as judgment fills her mind.
Cue the awkwardness.
Guess what. That never happened.
I've been engaged for 4 months, showed my ring to dozens of people, and that nightmare scenario that has played out in my mind many times has never happened. Not even once.
My fiancé and I chose a moissanite stone for my engagement ring and it is among the best decisions we have ever made.
Why I chose a diamond alternative for my engagement ring
Two years into dating I knew my fiancé was the one. Like many girls, I started dreaming about what type of engagement ring I wanted.
I played around on sites that allow you to custom design your engagement ring.
I liked jeweler's Facebook pages in order to enter contests to win expensive engagement rings. (Facebook awkwardly started displaying that I liked those pages to my friends, who then messaged me about it. Thanks, Facebook!)
Given my success with travel rewards and my optimism about life hacking, I was convinced that there was a way to hack the engagement ring as well.
In my research, I discovered the following:
It's cheaper if you buy just under the carat mark (For example: .99 carat versus 1.0).
You can save money buying from websites such as Blue Nile versus buying in store.
Some styles are more expensive than others (stay away from the asscher cut!).
You may be able to sacrifice a little on color and clarity (the untrained eye can't see minor imperfections).
You can negotiate the price with a jeweler.
Despite finding numerous ways to save money on the ring, I still wasn't excited about the diamond itself.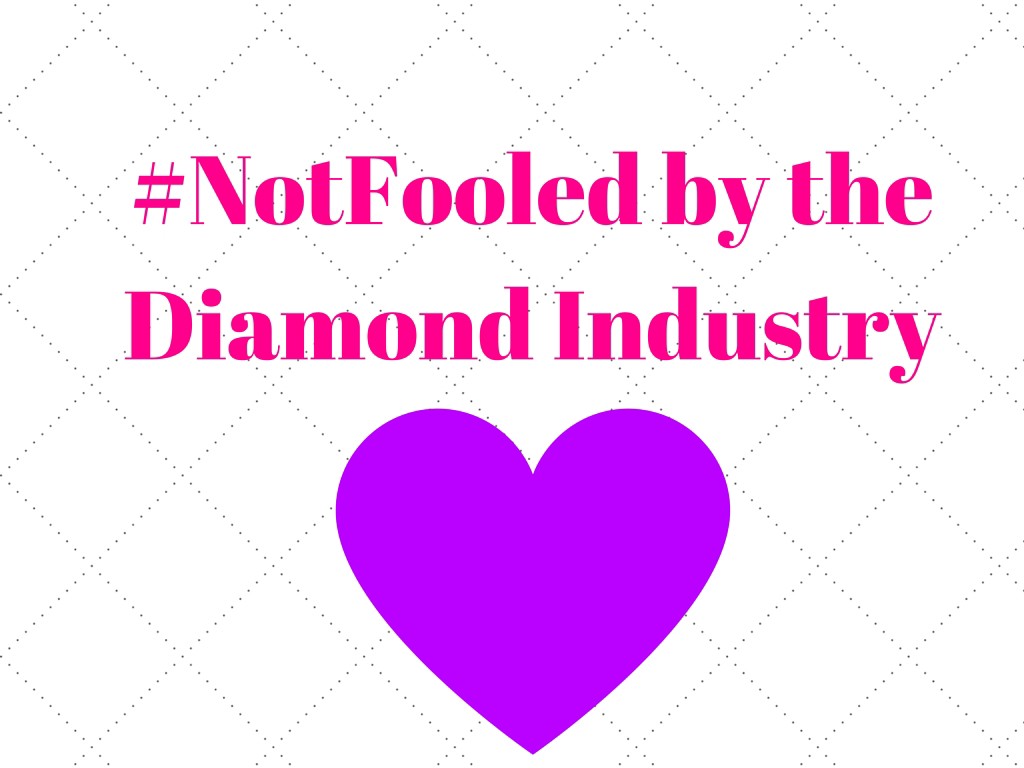 I've had an issue with the diamond industry for a while now. My top five grievances with the industry are as follows:
A combination of the above prompted me to google "diamond alternatives" and it was from this search that I discovered moissanite.
For those of you that have no idea what moissanite is, here you go:

But first, here are answers to some common questions about my Moissanite stone:
We bought my stone from Charles and Colvard.
We did not get the enhanced stone.  We chose the regular moissanite stone.
My husband proposed to me with a ring with the cubic zirconia stone that came with it and told me we could pick the moissanite stone out together.
He knew I wanted moissanite ahead of proposing although I didn't know he would propose then and he picked out the ring himself.
Saving money is our thing.  We ended up throwing a budget wedding themed for Game of Thrones and it was awesome.  We also are saving for early retirement.
I.  What is moissanite?
Moissanite, or natural silicon carbide, was discovered over a century ago when Nobel prize-winning French chemist, Dr. Henri Moisson found tiny particles of the substance at the site of a massive meteorite strike in Arizona.
The stone was named moissanite in his honor.  Years later, scientists created the gemstone that we know as moissanite today.
II.  What does moissanite look like?
Although moissanite may look like a diamond, its higher rate of refraction and dispersion make it much sparklier than a diamond. It actually bends light more than twice as much.
The brilliance and fire make moissanite stones stand out compared to other gemstones.
III.  How does moissanite compare to a diamond?
First, Moissanite is much less expensive than a diamond.  A 1ct moissanite goes for $300 retail whereas a 1ct diamond could run anywhere from $4,000 to $25,000 depending on cut, color, and clarity.
Secondly, moissanite is more refractive than a diamond as mentioned above, which gives it more fire and sparkle.
Third, moissanite is not as hard as a diamond (about 9 to 10 on the mohr scale) but the difference is negligible. I've banged mine against hard surfaces many times and it's fine.
Like diamonds, moissanites can range from colorless to some color and you pay more as you get closer to colorless – although the cost for a colorless moissanite is much less than the highest grade of diamond comparatively.
Moissanite is not cubic zirconia
Diamond alternatives have traditionally gotten a bad rap.
For example, when I picture a cubic zirconia engagement ring, negative associations come to mind.
I picture a couple that is not able to afford a diamond so they "settle" for cubic zirconia. They feel sad about it but someday the groom promises to "upgrade it to a real diamond, but only when they have the money." This conversation may or may not happen in a Walmart.
I'm kidding.
My point is that moissanite is not cubic zirconia. Couples aren't necessarily choosing moissanite because they don't have the money to buy a real diamond. They're not necessarily planning on upgrading it to something else someday either.
Moissanite is a choice. It's not settling at all.
In my mind, everyone choosing a diamond is settling by not questioning the propaganda that has pressured them for years into thinking that a diamond is what they "deserve."
There are so many better (and conflict-free) ways to spend that money!
My fiancé and I can afford a diamond and yet we are choosing moissanite for our engagement ring.
And we're not alone. It seems that more and more couples are making the decision to choose an alternative stone.
Do I regret not getting a diamond?
Absolutely not. My ring is gorgeous and I get compliments on it all the time. Some people have pointed out how sparkly it is, which they then attribute to the cut. I know the stone looks extra sparkly because it's moissanite and not a diamond but they don't!
Plus, my fiancé picked out the ring himself. It is so special to me that he spent the time choosing the ring and that it was a complete surprise. I had no idea that he was going to propose that night and I absolutely loved the ring he picked out!
Although we had talked about moissanite beforehand, I had no idea when he would propose or what setting he would choose.
Related: How I Paid Off $89,000 of Debt in 18 Months
Do I tell people it's not a diamond?
I don't tell people it's not a diamond for three reasons.
First, I think it's rude to compare rings. I don't care about the cut, color, carat or clarity of anyone else's engagement ring so why should I go into the details of mine?
Second, no one has ever brought it up. My ring looks great so no one questions it. My fiancé and I did check out some diamonds at the jeweler just for kicks and my stone looks one hundred times better than the diamonds the jeweler brought out for us to see. We were looking at diamonds in the 4 to 6 grand price range and they didn't have the same sparkle.
Third, I don't tell anyone that my ring is not a diamond since I unfortunately know how some people would react. I don't want anyone to judge my fiancé or our relationship because of the ring. It was honestly me driving the decision to get a moissanite stone instead of a diamond from the beginning (although we are both on the same page about our financial goals).
I also don't share that the ring is not a diamond because I try to keep my personal views on controversial topics close to the vest and don't think it's worth getting into a potentially dividing discussion with family or friends. I don't want my opinion to make someone else feel bad or feel like they have to defend their decision to get a diamond. Everyone can make the right choice for them.
Some of my friends and family read this blog so they may find out now that my engagement ring is real (notice the word choice here) but I think most people who know me will understand. I did just write about how I went to Ecuador with strangers to learn about early retirement so they probably wouldn't be shocked by this news.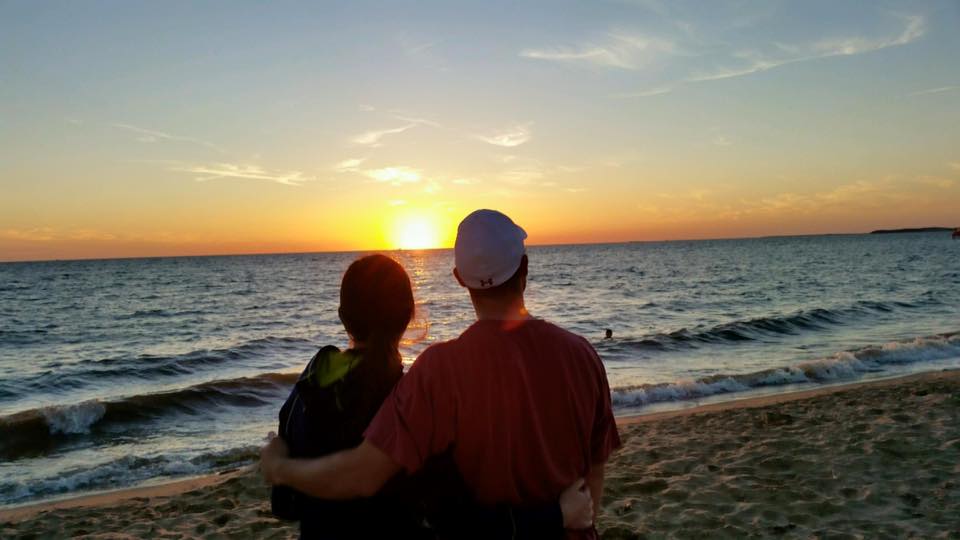 Tips for couples considering moissanite
Here are some tips for couples considering a moissanite stone for their engagement ring:
Don't buy moissanite at your jeweler (or atleast compare prices online). Our jeweler was charging $400 more for the same stone we could get online at Charles and Colvard. My fiancé did get the setting from the jeweler though and they just put the stone in the ring for a very small price.
Don't go too big. If you want to keep moissanite on the down low then don't get a massive rock. Many women get huge rings since moissanite is so cheap but it makes it more obvious. Plus, the one critique of moissanite is that it can show a little bit of color in some lighting. I have read that bigger stones may show a bit more color although my ring is comparable to a 1ct and it's fine.
You can pay for the colorless stone but you don't have to. I personally did not get the most enhanced stone because I read that the difference from the unenhanced is negligible. Every once in a while I see a tiny bit of color in my stone but 99% of the time it's sparkling white.
The boards at weddingbee.com can be super helpful in your research. In the forums, you can find pictures of moissanite engagement rings on real hands and read about other people's experiences.
Don't be afraid! Choose your future over a ring! Think of all the things you can do with that money!
My fiancé and I chose a moissanite stone for our engagement ring and we haven't looked back!
Related: How We Set Our Budget for Our Wedding
Related: Non-Traditional Wedding Ideas for Creative Brides
If you'd like to learn more about saving money and retiring early,  join our email list below or follow me on Instagram @millennialboss.
Readers, what do you think of a moissanite engagement ring (or another alternative stone)? Would you do it?

Latest posts by Millennial Boss
(see all)