I just returned from a 10-day honeymoon road trip through California and Oregon with my new husband.
This post details the 4 days we spent in Portland, which were AWESOME and definitely the highlight of our trip.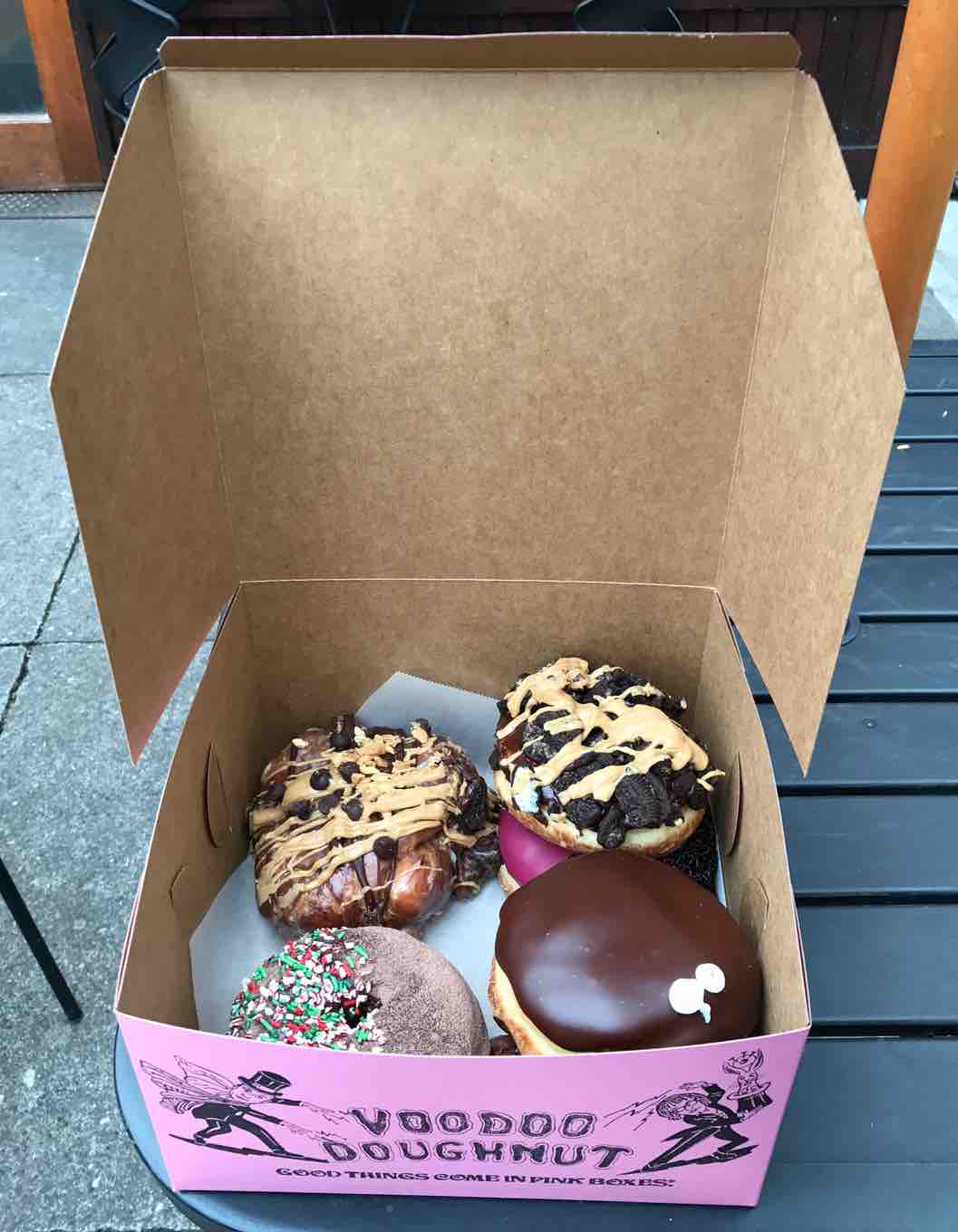 For those of you who read my blog for the early retirement content – sorry, I'm a bit off topic here.
I love reading trip reports when I'm planning my travels so I want to contribute a few trip reports of my own.
Maybe you'll be inspired to visit Portland.
For those of you who found this post while researching your upcoming trip to Portland – I hope this trip report gives you ideas.
Powell's City of Books
Powell's City of Books, located in the Pearl District, is the largest independent and used bookstore in the world.
We spent a few hours browsing and discovering new books.
My husband found Theodore Roosevelt's autobiography, printed one hundred years ago, and bought it for only $20!
I chose a fiction book since I set a goal in the last year to read more fiction.
I highly recommend getting passes at the information desk for the rare book room.
There are some really old books in there!
Grimm Filming Locations Around Portland
Portland looks like an enchanted forest.
The trees are covered in bright green moss and you half expect to see mythical creatures running around.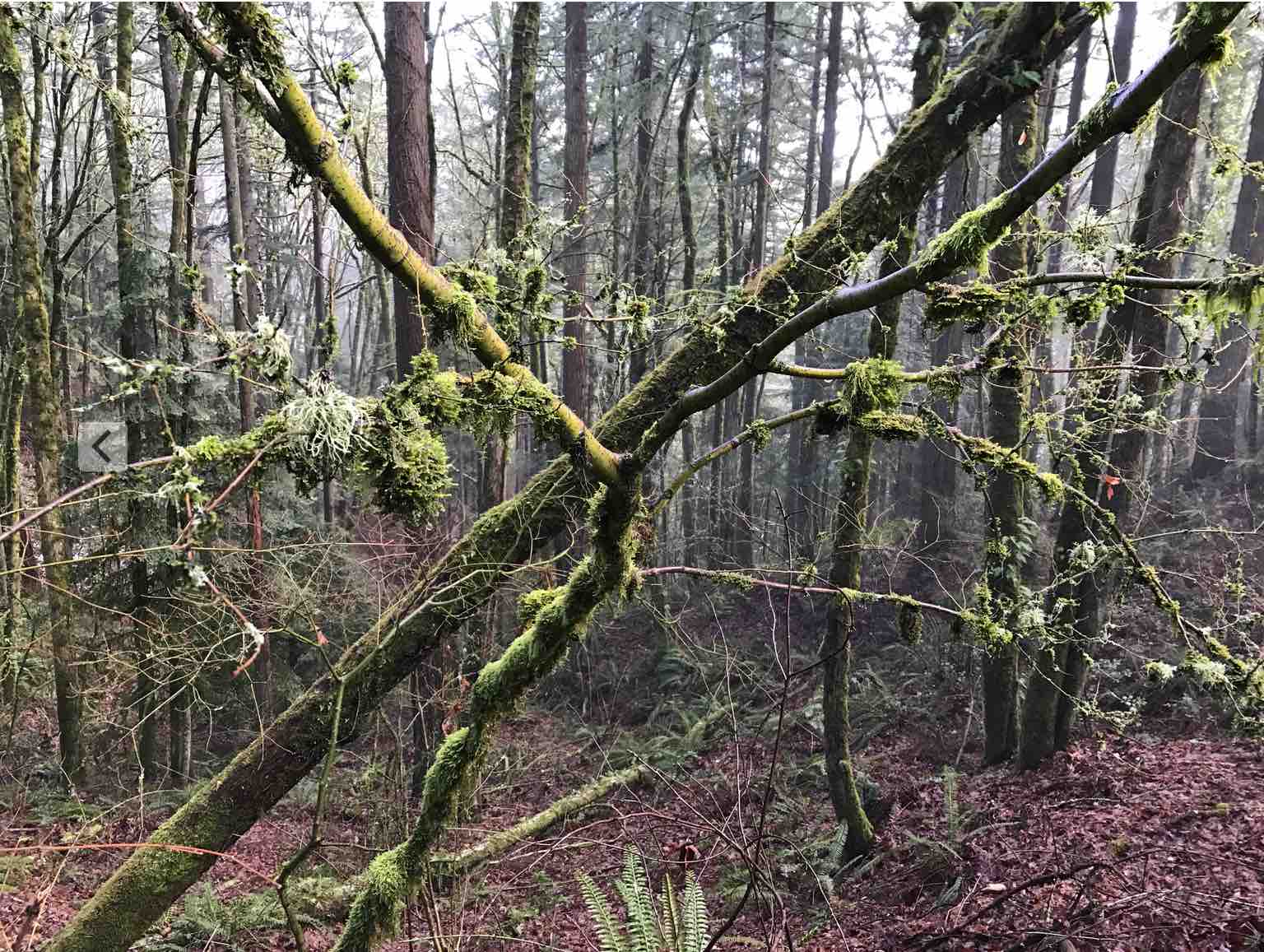 Speaking of mythical creatures, my husband and I are fans of the show Grimm.
He was a super fan and I watched the first four episodes before our trip. I'm now hooked.
I highly recommend watching a few episodes of Grimm before visiting Portland.
Something about imagining fairytales come to life really sets the scene for the city.
We checked out a few of the Grimm filming locations on our trip including:
Monroe's House
Monroe is a fan favorite and his house is located right by the South Waterfront district.
(All we had to do was type Monroe's house into Google to find it).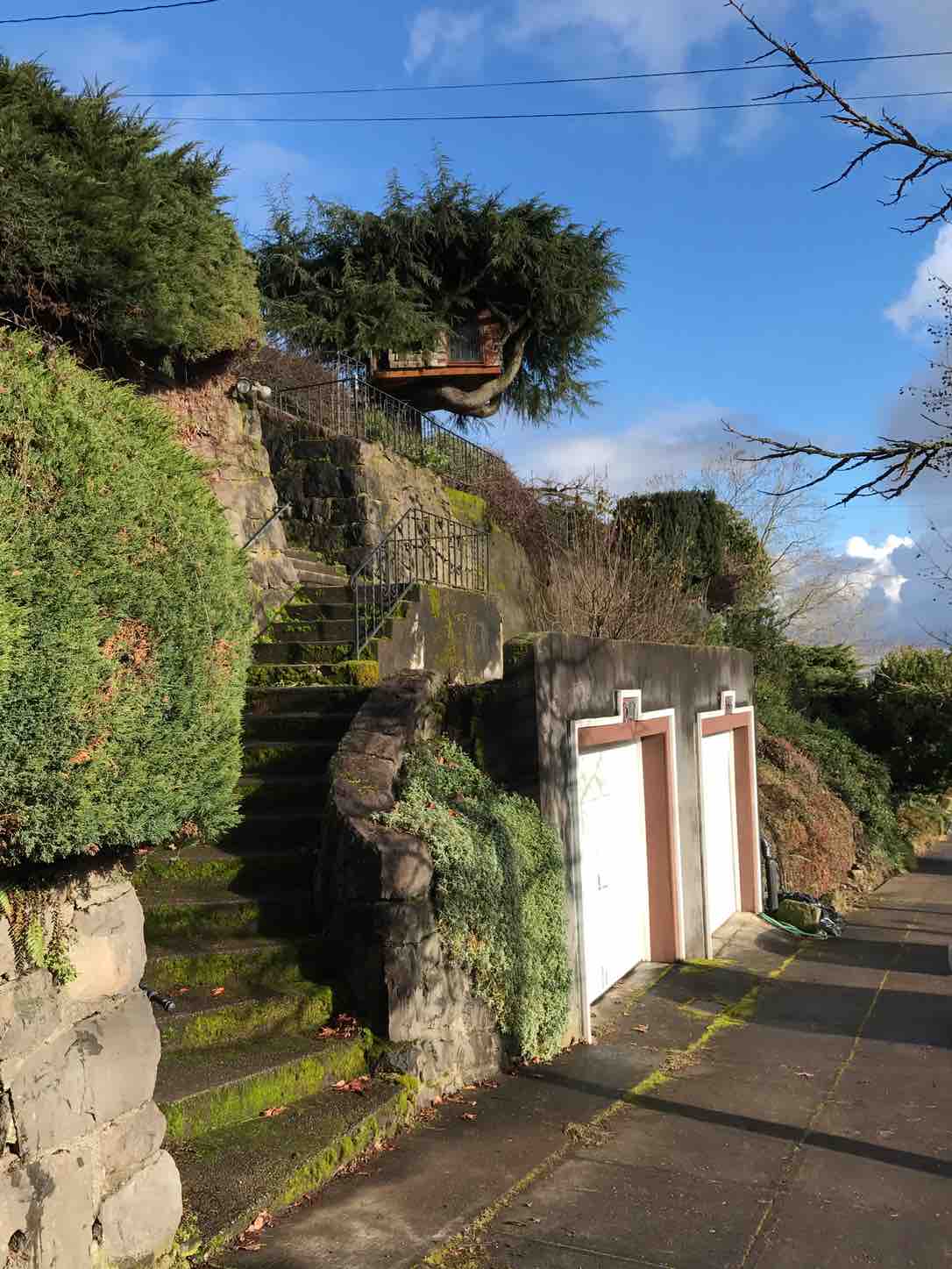 Monroe's house is located on a really cool street. One of the houses had this awesome treehouse!
I recommend driving through the nearby park across the street from the house to see some great views of the city.
The Bramble Haus A.K.A. The Lion and the Rose Bed & Breakfast
Grimm Episode 4 "Lonelyhearts" featured a Victorian Bed & Breakfast, the Bramble Haus.
The Bramble Haus is actually The Lion and The Rose Inn, which was built in 1906.
We geeked out and decided to stay a night at the Bed & Breakfast on our trip.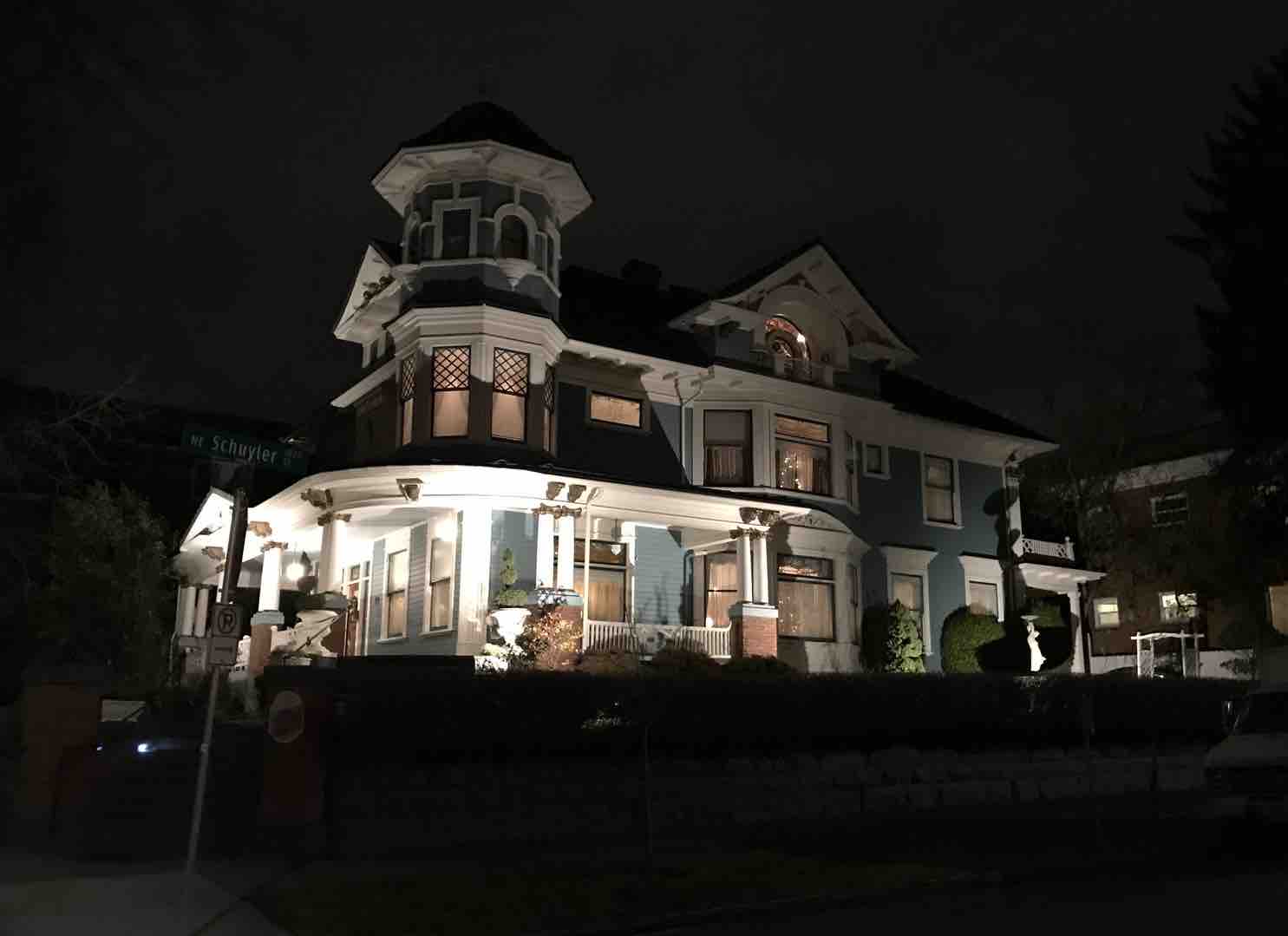 The Inn was just as beautiful and spooky at night as on the show!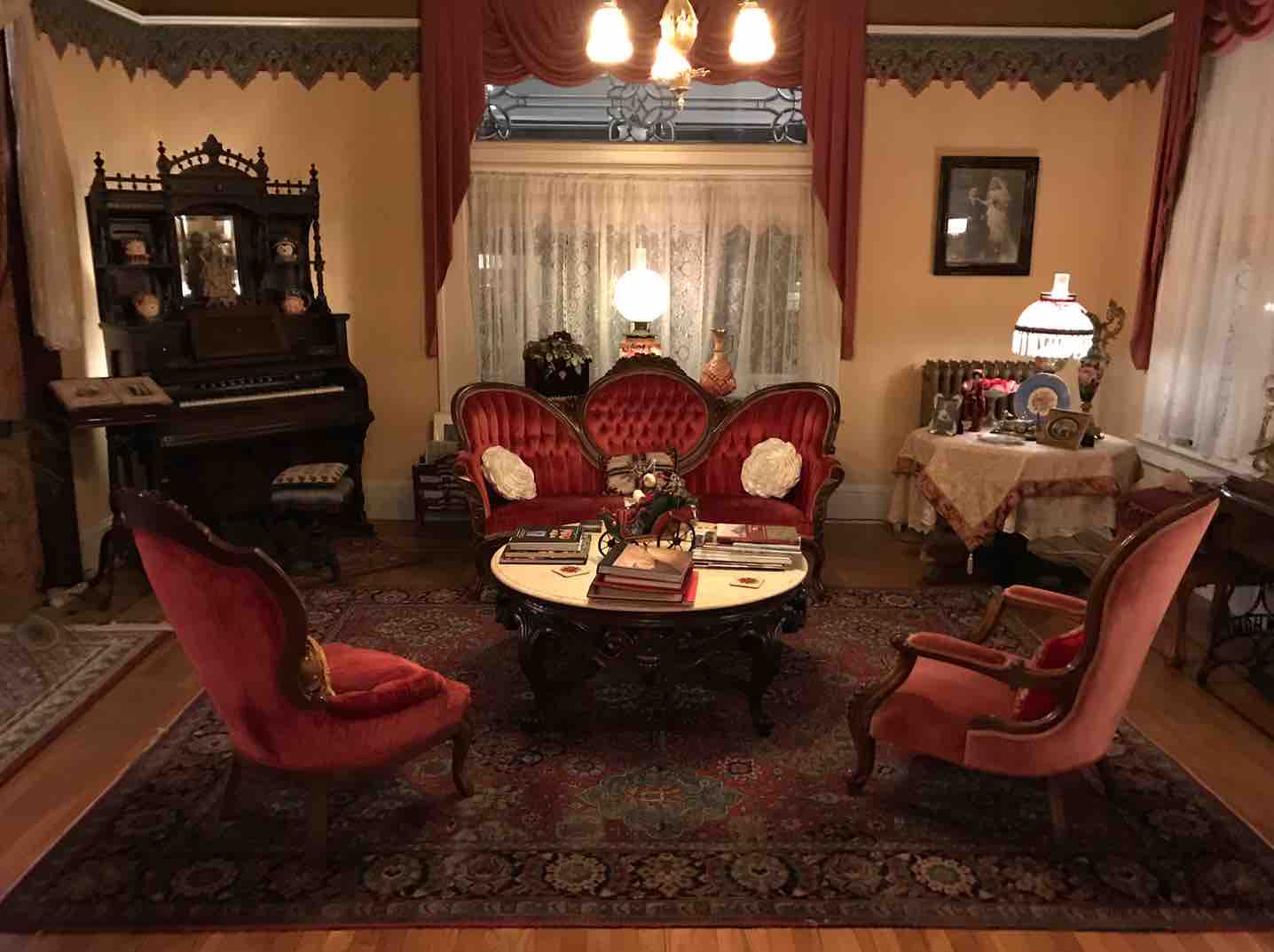 I highly recommend staying at the Inn if you like historic homes.
We just got married in an Estate from the 1700s so this was right up our alley.
The price is reasonable when you book at a significant discount on Hotels.com.
Check out my post on how to save $100 on $200 hotel stays with Hotels.com.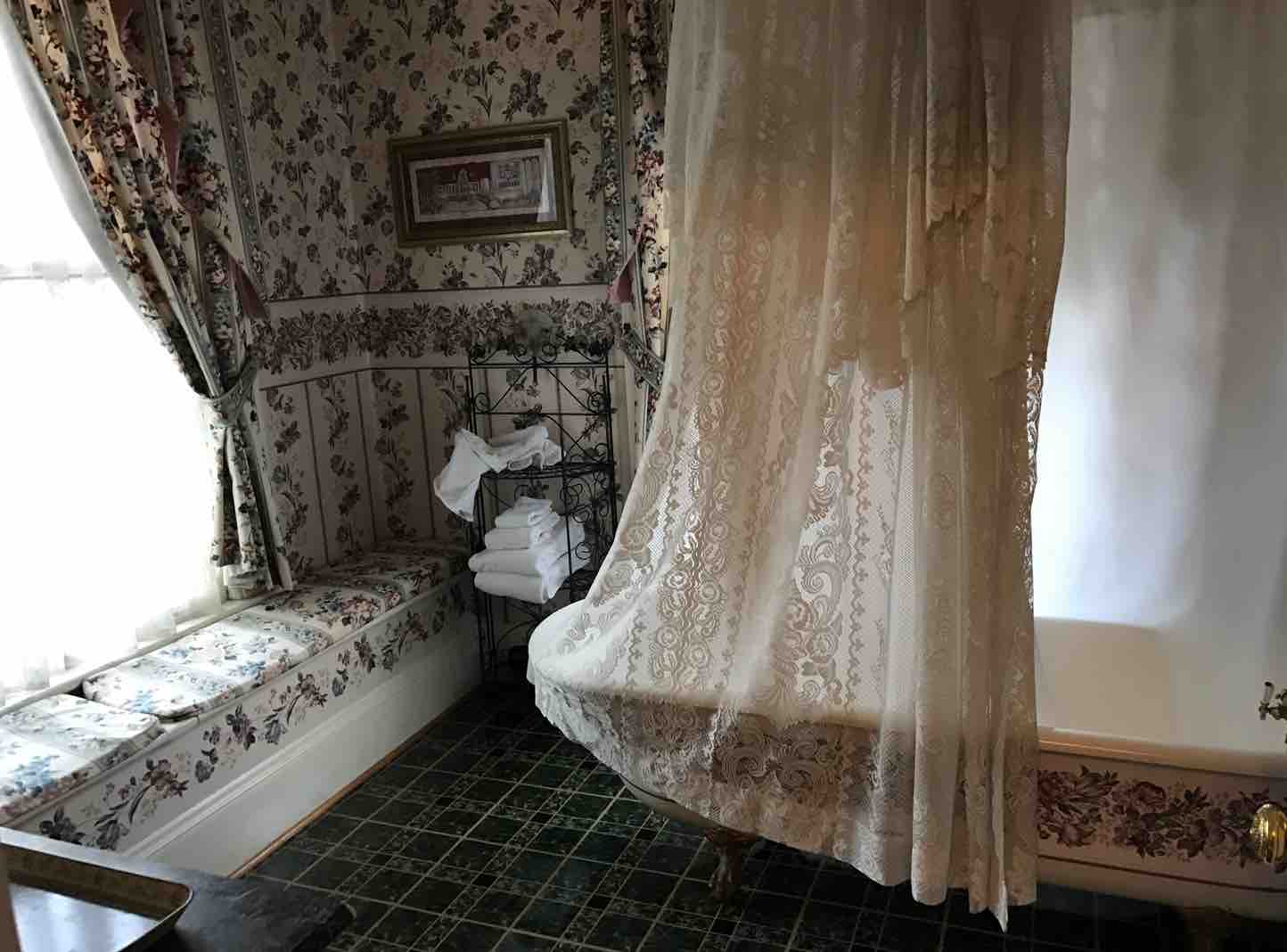 The decor (including traditional clawfoot tub in our bathroom) was really cool and the 'extras' provided were great.
They served a light breakfast, included in our rate, as well as complimentary waters, almond milk, coffee, and tea,
The innkeeper even let me grab some more Apricot scones and a yogurt to-go so we could pack a lunch as well.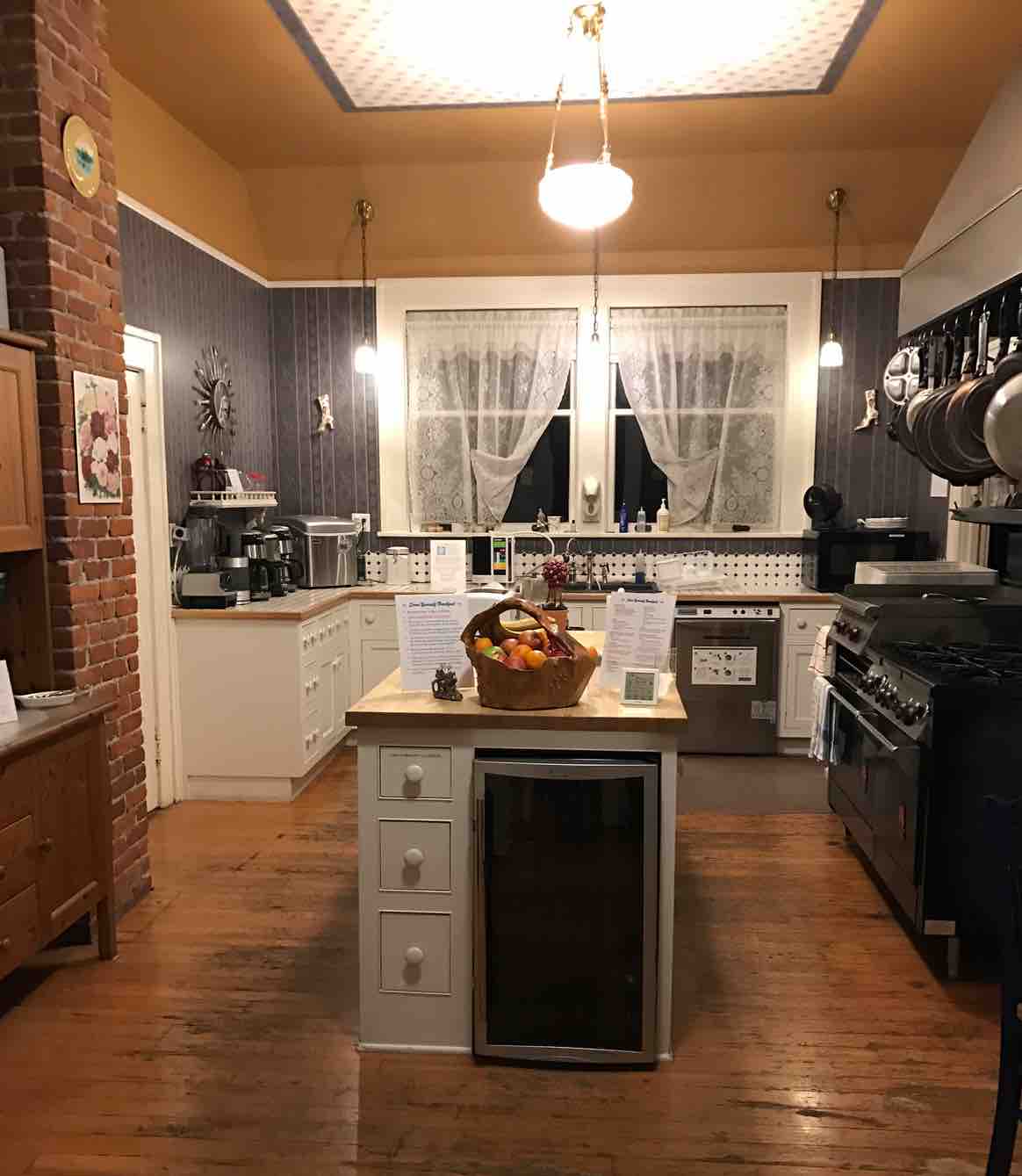 The Innkeeper really went out of her way to make sure we had a comfortable stay.
She shared plenty of maps, gave us a newspaper with events going on that weekend, and told us where to view a 20-minute segment of the Grimm episode where the bed and breakfast was featured.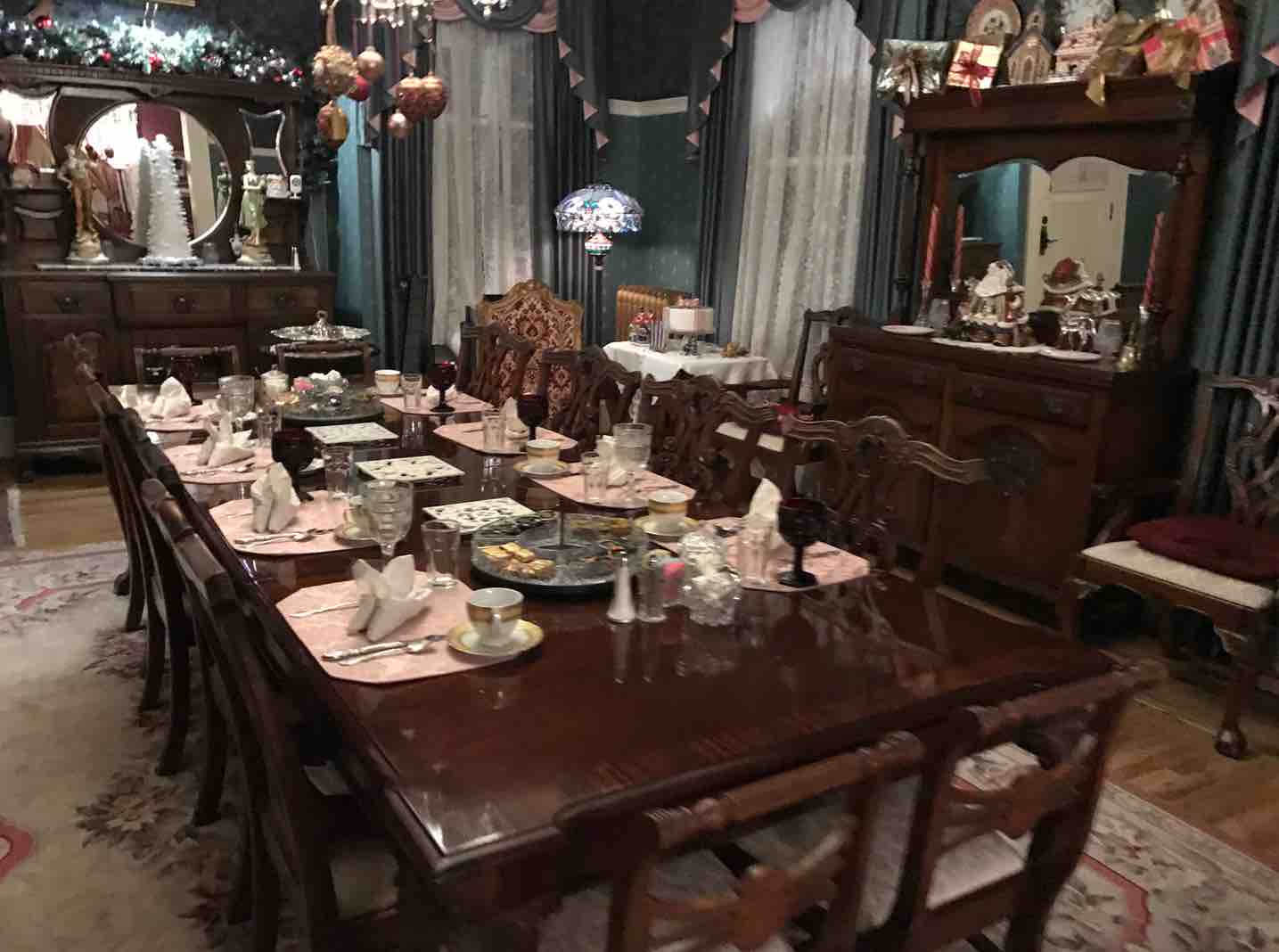 A highlight of our stay was running into the other guests in the shared common areas.
One of the guests was a historical restoration expert and Portland native. She had always wanted to stay at the hotel and was a great resource to learn more about Portland's history and the ongoing battle to preserve historic homes.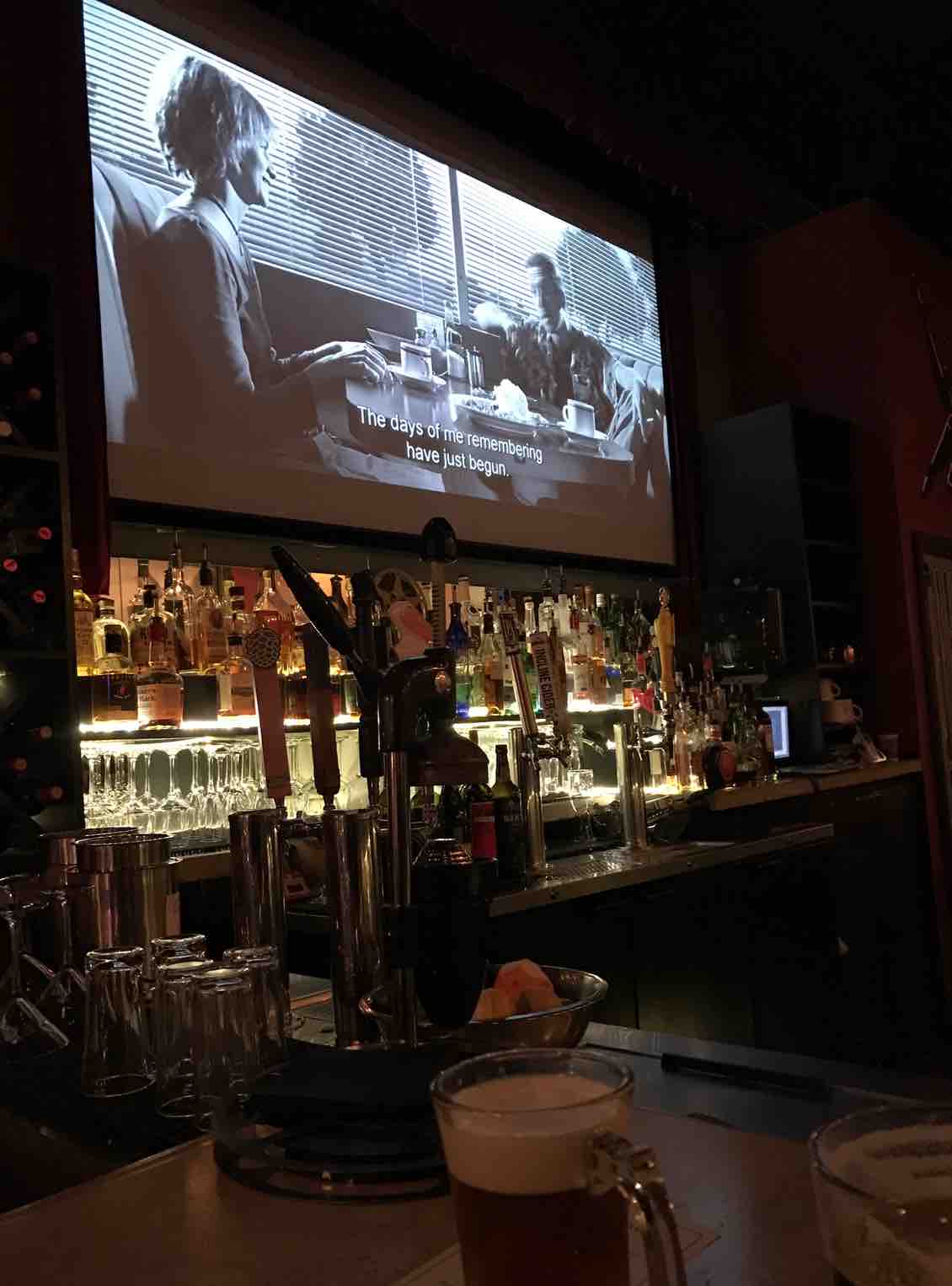 The Inn is located right off of Broadway which has tons of restaurants and bars, including the bar, Iconic, which plays black & white movies.
I enjoyed the Warm Apple Pie cocktail and my husband had the rotating seasonal stout while we watched Pulp Fiction in black and white.
Nick Burkhardt's House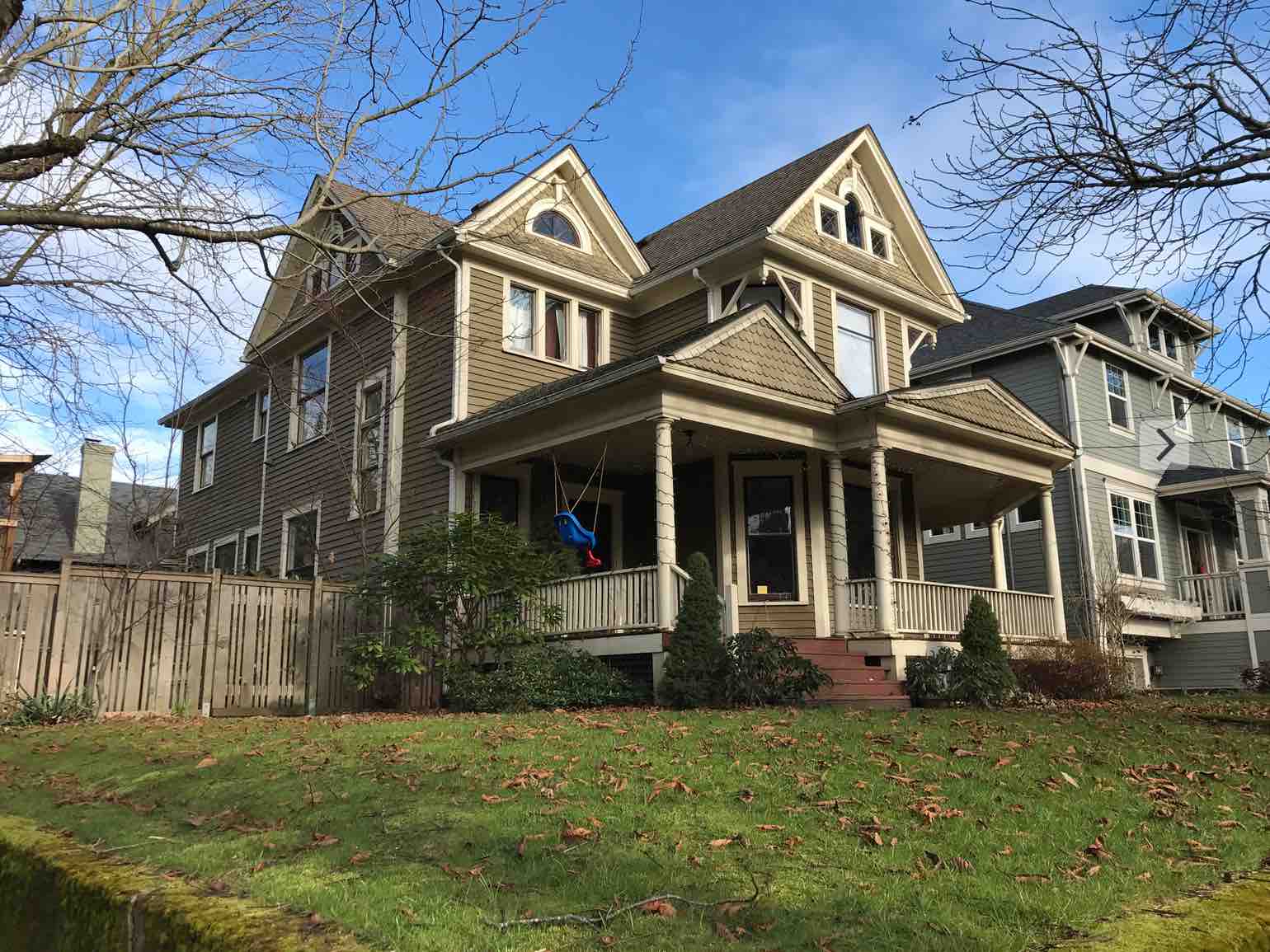 Nick Burkhardt is the main character in Grimm and his house is in Northeast Portland.
Type Nick's house into Google and it will take you right to it.
The house was located only a short drive from The Lion and The Rose Inn.
For hardcore Grimm fans, check out this interactive Grimm Locations Map to find more places to visit.
Saving on the River's Edge Hotel & Spa with Priceline
Finding a reasonably priced hotel in downtown Portland over New Years Eve weekend was challenging.
All of the good Airbnbs were booked and downtown hotels were charging $200+ a night.
For some reason the River's Edge Hotel & Spa was going for $98 a night on Priceline Express Deals.
I didn't exactly know it was the River's Edge Hotel & Spa when I booked but I typically take gambles on Priceline and it's worked out for me.
Our room was big and clean with a sitting area and large bathroom.
My new husband was super psyched about the huge hotel gym! Apparently, it is rare that a hotel gym has dumbbells up to 70 pounds.
It was a 2 mile walk from the hotel to downtown each day but we enjoyed the walk along the waterfront and the exercise.
With the amount of food we ate on this trip, we needed it!
We stopped for coffee at Upstream Coffee & Eatery on the way downtown.
I got the Vanilla Cinnamon Latte which was really good and my husband got Stumptown black coffee which seems to be all the rage in Portland.
The hotel had free coffee too in the spa which was a nice bonus.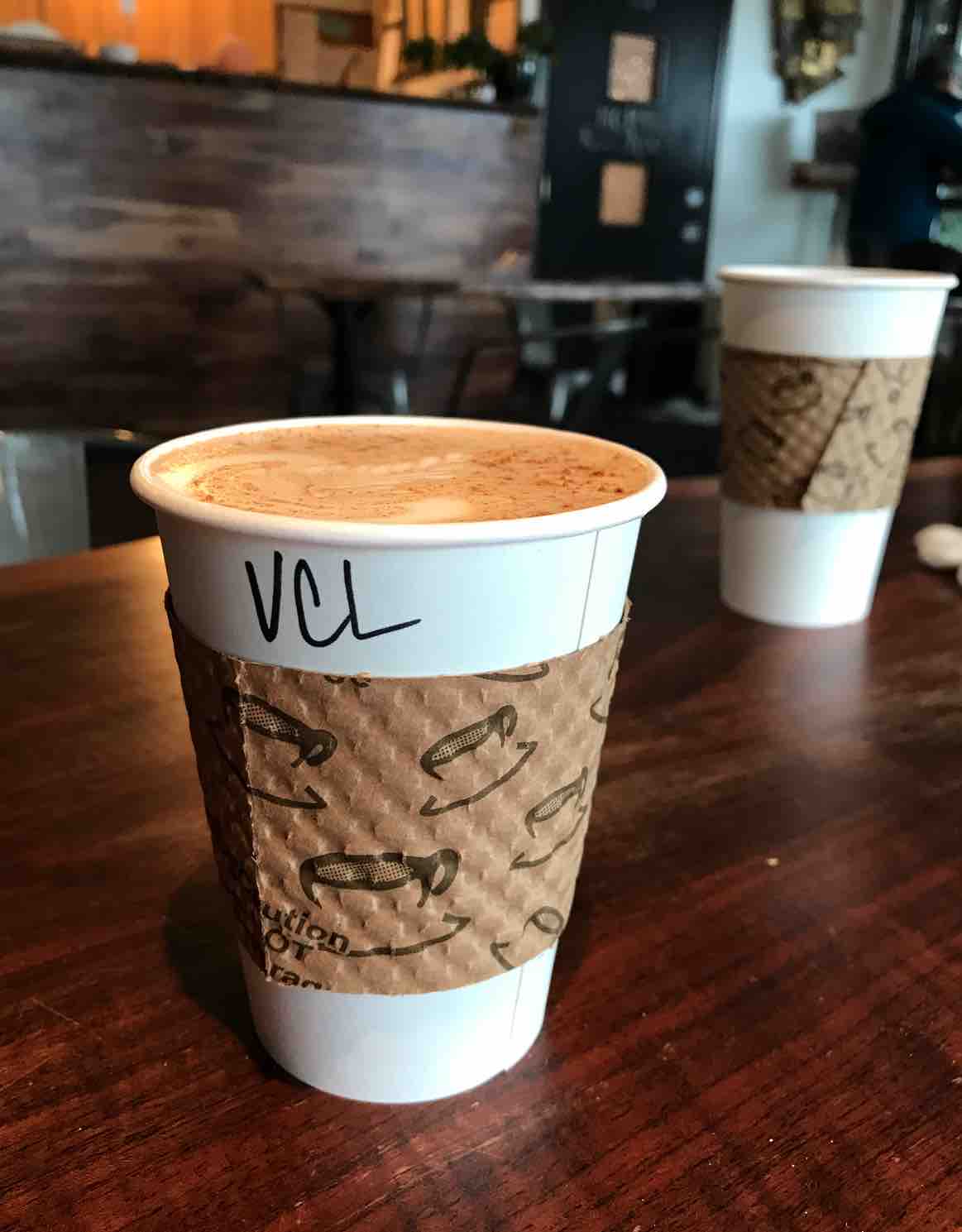 Just down the road from the hotel was the JoLa Cafe where we blogged and ate a great breakfast.
The avocado toast with a poached egg on top was great with my cold brew.
Beer in Portland
For New Years Eve, we walked a few blocks to The Growler Guys in the South Waterfront.
I had spent an hour researching things to do in the city for New Years Eve but realized that they were all overpriced and we would probably want to go home early anyways.
We ended up finding The Growler Guys which was within walking distance from the hotel and offered super cheap, delicious beer. In fact, they had 48 awesome beers on tap.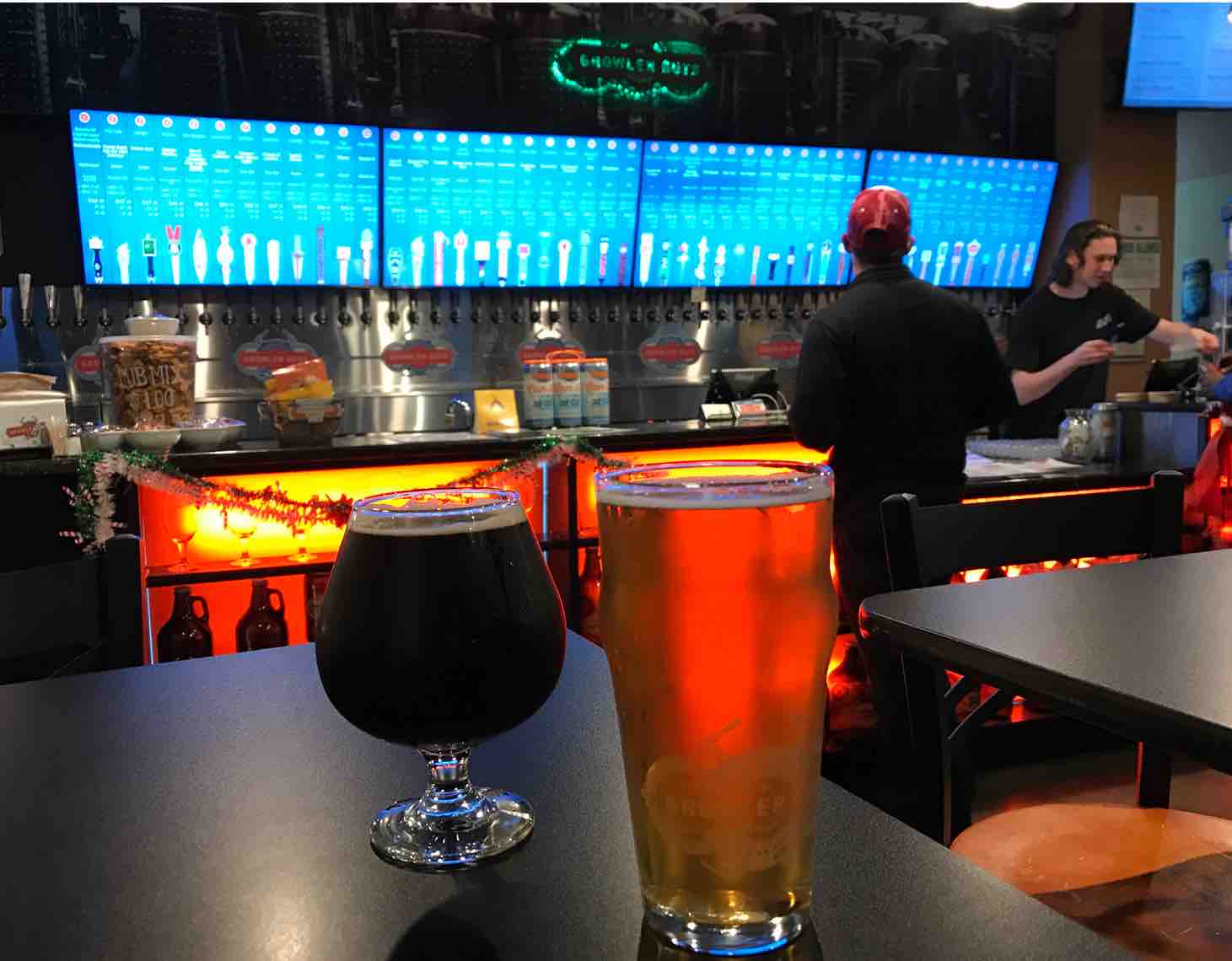 I had the Ben & Jerry's Chocolate Chip Cookie Dough from New Belgium and my husband had Dead Santa from Heretic. Sooo good.
The best part about this NYE celebration? We watched the ball drop on the East Coast and then headed back home to watch an episode of Grimm before midnight (yes, I'm 27 going on 60).
We had some really good beer on this trip.
Another favorite was Deschutes Brewery in Downtown Portland. I highly recommend checking it out.
We also tried Laurelwood Brewery at the airport when we were waiting for our flight. Also excellent. The IPA and Expresso Stout were really good.
Gluttony in Portland
We may have indulged a bit on our trip.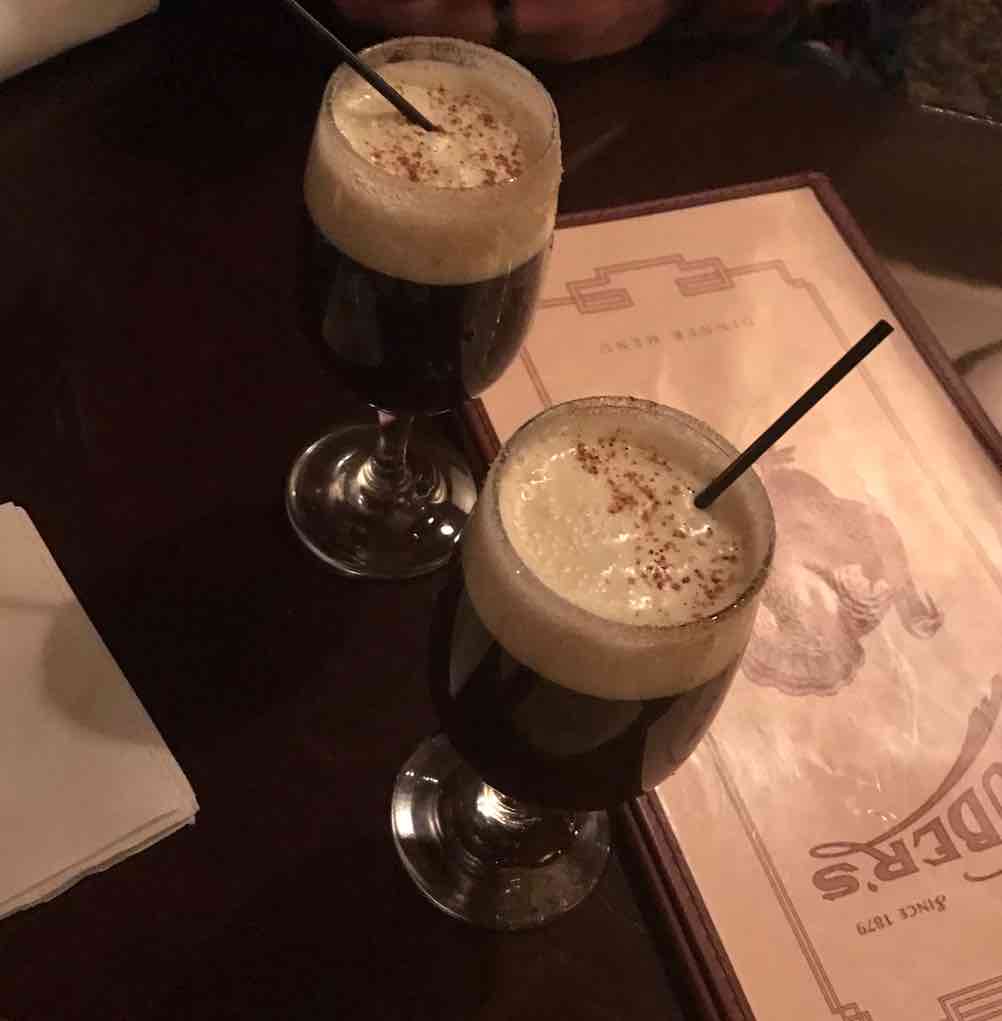 We drank these Spanish coffees at Huber's in downtown Portland.
Huber's is over one-hundred-years-old and is dubbed the oldest restaurant in Portland.
The Spanish coffees are made table side and the server lights them on fire. WOWZA are they strong!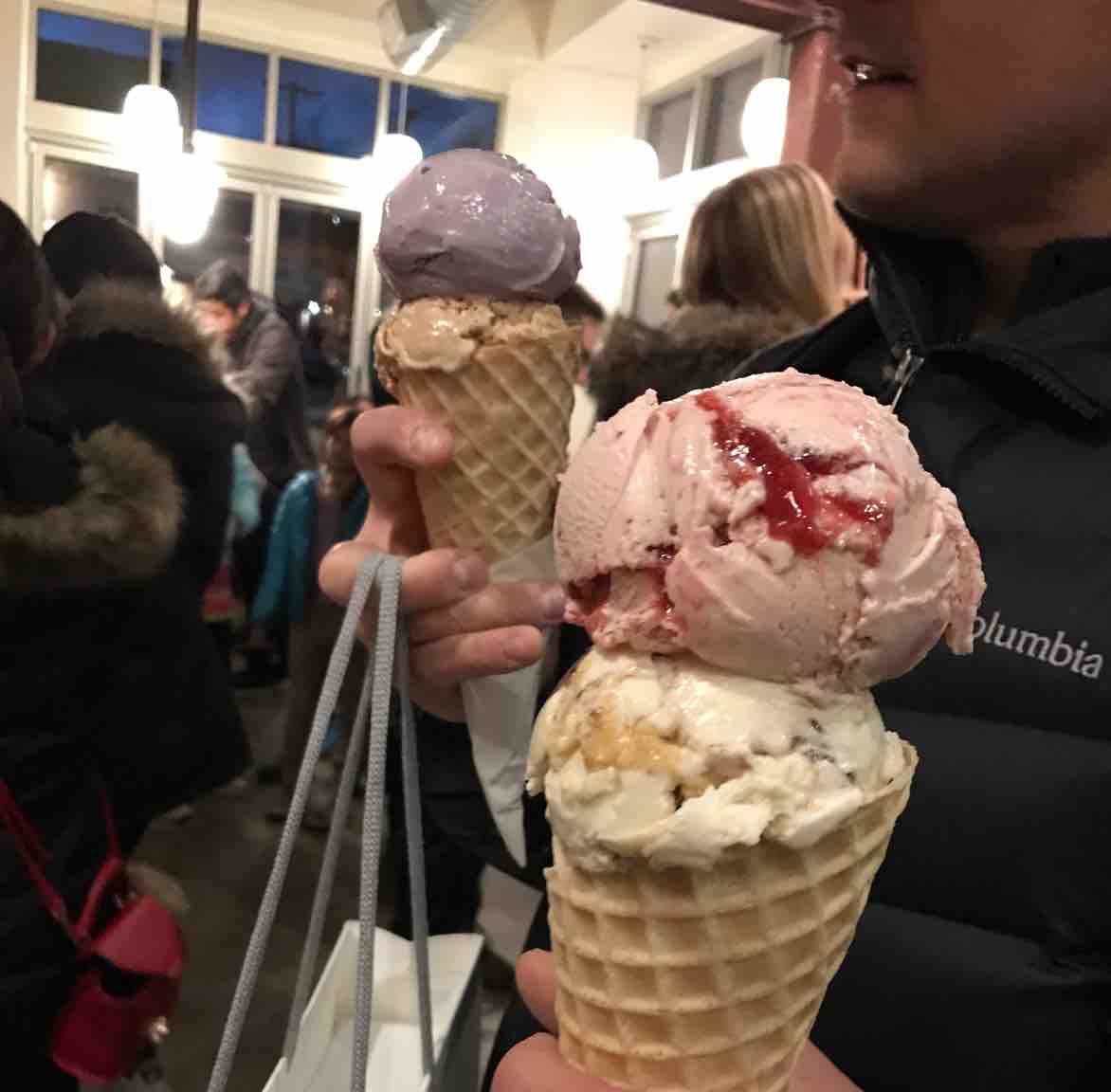 We are also ashamed to admit that we waited in line for an hour at Salt & Straw for these massive ice cream cones.
I got my moneys worth by sampling at least 5 of their crazy flavors with ingredients such as Blue Cheese, Olive Oil, and Strawberry & Pepper.
And yes, that is a shopping bag. Oregon has no sales tax so we strategically waited a few weeks and purchased a replacement for something expensive on this trip. We saved some serious dough buying the item in Oregon and not California.
Outdoors Things to Do in Portland
We had planned to take the hiking trails through the forest up to the Pittock Mansion but it was snowing off and on and was super muddy.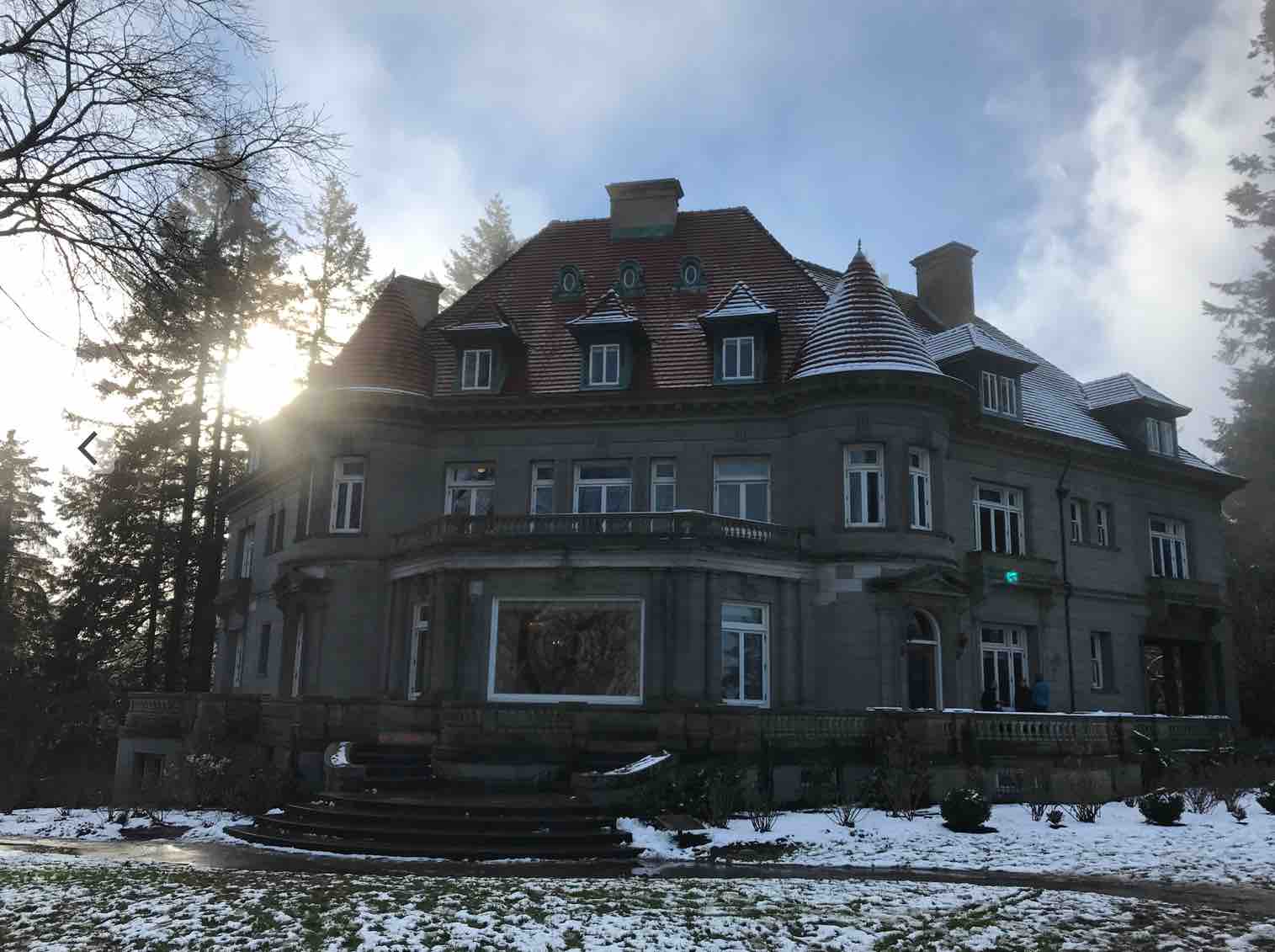 We did walk around the grounds of the Pittock mansion though and they were beautiful.
We also toured the gatehouse and saw this amazing view of the city for free. (We didn't buy tickets to tour inside the mansion since we've seen many historic homes recently).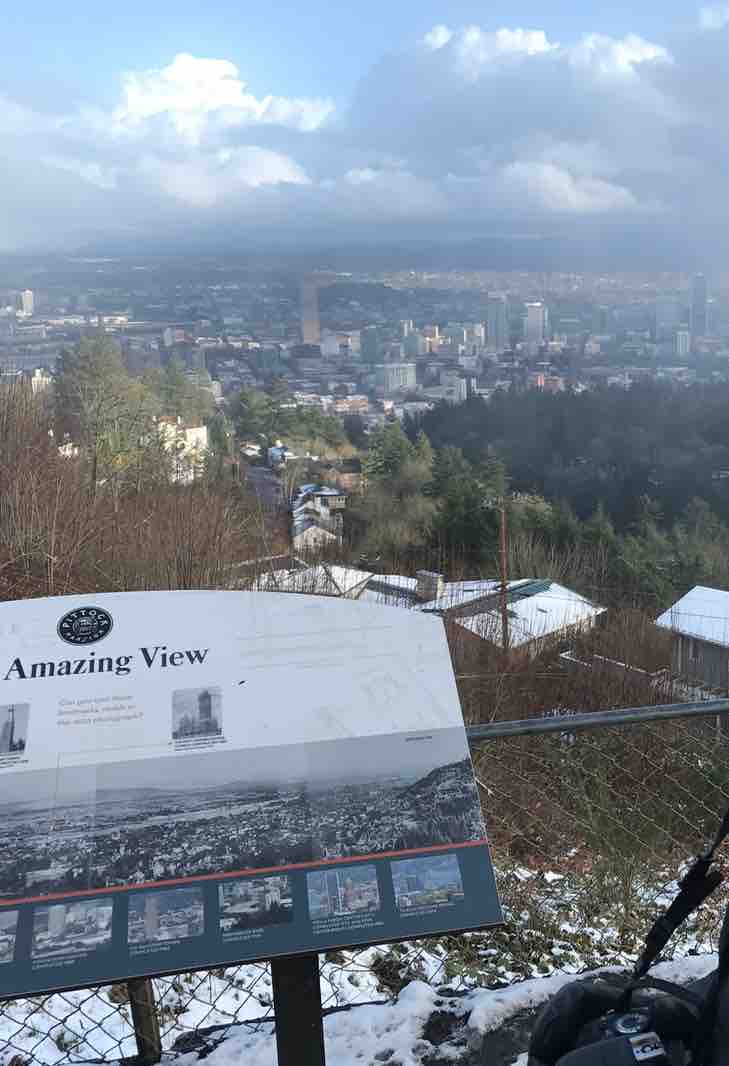 After we toured the Pittock mansion, we drove through the Hoyt Arboretum which was beautiful.
If the weather was better, we would have hiked instead.
We tried to go to the Portland Japanese Garden but it was closed for a members only event. We'll definitely be back to check it out.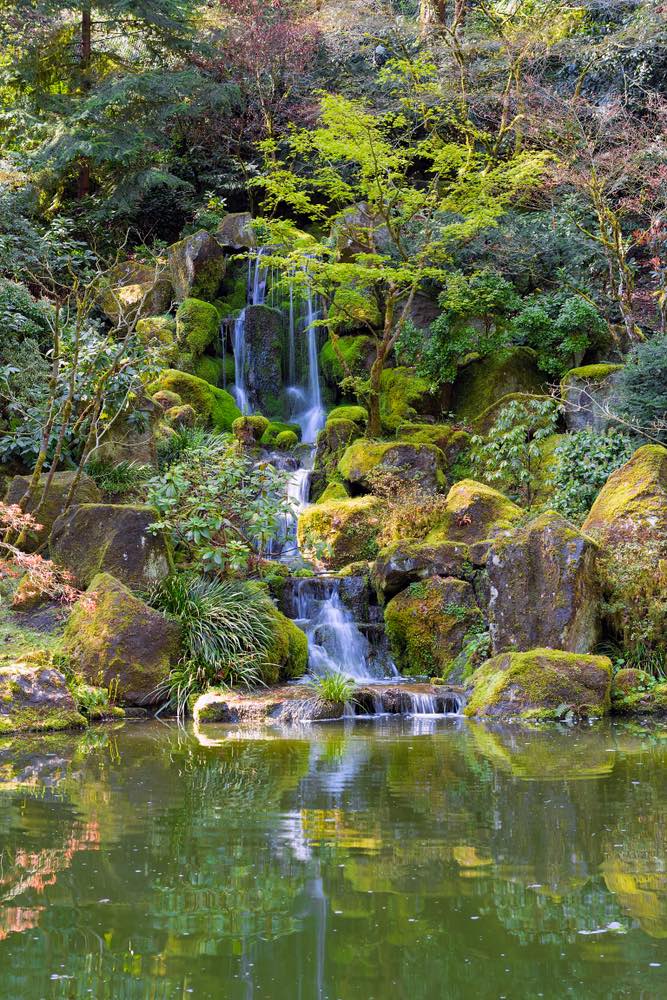 One of our favorite drives was the Columbia Gorge Scenic Highway which is East of Portland.
You can stop at all of the gorgeous waterfalls and viewpoints along the way.  Take Exit 22 off of 84 for the scenic route.
We actually did this drive right before we went to the airport.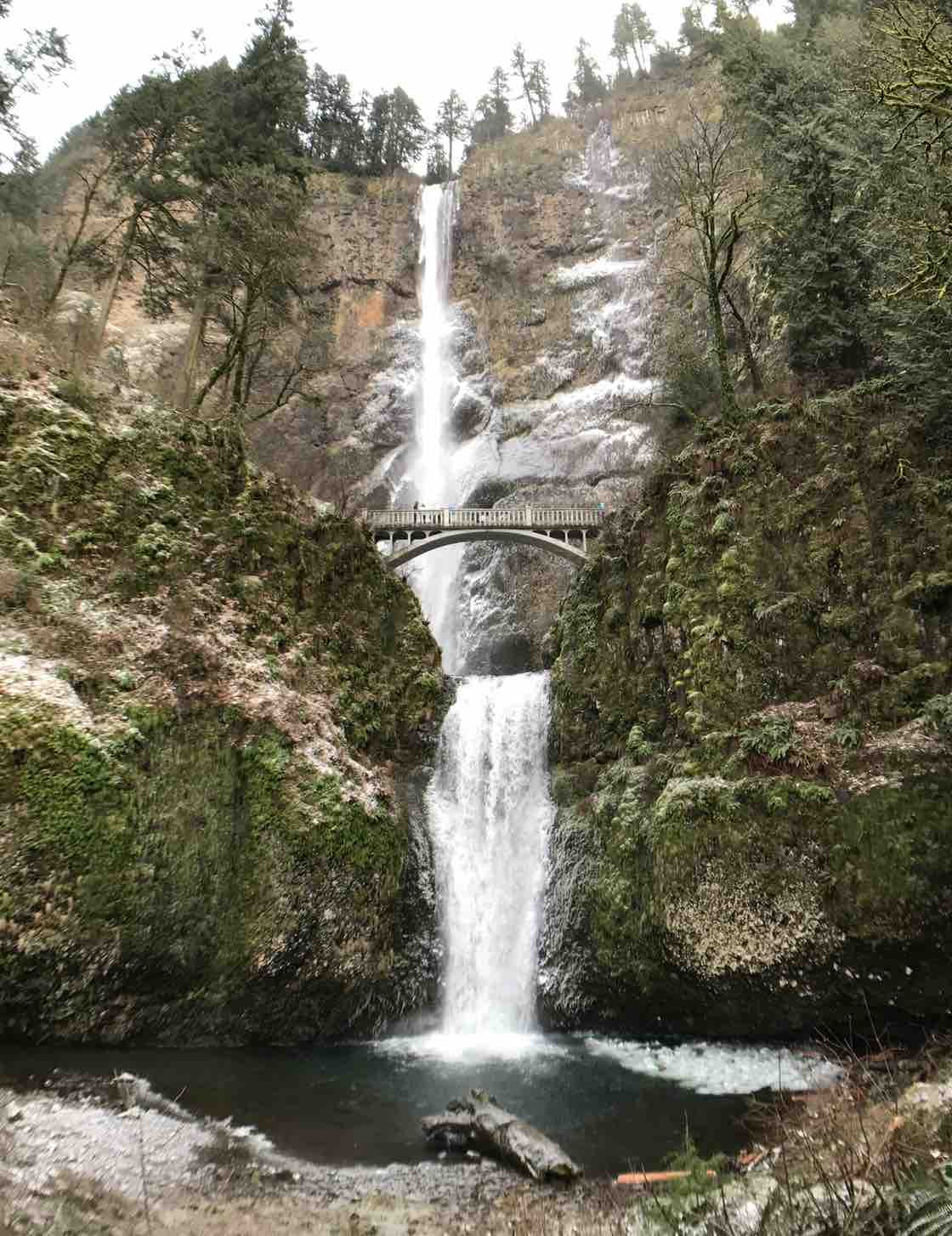 Overall, we had a great time in Portland and it was the perfect way to end our honeymoon.
It was one of those places where we left thinking "We could live here."
With the lower cost of living, easy access to the ocean and skiing, outdoorsy culture, and enthusiasm for craft beer – it seems like a great place to live.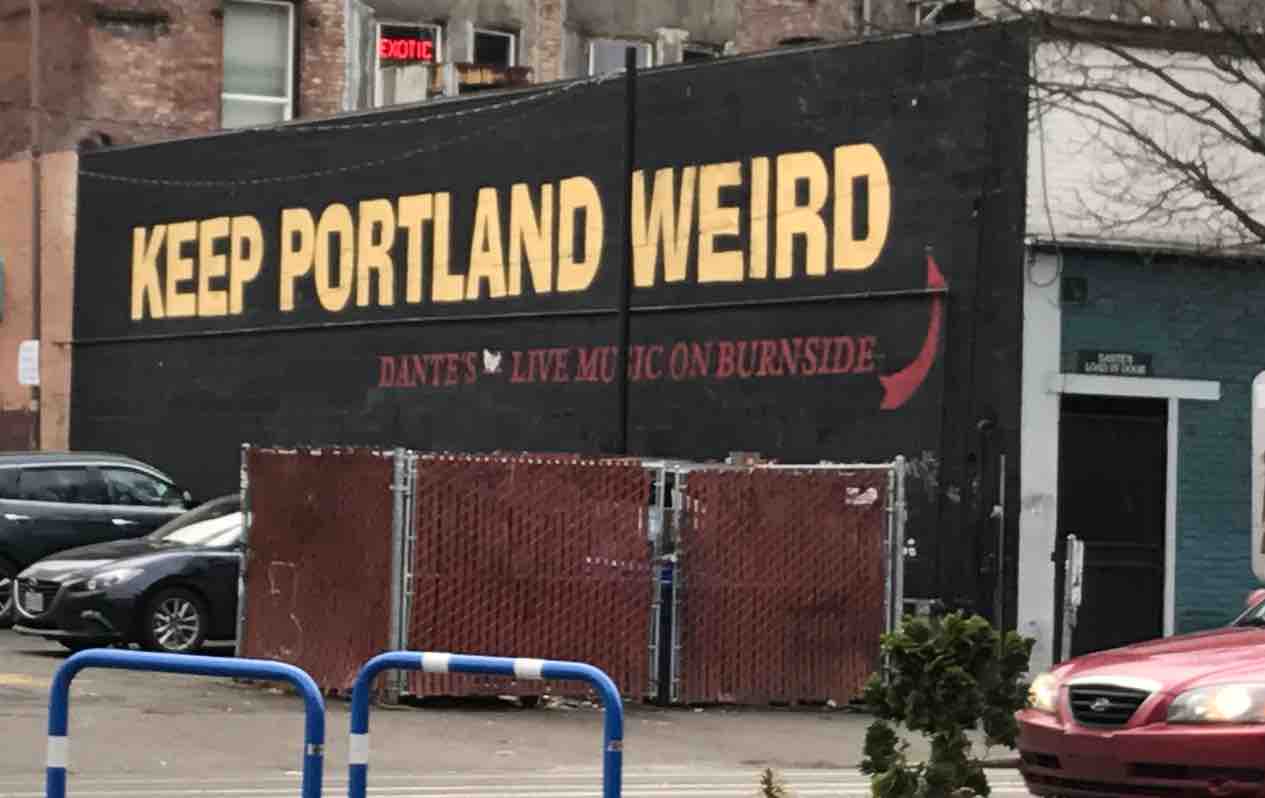 (Portland wasn't as weird as this mural makes it seem).
How We Saved Money on this Road Trip
Our honeymoon road trip consisted of 4 nights in Southern California and 5 nights in Oregon.
Although we definitely treated ourselves in Portland, we cut costs on the entire trip by using the following methods:
We had a rule that whenever we stayed in Airbnbs, we couldn't eat out. Instead, we went to Trader Joe's and local grocery stores and cooked all of our meals. We spent 4 out of the 9 nights in Airbnbs, although we didn't stay at any in Portland. (If you're not signed up for Airbnb, here is a $35 credit towards your first trip).
When we stayed in hotels, we used this Hotels.com hack and Priceline Express Deals to save money.
We took advantage of any complimentary breakfast, hors d'oeuvres, coffee, and alcohol offered by the hotels. We had complimentary breakfast and coffee offered at three hotels and one hotel that served hors d'oeuvres and wine that we used as a replacement for dinner.
We made variations of Peanut Butter & Jelly sandwiches to replace meals in hotels. I am totally sick of PB&Js because we ate them all week.
We found free things to do everywhere we went.
We used an employer code plus Ebates cash back for our one-way car rental. Costco was a close second in terms of price.
We used Southwest points to fly home. We have a stockpile of points and miles due to our desire to travel the world for free.
Oh, and we used the Priority Pass that comes with our Chase Sapphire Reserve cards to get free coffee and snacks in the airport. The Alaska Airlines lounge in PDX is nice.
We don't feel bad about our spending on this trip because 1) we saved for the trip ahead of time and 2) it was our honeymoon!
We had a great time!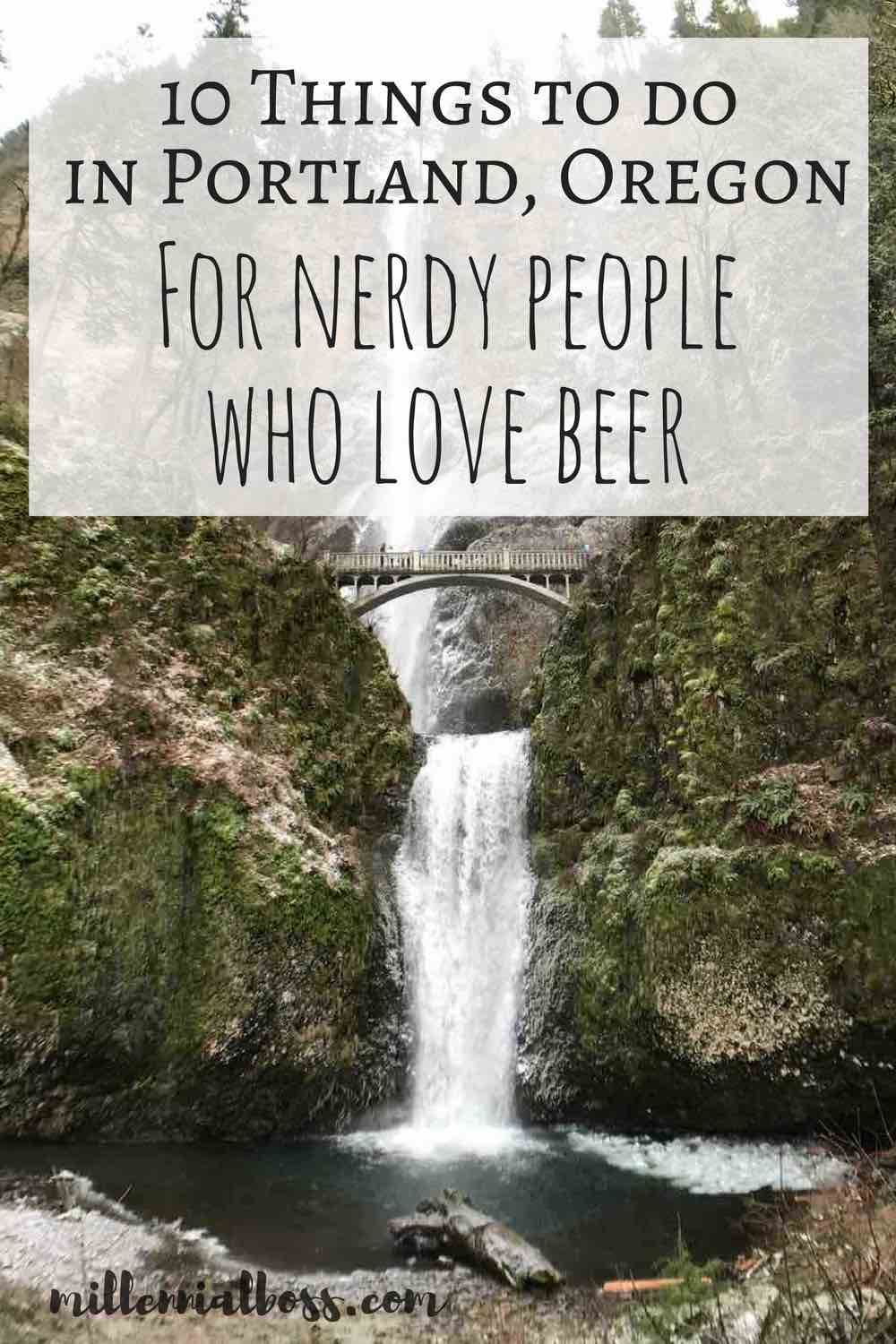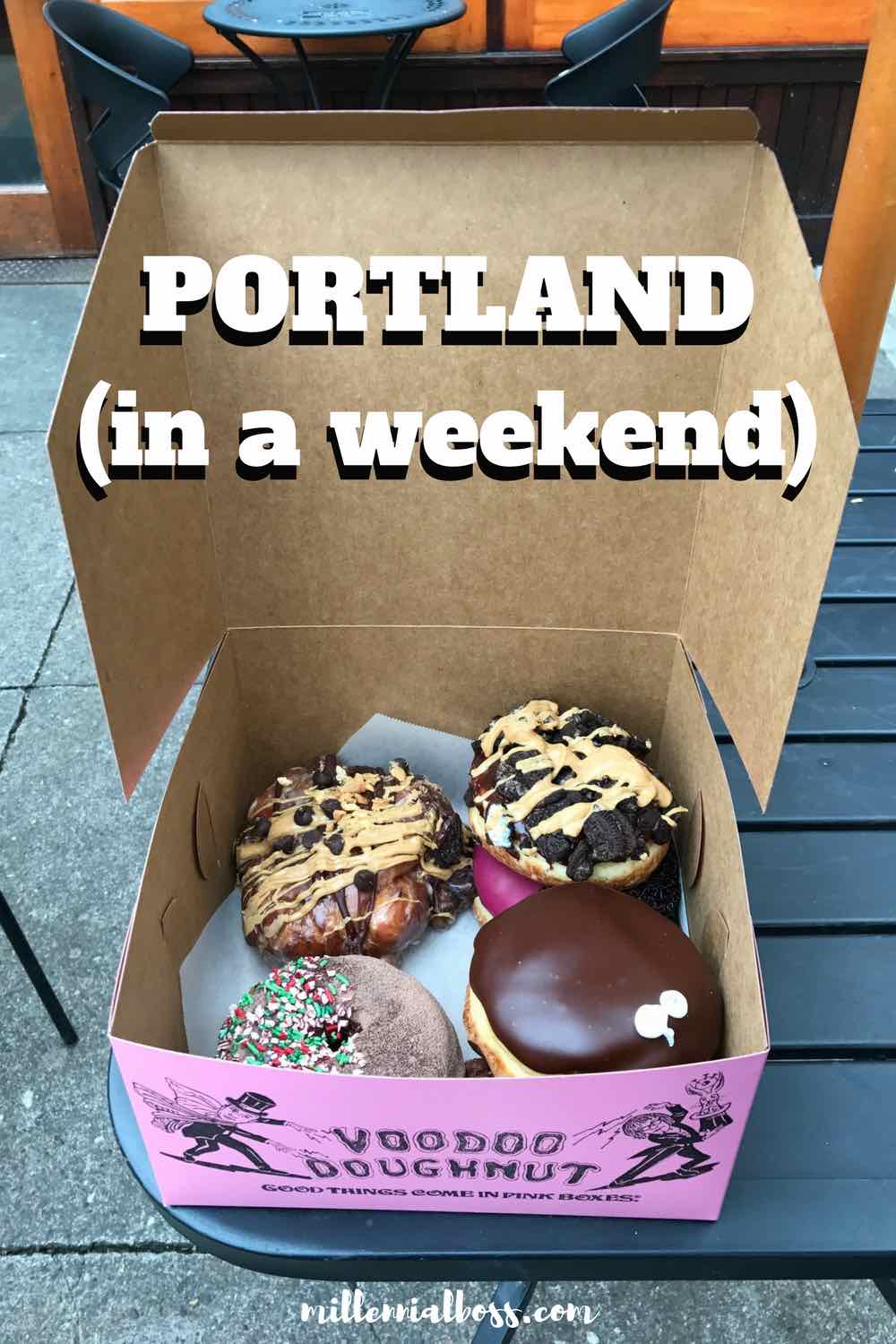 Other Trip Reports:
Southern California Wine Country
Utah National Parks Road Trip (with a dog!)
Have you been to Portland? Any places I missed? Anything you would skip?

Latest posts by Millennial Boss
(see all)