Moving out west has rekindled my relationship with the outdoors. I had forgotten how good it feels to hike through a forest or to take in your surroundings atop a mountain.
Social activities in my early twenties seemed to revolve around eating and drinking and then making plans for the next time I would eat or drink. It has made me so much healthier and happier to live these last few years in a place that promotes the outdoors socially.
Social hiking has also saved me tons of money. Most national forests are free and for the ones that aren't, the $20-30 entrance fee is much cheaper than a night out for two people.
Hey Road Trip
My recent move further West gave me an opportunity to take an epic road trip across Utah, Nevada, and California.
I had purchased the America the Beautiful National Parks Pass for my fiancé as a Christmas gift and was lucky enough to receive a generous relocation package from the company I will be working for that includes reimbursement for mileage, hotels, and food on the drive out.
Most people would have flown out and had their car shipped (both expenses also covered in the relocation package) but we wanted to drive out because we love exploring new areas.
Traveling With a Pet
Traveling with a pet is challenging. We couldn't fit our dog's crate in the car and we don't trust him alone in a hotel room by himself so he was with us 24/7. Everywhere we went needed to be dog-friendly.
Bring Fido is a great site for finding and reading reviews of pet-friendly hotels. I've never booked through the site but typically read the reviews there before I book any dog-friendly hotels. I always recommend calling the hotel directly to confirm their pet policy prior to booking. You never want to be surprised by a weight limit or an outrageous pet fee when you arrive at a hotel.
Yelp was super helpful in determining where we could eat. You can filter by outdoor seating and for some cities, by 'dogs allowed.' I don't typically use the 'dogs allowed' filter because I've found some of the better restaurants with patio seating don't show up under 'dogs allowed' even though they do allow dogs.
Overall, it was relatively easy to travel with our dog since so many places out west are dog-friendly and we were lucky to have great weather!
Arches National Park
Arches National Park is right outside Moab, UT. The juxtaposition of the blue mountains with the red rocks is breathtaking. I was a little surprised by how small the arches were but we also couldn't get up close to any of them because we had our dog.
As typical in most national parks, pets are not allowed on hiking trails. We did a bit of a drive-by tour of the park, stopping at all the major view points instead.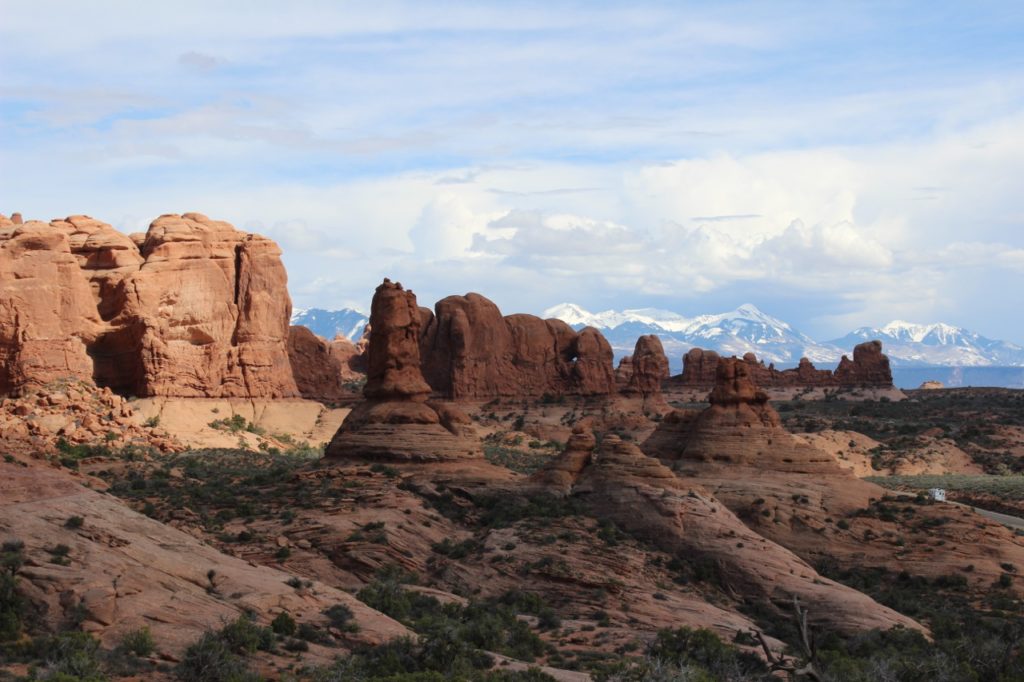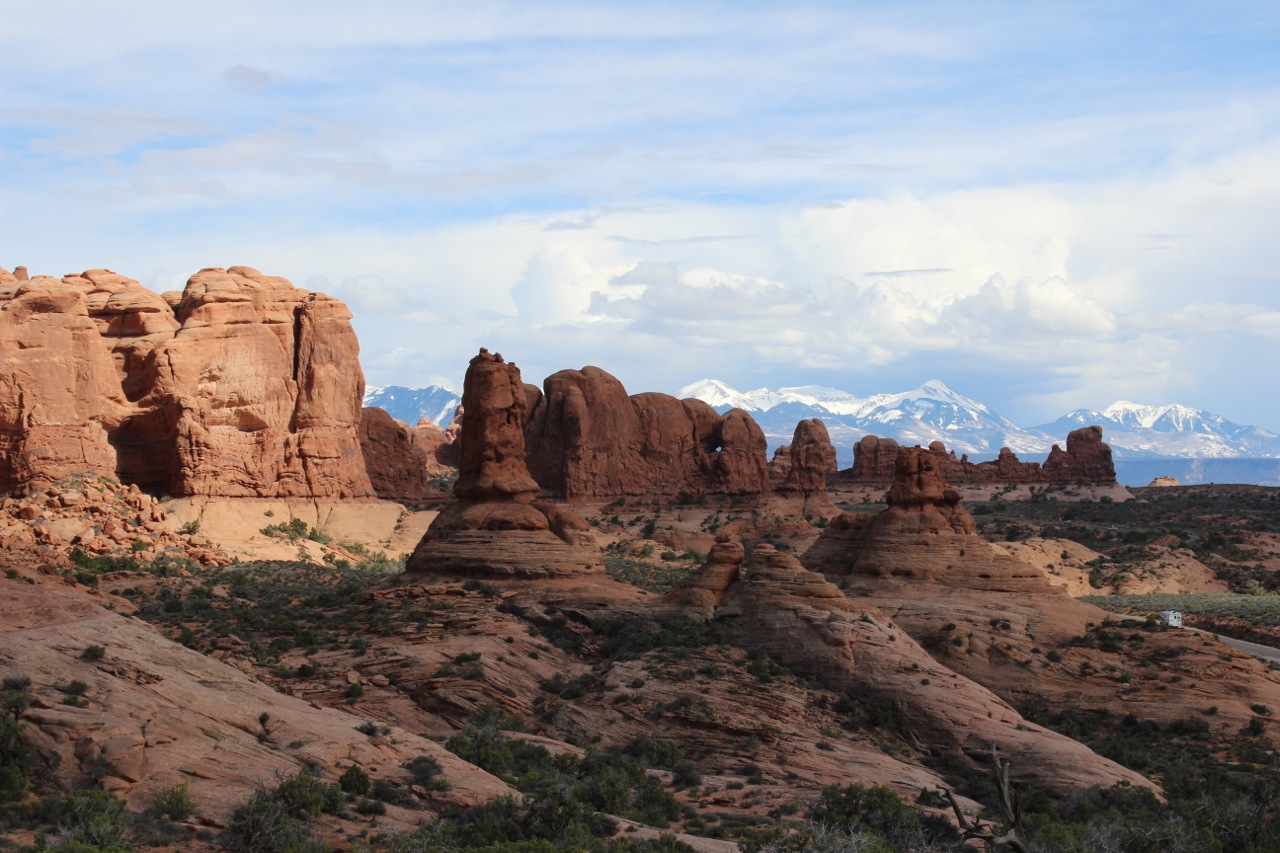 Dixie National Forest
We traveled to Dixie National Forest second which is right outside Bryce Canyon National Park also in Utah. We decided to skip Bryce Canyon and do Dixie because dogs are allowed on hiking trails in Dixie National Forest. After driving for hours, our legs were cramped up and we needed a good hike.
The best thing about doing a national parks road trip is that the views on the way to the parks are often as beautiful as the parks itself. There were so many times while driving in Utah that I wanted to stop the car and stay somewhere forever.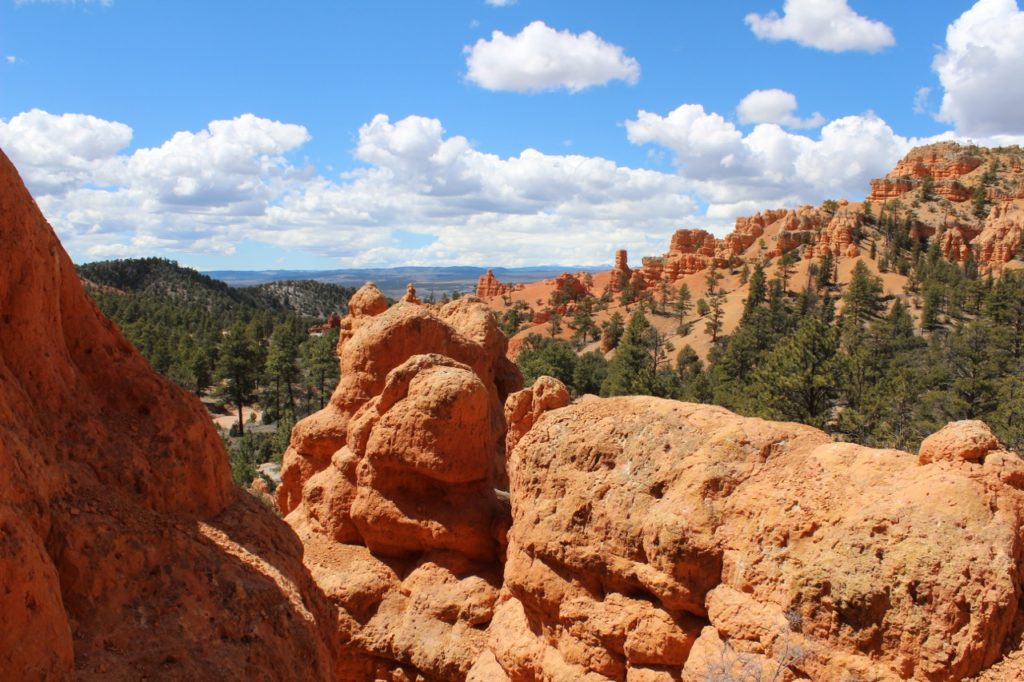 Zion National Park
Zion National Park in Utah made me feel like I was in the Land Before Time and that a Terradactyl would just sweep through the valley in any second and take me.
It was gorgeous.
The only dog-friendly trail in Zion was the Pa'rus trail but it wasn't really a trail. It was a paved walkway along the creek but nice nonetheless.
All of the parks we visited offered scenic viewpoints where you could pull off the road and take pictures. The viewpoints in Zion did not disappoint. We also saw a herd of bison running outside the park which was super cool.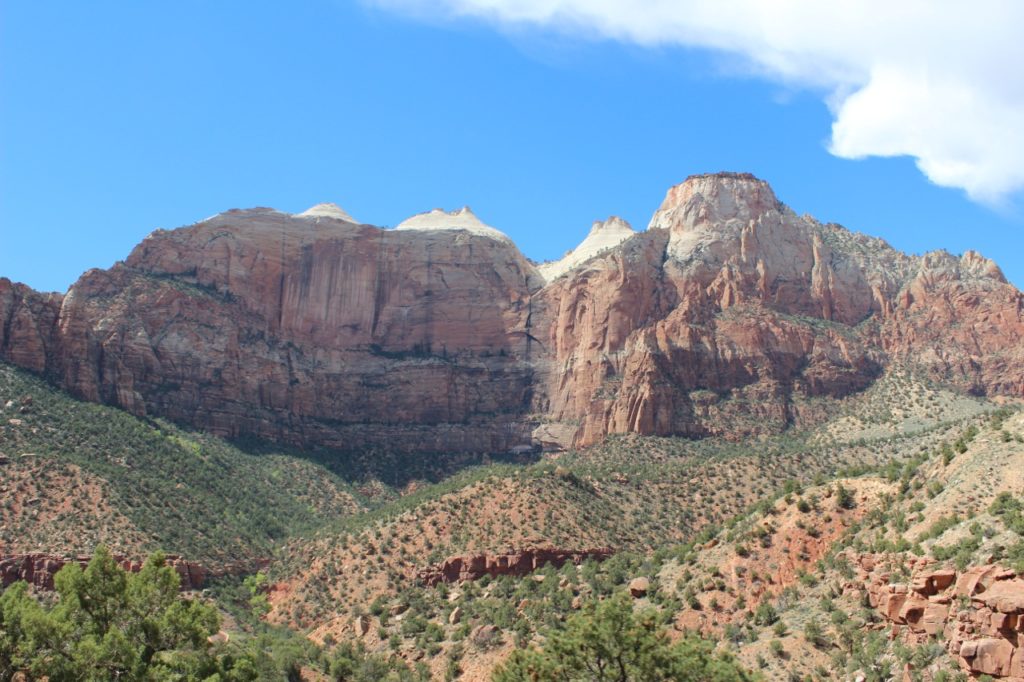 We wanted to hike Angels Landing which is a steep and treacherous hike that definitely doesn't allow dogs.  We did not hike it.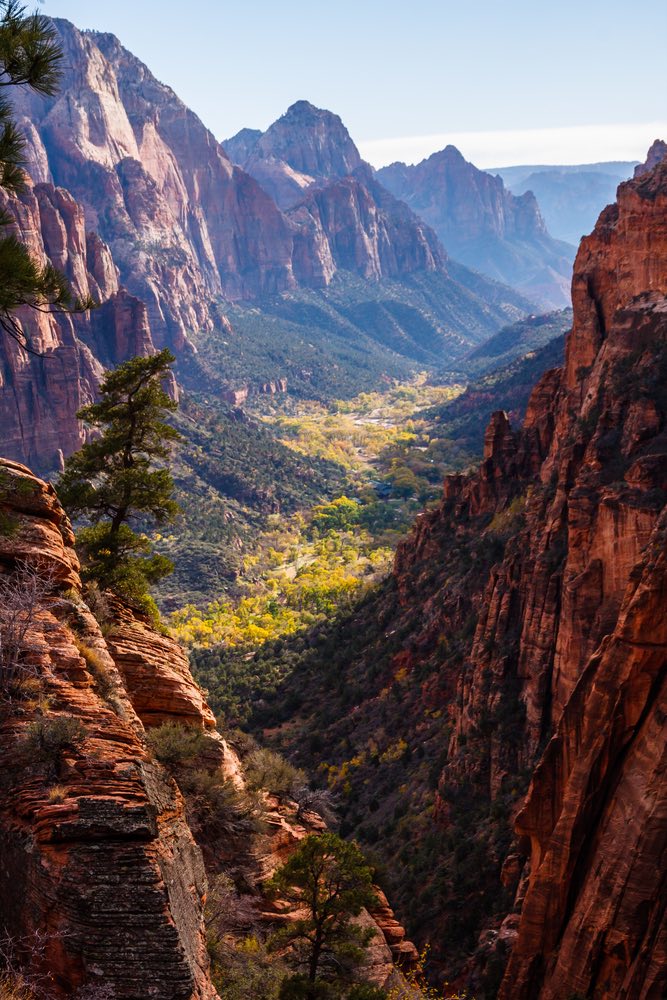 Seeing the Ocean in Cambria
I'm skipping to the end of the trip because we didn't do much sightseeing in Nevada. We stayed outside Vegas but weren't in the mindset to enjoy what the city has to offer (and we also couldn't leave our dog).
We did stop in Cambria, CA before heading to our destination and loved the town. I highly recommend the Bluffs trail which is a dog-friendly boardwalk in the Fiscalini Ranch Preserve.
It was also amazing to see the Pacific Ocean. After living in a land-locked state for four years, I am definitely looking forward to living near the ocean.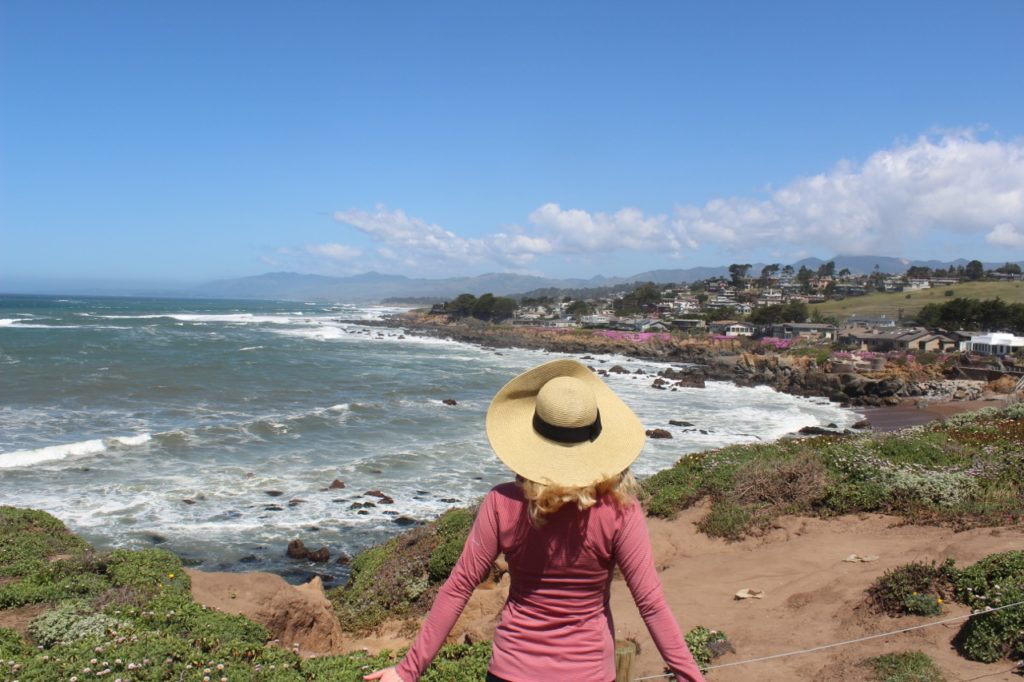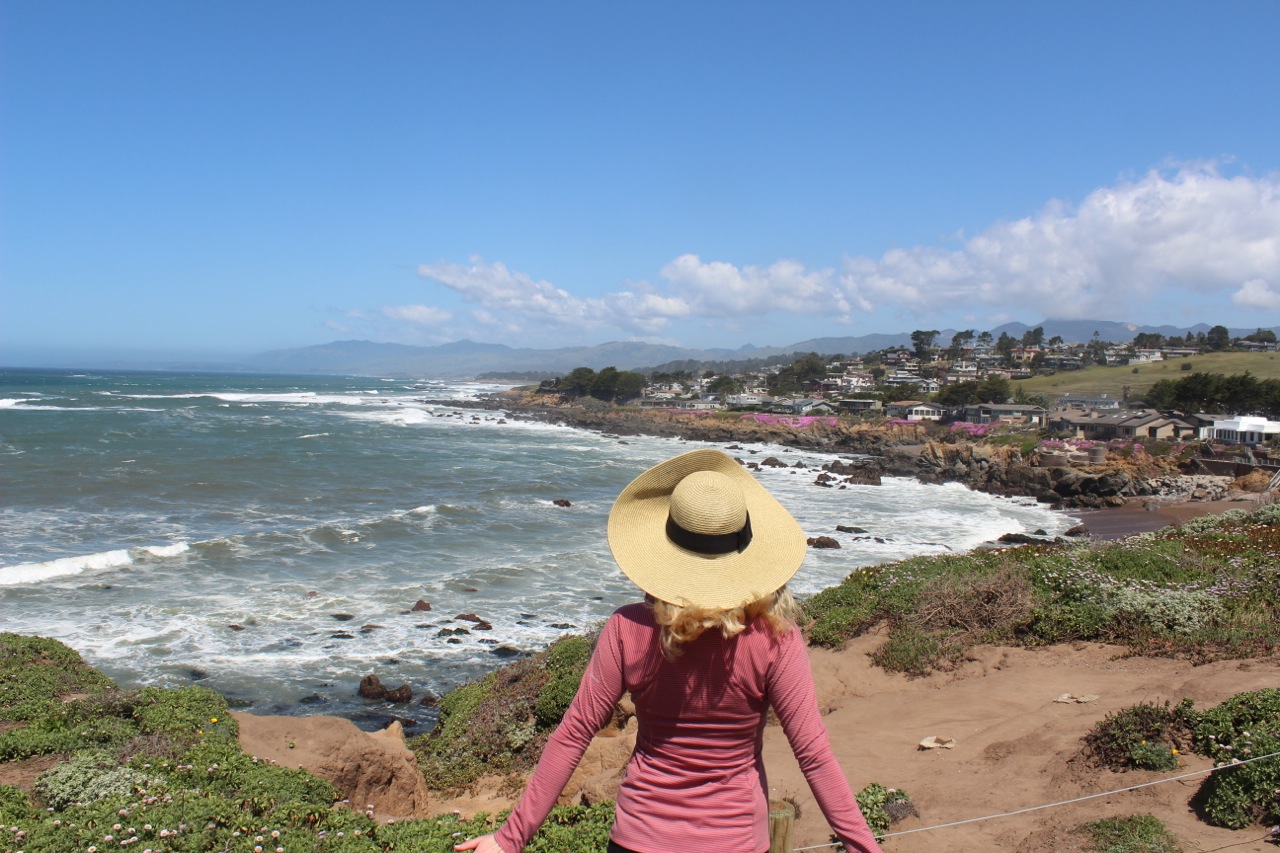 Instagram Millennial Boss!
I'm launching the Millennial Boss Instagram today! Follow @MillennialBoss to see my adventures. I can promise outdoor landscapes, inspirational quotes, fitspo, cute dog pics and personal finance hashtags 🙂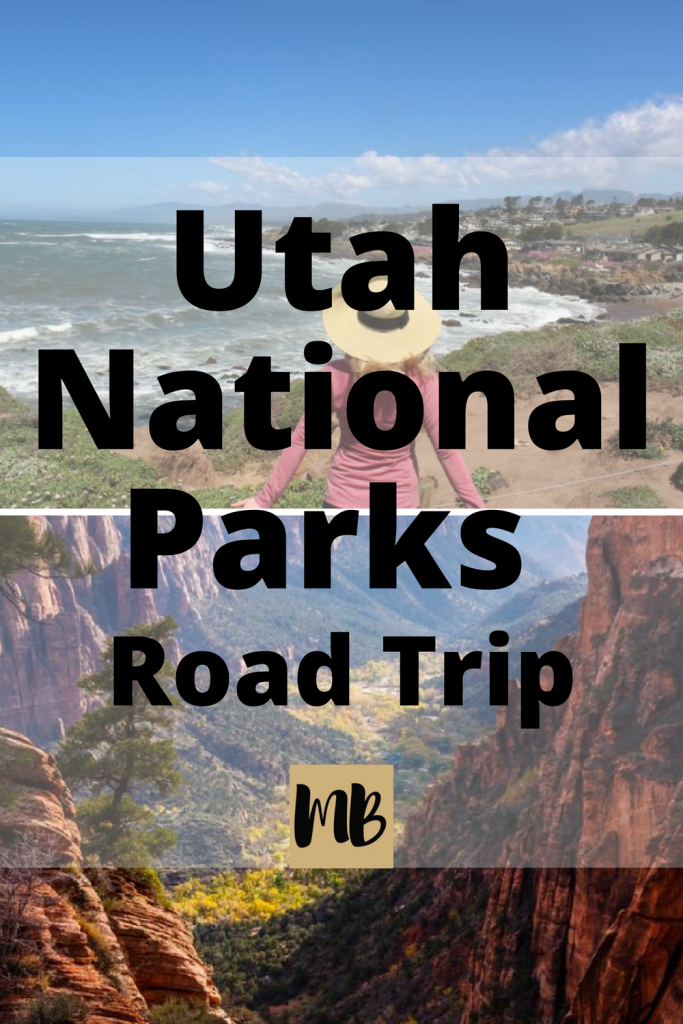 Latest posts by Millennial Boss
(see all)