One of the most inspiring things to see when you're paying off your own debt is to see how others have paid their debt. Over the years, Millennial Boss has interviewed several people with pretty impressive debt pay off stories. Now is the time to gather them all up into one post!
And PS – if you want your debt payoff story featured on Millennial Boss, submit it here.
Impressive Debt Payoff Stories
In today's round up post we hear the story of 8 people who paid off massive amounts of debt, amounting to a total of over 2 million dollars! Extremely impressive, and most of all inspiring.
If you're also struggling to pay off debt, know you are not alone. $1.5 Trillion dollars is owed in student loans in the U.S. alone. Car debt in the U.S. is also over $1.16 Trillion dollars.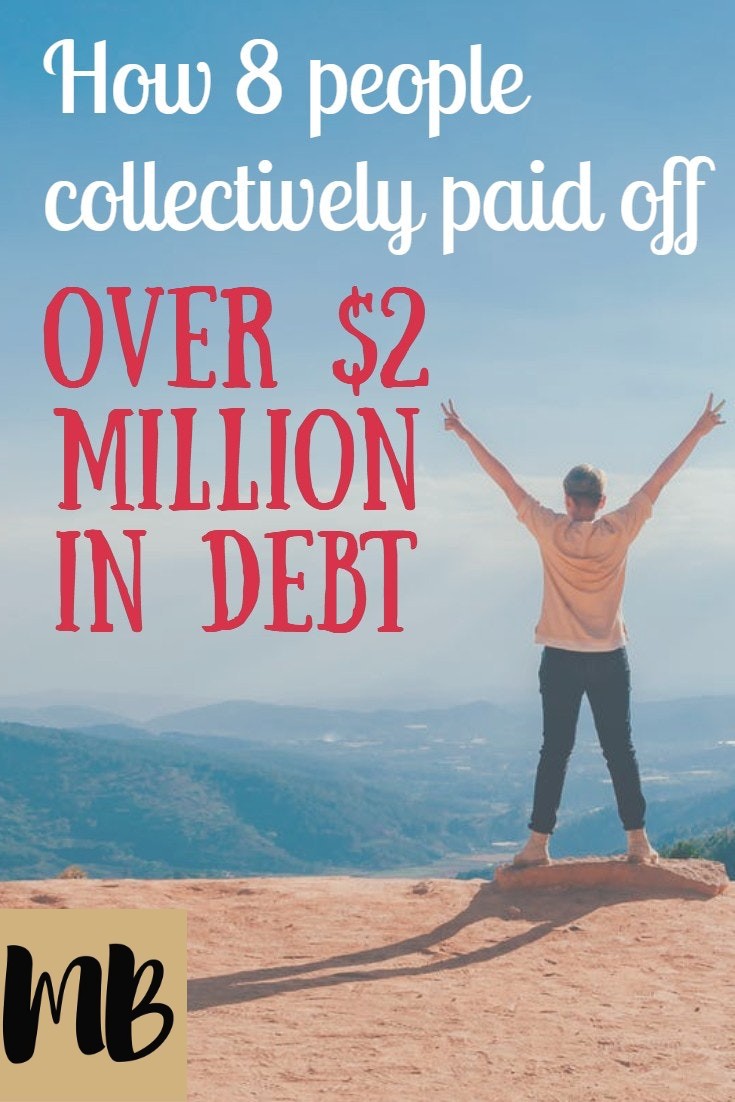 The following people paid off their debt and are now debt-free. Thanks to them for sharing their inspiring stories.
Debt numbers aren't so huge in the UK, but that also means they are harder to get rid off. Formerly Skint had £5,000 in outstanding rent, a student overdraft and owed some council tax. She worked like crazy until she was making decent money, and stuck to her budget. She got rid of all her debt, but kept her habit of saving aggressively. This made it easier to save for a deposit, and now she's a homeowner! Amazing!
Elle and her husband thought, like many others, that student loans were 'good' debt. They had $30,000 in student loans and were just making the minimum payments. They realised they were falling trap to the lifestyle creep, and then decided to make some budget adjustments. They understood that making minimum payments wouldn't work in the long term, and so started aggressively paying off everything. Their only regret is not starting sooner – but now they're set to reach FI in the next 8-10 years! Impressive!
This payoff story is from a Navy physician and officer. He took out a VA home loan to buy his current house, but then he regretted it. It didn't make sense to him to have a 3% mortgage while also having bonds which gave him a return of 3%. So he decided to sell all his assets in his taxable investing account and pay off an astounding $407,500 mortgage in one fell swoop. He explains how it opened up his monthly finances and freed him up to invest even more than before.
This couple had both student loans and credit card debt. The credit card debt came from not having enough money in grad school to pay for day to day expenses. When his wife got pregnant, he realised that he would need to provide for his baby, and that it was time to get their financial life in order. So they created a zero-based budget using excel and Mint, and made their final payment of $35,000 on November 30th of 2017. They're now saving for their first house!
This story is from a 47 year old physician who went through a brutal divorce that decimated him financially and emotionally in 2010. As a physician, he had to fully finance his medical school tuition and living expenses, so he was heavily into debt. After his divorce he was at his financial lowest and knew it was time to make a change. He had a high income, fortunately did not have an expensive lifestyle, and finally paid off all his debt in less than 5 years from the lowest point in his life. He is now extremely proud to be able to say that he owns every blade of grass on his property. He has complete peace of mind from becoming debt free and feels like a huge weight has been taken off his shoulder.
Jen and her husband finished school with a total of $117,000 of student loan debt. Jen had a master's degree from an expensive business school and her husband had attended a private for-profit school in his first year of university. They felt like they were drowning in debt, and knew they had to get it fixed as soon as possible.They rented a room from their parents, drove an 18 year old car and earned some extra income on the side. Jen took charge of the money management side and drastically cut their expenses. This allowed them to pay off $77,000 in a short amount of time, and they're soon set to get rid of the entire $117,000!
Related posts:
More Debt payoff stories
In this story we have a lawyer who graduated from law school with a total of $191,984.91. As time went on, the interest accumulated amounting to over $200,000. But he successfully paid it all off in less than 6 years. It took him an incredible amount of work to pay it all off, and he successfully made his last payment on Christmas Day! He is now aiming for a nest egg of 1 million.
Lee from Bald Thoughts had student loans of $56k and an auto loan of $60k. He refinanced his house to eliminate PMI and then all his savings went towards paying off student loans. He is now on his path to build a portfolio of rentals to 30 over the next few decades, and to pay off every non-mortgage debt. His final payment on his student loans was in March of 2016, and his plan is to pay off his original 3 rental properties and house over the next 10 years.
8 fascinating stories from 8 very inspiring people. Have these stories motivated you to keep getting rid of your debt? Let us know in the comments.
What to do if you're in debt
And if you're struggling to pay off debt, here's an easy 3 step process to help you manage all that debt:
Get an idea of how much you owe, to which company, & the interest rate. Put it into a spreadsheet.
Start tracking your expenses (we use the free app Personal Capital).
See if you can get a lower interest rate by refinancing your loans (take the Sofi survey here).
See what you can sell.
Consider starting a side hustle to increase your income. We recommend the side hustles from Gold City Ventures.
Related posts: