If you want to stick to your budget, you need a plan that works for you. These printable budget planners are a great way to begin your journey to financial freedom.
My husband and I are trying to stay within a tight budget in a high cost of living city (Seattle, WA). I'm currently on maternity leave with reduced pay so it's very important to not overspend right now.
We are using a printed budget because I like the process of writing things down. All of the budgeting sheets and planners below are printable and instant downloads from Etsy. You can purchase and then instantly download and print yourself. Nothing will be shipped to you in the mail. I like that and also appreciate that these are low cost.
Best Printable Budget Templates
1. The Signature Finance & Budget Planner

This collection of budget templates is the ultimate planning system. These eight worksheets can be printed in multiple sizes to fit the planner of your choice. Buy this on Etsy here.
2. Single Page Monthly Family Finances Planner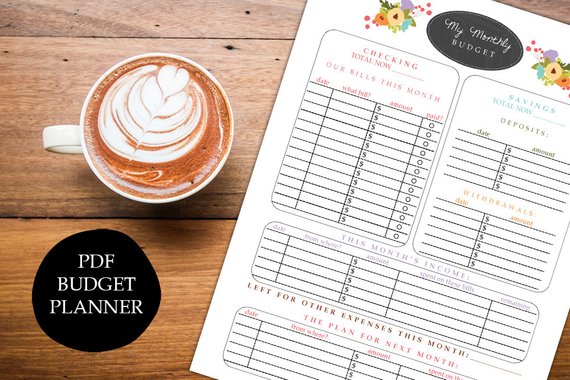 This simple monthly budget planner helps you to plan your spending with care. There's even space to plan for the next month!  I like the pretty flowers at the top. Buy this on Etsy here.
3. Planning Inspired Rainbow Budget Planning Worksheets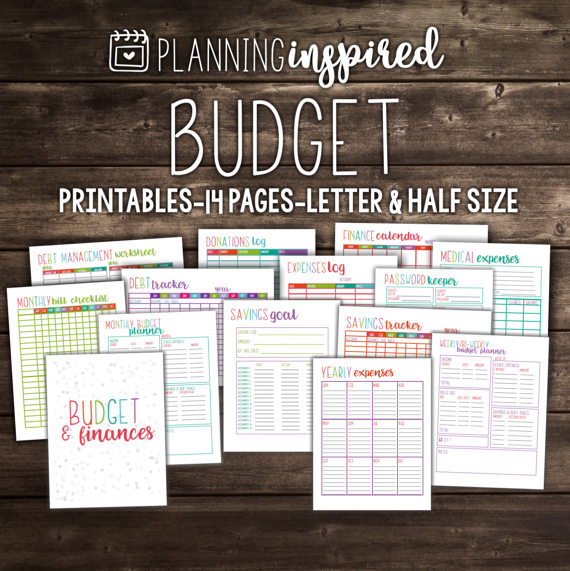 With 14 pages of colorful worksheets, this budget planning collection covers nearly every aspect of your personal finances. Choose from two sizes to fit your favorite planner. Buy this on Etsy here.
More Printable Budgeting Planners
In order to use these planners, you can print them out and hole punch them into a binder in advance. Or, you can print them out week by week. It depends on your schedule. If you do the budget once per week, then print in advance. If it's a monthly thing, print as you go.
4. Large Rainbow Chevron Budget Planner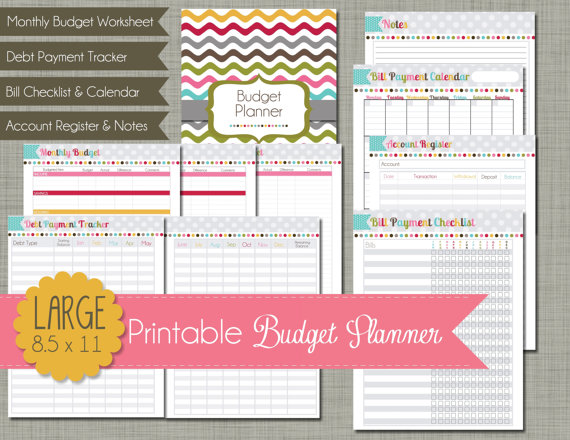 This multipage planner set includes pages for tracking your monthly budget, a debt tracker, a bill payment checklist, and more. Fits standard 3 ring binders. Buy this on Etsy here.
5. Easy Life Personal Budget Planner for Filofax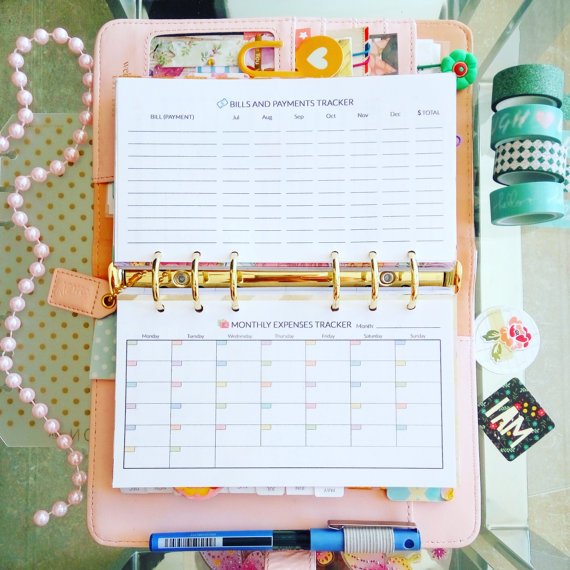 This four worksheet set is perfect for basic budgeting. Fits your Filofax personal organizer or similar planner. Buy this on Etsy here.
6. Yearly Monthly Financial Planner for Traveler's Notebook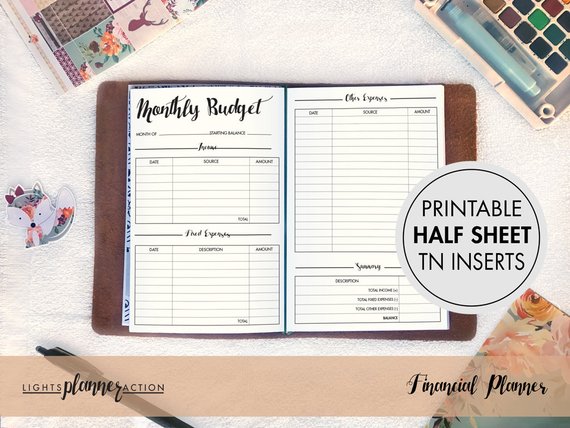 Master your finances with 40 pages of planning spreads. Designed to fit your Traveler's Notebook or A5 planners. Buy this on Etsy here.
Related Posts:
Best Budget Planners on Etsy
How sure are you that you even need a budget? I thought this post on Business Insider from The Money Wizard was interesting. He saved over $285,000 in his twenties on a modest income WITHOUT using a budget. I personally think I need a budget right now but it's an interesting philosophy. Check out this budgeting philosophy here.
7. Mom On A Budget Planner Bundle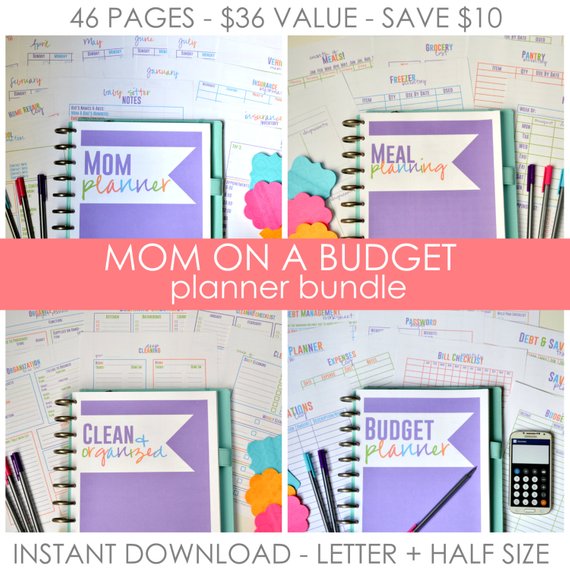 Whip your budget and your household into tip-top shape with the Mom On A Budget planning bundle. Contains a whopping 46 pages! Buy this on Etsy here.
8. Paycheck Budgeting Worksheet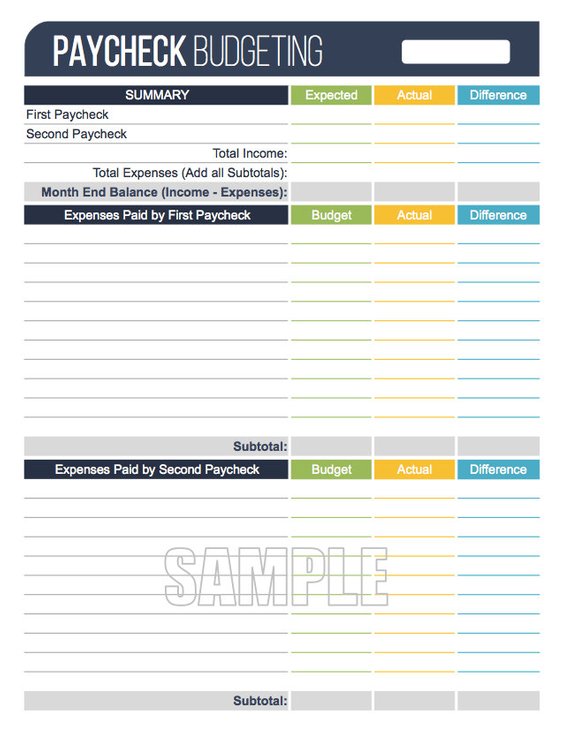 This bi-weekly budgeting worksheet is perfect for planning expenses according to your paycheck. The fields are editable so you can use it directly on your computer if you'd prefer not to write. Buy this on Etsy here.
Planners for Budgeting on Etsy
Forbes has this recommended tips for success when living on a budget and I appreciated the nod to net worth. Net worth is something that I track and the overall reason I am budgeting. I don't want to live paycheck to paycheck and want to save our money towards our future goals.
9. Financial and Budget Printables for the Happy Planner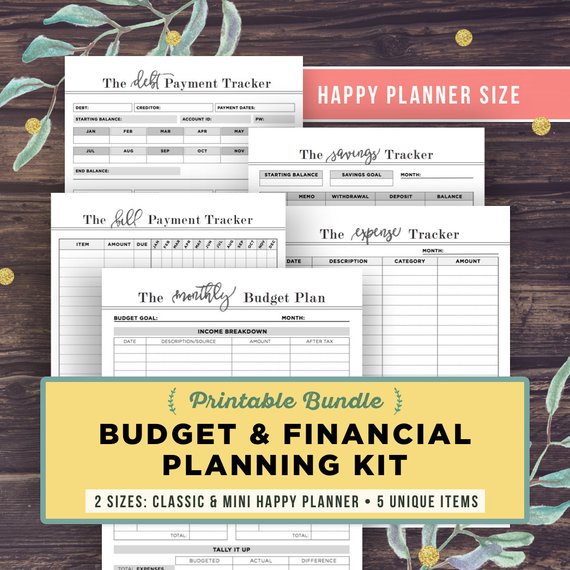 Use these five spreads to track your bill payments, monitor your savings, record your debt payments, and plan your budget for the month. These planning worksheets fit the classic and mini Happy Planners. Buy these on Etsy here.
Cute Budgeting Printable
10. Bright Floral Budget & Finance Planner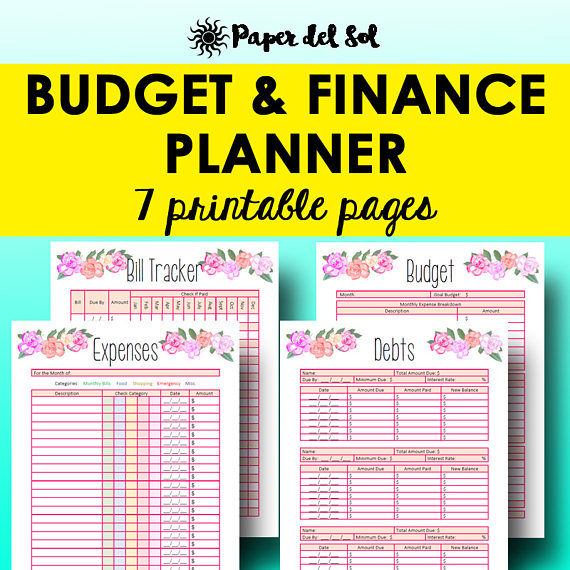 If you love florals, you'll love these brightly colored planning sheets. Meet your financial goals with six different spreads. Buy these on Etsy here.
Which of these spreads do you need for your budget planning system? Let us know in the comments!
Related Posts:

Latest posts by Tiffany Ingle
(see all)