The 15+ Tools to Make Money Blogging
Blogging has been a source of inspiration for me. I truly believe I paid off $89,000 of debt because I started this blog. I've also met many "blog friends" who inspire me to grow my business every day.
Below are the tools I wish I used on my blog from day one and will help you monetize your blog. At first, I was too cheap to pay for some of these products but once I loosened the grip on my wallet, I saw much more success on my blog.
Most of these products are under $30 a month and can make a huge impact on your traffic and ability to make money blogging.
-> If you don't yet have a blog, you can start one with Bluehost. All of my sites are hosted on Bluehost (yes, I have multiple blogs) and I've never had any problems. You can pick your domain name and sign up for cheap hosting in 15 minutes.
-> I also wrote the How to Create Your Own Site Guide to help you get going.
Collect emails the easiest way – ConvertKit 
Set up email marketing campaigns so you can collect emails from day 1. I missed out on so many opportunities to connect with my readers by neglecting to capture their email addresses from the beginning. I also just switched to ConvertKit from Mailchimp and it truly is in a league of it's own. ConvertKit makes it so easy to offer freebies and to tag subscribers to different lists (for example, if you have a fitness post and offer a fitness freebie, but you're a personal finance site, you can keep those two lists separate).
Here is a landing page I set up using ConvertKit if you want to see an example: millennial boss.com/insta
Don't mess around with free themes – Studiopress 
You can choose a free theme but after spending hours fiddling with my blog, I highly recommend spending the money for a premium theme. Premium themes are so much easier to set up and look more professional. I just switched over to the Genesis Studiopress theme and love how my site looks now! Plus, the StudioPress online tutorial makes it really easy to set up and customize your theme. I'm currently using their WellnessPro theme.
I spent $32 on this ebook and it's seriously the best purchase I've made in awhile. Carly, the author of the ebook, makes thousands per month from Pinterest traffic. My favorite thing about this book is that it explains to you how Pinterest works and how to optimize your pins (including how they should look, what they should say, etc.) to increase traffic. You won't be disappointed. Check out Pinteresting Strategies.
Make your posts go viral – Shareaholic
Prompt readers to share your content by including Shareaholic social share icons in every post. I like Shareaholic better than the other plugins I've used because they have tons of customization options, the icons are cute, they offer Tumblr, Reddit, and other social media platforms, and they have the "sharing is caring" message which draws the reader's attention. Shareaholic also has a setting where you can enable related content to appear at the bottom of every post. You can enable content from around the web along with your own content and get paid! Plus, Shareaholic is free!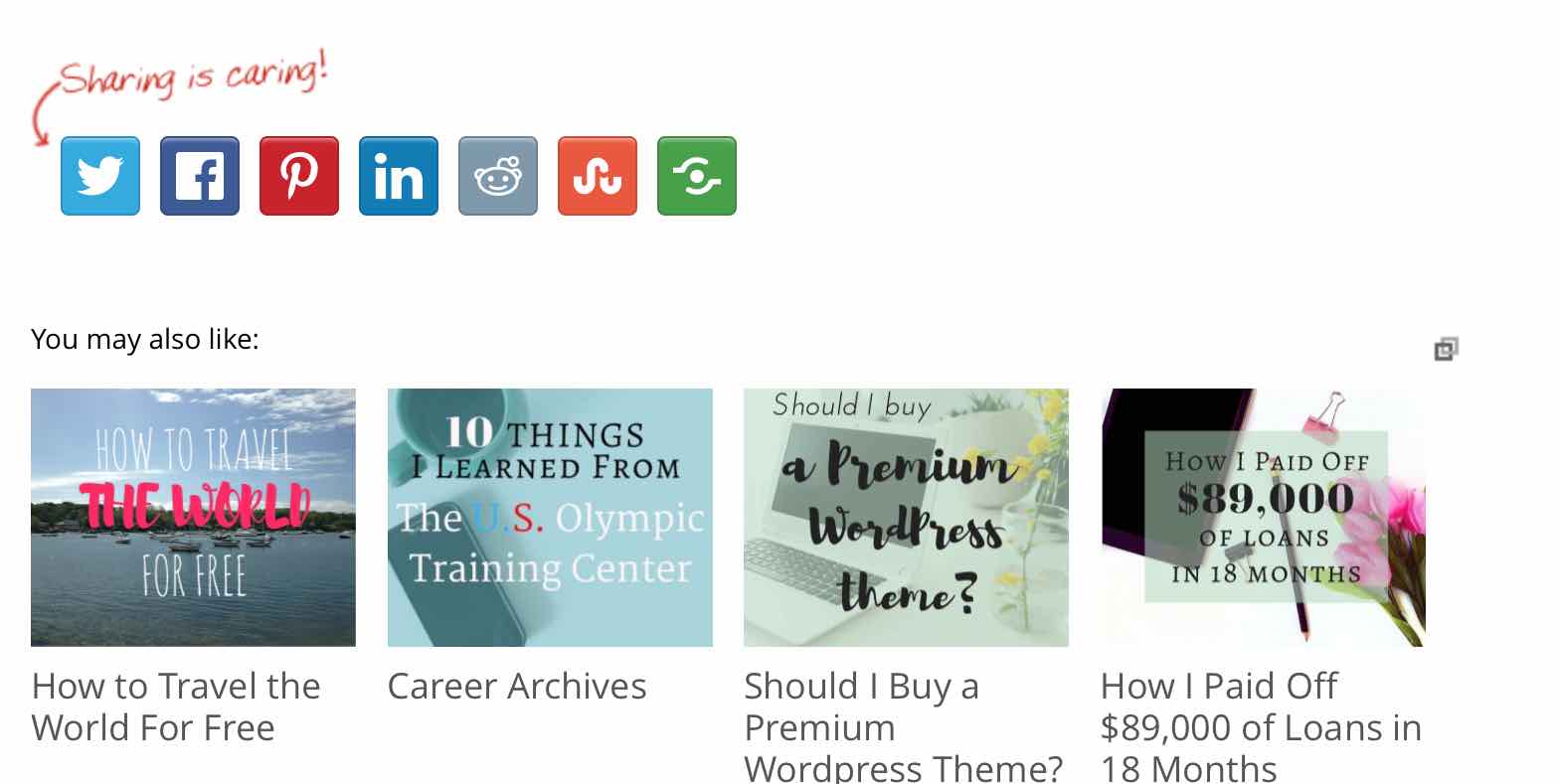 Create beautiful images to make your site pretty and professional. Download stock photos from the internet and then upload to PicMonkey to add your own branding and logos.
The better your pictures look, the better your site will be perceived, and thus the more sales you will bring in.
Check out this post for a list of free girly stock photos. The downside of using free photos is that many other bloggers will use these photos so it's harder to brand your images.
I also recommend SC Stockshop and Ivory Mix for high-quality, paid stock photos. These companies aren't that expensive and your brand can stand out.
They also offer lots of vertical photos with whitespace which are perfect for Pinterest. It will be harder to find these type of images on free photos sites.
With IvoryMix, you can get bundles for only $10.
Schedule pins ahead of time to drive thousands of Pinterest users to your site with little effort from you. The top bloggers are scheduling 100+ pins a day which is hard to accomplish without a tool. Pinterest seems to be the best traffic driver in social media right now. For example,  this post on saving money received over 8,000 views in two weeks because it went viral on Pinterest. Tailwind is worth the money.
I now receive 50,000 page views to this site a month – the majority of which come from Pinterest.
Tailwind also has the Tribes feature which allows you to join a tribe and help promote each other's content. I am in a tribe right now for female bloggers and we help promote each other's content. #womenhelpingwomen
Related content: How to use Tailwind to Schedule Pins in Advance and Increase Your Traffic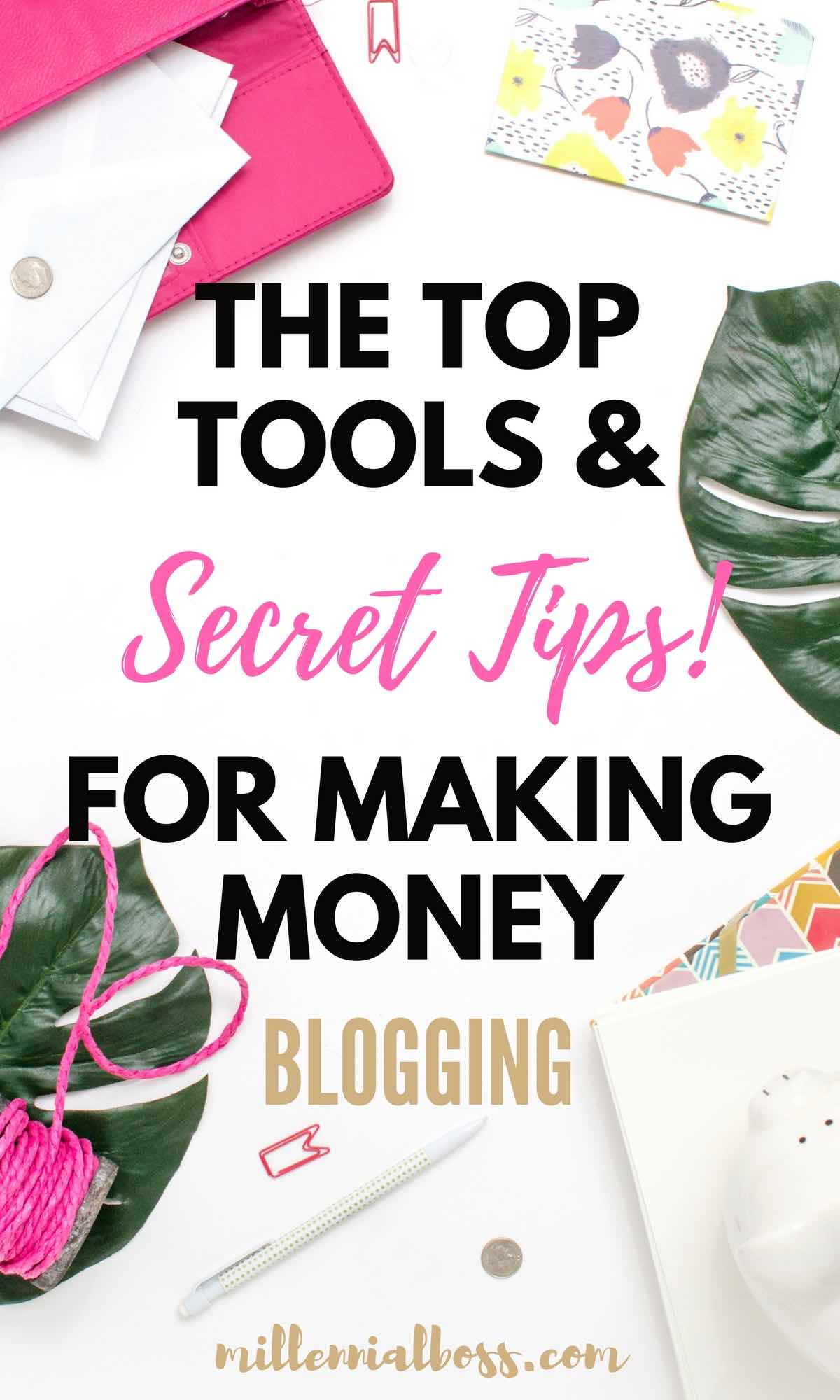 Above is an example of a Pinterest pin that I created.
In addition to Tailwind, I use Boardbooster to loop my own content.
On Pinterest, it's important to pin both your content AND other people's content.
I share about 50% my content and 50% other people's content daily. Tailwind helps me share other people's content (because it's easier to schedule) and Boardbooster helps me loop my own content.
Check out this Boardbooster tutorial for the details on how to set it up Boardbooster.
Sign up to be an affiliate and when you review products in posts, make commissions on the sale. I am an affiliate with these three companies and highly recommend signing up for them.
It's free to sign up and once you sign up, you can see all of the merchants that offer affiliate links. Pretty much every category of company you can think of is on there from finance to fitness.
You can choose to promote products through text links in your post or banners on your sidebar.
I just finished the Making Sense of Affiliate Marketing Course and highly recommend it to anyone who wants to make money on their blog. Michelle Schroeder-Gardner is the creator of the course and famous in the blogging world for making tens of thousands of dollars a month through affiliate sales. Her most recent income report broke six figures.
Check out the online course which takes you step by step through the process of setting up and executing on a successful affiliate marketing strategy. I made my first dollar on the blog shortly after starting this course and it blew my mind. I was so happy!
The course also gives you access to a Facebook mastermind group where hundreds of bloggers ask questions and help each other out. I post a question at least once a week and have been so impressed by the generosity of Michelle and the other bloggers in the group. You think other bloggers would be competitive and not want to help each other but it's not like that at all! Everyone is so nice and supportive.
Here is my review of the course if you want to learn more. I've earned over $12,000 from affiliate marketing so far and owe it all to this course.
Shorten affiliate links – Pretty Link
No one is going to click on your affiliate link if it looks like this:  sale.com/asdkgsdghdskhgsd.sjklsdgs#54694=
Unfortunately most affiliate links look like that in raw form. Fix that problem with the free Pretty Link plugin!
All you have to do is paste your affiliate link and then type in what you want the link to look like and your link is created! Pretty Link let's you group your links by category so they are easy to find. You can also choose "no follow" as a default setting which is super important to set so that you don't get penalized by search engines. See below image for an example of what the Pretty Link plugin looks like.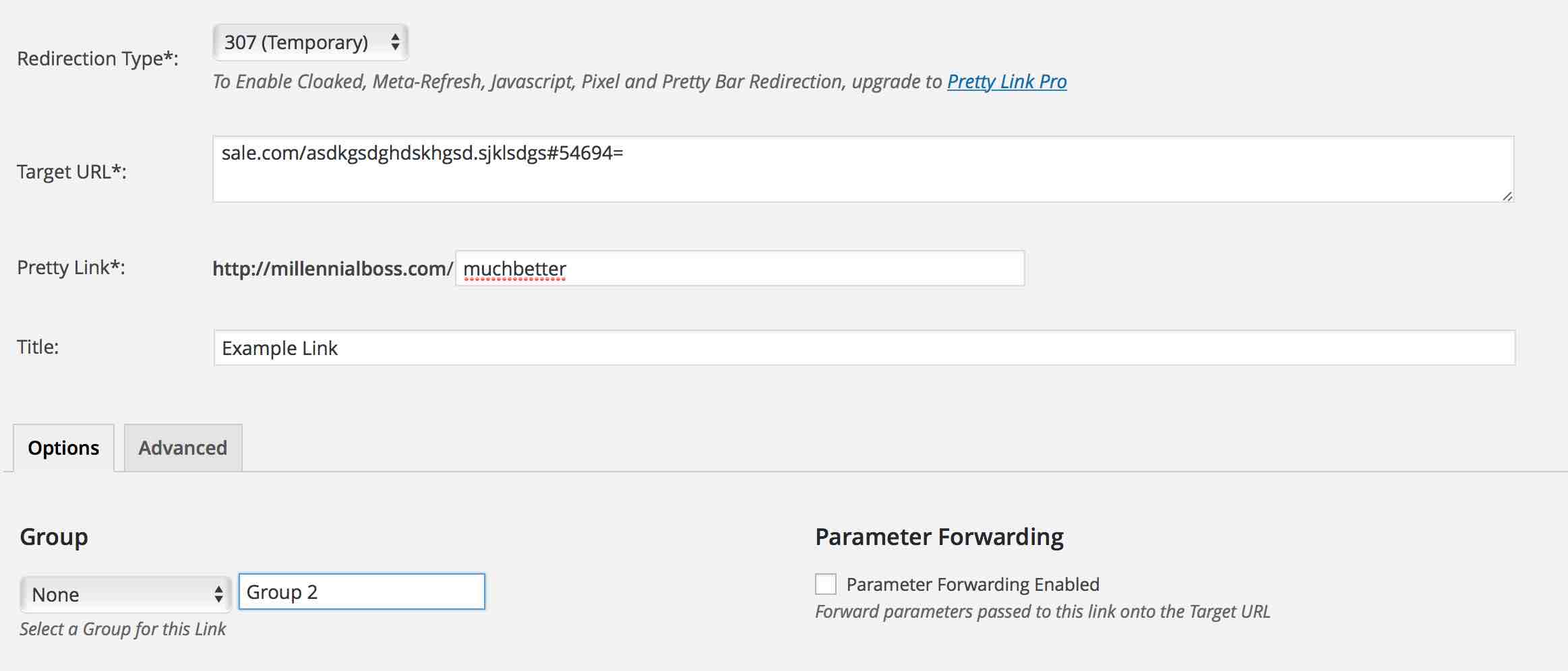 The true value of the Pretty Link plugin is that you can change your affiliate link across all posts and pages on your site with one update.
For example: Credit Sesame is a free app I use to check my credit score and I promote that company on this site.
Today I realized that the FlexOffers payout for a Credit Sesame signup is almost two dollars higher than the affiliate company I was originally promoting Credit Sesame through.
I decided to switch and promote Credit Sesame through FlexOffers.
If I didn't have Pretty Link, I'd have to go find every post and article that has Credit Sesame links and update to the new link. Now with Pretty Link, I can update all in one place. Pretty awesome!
Protect Your Site – Sucuri
My site was hacked last weekend. My homepage was replaced with a line of text saying "Hacked By Dark Ghost." I started freaking out that google would blacklist me and that I would lose regular readers.
A blog friend recommended Sucuri to me and I jumped on it. The price to fix my site was steep but still 1/3 of the price that was offered by SiteLock.
Sucuri communicated with me the entire time while they were cleaning up the malware. Within 24 hours, it was resolved. I highly recommend signing up for Sucuri.
Make your website load faster – Pingdom
Don't let a slow site keep you from making money! I discovered Pingdom and now use it to monitor my website's speed. It's free and all you have to do is type in your URL to see the speed breakdown. What I like about Pingdom compared to other sites is that you can see exactly where the slowness is coming from. Whether it's an image or a plugin, you will see the breakdown. Here is a screenshot of what Pingdom returns when you enter my site's URL and you can see the level of detail I'm talking about.
Just a tip – if you have a favorite blogger and want to see what plugins they use on their homepage. Enter their URL on Pingdom. That is actually how I found out about the Shareaholic tool I mentioned earlier!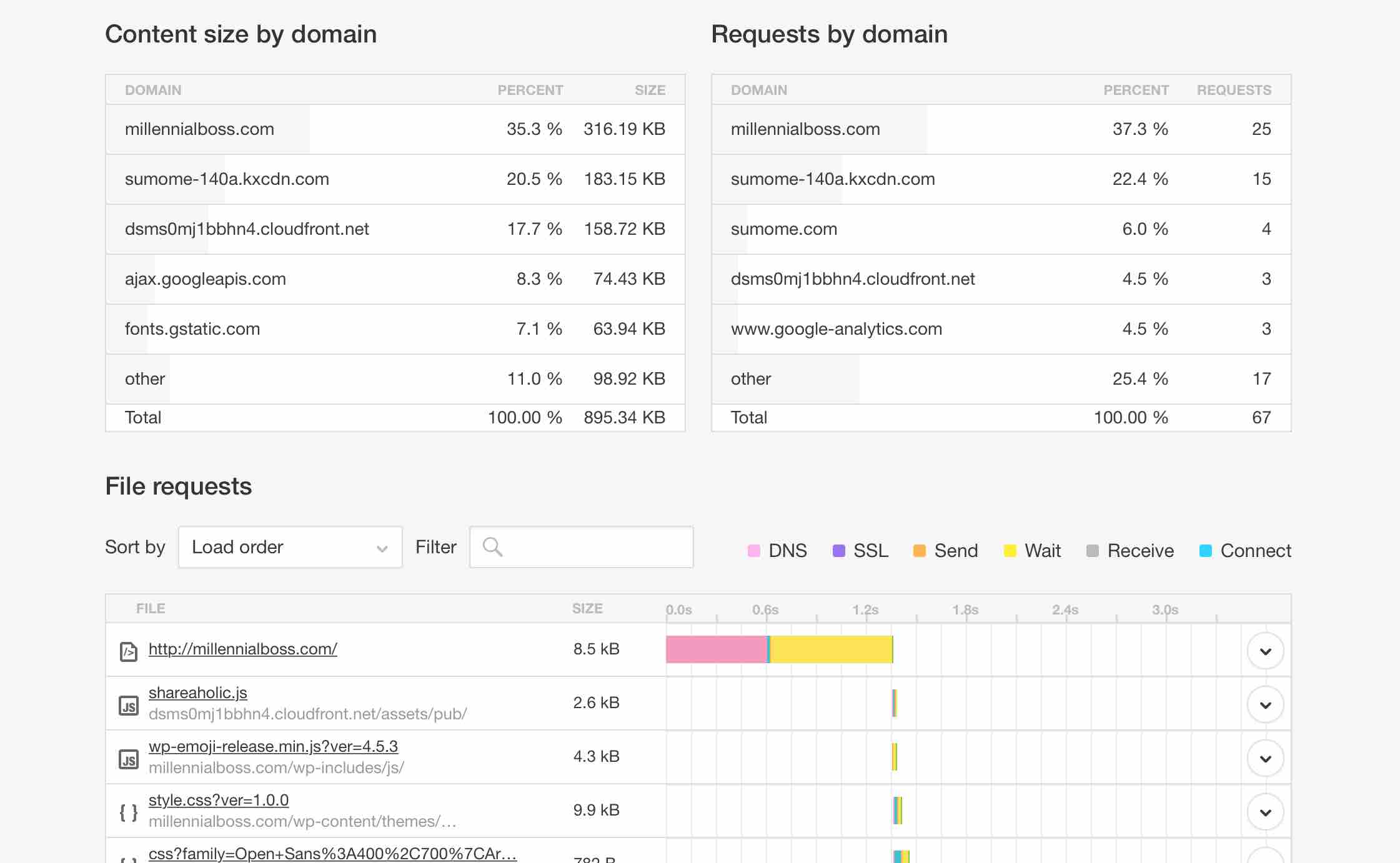 Other Recommended Blogging Tools
Podcast App: I love podcasts and listen to them regularly. My favorites are Side Hustle Nation, Smart Passive Income, Radical Personal Finance, Afford Anything Podcast, and The Financial Independence Podcast with the Mad Fientist. I was recently featured on an episode of the Mad Fientist Podcast. I'm so excited since I'm such a big fan!
Notes App: This app is more of a social media tool for me. I use the notes app to write my instagram bio and hashtags. Instagram doesn't allow you to write multiple lines in the bio, except when you copy it in from other sources. It's also 100x easier to write all of your hashtags out at once in Notes and then paste in to every post.
Simple Hooks and Simple Edits Plugins: These plugins allow you to easily customize your site without having to go into the code. You can add banners or an affiliate disclaimer to the top of every post with these two tools.
Google Analytics: I check my sources of traffic on Google Analytics almost daily. Specifically, I look at where my traffic comes from (organic, pinterest, referrals, etc.). I also look at what posts are more popular than others. If a post is going viral, I optimize that post for affiliate sales.
What tools do you use to monetize your blog?
Save
Got Money Goals?
Join 1,200 subscribers who receive weekly financial inspiration from Millennial Boss.
J paid off nearly $100k of debt and is on her way to financial independence. She hosts a
Money Podcast
and is obsessed with tracking her net worth via the free app
Personal Capital
(although she won't tell you what it is). She loves her dog and drinks iced coffee year round.
Latest posts by Millennial Boss