This post was last updated in August 2021. It was originally written in summer of 2017 when I was one year out from Michelle Schroeder-Gardner's course, Making Sense of Affiliate Marketing. I took the course for the first-time in summer of 2016. Since then, I have made over six figures blogging per year and now hit seven figures in total revenue generated. I was able to leave my corporate job and support my family blogging full-time.
Here is my original post with updates for 2021. Overall, I recommend this course.
I didn't really understand how you could make money blogging and I remember reading Michelle's blog post about her course launch and figured "why not?" I had been blogging since Fall of 2015 without making a penny.
I made my first affiliate sale shortly after taking her course. This post serves as my review of the course one year out in summer of 2017.
Update 1: I'm now making over $7,000 per month on this site in December of 2018.
Update 2: I'm now a six-figure blogger in December 2019.
Update 3: I've made over seven figures in revenue now in August 2021.
Video Review of Making Sense of Affiliate Marketing
Here is my video review of the course content and my experience with the course if you'd rather watch than read.
Let's look at my results (when this post was originally written in summer of 2017 which was one year out from the course).
I Made $12,154 Online in the Last 6 Months
Here is the breakdown by month from January 2017 to-date, after I took the course.
I'm including the stats from 2017 forward since I didn't make barely anything in the first 6 months after taking the course.
It takes time for the strategies to work.
I don't want to make affiliate marketing seem easy at all.
I implemented what I learned immediately after taking the course but my income did not take off for at least 6 months.
I'm guessing this is somewhat typical, so have a realistic outlook going into a course like this one.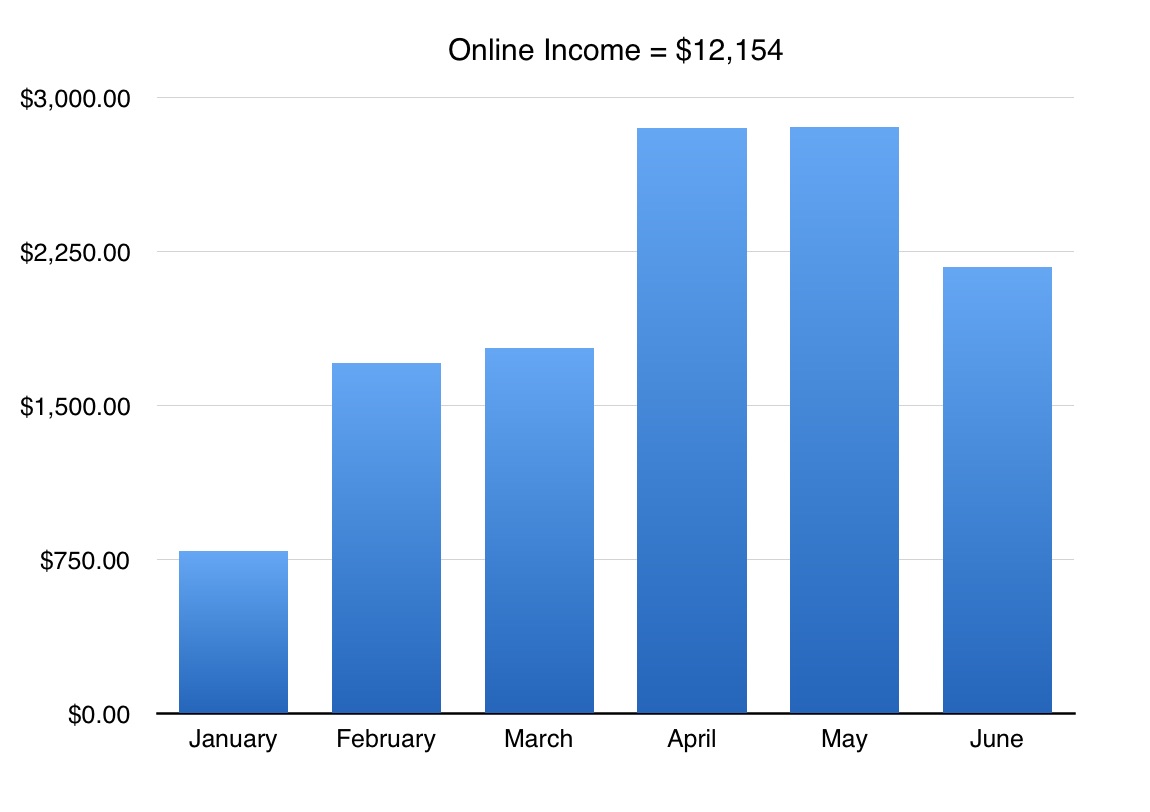 $12,000 is nothing to joke about though.
100% of that income can be attributed to Michelle's course because I had no idea what I was doing with making money blogging before that.
What do I do with this Money?
Before I get into the review of the course, I want to explain why I'm trying to make money online.
I'm not a full-time blogger so all of this money is extra-income for me.
I actually put 100% of the money into an online savings account.
My goals for this money are to help achieve financial independence and to help out my family.
I blog in the personal finance niche and I think that helps provide context to my review.
Update in 2021:  I have a family now and was able to leave my corporate job. Spending more time with my family is my why.
Blogging Adds to My Net Worth
My net worth is now up $12k this year minus taxes and expenses from blogging.
Given that I'm only 6 months into the year, I can expect that number to double by year-end.
I don't hate that I'll add nearly $25,000 to my net worth by year end just from blogging.
Subtracting taxes and expenses that still leaves me a good amount that I'm happy with right now.
Now to the review of the course:
Is Making Sense of Affiliate Marketing worth it?
Short answer: YES!
I have no regrets that I invested in this course.
Here's why.
My Traffic Is Up Since I Started Making Sense of Affiliate Marketing
I had always heard I needed to use Pinterest but it wasn't until I started the course that I really kicked myself in the butt to do it.
Michelle includes a bonus "Pinterest guide" that was super helpful in setting up my Pinterest account for this site.
I now have over 9,000 followers and growing on the Millennial Boss Pinterest Page.
Pinterest has brought a new audience to my site that I never would have had before.
If you're reading this from Pinterest, welcome!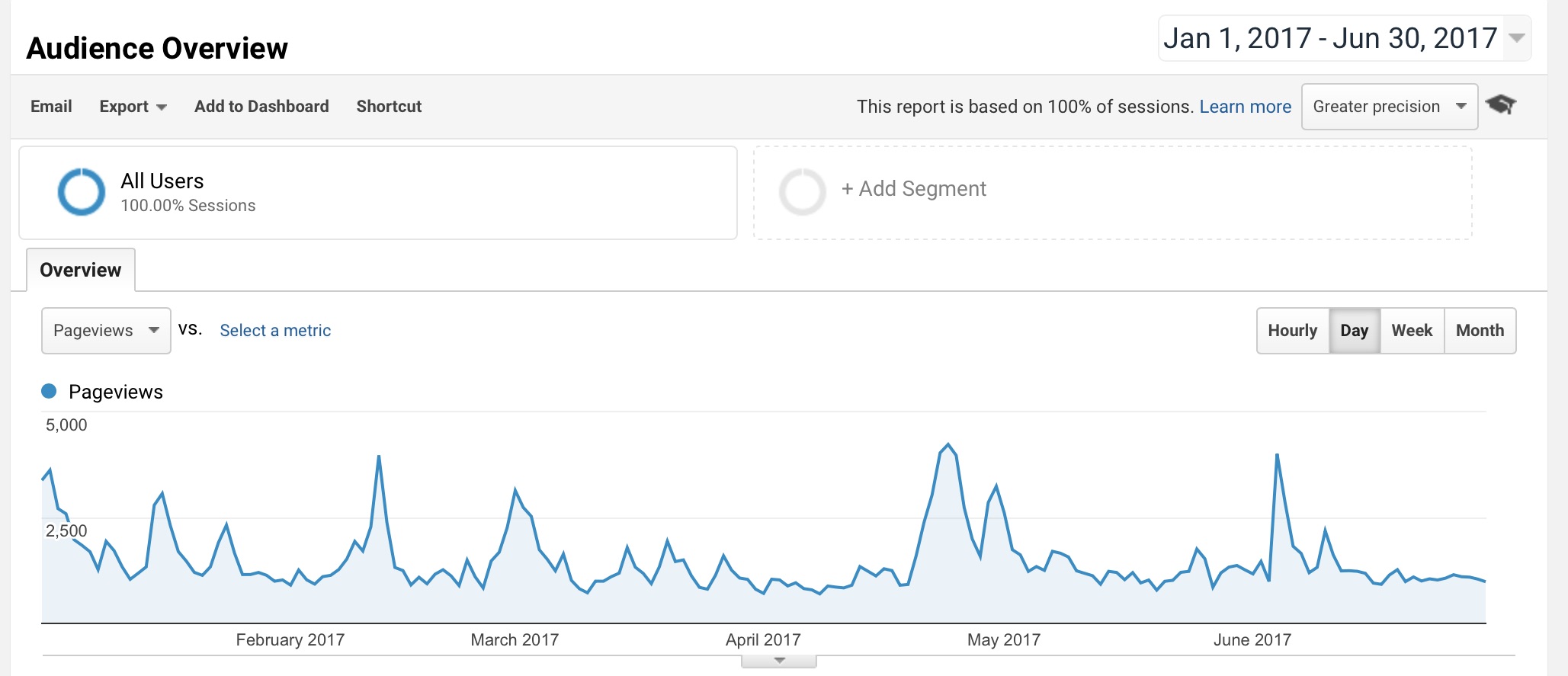 Now keep in mind that this is bonus content and not part of the actual course content, but it was still helpful for me in getting started.
Update 2019: Michelle has added a 30 minute video on Pinterest from the bloggers at Create & Go who drive thousands of visitors to their blog with Pinterest. She also added and expanded upon the Pinterest lesson in her course. My traffic is also up over 100,000 page views per month.
The Course Breaks Down Affiliate Marketing Step by Step
I knew nothing about affiliate marketing before this course and needed help even just adding links to my site and figuring out what products to promote.
It links to all of the affiliate marketing companies by niche (such as FlexOffers)
It teaches you how to sign up for them
& most importantly how to drive conversions on your site
& briefly covers how to drive traffic to your site
Michelle Includes Her Screenshots in the Making Sense of Affiliate Marketing Course
Here is another reason I liked this course. Michelle isn't shy about screenshots.
She has way more screenshots than I would expect someone with her income and success to include.
The screenshots are of her traffic, top posts, affiliate income, etc.
Here is an example from the course: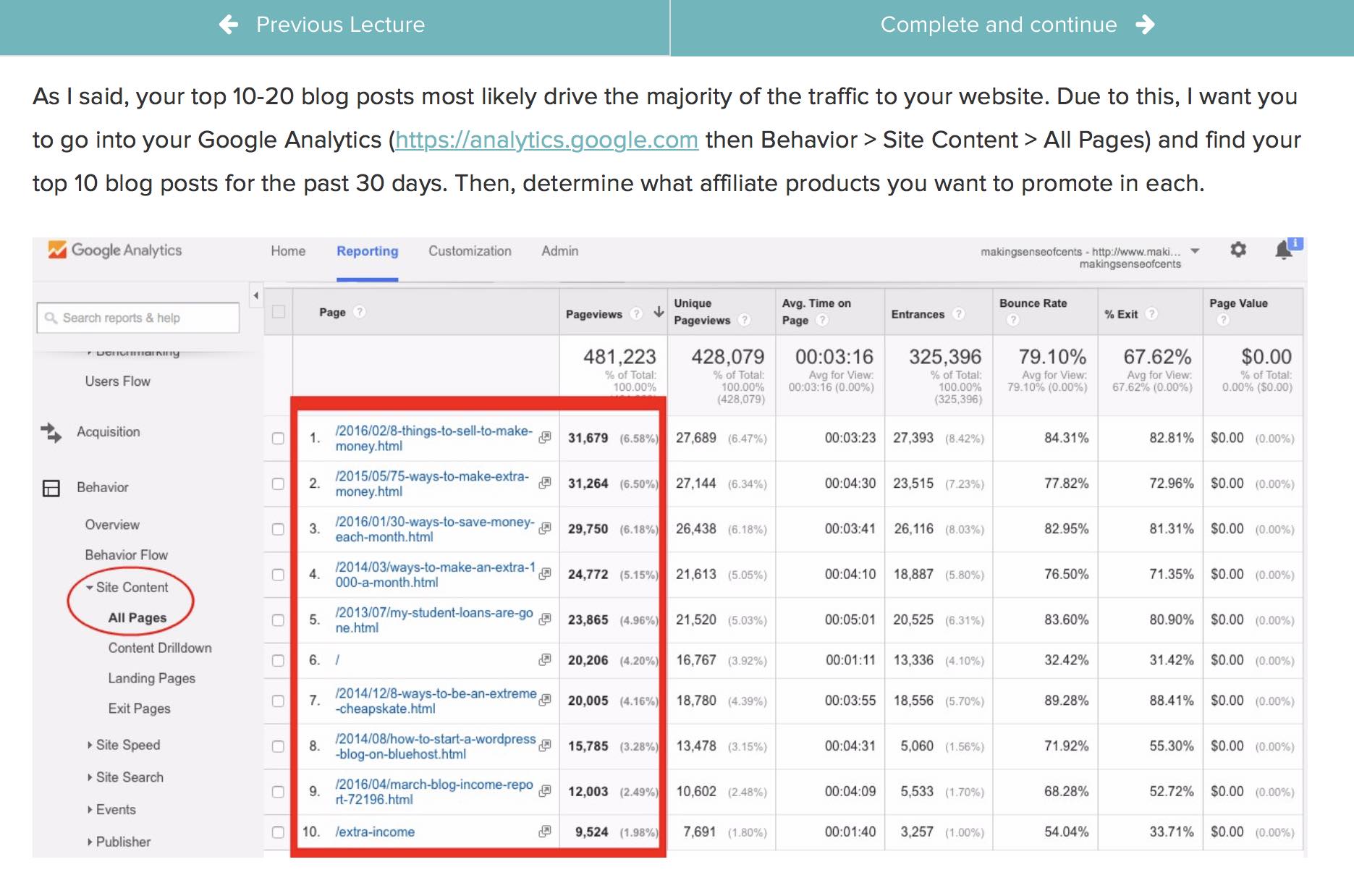 The screenshots are super helpful because you can see what actually is working on her site and think about how you can implement a similar strategy on yours.
You can also look at the screenshot, determine her top posts, and then dig into them on her site to understand what else was working about them.
Update 2019: Looking at this screenshot now in 2019, I'm impressed by the "avg time on page" metric that Michelle has for her top posts. 3 to 4 minutes is super long in the blogging word! She knows how to keep readers on a page!
Michelle Teaches You to Work Smart and Not Hard
My favorite thing about Michelle is that she doesn't advocate that you slap links all over your site.
She encourages being smart about which posts are doing well and then to add links to those posts.
That has saved me a bunch of time.
I now wait for a post to go viral before I optimize it for affiliate marketing.
She also advocates for doing the right thing in terms of only recommending products your readers would benefit from and be interested in. And products that you actually know and enjoy.
I appreciate that about her course because affiliate marketing can get spammy sometimes!
The Course Facebook Group is like the best FAQ ever
The best bonus to this course is the access to the private Facebook group where bloggers ask and answer questions from each other.
You can use the search function in the Facebook group to find the answer to any question you may have.
There is a social share day where you can share each other's content and a day to ask questions specifically to Michelle.
She answers them all.
The Tailwind Tribe is Pretty Cool Too
I use Tailwind to schedule all of my Pinterest pins and it has this feature called tribes.
It is essentially a feed of pins from everyone in your "tribe."
Michelle has set up her own tribe for the course.
I submit my new pins to the tribe feed and other people share them.
I also find great content to share on my page.
Michelle's course has a lot of bigger bloggers in it so when they share your content, you get a boost from their followers.
You need to be signed up for Tailwind to use the tribes feature.
Sign up for Tailwind here and get a $15 credit.
Other Stats From the Past 6 Months
I set a goal in Google Analytics to track the number of people on the site for more than 5 minutes.
I figured that was a good metric to track engagement.
I've been happily surprised to find that a good portion of traffic coming from Pinterest is staying on my site.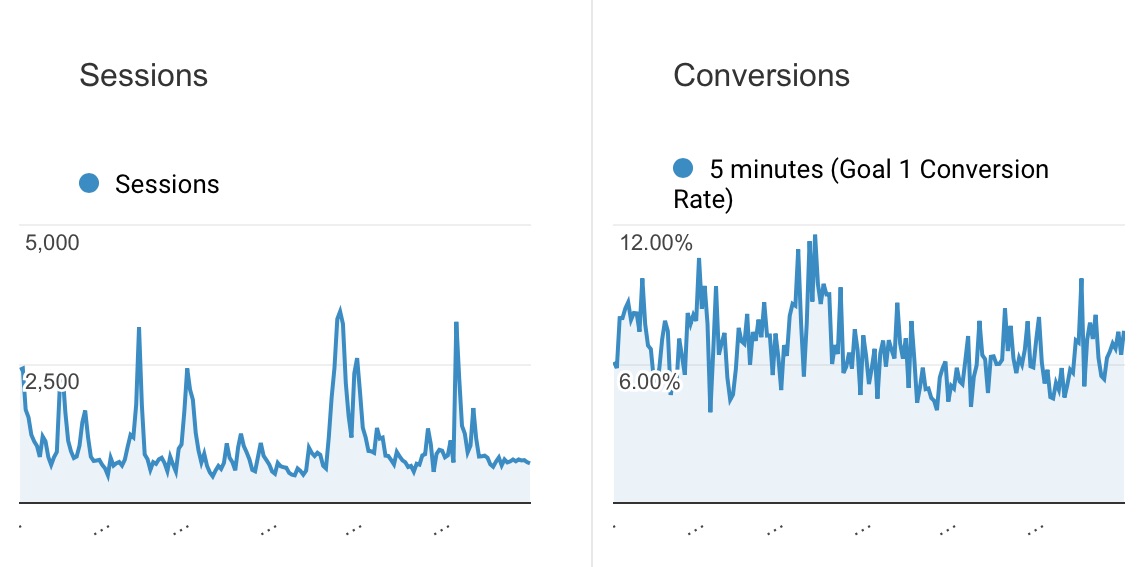 My point of sharing these metrics is to show that I'm getting good engagement despite the fact that I'm bringing in traffic from new sources and promoting affiliate marketing.
Related posts:
Negative Review of the Making Sense of Affiliate Marketing Course
I'm in the same niche as Michelle and at first I could see how a blogger outside of that niche might be skeptical of the course.
She is a personal finance blogger and that is where she has made money with her affiliates. (As well as being an affiliate for blogging products).
Michelle did update the course by summer 2017 to include affiliate products to promote in different verticals (such as healthy eating).
Bloggers in the food space, health space, fitness space, and really any other space can benefit from this course now.
Thanks to Michelle for making that update.
She does update the course which is another great perk of the course.
I actually just went back into it to write this review and there is new content in there that I hadn't seen before such as the Pinterest content.
I've also met Michelle in person at a blogging conference twice and she is just as nice as she seems.
Con of Making Sense of Affiliate Marketing?
It doesn't have video!
The content is all text based which I like because I like to scan fast but could be tough if you are an audio learner.
It also could be tough if you prefer having video tutorials of setting things up. I wish Michelle had done some more with screen sharing where we could see her computer.
There a few videos now in there though since I last took the course. There is one Pinterest video in the bonus section that is 32 minutes long and very helpful!
Update 2019: I understand why Michelle hasn't included a lot of videos in her course now that I have my own blogging course. Other companies are constantly updating their websites so she would have to release new content each week to keep up to date and it would be confusing for students. The text she has now is pretty much stable and it does not take away from learning in my opinion. I still prefer scanning content than watching a video because I am pressed for time and that method is faster for me.
Now on to who this course is for and who this is not for.
Is Making Sense of Affiliate Marketing for New Bloggers?
I recommend the course for new bloggers.
I had been blogging for about 9 months on this site before I took the course.
That was good because the course does not teach you to setup your blog.
It doesn't claim to do that either but I just want to be clear in case you are just starting out.
Is Making Sense of Affiliate Marketing for Advanced Bloggers?
No. If you already know about affiliate marketing and are generating money from it in the thousands on your blog, then  I would not take this course.
I would only take this course if you have *not yet* monetized your blog or aren't making alot yet.
I do not think it is for advanced bloggers or even intermediate bloggers already making money.
If you have not made any money on your blog but have had it for years, you may find this course valuable still though.
This course is also NOT for:
People in financial troubles who cannot pay for the course. In my opinion, you should not go into debt for a course.
People expecting SEO and Google Analytics deep dives. The course does not cover in depth how to drive organic traffic through Google to your blog. This can be important for affiliate marketing.
People who are looking for get rich quick schemes. This is hard work. I spend hours per week on my blog. Don't take this course if you are looking for a shortcut.
Will I make money from affiliate marketing after the course?
I can't tell you that. It really depends on how much time you have allocated to spend blogging and your passion for it.
Some people take courses and never do anything with them.
I've been guilty of doing this in the past too! I signed up for a travel blogging course that I never did anything with.
…but I did do something with this course and it was instrumental to becoming a 7 figure blogger today!
I would be realistic about how motivated you are to make money on your blog and if you have the time to do this right now.
Will you have access to Michelle in the course?
Yes! She is in the Facebook group at designated times to answer questions and she has shared my content on many occasion from her exclusive Tailwind Tribe which is only available to course members.
She has so much knowledge and a massive audience so whenever she shares my content (which happens once per month at least) I get a massive boost.
That is a HUGE benefit of the course!
I don't think people understand how helpful it is to have shares from larger sites and Michelle does not discriminate in that she regularly shares new bloggers content. That is really nice of her and much appreciated!
Does Making Sense of Affiliate Marketing Have Coupon Codes?
Yes! Michelle shares them regularly.
These may no longer be relevant at the time that you are reading this post.
NEWYEAR20
BLACKFRIDAY201920
OCTOBER2019CC
Even if you can't grab a coupon code it's worth it to get started today. Saving $20 is not as impactful as generating hundreds because you got started earlier potentially.
How to Sign Up For Making Sense of Affiliate Marketing
You can sign up for the course with my link below.
I'll see you in the Facebook group!
Sign up here for the Making Sense of Affiliate Marketing course.
Can't afford the course but still want to grow your blog traffic?
Pro Tip: I just downloaded the Pinteresting Strategies ebook which has some very insightful tips for growing your Pinterest account. I read the entire 90+ page manual in one sitting because it was that good.
For an affordable price, you get some serious meat here. I highly recommend you download it, if you're serious about increasing traffic from Pinterest and can't afford a more expensive course.
Check it out here, Pinteresting Strategies Ebook.
This will teach you how to increase your traffic which is a key to generating affiliate income. It *will not* teach you affiliate marketing like Michelle's course.
I'm only mentioning this book because it was a good addition for me to take along with the course.
Or it could be good for someone who cannot afford the course but wants to do something to improve their blog.
Update 2019: This Pinterest Strategies ebook is now in course format and slightly more expensive but still under $50.

If you have questions on Michelle's course, let me know in the comments.

Latest posts by Millennial Boss
(see all)