Saving on Wedding Catering and Photography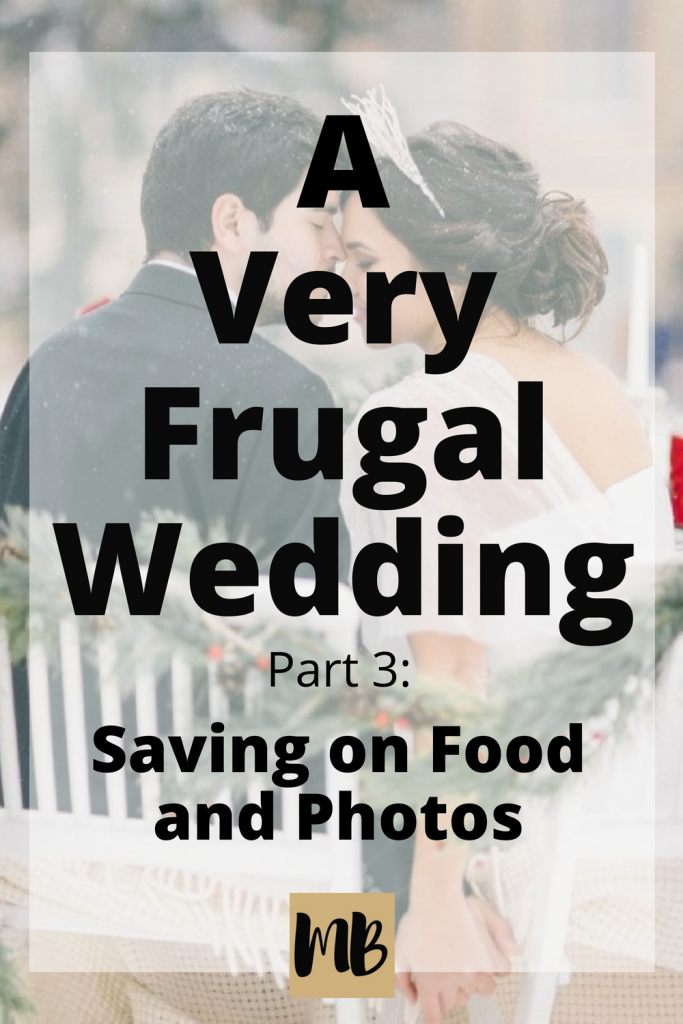 Set your food budget
Wedding food is crazy expensive. Food is often the greatest cost in a wedding budget and can run north of $100 a person.
I was a little nervous that we wouldn't be able to serve great food at our wedding for a reasonable price. With a $10,000 budget and a 110 person guest list, we needed to be way below $100 a person. Even $75 per person left little money in the budget for other expenses such as music and decorations. We decided to set our food budget at $7000.
When I gave our budget to some wedding venues, they offered me a menu of appetizers and said it was impossible to do a full sit down meal at this price. Stations and buffet were not an option at this price point either.
It seemed ridiculous for us to spend $7000 on just appetizers so I kept trying. One venue snootily responded that they "were a fine upscale dining establishment" and basically couldn't work with our budget at all, even for appetizers.
It seemed impossible to get a full meal for 110 guests for $7000.
Find a venue that works with caterers
I started searching in the weddingbee boards for threads about lower cost wedding venues in the area we are having our wedding. I found a thread that discussed the cost savings of renting out an estate for the night and bringing in your own caterers.
Jackpot. In one of the posts, I heard about an old estate from the 1700s that was beautiful and apparently less expensive. When we visited the venue, we fell in love. It was charming, historic, and best of all – cheap – while looking elegant.
The venue requires that we use one of their preferred caterers. Most of the caterers start at over $100 per person but we heard from the venue coordinator there was one caterer that was willing to work with lower budgets.
Shave a little off the top of the quote
I reached out to the caterer and received a preliminary quote based on our budget. It came in at around $7500. I then worked with the caterers to shave off money by cutting out the little costs.
I kept asking if there was anything we could remove or change out that would bring us closer to our budget.
It turns out that eliminating the fresh fruit served with dessert cut out $1.75 per person. Replacing one seafood appetizer with something else eliminated another $1 per person. We ultimately got the price down to $7000. Score!
My family recently attended a tasting event for me hosted by the caterer and confirmed that their food is delicious. I'm so glad I kept digging and refused to give in to the ridiculous prices.
Get creative with photography
I was shocked to find out that wedding photography can cost thousands of dollars. If 70% of my budget was spent on food, then I barely had room in the budget for photography.
I started researching articles from couples who found their photographers on Craigslist, others who put ads on bulletin boards at local art schools, and even some who didn't have photographers at all.
I was prepared to walk away and have no photographers at our wedding at all if we had to.
Our families would be disappointed but there was always something cheesy to me about spending two hours taking variations of the same photo. I really only need four photos, right?  – just us, our wedding party, and one with each of our families.
We had accepted it.
Enter online contests
In the meantime, I had started to enter online contests to win wedding related things. There are so many companies that are waiting to get their hands on your email address and giveaway some pretty great things from honeymoons to photography packages in order to do so.
I must be a lucky girl because after entering a few of these contests, I won an 8 hour wedding photography and videography package!
When the company called to tell me I won, I thought it was a scam. I couldn't believe it! I then checked my internet history from the day they said I entered the contest (yes, I asked because I'm paranoid) and it turns out that I was on that website on that day. It was real!
Winning this package did magic for our budget and was a major stress-reliever.
I still can't believe I won!
Other posts in the Frugal Wedding Series:
How to Determine Your Wedding Budget
Choosing an Off Season Wedding
Minimizing Costs for Your Bridesmaids and Guests
How to Do Your Own Wedding Flowers and Bouquets
Our $15,000 Game of Thrones Winter Wedding


Readers, any tips for saving on wedding catering and photography? How did you save on the big day?

Latest posts by Millennial Boss
(see all)