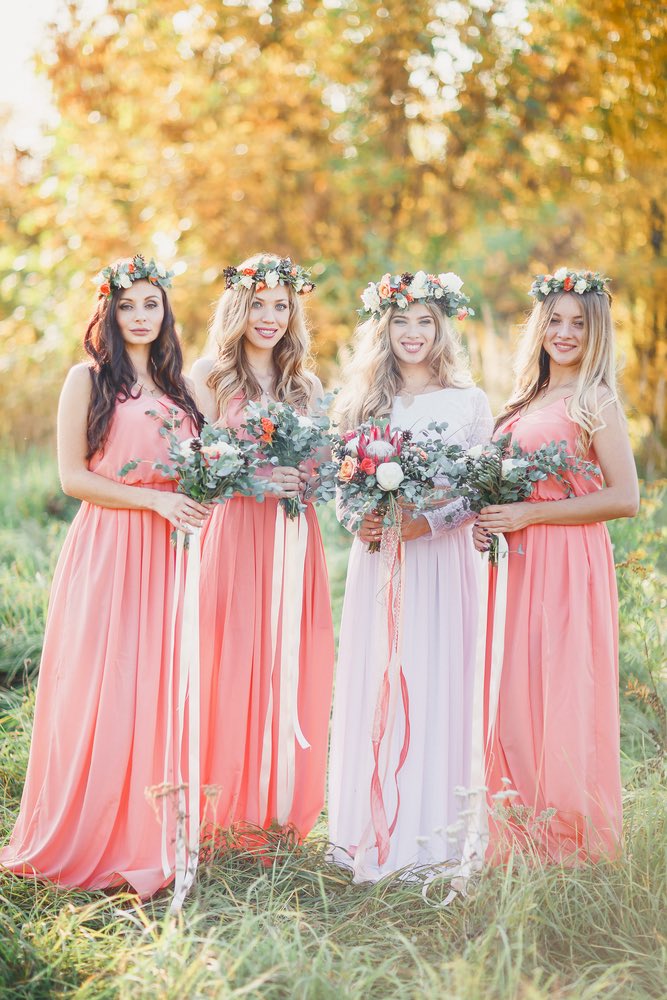 Weddings are not only expensive for the bride and groom. They are expensive for everyone involved.
Here are ten ways you can cut costs for your bridesmaids, groomsmen, and wedding guests.
Trust me, they'll thank you.
1.  Let the bridesmaids choose their own dresses
Between the dress, hair, makeup, the bachelorette party, bridal shower, and gifts, bridesmaids are expected to shell out a small fortune to celebrate their friend's big day.
Apparently, it costs an average of $1,500 to be a bridesmaid in the United States today.
Say what?!
You can help your friends by letting them choose their own bridesmaids dresses.
I decided to go with this approach for my wedding.
At first, I was worried about breaking tradition but then I looked into the "traditions" and realized they weren't traditions at all.
If you're worried that the pictures will look bad if you let the bridesmaids choose their own dresses, don't worry.
You only have to read a little bit about the psychology of selfies to know that you're only going to be looking at yourself in the pictures anyways. (Guilty as charged).
Give your wedding party a theme or color so that they have some direction and then let them choose a dress in their budget.
2.  Find discounts and coupons for tux rentals
Tux rental stores offer deals and specials year round.  Many also have loyalty clubs where you can receive up to $30 off each rental.
Put in up front research and get the best deal for your crew. I went with Men's Wearhouse and saw that they were offering a coupon for tux rentals.
When you do choose a tux or suit, pick a cheaper model.
No one is going to be talking about what the groomsmen look like the day of the wedding.
Save your friends some money and stick with the basics.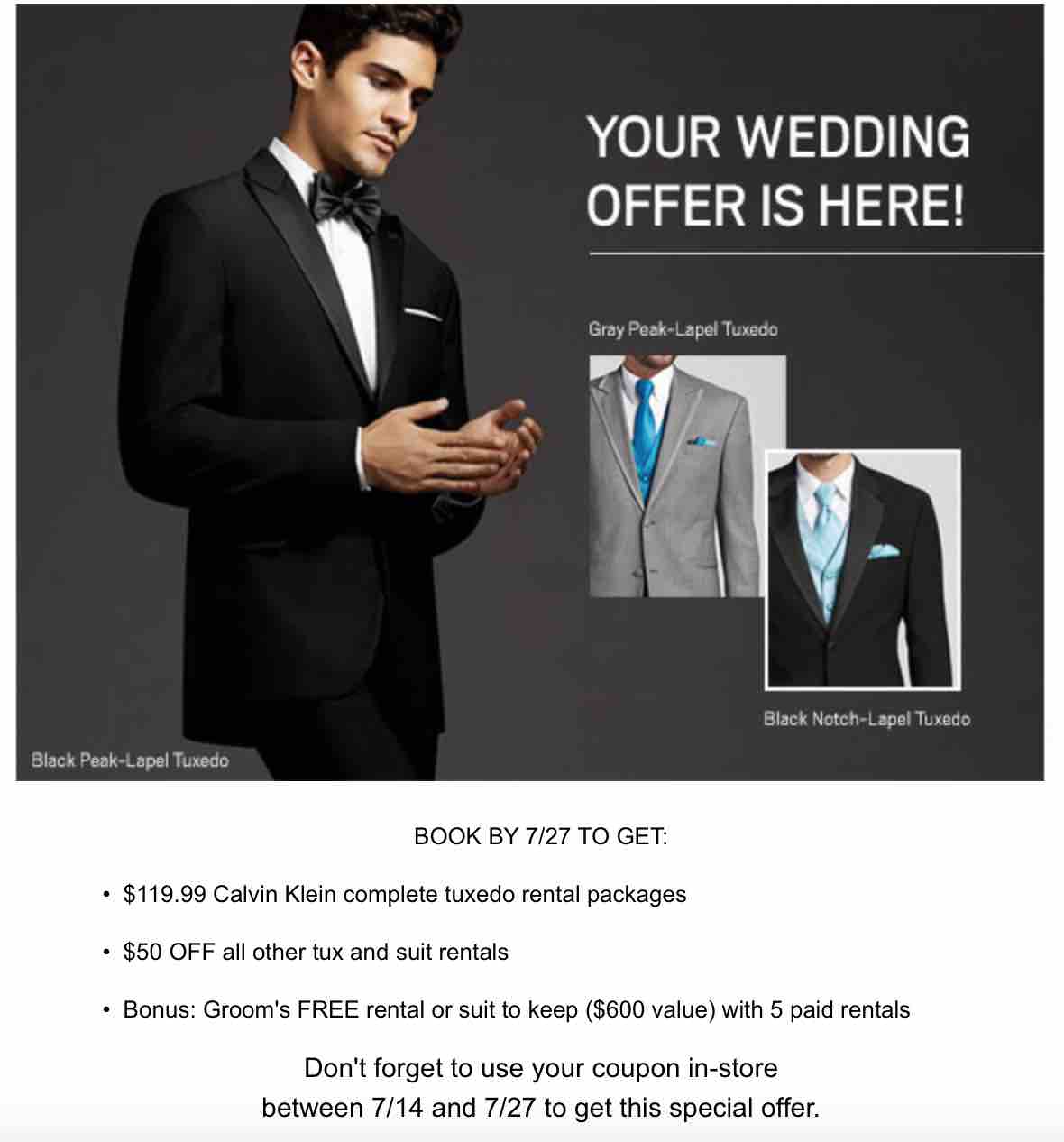 3.  Make hair and makeup optional for bridesmaids
You've seen your girls get all dressed up for a night out and know they clean up well.
Do you really need them to spend $150 on hair and makeup the day of the wedding?
Watch a few YouTube videos and figure out how to do the latest makeup trends.
If you want to get your hair done, that's fine but don't impose it on your bridesmaids.
They can make the decision to spend that money for themselves.
Again, the focus will be on you the day of the wedding and not on their hair. Put some trust in your friends that they'll be able to do their hair and makeup efficiently themselves.
Plus, more than likely, some of the bridesmaids will know each other so they can help each other get ready.
4.  Choose a cheaper hotel and negotiate the room block
You can get a room block at the Ritz-Carlton or you can choose something more reasonable for your guests.
When you do decide on a hotel, do research to determine the market price and then negotiate the price with the hotel.
Make sure the hotel contract extends the room rate for one night before and after the wedding.
Out of town guests might make a weekend out of it and would appreciate getting the cheaper rate for longer.
Also, if you notice that the hotel has lowered their rates, ask to extend the lower price to your room block. Often hotel managers will be a bit more lenient with wedding parties because it means that more rooms will be rented out so they'll want to make sure that you and your party are satisfied with your rooming arrangements.
Our hotel dropped the room rate by $15 after we had signed the contract for a higher amount. That might not sound like a lot but every little bit helps.
Luckily, they dropped our room block rate to match and all of our guests got the discounted rate. This meant that altogether we saved quite a bit of money.
5.  Skip the wedding registry
You've lived this many years without a toaster oven, what makes you think you need one now?
Skip the wedding registry.
Guests can choose to get you a gift or cash within their price range.
They won't feel obligated to get you something expensive just because it's on your registry.
We didn't do a wedding registry for our wedding, but you could try to find cheaper options.
For example, Target offers wedding registries if you want to save your guests money. Since Target is known for their quality, yet reasonably priced items, this means that you can still get the things you want (if you choose to have a registry) while also allowing your guests to save some money.
6.  Don't request matching accessories, appearance changes, or manicures
Don't require that your wedding party purchase any new accessories, clothes, or makeup for your wedding.
No one will notice if they have matching bracelets or the same nail polish.
More importantly, don't require any major appearance changes prior to the wedding.
I've heard horror stories of brides requiring their bridesmaids to change their hair color to something more reasonable for the wedding pictures.
Let your wedding party be themselves, crazy hair color and all. Everyone in your wedding party will thank you for being understanding.
7.  Keep the wedding local
Destination weddings sometimes can't be avoided when the bride and groom are from different places but keeping the wedding local is definitely a cost-savings for guests.
Beyond just the travel required, the food and drink costs for a weekend away add up.
This is arguably the biggest way to cut total wedding costs for both you, your bridal party, and all of the guests. By not having a destination wedding, you make it easier for people to get to your wedding without spending an arm and a leg. Plus, the money that you'll save can be put towards a nicer honeymoon that you'll remember for years to come.
8.  Encourage your wedding party to skip gifts
They're already shelling out money to be in the wedding, why not encourage them to skip the gifts too?
This can be a huge money saver for your guests and they'll be appreciative of it.
They probably won't listen, but you can certainly try.
9.  Let them know about ways to save money
Research and find coupons, deals, and other money saving opportunities for your wedding party and guests.
Let them know about cash back programs such as Ebates. By downloading the Ebates browser tool, you can get cash back on every online purchase you make and build up a small pot of cash back that you can transfer out to your PayPal account.


There are many wedding related companies that offer cash back through Ebates. Be on the look out.
10.  Skip the bachelorette, bachelor party, and bridal shower
As fun as these events are, skip them.
Save your wedding party and guests hundreds of dollars by not having a bachelorette party, bachelor party, or bridal shower.
Sometimes saving money sucks but your friends will thank you later.
These are all events that society encourages you to have because they bring in $$.
Bachelor and bachelorette parties contribute significantly to the tourism industry in popular destinations such as Nashville, Austin, and Las Vegas.
I didn't have a bridal shower or a bachelorette party for my wedding and I don't regret either.
Other posts in the Frugal Wedding Series:
How to Determine Your Wedding Budget
Choosing an Off Season Wedding
Saving on Catering and Photography
How to Do Your Own Wedding Flowers and Bouquets
Our $15,000 Game of Thrones Winter Wedding
What tips do you have to keep wedding costs down for guests, bridesmaids, and groomsmen? Do you feel these tips are too extreme? Or do you think they're reasonable?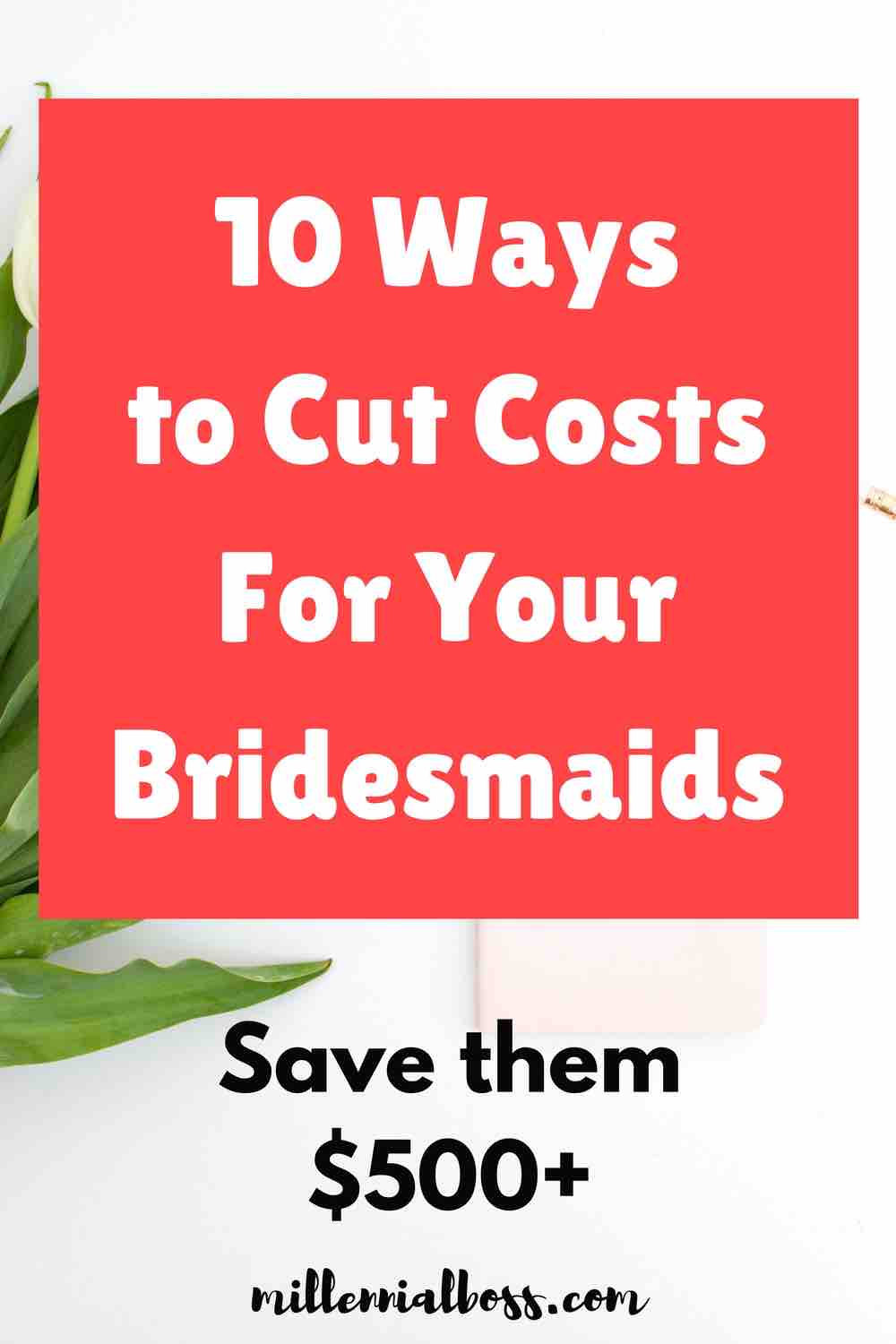 Latest posts by Millennial Boss
(see all)