If you're coming from Rockstar Finance, welcome! Today's guest post on Millennial Boss is from The Happy Philosopher.
I first heard The Happy Philosopher on the Mad Fientist podcast, where he talked about finding happiness along the path to FIRE. This is a topic that I discuss frequently with guests on FIRE Drill, my podcast about financial independence, since so many of us struggle with burnout and staying content on the demanding path to FI.
I asked The Happy Philosopher to expand upon that subject in today's post. Enjoy.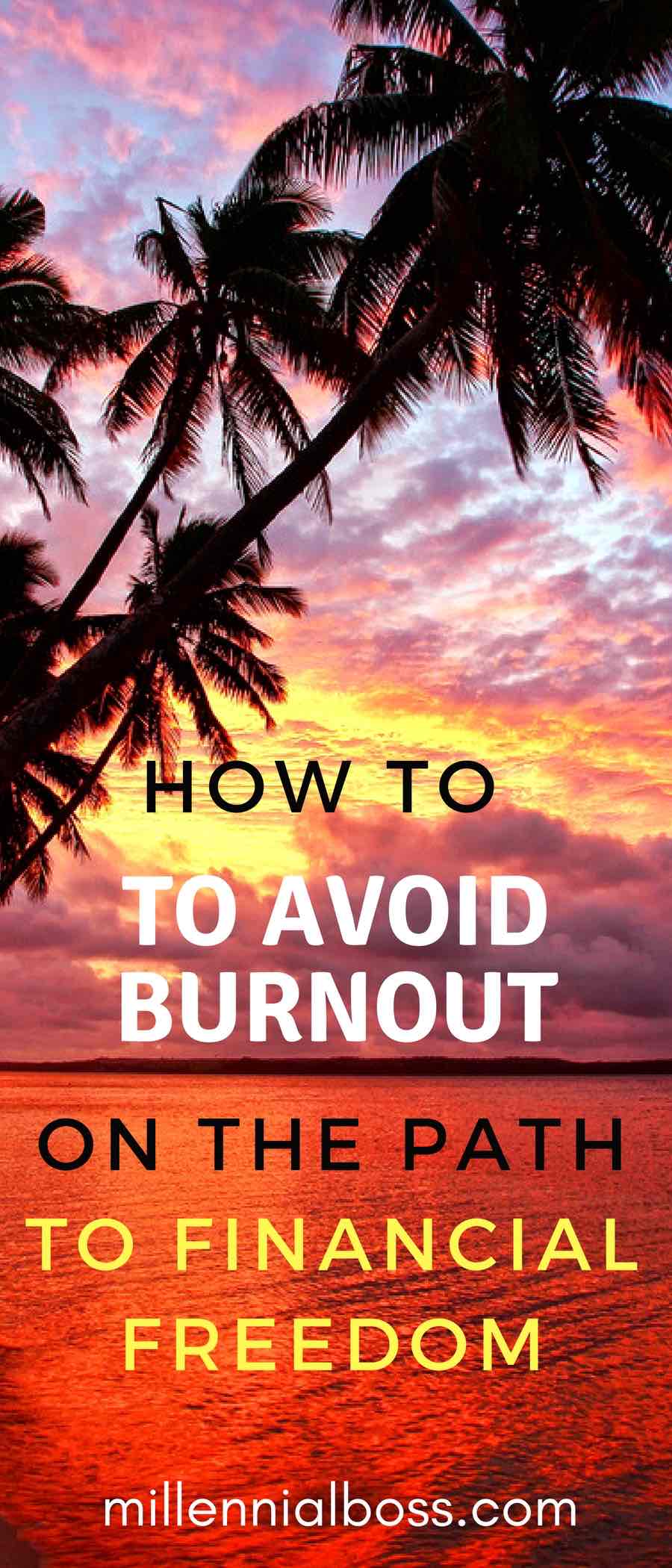 I have a confession to make. I'm not a millennial. And due to the laws of space and time I will never be one. As a formerly burned out gen-Xer physician, you may find it odd that here I am writing a guest article on Millennial Boss, after all I had to google the term 'woo girl' when I read this post, but there is a method to the madness.
You see, oddly enough millennials are my largest demographic of readers. I don't know why this is exactly, but in my mind I imagine it is because I am just a step or two ahead of them on their journey. My purpose here is to step on the financial land mines and report back to you (if I survive).
If you are reading this, you are probably on the path to increasing your degree of financial freedom. Maybe you are in the phase of paying off debt, or building an emergency fund, or have a small pile of FU money. What happens next though? Maybe some of you have noticed that as the journey progresses, the experience changes.
The Journey to Financial Freedom
At first, you discover this weird place on the internet where people are actually living debt free and saving money. Some are even retiring early and achieving financial independence at ages you thought unimaginable. You dive in head first, reading blogs and books, aggressively throwing money at debt and savings.
Life is awesome. You are excited for a year or two.
Then something changes.
You are not sure what it is, but suddenly it's hard to stay motivated to keep saving in this weird place between financial security and financial independence. You can't quite put your finger on it, but you start to second guess yourself. Funding the Roth IRA brings us about the same amount of pleasure as scrubbing the toilets week after week, and frankly you wonder if it is all worth it.
I've noticed this too, and upon reflection I think this is related to a concept that you may already know.
Hedonic Adaption
This is commonly known as the hedonic treadmill which according to Wikipedia is:
"The observed tendency of humans to quickly return to a relatively stable level of happiness despite major positive or negative events or life changes"
We spend more money to get something a little better, and indeed it makes us a little happier. Unfortunately that feeling soon wears off though, and we are right back where we started.
Rinse.
Repeat.
There is no end to this cycle as our spending increases to fill this unfillable void.
This is FIRE 101, and we all know about it. There is a post about it on any self-respecting financial independence blog (Note to self: write post about hedonic adaption). We also know that we need to interrupt this process if we ever want to become financially independent.
What is sort of non-intuitive though is this also works for saving money, though slightly different. Let me give you an example.
The Psychology of Saving
Pretend you have a pile of money, let's say 10k. You did something super impressive at work and your boss gives you a 10k bonus. We just increased our net worth by 100%.
BOOM! There is a big hit of neurotransmitters turning on all the pleasure and happiness centers in the brain. We run around the house screaming, nearly giving the cat a heart attack as she tries to figure out what is happening.
Life goes on. You plug away at work and life. Eventually that pile is 200k.
You get that next 10k bonus and make the deposit, but it doesn't have the same feeling as that first time. It doesn't move the needle as much; after all it's only a 5% increase.
The psychological effect is less, and by this point you have built up a tolerance to the feeling of happiness you get by saving. The newness has worn off. If you think of this as a marathon, those middle miles are not as exciting as the start when the adrenaline is pumping and everyone is cheering.
The cat is happier though.
As time goes on things get worse though. When you get to a million (which is probably close to FI for many if you use the 4% rule as a proxy) that 10k is only a 1% change in net worth. It is almost imperceptible. In actuality your portfolio can easily change by more than this in a day just due to market fluctuations.
And yes, your cat is laughing at you.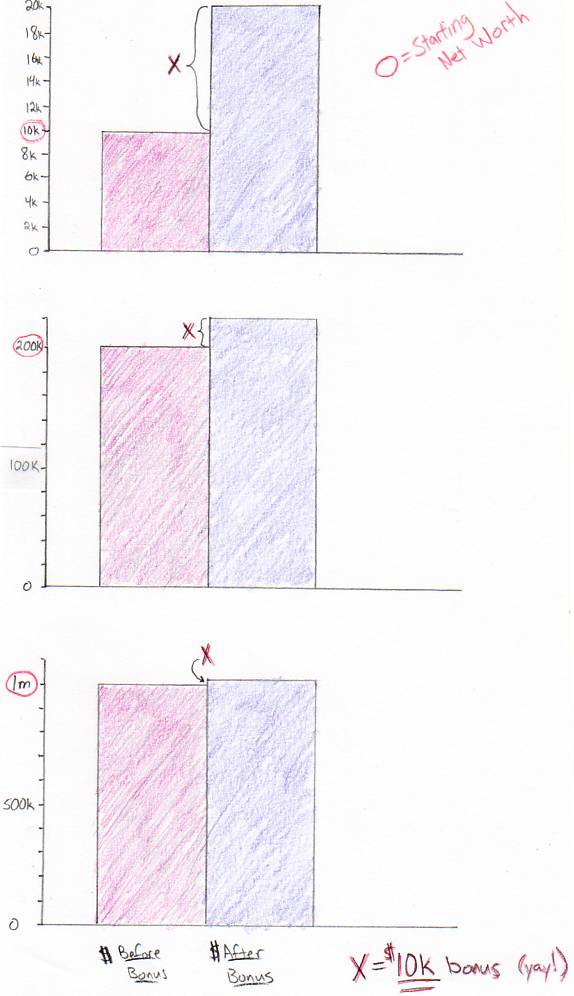 Another example: Let's say you save up enough money to be able to quit your job for 2 months.
This may feel amazing to you if you just emerged from debt. It may be the first time in your life you have experienced freedom like this.
It probably feels amazing.
But if you already have enough money to stop working for 4 years…well increasing that to 4 years 2 months doesn't really feel any different.
Related Posts:
Why This Matters
You may lose motivation. As a species we crave positive feedback, and avoid negative feedback.  This is a survival mechanism.
Once we lose that good feeling we get from saving money, we are tempted to use it on something that does feel good. In other words, when buying that new pair of shoes feels 10x better than saving for financial freedom, we may suddenly find ourselves with a closet full of shoes we don't wear at the end of a particularly stressful month.
My point is it is hard for most people to really stay motivated, and if you stumble and fall you are not a bad person. You are simply human. This is normal.
The concepts of personal finance are simple and easy. It is the psychology and human behavior side of things that is hard. I've seen people stumble on the path to financial freedom, and I think hedonic adaptation to saving is a big part. If you want to avoid this it is mandatory to put systems in place that manage this risk.
Automate and Forget
The best single tactical way to do this is simply to automate the savings.
Do not make it a choice.
Take the possibility of doing something contrary to your goals out of the equation.
I know this sounds simple enough, maybe even too simple, but it is effective. Put a percentage of your income into your savings and retirement accounts and then forget about it. Let the magic of the capital markets, or real estate income, or whatever you invest in compound over time.
The less often you look at the overall numbers, the bigger the changes you will see, and probably the more motivated you will remain.
Automate savings
Go worry about other more important things
I know what you are thinking. This idiot spent a thousand words telling to pay myself first? This is like the most basic financial concept ever. I already know this. And that's the dumbest bullet point list on the internet.
Fair enough. Let's move on to a more difficult problem then.
When Motivation Dies
Where do you find that motivation to keep going when you hate your job, or are completely burned out? When I was in the maximum zone of burnout, my paychecks were at their largest. It felt empty though. Dumping piles of money on an even larger pile of money became an abstraction. They were just numbers on a spreadsheet with no meaningful impact on my life in the immediate present.
Maybe you feel like this right now. I understand the pain and emptiness that goes along with this, and if you are burnt out my advice will seem hollow. The right answer will vary from person to person:
mini-retirement
career or job change
recalibration of other parts of life outside of work
The wrong answer is pretty consistent though; giving up on the journey to financial freedom. It is so easy to get discouraged and want to give up. I have been there. Remember, there is a future 'you' who has to live with the consequences of your actions now. You can try and outrun the treadmill, spend your money today; stop saving and go back into debt, but it will probably not bring lasting happiness.
Related Posts:
The Big Picture
The more important question though, and something that is much harder to answer in a couple thousand word blog post, is why are you seeking financial freedom in the first place? There has to be a why, because financial freedom is not a goal in and of itself. This is why it feels empty at times. This is why the excitement and enthusiasm wanes.
"Financial freedom simply creates the space for something else. If there is no something else the freedom doesn't matter"
I encourage you to keep wandering down the path of financial independence. It truly is a great way to live life, but it is not everything. Financial freedom is just a means to an end – the end being happiness and contentment.
This is where the real work begins. When I came to this revelation it shifted my thinking from being happy later (when I was financially free) to being happy now. If you cultivate happiness, freedom is the byproduct.
Instead of dwelling on the spreadsheets and trying to push your savings rate from 43 to 43.7% (which will not make you and happier now) try these things instead:
Start meditating 10 minutes a day (or 5 or 1, whatever works for you)
Start a gratitude journal for 5 minutes a day
Write your goals on a piece of paper and put it away. Come back to it in 6 months and be amazed at how much progress you made.
Examine your relationship with food and alcohol and start experimenting
Start getting rid of clutter
Practice saying no to obligations that negatively impact your life
Get into nature more often
Compliment someone
I could go on, but the point is take action. Start making small changes in your life to be happy now. If you are on the path to financial freedom, don't dwell on the details too much. This mental model helped keep me on the path because it took the focus off the financial side of things. Financial freedom is not meaningful if you are not happy, and I know plenty of financially free people that are miserable. Happiness is entirely possible without financial freedom though, and this is the place you want to be.
Bio: The Happy Philosopher is a father, husband, and physician who occasionally downloads his thoughts onto the internet at thehappyphilosopher.com. Although he thinks social media is mostly evil and unnecessary clutter, you can follow him on Twitter and Facebook and he will not judge you.
From Millennial Boss: If you liked this post, check out more posts on Millennial Boss and definitely check out FIRE Drill podcast. I co-host the podcast with the amazing Gwen from Fiery Millennials and we have 41 information-packed episodes about financial independence and creative side hustles. Our most recent episode was about building hobbit houses for passive income! We crossed 100,000 downloads in January and were nominated for "Best New Personal Finance Podcast at FinCon" this Fall.
THANK YOU!

Latest posts by Millennial Boss
(see all)