I'm embarrassed to admit this story but it needs to be told…
My friend and I have been working on the launch of our new podcast, The Fire Drill podcast. We plan to talk about early retirement, side hustles, real estate, and all things FIRE.
We both are two twenty-something female financial bloggers and I am a self-proclaimed girl boss and serious feminist. (I think Gwen is a girl boss/feminist too but she is less vocal about calling herself one).
Despite our identities, we made this glaring oversight a few weeks ago that I feel compelled to share.
Here is what happened.
We thought it would be really cool to have a professional sounding intro for our podcast. Typically podcast intros have a welcome greeting with a few key phrases said over music.
It's very common for the podcast hosts to say the intro themselves but the podcasters I listen to, such as Pat Flynn from the Smart Passive Income Podcast, have professional voice actors say their intros.
In my opinion, a professional intro can make a podcast seem extra legit and really sets the tone for the episode. It's like a sportscaster or big-time movie person is introducing you and getting everyone fired up for the episode.
We wanted to start our podcast off with a bang, so I decided to take on the task of looking for a voiceover artist on Fiverr.
I found this guy with thousands of five-star reviews who would record a podcast intro for $5. His voice sounded LEGIT and it would be an epic start to the podcast. It would be like the Irish Morgan Freeman from Philadelphia was introducing our podcast and us.
Well as soon as I was about to book this guy, it said he was on vacation for two days. Apparently Fiverr does vacation notifications now? Good for them, everyone deserves a vacation, but I was bummed.
Luckily, this temporary delay made me rethink things.
What was I doing?
This self-proclaimed girl boss was choosing A GUY to represent us in our podcast intro (because that is what I thought financial podcast intros sounded like??)
It honestly never crossed my mind to look for a female voice artist.
I had probably heard so many financial podcasts with male intros that I never even thought to look for a woman.
Money and entrepreneurship podcasters typically had males with big powerful voices introduce them and that is what I unconsciously thought would make our podcast "sound" like it belonged.
WHAT.THE.FLIP.
When my brain cells started firing again, I spent the extra five seconds in the sea of Fiverr male voiceover artists to find a female artist I liked.
24 hours later, we had an epic intro for the FIRE drill podcast.
Funny enough, I sent the raw file to Gwen and she goes, "wow, I wasn't expecting it to be a lady, but I'm so glad and I love it."
We need to consciously think of hiring women
In the age of the Google Manifesto (not even going to link to it here because I'm still sore about it), we need to be especially conscious in how we discuss hiring women.
Let's be clear. It is NOT about lowering the bar to allow more females and minorities through.
It's about *consciously thinking* about hiring females and minorities when we're making hiring decisions, because to put it blatantly, we will forget them otherwise.
Qualified amazing people are slipping through the cracks every day, because we are unconsciously looking for the candidate that we see in our heads – the standard male candidate that is the majority today.
When making a hiring decision, we think the male candidates (or voiceover artists in my situation) sound like the person we are looking for, and the other candidates just don't fit the profile.
I fell into this trap and I'm a serious feminist. Maybe you could too.
Let's try it.
When thinking about what type of podcasts you expect a female voiceover artist to introduce, what comes to mind?
A few weeks ago, I was unconsciously thinking mommy podcasts, female entrepreneurship podcasts, or relationship podcasts.
I was NOT thinking money or financial podcasts and THIS IS WRONG.
All of my thoughts for what a female voiceover artist would typically introduce had podcast "for females" in it.
Society says: Male voice artists introduce podcasts for everyone.  Female voice artists introduce podcasts "for females."
That is so messed up.
Men, would you be comfortable having a woman introduce you on your hypothetical podcast?
Women, would you be comfortable having a male introduce you?
Why or why not?
I think some of this stems with men being uncomfortable having a female represent them, but women being completely comfortable with having a male represent them.
I'm sure there are many more women who are comfortable with a male introducing them than the reverse.
I heard a famous female director say once that male critics often don't like her movies because they are forced to put themselves through the eyes of her female characters and they find that uncomfortable.
Women on the other hand are used to seeing the world through the eyes of males in film so it doesn't make us as uncomfortable.
Not sure how accurate it is but it's food for thought.
Are we as women more used to putting ourselves in the shoes of the male majority? Are men on the other hand, not as comfortable with the converse because of societal conditioning?
You're not done once you've hired one woman
I went to the Lola Retreat this past weekend (if you don't know what that is, it's a financial conference for women that was plain amazing. I live tweeted the whole thing on Twitter if you want to learn more, @millennialboss).
There I met a woman who was asked to be on a podcast where guests have been historically male. She told me that someone was saying to the hosts that they need more female voices and they said, "we already have someone. This woman is coming on."
Dude, that is one person.
You are not done once you've hired one woman or one minority.
We all need to be consciously aware of hiring women and minorities with every single hire we make  (or in this example every single podcast guest we bring on).
Men clearly have the advantage in our subconscious,  so we need to consciously think of women and minorities every time, so we can help make up for it.
Don't tell me our podcast is different because we're two females
If I had a dollar for every time I heard someone say, the FIRE community needs our podcast, because we're two females, I would be rich.
Isn't our podcast for everyone? Do we have to change our topics of discussion because we're female?
Half of me wants to own the whole two females thing and be like yeah, we do need some female voices up in this space.
The other half of me is mad that the male personal finance community members don't have to have this conversation – or pressure to be the token females.
If our FIRE podcast sounds good to you, get on our email list HERE to be notified of new episodes.
We have a kickass podcast intro that you need to hear! 🙂
Plus, women + money = amazing.
Here is our podcast website: Fire Drill Podcast
What can I do to give opportunities to women?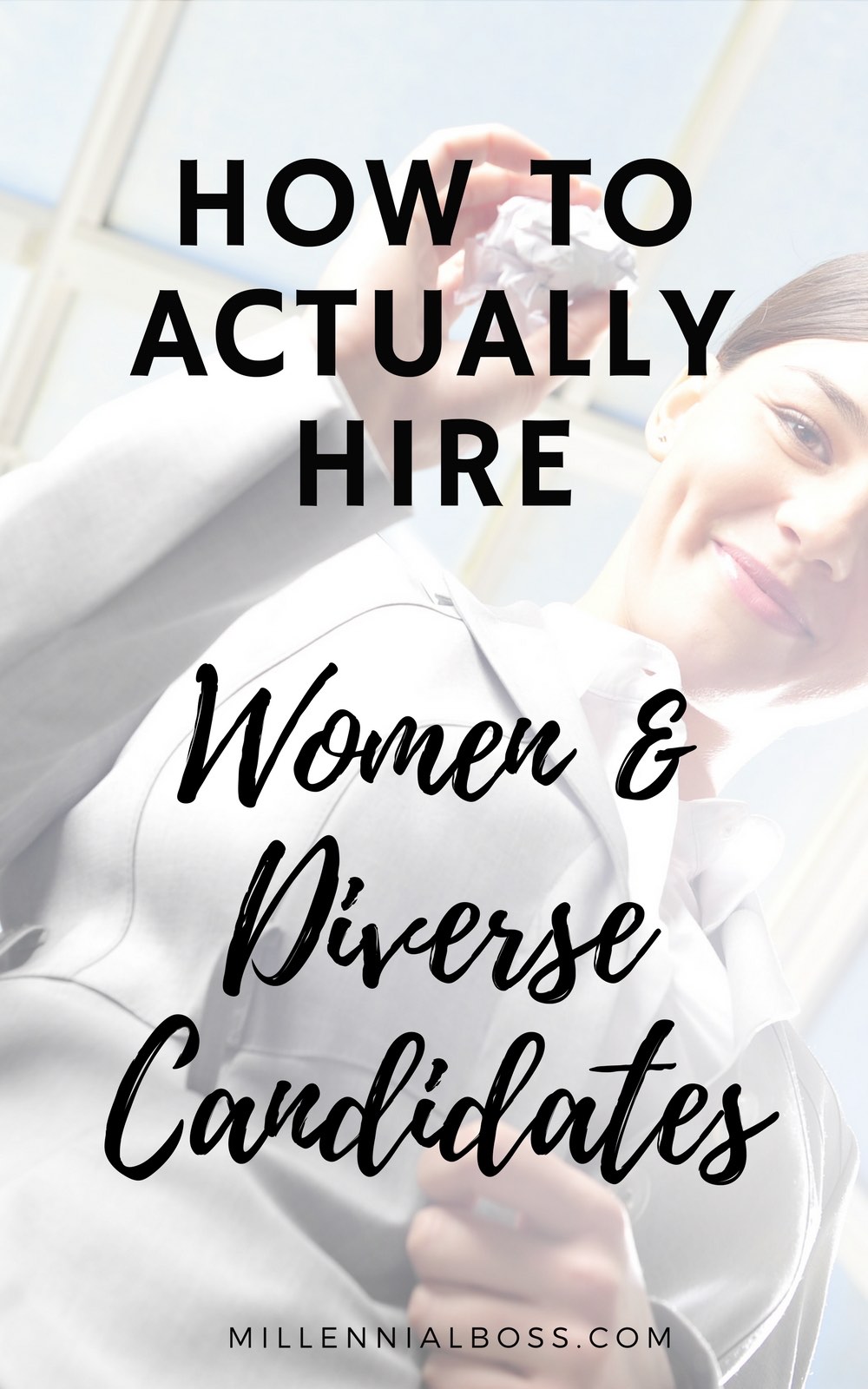 Three easy things:
Actively think of women and minorities every time you give an opportunity to someone and question your unconscious beliefs and attitudes if you have someone already in mind.
Go out of your way to find qualified women and minorities. If you have a fairly homogenous network, take the extra effort to go find qualified candidates.
Showcase and promote qualified females and minorities that you know, so they can be found.
For point #3, I know in the recruiting world that employers can do boolean searches in Google to look for candidates that meet certain criteria (an example could be: belonging to an affinity group + use the world "female" in their bio, etc.). If you are a diverse candidate know what boolean searches are and get your resume and yourself discoverable using those keywords. If you have hiring power, make sure you are searching hard for diverse candidates. If you are a professor or in a position to do so, host the resumes of candidates on your website so they can be found.
Bloggers can ask diverse candidates to guest post on their site, speak on their podcasts, or just share their stuff on social media.
Here is a list of non-male engineers pursuing FIRE that I put together. (Male engineers seem to be the majority of early retirement seekers so I put this list together to encourage others).
Obviously, you want to ask permission before you put someone on a diversity list. This could go very badly, especially given that horrible people like the Google Manifesto author exist and will set limits on diverse candidates. It could also be illegal.
Any little thing you can do helps.
Why does diversity matter anyway?
To be completely honest, I'm sick of having to defend why diversity matters. It's exhausting and I've put together lists of resources only to have them never looked at.
If you need to be given a plate of facts before you adopt this thinking, I encourage you to go out and google for it yourself. And I mean that seriously.
If you don't believe diversity matters, actively try to go out and find information that disconfirm your beliefs.
Most people go out and try to affirm their beliefs so you'll be getting a head start.
Be sure to consider who is writing the sources you are finding and where you are finding them.
(Tip: don't search google manifesto. There were so many authors taking advantage of the google manifesto search traffic that everyone and their mother was writing something about it).
Why the Google Manifesto bothers me so much
Besides just being incorrect, I don't like the Google Manifesto because I believe that any type of pop science by race, gender or some other protected class is deeply and ethically wrong.
Stuff like the Google Manifesto is very dangerous.
If you want to read some messed up stuff, google Eugenics and the "better babies" movement that happened in the U.S. in the early 1900s.
Pop science that is used to define people (such as saying women are biologically X, Y, or Z compared to men) scares me greatly.
In addition, as a woman who has been successful in tech, led a large team (who still contact me to this day for recommendations and advice), among other accomplishments – I am offended by the Google Manifesto BS and worried about it's repercussions on my life and career.
I hate that the document could have strengthened stereotypes that hold people back.
Sorry, this post was not intended to be a rant
I'm sharing my story about picking the male voiceover artist for my podcast intro (at first) to show that we all make mistakes.
I'm well educated in feminist issues and I still F'ed up. I'm sorry for it.
This is not intended to be an attack on anyone.
I hope it makes us all think.
Oh, and if you want to listen to our FIRE podcast, we'd love to have you as a listener. We are proof that women + money = Awesomeness.
Get on our email list HERE to be notified of new episodes.
PS – Here is an interview with one of our amazing members of the FIRE community, which is episode 8 of the podcast.

If you like it, go to firedrillpodcast.com or subscribe in iTunes here.
Have you ever accidentally had an image of someone in mind for an opportunity and thinking back on it, it was kind of wrong?

Latest posts by Millennial Boss
(see all)