We tried to sell our home two years ago and the feedback from potential buyers was that the home felt dated.  I think our brass shower enclosure definitely contributed to that dated feeling.
We didn't want to invest thousands in a new shower or new shower door, so we decided to spray paint the shower door ourselves.
How to Update a Brass Shower Door Frame Yourself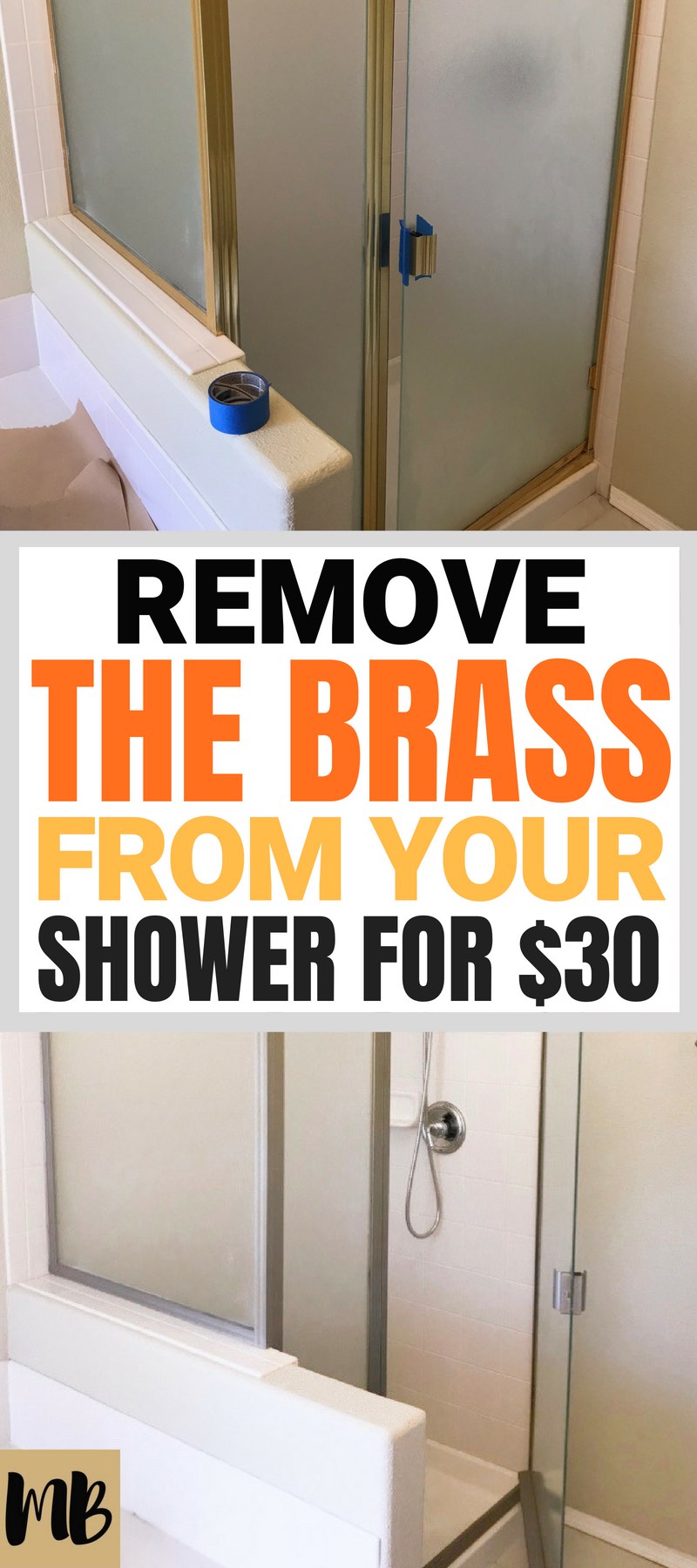 The spray paint to put on the shower enclosure plus the sanding equipment was only about $30!  (And we used it for other projects such as spray painting our door knobs).
Here are details on the entire project from the steps we took to the items we bought.
BEFORE:  Brass Shower Door Makeover
This is what the shower looked like before we got going.
That 90's brass is sooo sexy.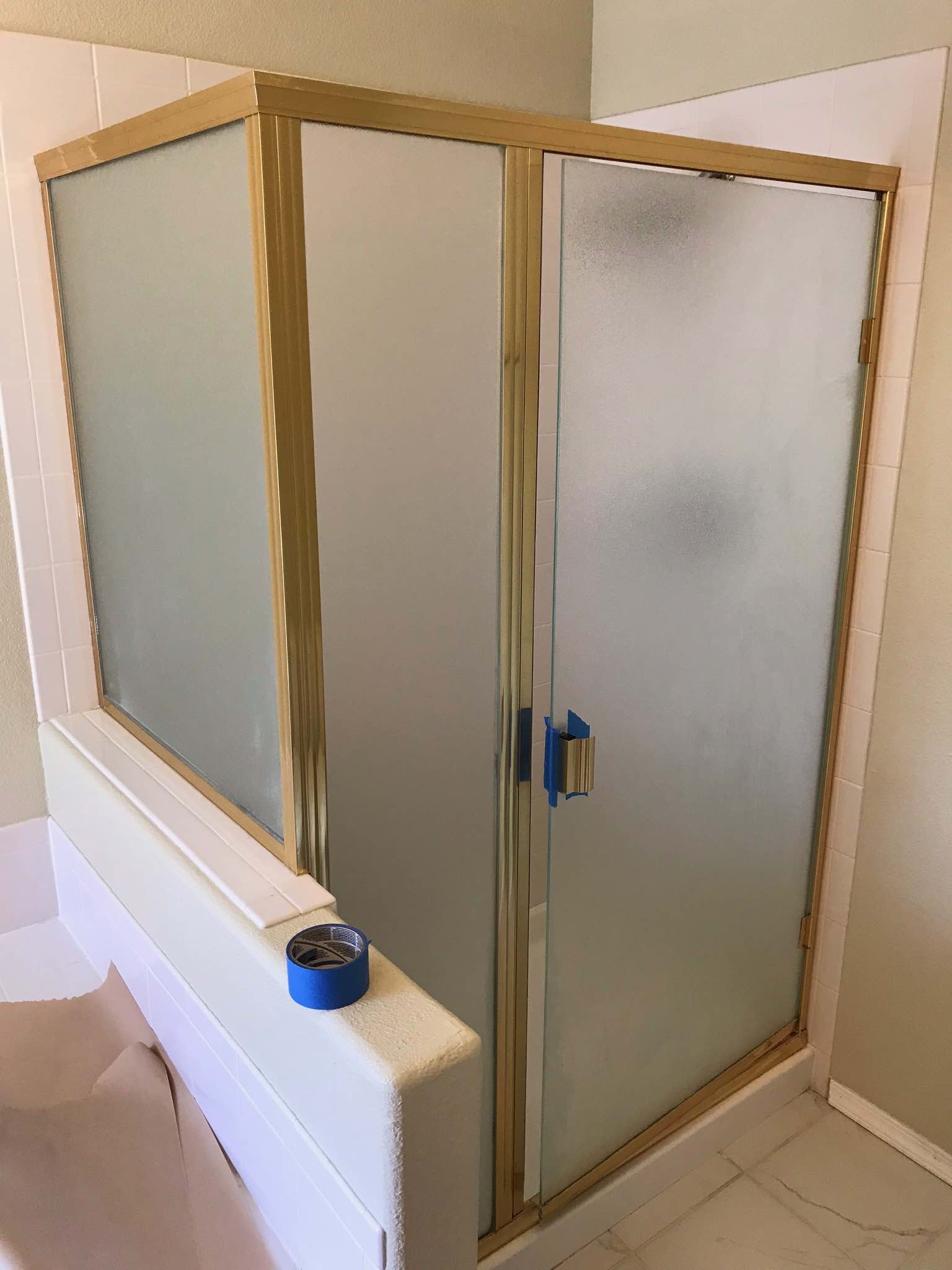 Before we even got started with the project, we gave the shower a deep clean, getting off all of the shower scum and grime. It is super important to start with a clean shower so the paint sticks! 
We used the Grime Boss Wipes.
With the cleaning out of the way, here are the 5 steps we took to update the shower surround.
Step 1 : Surround the shower enclosure with painter's tape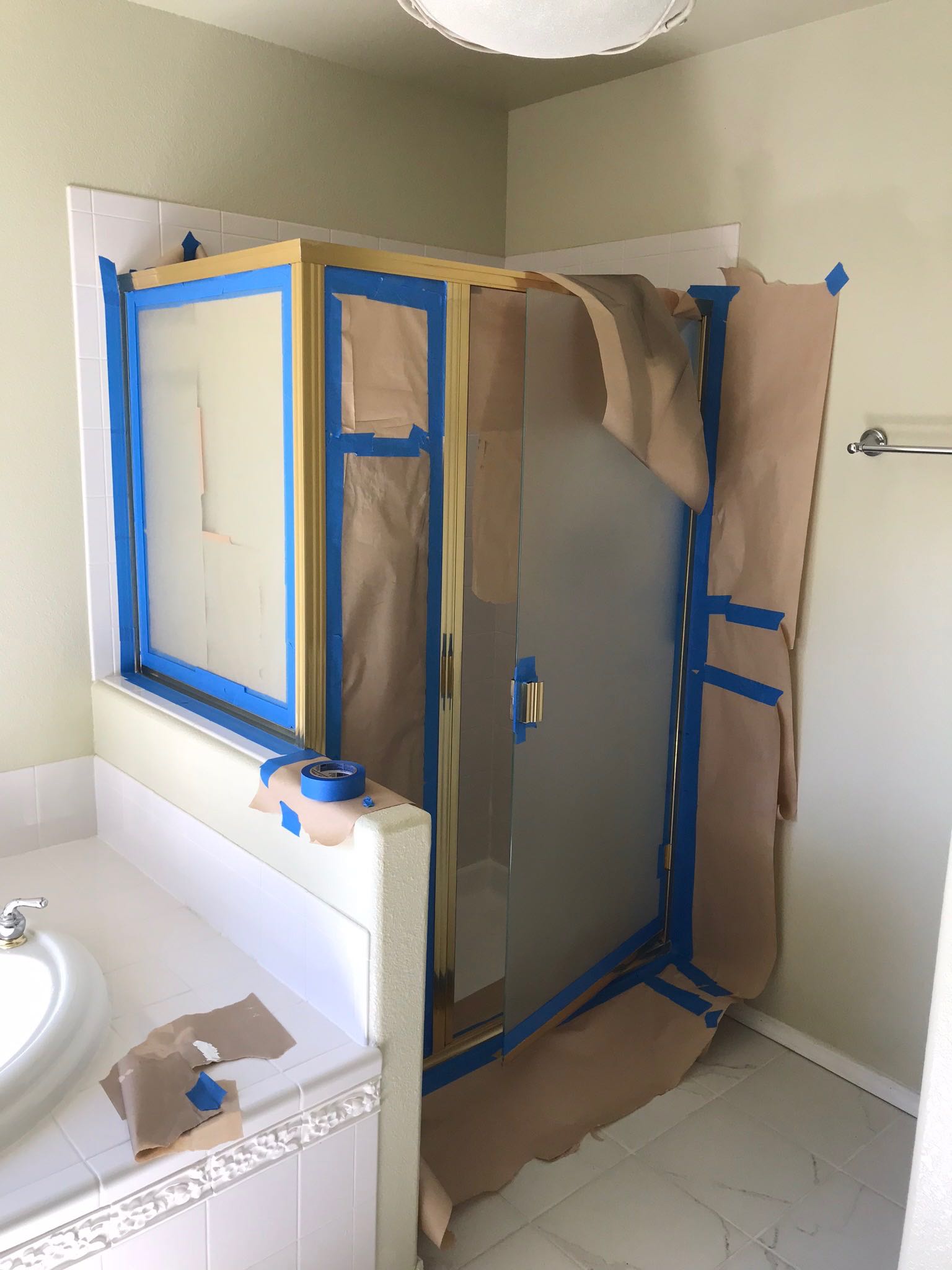 We used blue painter's tape and masking paper (which we already had since we were renovating the whole house before we put it on the market).
Be extra careful to tape the edges tight so the paint doesn't leak.
Step 2 – Put trash bags or plastic painter's tarp over the rest of the shower area
Ok, I think my husband got a little carried away here.  This looks like a scene straight out of his favorite TV show, Dexter.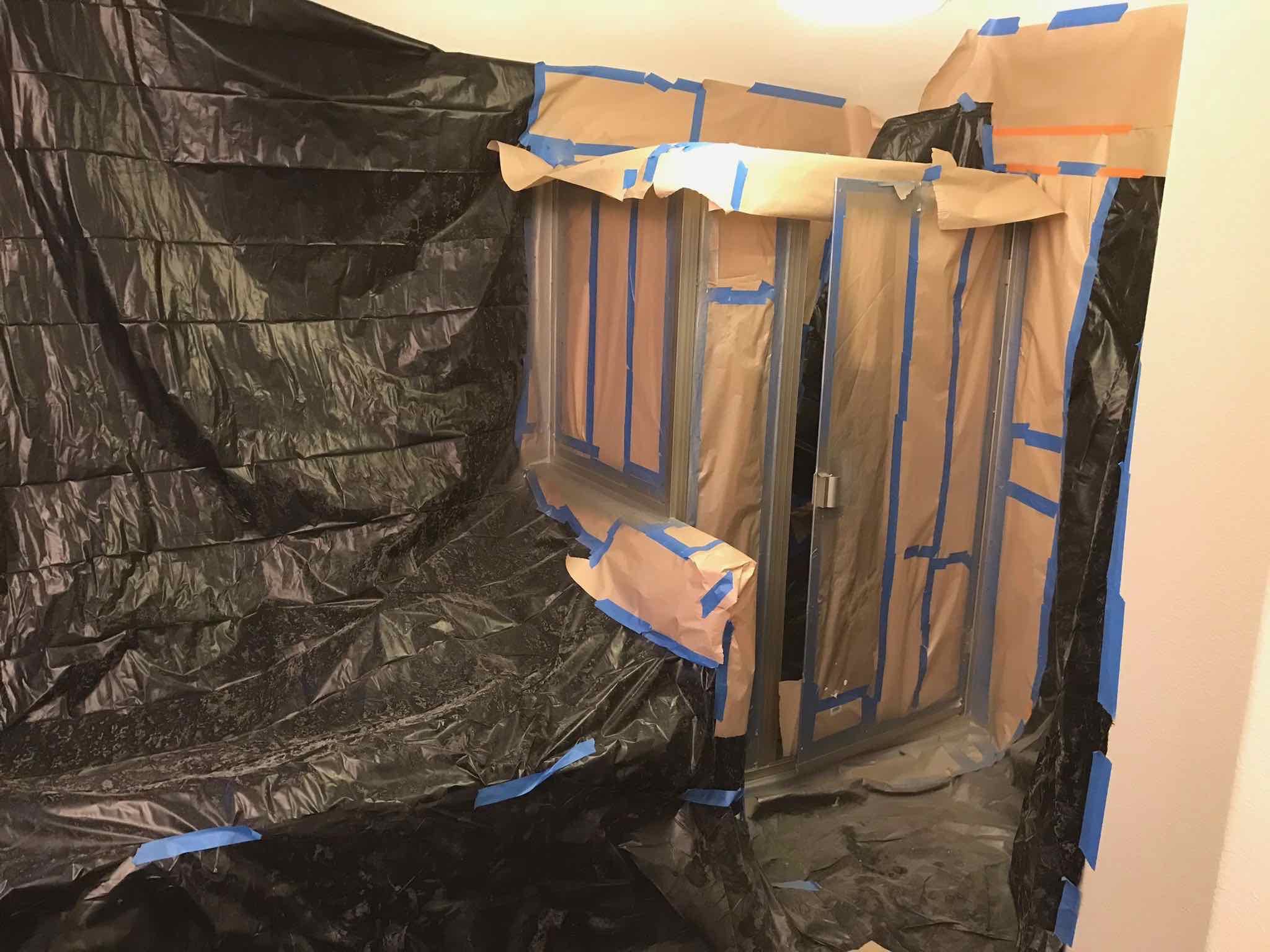 You'll definitely want to cover any areas surrounding the shower and the floor because there is a fine dust from the spray paint that can get over everything. Don't worry though, if it does drift a little, the fine spray paint dust WILL wipe off.
We were putting our home on the market that week so we didn't have time to fix mistakes.  That is why we were so conservative with the covering.
You can buy XL trash bags here.
Step 3 – Sand and wipe the brass with sanding paper and degreaser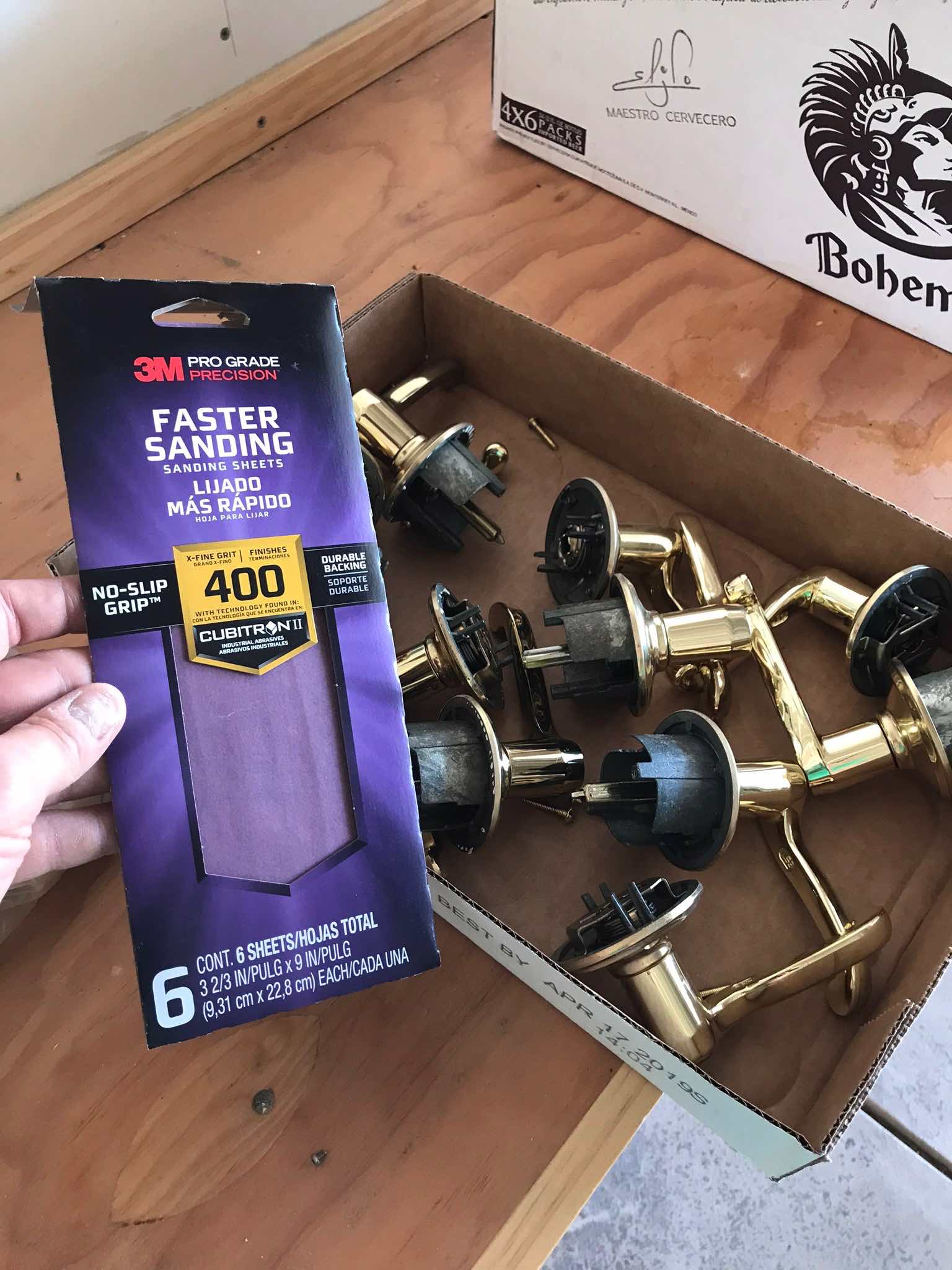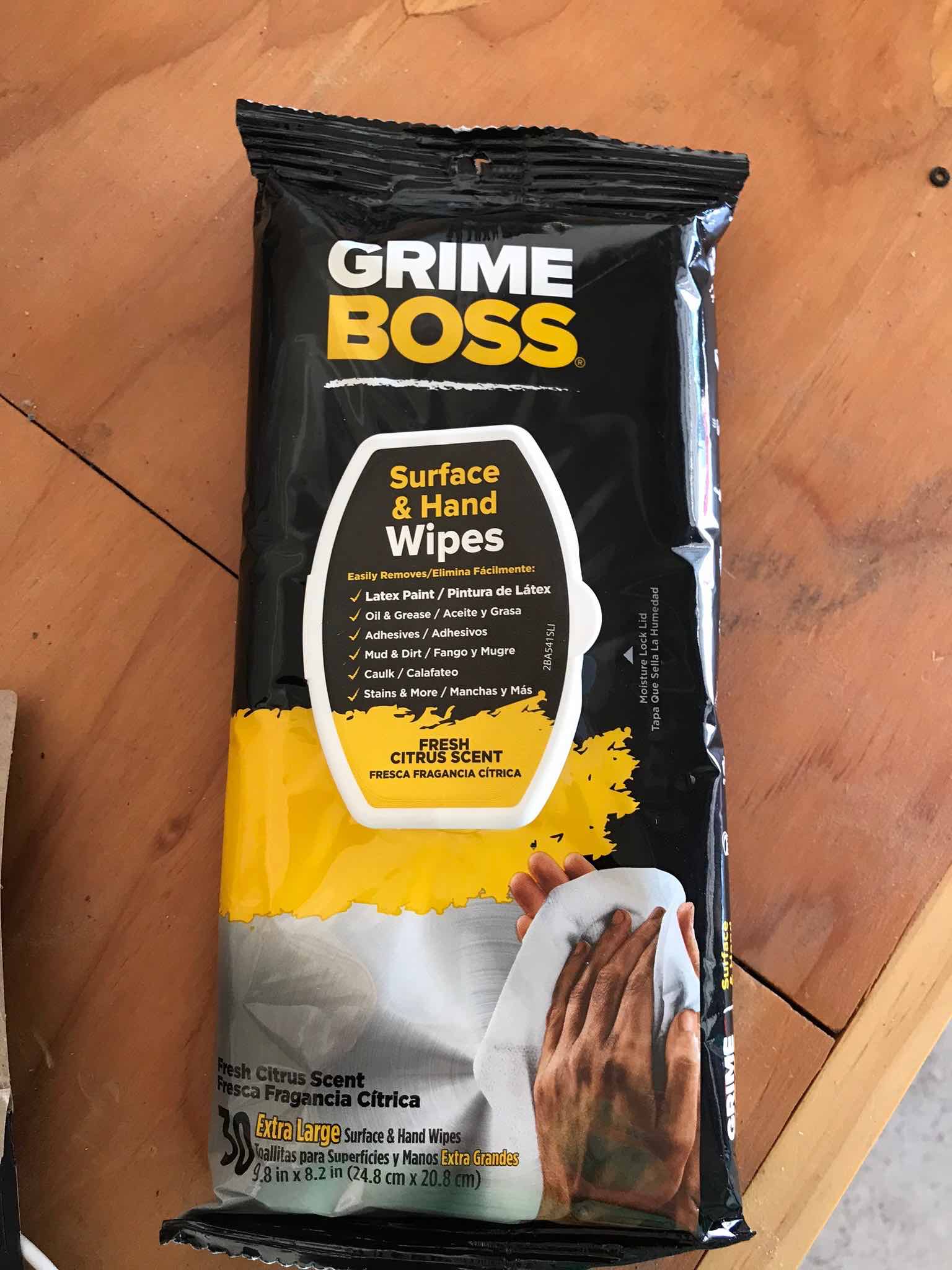 You have to wipe it down and sand the brass before spray painting or the paint won't stick due to soap grime built up over time.
Sand the brass frame of the shower and then wipe it down very well before you begin to spray paint.
Here are the wipes and sanding papers we used.
TIP:  Sand the inside of the shower extra hard!
You may need to sand the inside of the shower enclosure harder because of any shower scum built up.  Even though we cleaned the inside of the shower, the paint still didn't stick to the inside as well and needed extra coats when compared to the outside.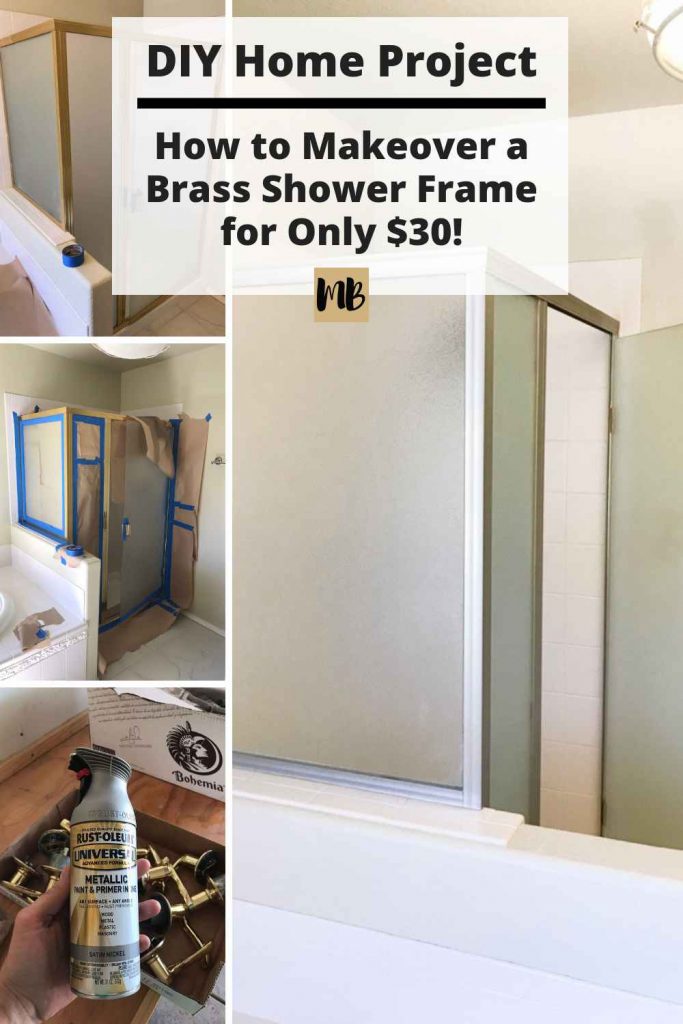 Step 4 –  Spray paint the shower enclosure with Rust-Oleum Paint & Primer in one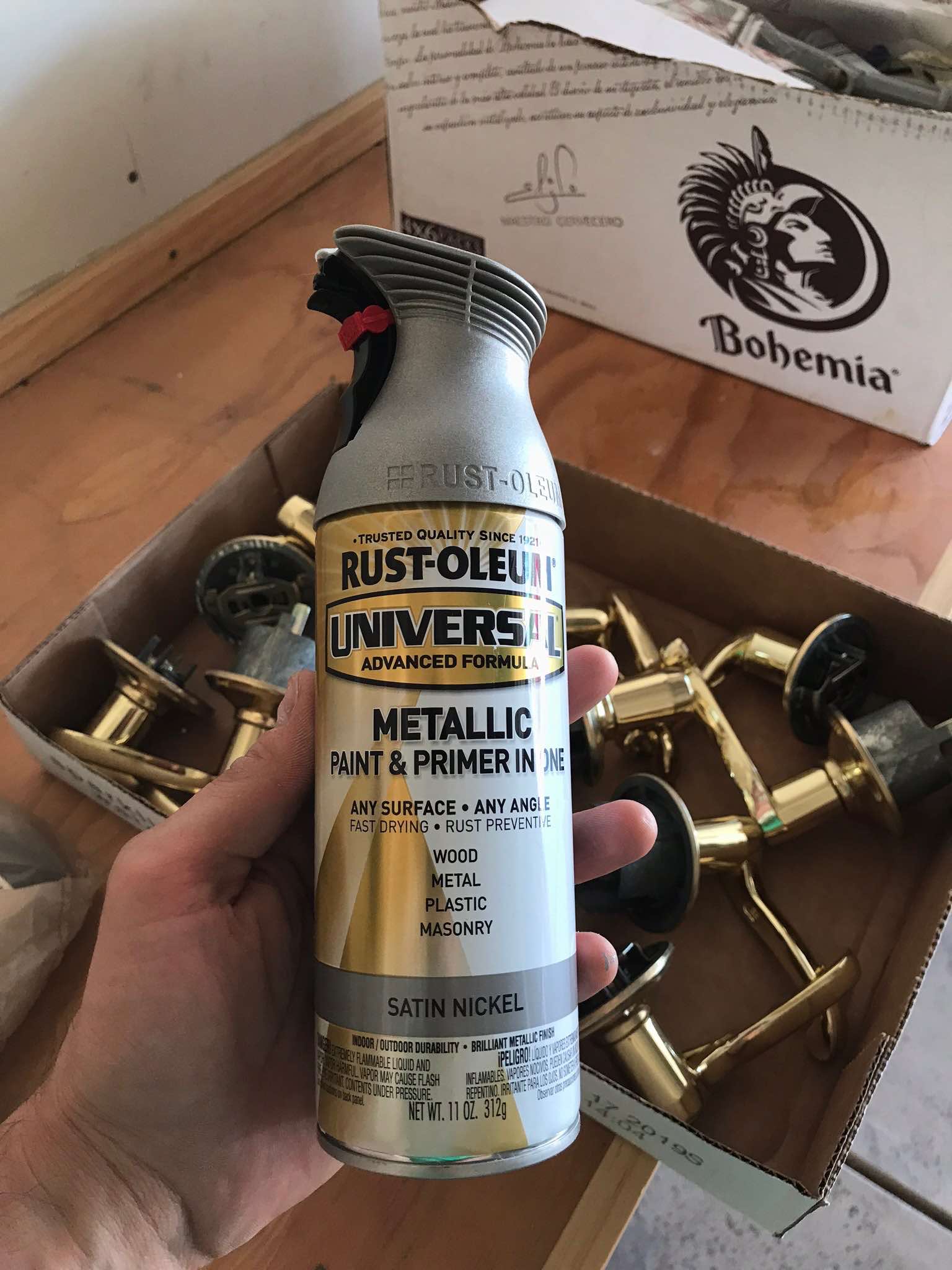 We decided to go with the Rustoleum Universal Spray Paint and Primer in Satin Nickel.
You can find it here:
You can definitely choose another color (such as rubbed bronze, which seems to be popular, too) but we wanted our house to appeal to future buyers and light, bright bathrooms seem to be most popular.
We spray painted the brass door knobs in this color, too, and were very pleased with the result.
We didn't use any other paint or primer.  Only this one.
We needed 2 coats on the shower door.  The inside of the shower enclosure probably needed a third coat.  We regretted not giving it another coat but we didn't have the time.
TIP: Don't forget to wear a mask!  The fumes are crazy!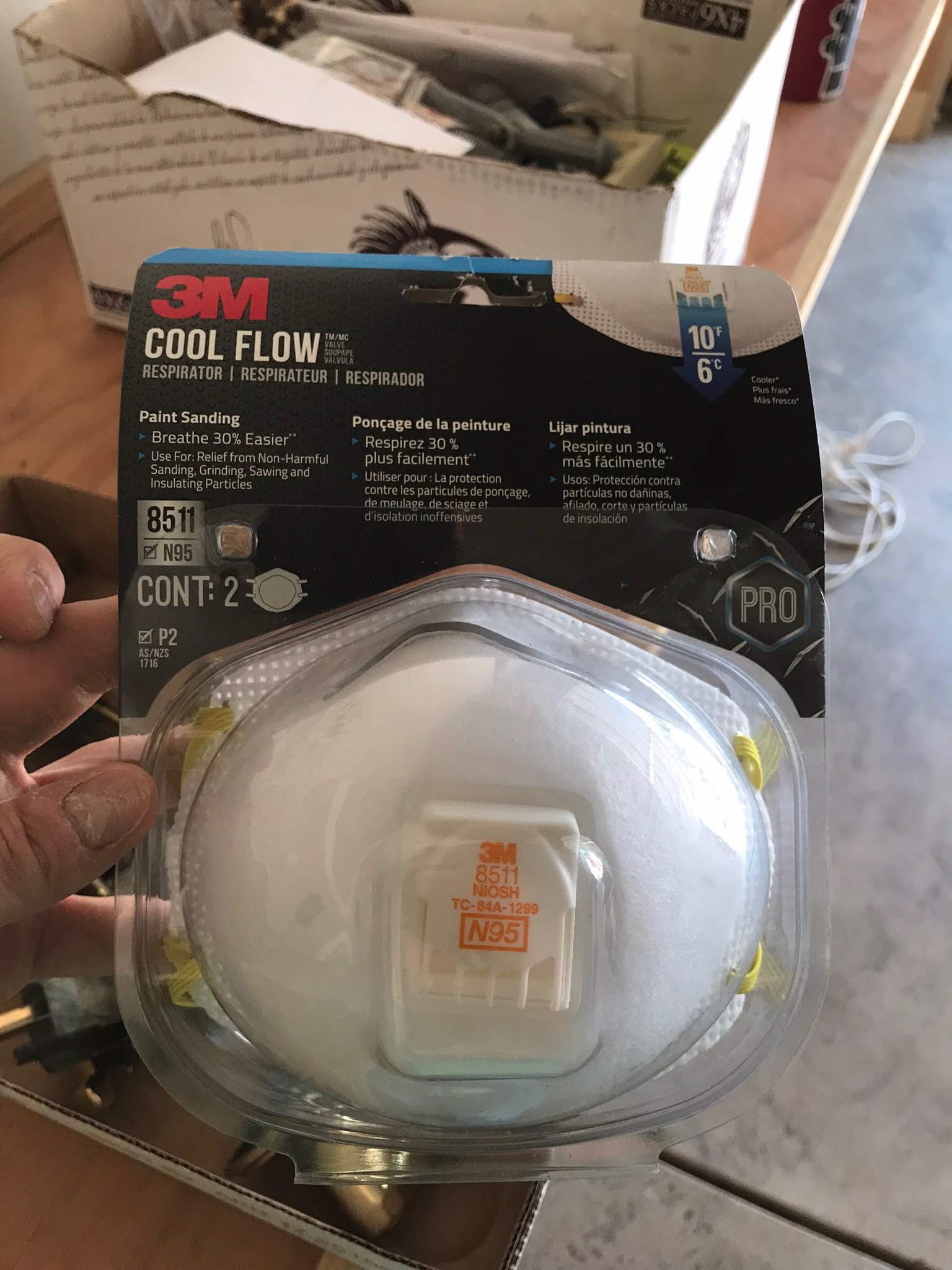 Here is the one we used:
You'll definitely want to leave the windows open and have a fan going.  The fumes are tough to deal with.
Step 5 – Carefully peel off the painter's tape!
Make sure you wait 24 hours before doing this so that you don't accidentally rip off the paint too.
We were very, very careful when removing the tape.  You may even want to use a knife to keep the lines extra crisp.
AFTER: An Updated Brass Shower Enclosure
Here is what the shower door looked like after 2 coats!
Ohhhh yeahhh!!! Much better than that brass shower enclosure.
How did we live with that ugly brass shower door for so long?
All Items for Spray Painting the Brass Shower Door
Here's a recap of everything we used to do this project.
BONUS: Don't Forget to Upgrade the Shower Head Too!
The one we had in there was grody. Yuck!
We couldn't have a nice looking shower door and then have a buyer open the door to find a nasty, dated-looking shower head.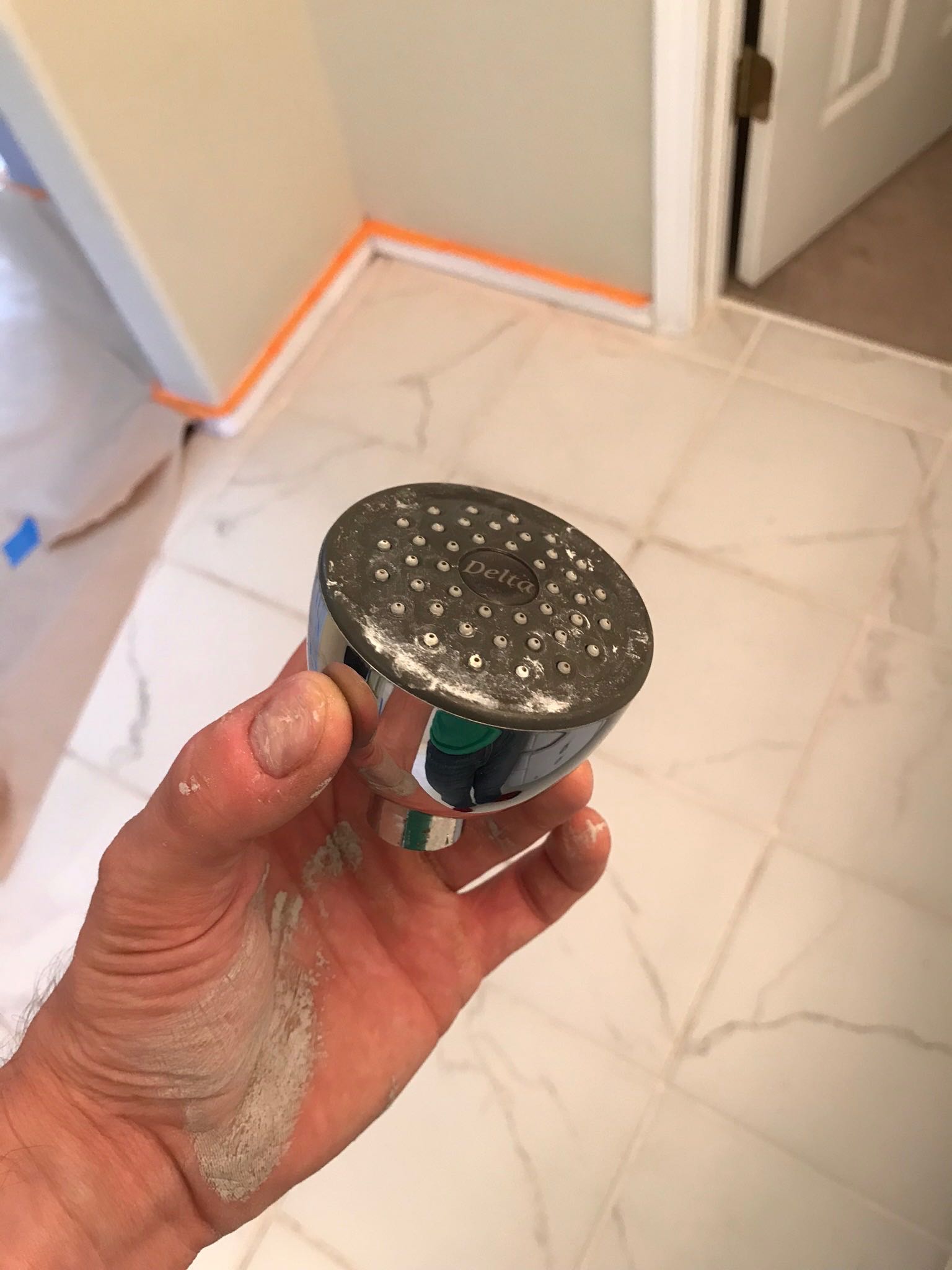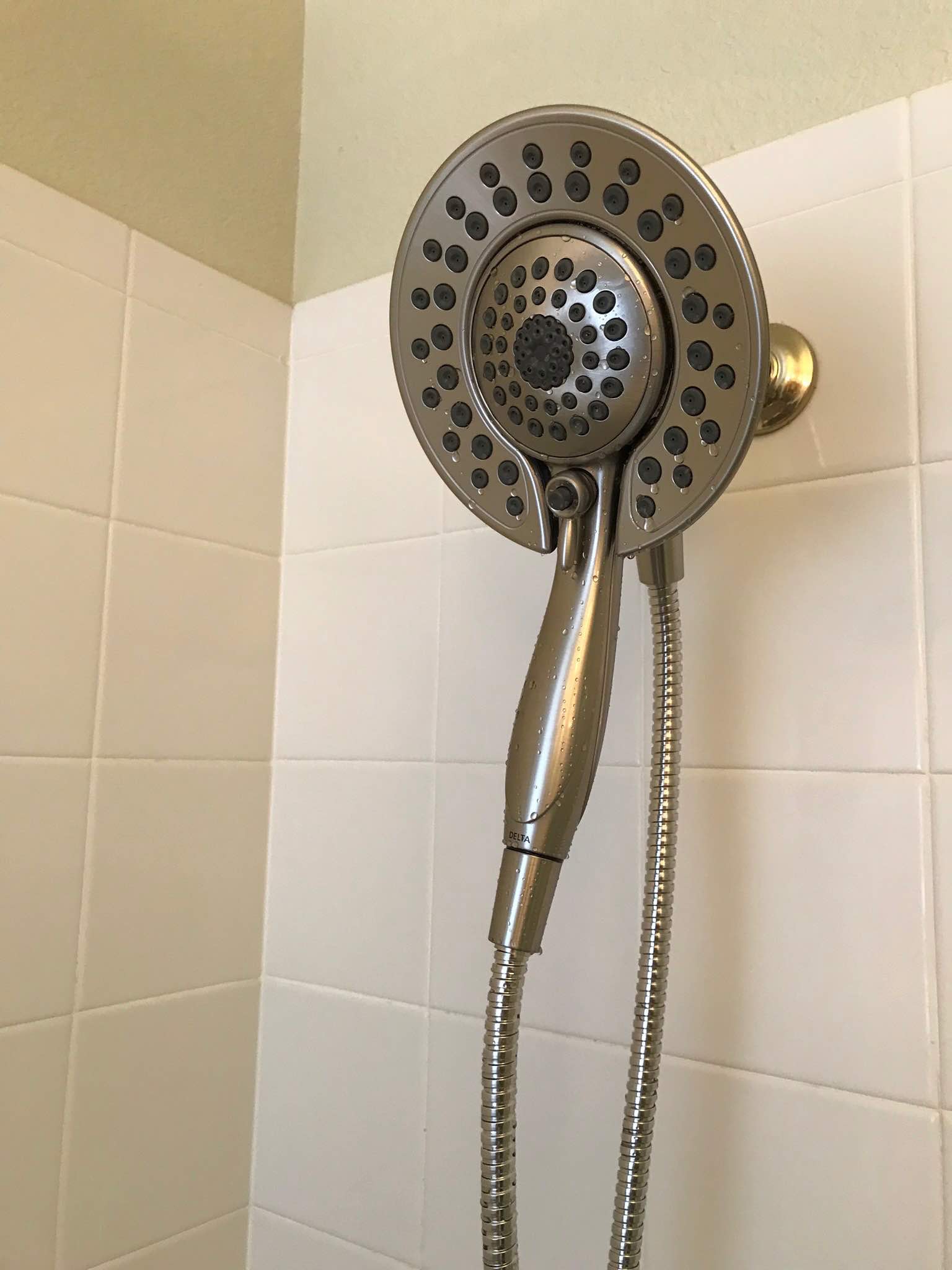 Here's one like the shower head we bought:
We decided to go with a big shower head with a handle to make a statement.
While the entire cost of the brass makeover was $30, the shower head was an additional expense but worth it.
What happens if you mess up spray painting the shower door frame?
Do not stress.  I found this article written by another blogger who mentions you can use nail polish remover to scrape off any mistakes.
We made a few mistakes, too!
A little spray paint got on our tile floor and we just scraped it off without nail polish using a knife and it came out fine – although was tedious work.
You can do this!
Have you updated a brass shower door?  How'd it come out?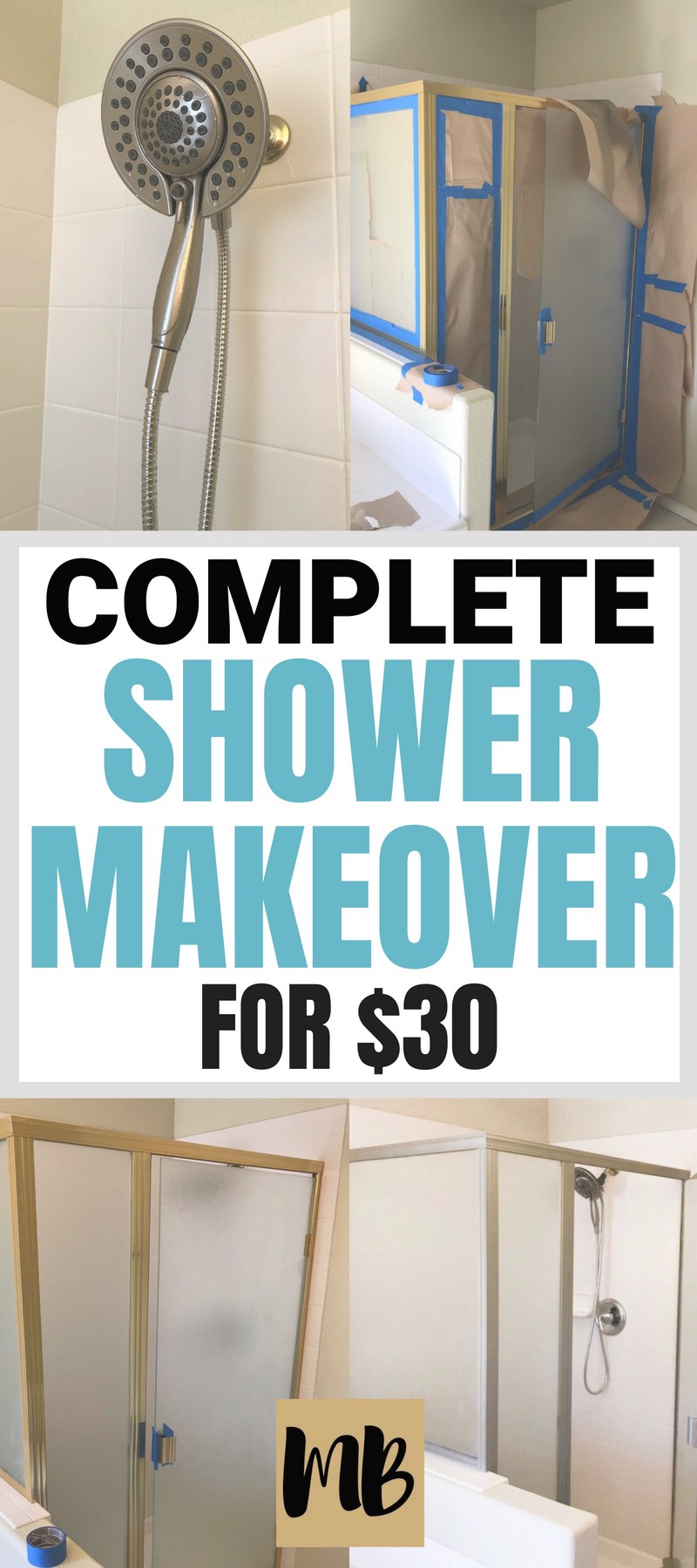 Related Posts:
Julie paid off nearly $100k of debt and is on her way to financial independence. She hosts a
Podcast
and is obsessed with tracking her money saved via the free app
Personal Capital
(although she won't tell you what it is). She loves her dog and drinks iced coffee year round. She also is the creator of
The Side Hustle Course
where she teaches people how to sell printables on Etsy and blog.
Latest posts by Millennial Boss