I did some research on DIY wedding flowers and decided to go that route for our wedding.
Working with a florist did not fit in our wedding budget and I was excited to do our own flowers!
Spoiler alert: The flowers came out great!
My DIY Wedding Flower Plan
I planned to create the following floral arrangements for our wedding.
1 Bridal Bouquet
5 Bridesmaids Bouquets
14 Centerpieces with assorted flowers
Assorted flowers for a fireplace mantle and side tables
I didn't want to spend a fortune on flowers.
Every quote I received from a florist was between $1,000 to $2,500.
I figured if I could do them myself, I could do them for much less.
Where to Buy Flowers to Make Your Own Bouquets
I wanted to buy wholesale flowers to avoid the premium added on by florists.
I did a bit of research and found the following places sell wholesale flowers.
Local Flower Markets – I heard about a great local flower market in San Francisco that sells wholesale flowers. Unfortunately, our wedding is on the East Coast and the wholesale flower market in the nearest city is trade only.
Sam's Club – You can get flowers for less than a dollar per stem at Sam's Club. Wholesale flower prices are often discussed in terms of price per stem. Sam's Club has great deals on roses and baby's breath and you can order online.
FiftyFlowers – FiftyFlowers is an online wholesale delivery service. I chose to go with FiftyFlowers because the price was still low and they offered the gorgeous flowers I wanted.
Exactly What Flowers I Bought and How Many
We went with the Burgundy Blush DIY Wedding Flower Pack from FiftyFlowers in Medium.
I also bought a small greenery pack in addition.
The Burgundy Blush DIY Wedding Flower Pack comes with eucalyptus but I wanted to buy extra greens so that I could get more out of my order.
Stuffing your bouquets and centerpieces with extra greens is a way to save money and still create a beautiful look.
This pack came with over 200 stems and was enough to handle my entire wedding.
I was tempted to go with the Large pack but I was trying to do the flowers under $500.
The Medium pack plus the extra greens was enough to do everything I wanted to do.
When To Get the Flowers Delivered
FiftyFlowers provides a recommended timeline so you know when to get the flowers delivered to keep them fresh for your wedding.
In general, they recommend delivering flowers on a Wednesday for a Saturday event.
This recommendation differs by flower.
For example, the Secret Garden roses I ordered should be delivered two days prior to an event but the carnations should be delivered three days prior.
Luckily, FiftyFlowers customer service personally calls you after your order to confirm the delivery date.
I decided to get everything delivered two days prior to the event and was told I can put the carnations in warm water to open them up sooner.
What To Do When the Flowers Are Delivered
The flowers are super dehydrated when they are delivered so you have to put them in water immediately.
You can use buckets similar to the orange ones you see at Home Depot and fill them with four inches of water.
The flowers need a lot of water to open up and bloom further.
You also need to strip the flowers of any leaves below the water line and thorns.
I bought a few pairs of cute but cheap gardening gloves
 so that my bridesmaids can help me.
I also bought two pairs of these pruning shears
 since you shouldn't use regular scissors on floral stems.
You need to cut an inch or two off the bottom of the stems at an angle to allow for optimal hydration.
How to Arrange Flowers for Centerpieces and Bouquets
I'm no florist but I came up with a pretty good plan to create my own bouquets and centerpieces.
I narrowed down my favorite looks to a color scheme and shape.
I planned to use 15 stems each for the bridesmaid bouquets and 20 to 25 stems for my bridal bouquet.
I purposely bought the extra greenery pack so I could make the bouquets look more full without having to buy more flowers.
How to Create Your Own Bouquets
To create bouquets, you typically take four stems and wrap them with floral tape
 to create a base.
You then add stems around the base to create the bouquet.
I had to deviate from the original plan a little bit but I was thrilled with how the bouquets came out!
The last step is to wrap the finished bouquet with ribbon, burlap, or lace. At first I was going to go with a gold sparkly wrap
 but decided on burlap.
We used pins to secure the burlap.
I finished off the bouquets with a champagne satin ribbon.
How Much Help and Time Do You Need
My husband and I did the first step of removing the leaves below the water line and cutting the stems.
It took us about an hour to do 200 stems.
The next day, our two moms, my bridesmaid and her boyfriend, and my sister helped with the flowers.
I recommend getting a good amount of help but not having a huge group either. The group we had was perfect.
It took us about four hours total.
Most of the time was spent experimenting with different bouquet arrangements until we found one that looked good.
We didn't start early enough and were a bit rushed and stressed at the end trying to make it to the rehearsal dinner.
I recommend starting earlier in the morning. We started at 10AM.
How to Create Your Own Centerpieces
I was planning to create these elaborate centerpieces with floral foam but then I lucked out.
My caterer let me know that she had leftover centerpieces from previous weddings including vases in all shapes and sizes, candles, and lanterns in four different colors.
I was sold. By using her vases, lanterns, and candles, I could cut down on the amount of flowers I needed for the wedding and save myself time.
I still put a small arrangement of flowers in a vase on a few cocktail tables but nothing elaborate like I had planned prior.
If I had chosen to create my own centerpieces with floral foam, I would have purchased wet floral foam versus the dry floral foam.
By using wet foam, I would ensure my flowers stayed fresh through the wedding. Dry floral foam is better for fake flowers.
While I didn't use this approach, another money-saving tip is to alternate centerpieces at every table to cut costs.
How to Keep the Flowers Fresh Before the Wedding
The best way to keep your flowers fresh for your wedding is to keep an eye on them.
Change out the water if it becomes cloudy or gets sucked up too quickly.
You can also buy flower food to preserve the flowers longer.
My sister and maid of honor picked up 12 packets of flower food from a florist for $12 prior to the wedding.
Most online wholesale flower companies do not ship their flowers with flower food.
Most important of all – do not put the flowers in the refrigerator!
The refrigerators that florists use are actually at a higher temperature than your standard kitchen fridge.
Also, storing the flowers with fruits and vegetables in the fridge can actually harm the flowers.
How to Transport the Flowers to the Wedding Venue
Many brides spend forever arranging the flowers and then spend five minutes messing up their work by not properly securing the flowers before transport.
You can use the boxes that the flowers come in to transport the flowers by cutting holes (big X's) into the top of them, just wide enough to hold the flowers and vases.
More complicated floral arrangements might take a bit more securing prior to transport.
What You Need to Do the Day of the Wedding
We had the bouquets in a bucket with us while we were getting our hair and makeup done since we wanted the flowers to look fresh for the wedding.
The bridesmaids cut the stems of their bouquets and my bouquet that morning and the plan was to add the ribbons right before we left for the venue.
We all forgot to add the ribbons to the bridesmaids bouquets! Oops!
My bouquet did get a ribbon though which looked nice.
I also didn't have a concrete plan about how we were going to get the flowers to the venue the day of the wedding.
I figured one of the bridesmaids would be able to bring the flowers over to the venue. We were all running late though and didn't have time!
Our friend, who is marrying one of my bridesmaids, saved the day and brought the flowers to the venue.
I highly recommend delegating someone (who is not in the wedding party) be in charge of the flowers the day-of the wedding.
The wedding party and the bride and groom have too much going on.
I also recommend starting hair and makeup two hours earlier than you think you need to start.
Hair and makeup took much longer than I expected.
Total Cost to Do My Own Wedding Flowers
It cost me around $450 to purchase the flowers and materials to do my own bouquets and centerpieces.
I skipped the boutonnières and corsages since I figured they were not integral to the wedding.
Flowers are certainly not cheap but I saved hundreds and maybe thousands (although I never would have spent that much!) by skipping the florist and doing my own thing.
I'm so glad I chose the DIY flowers route.
Overall FiftyFlowers was awesome and I highly recommend them to any future bride.
Other posts in the Frugal Wedding Series:
How to Determine Your Wedding Budget
Choosing an Off Season Wedding
Saving on Catering and Photography
Minimizing Costs for Your Bridesmaids and Guests
Our $15,000 Game of Thrones Winter Wedding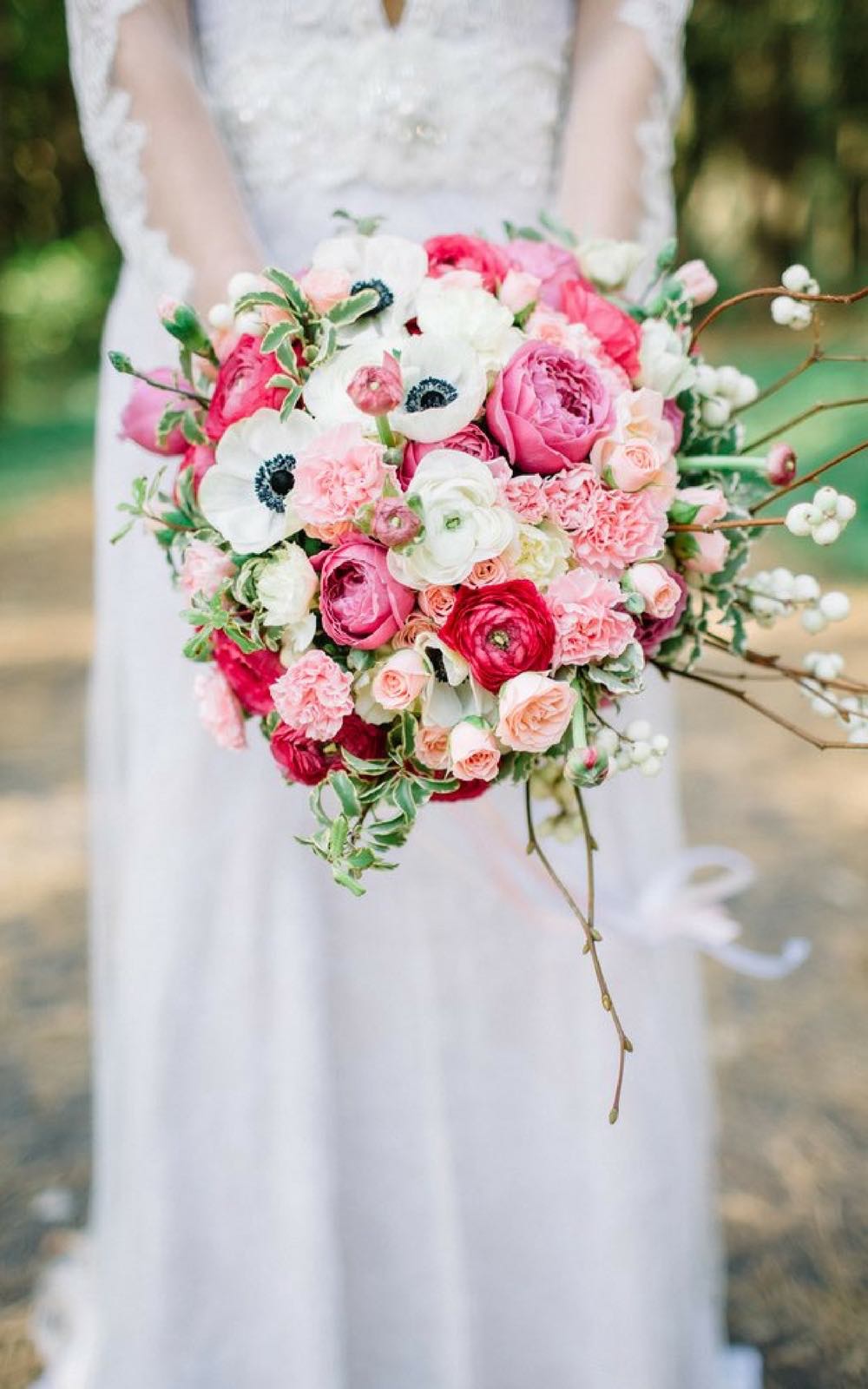 Did you make your own wedding bouquets or centerpieces? How did it go?
Get FREE Money Tips
Join our email list and receive helpful tips to improve your life and business