We crossed the $200k net worth mark this year.
It's hard to imagine that we've come that far in such a short time.
Just two years ago we had $89,000 worth of debt, a massive mortgage, a car payment, and credit card bills.
We even started 2016 with nearly $60,000 of that debt remaining.
Yet, we're ending the year with a $219,000 net worth according to Personal Capital!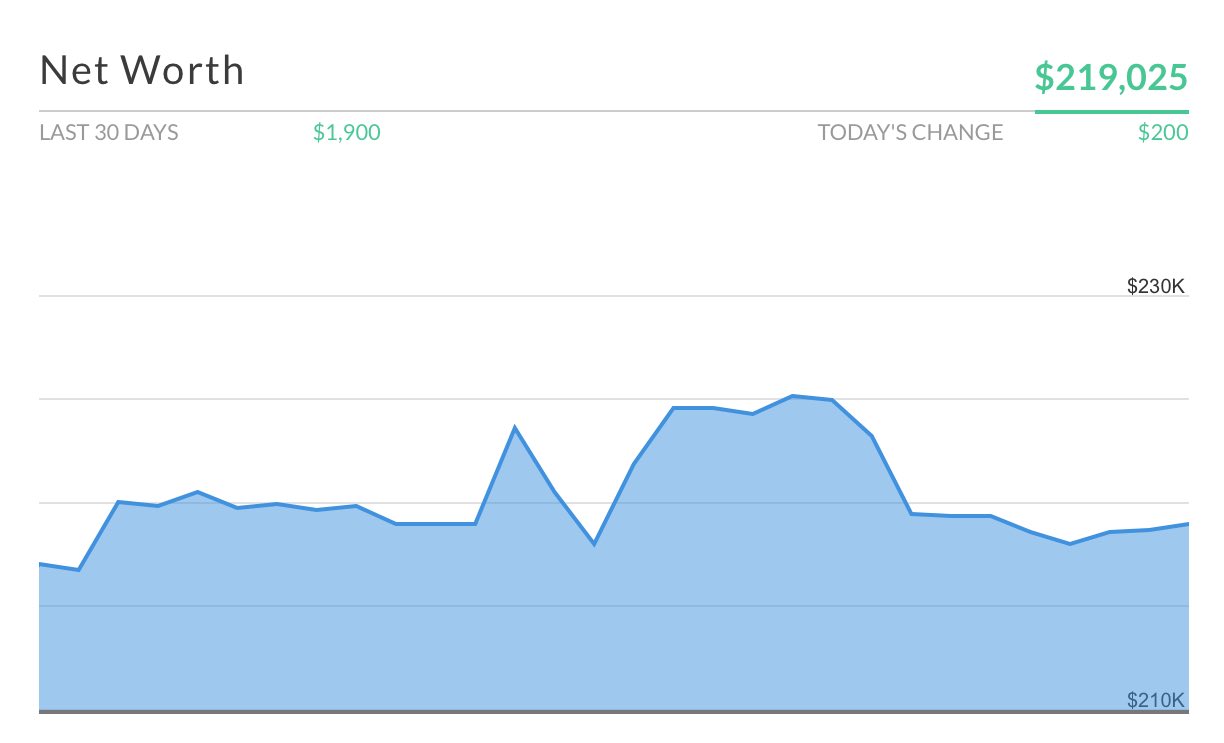 Note: This net worth number includes the equity in our home (which we know is fickle but chose to include). It does not include the value of our car. It also does not include the $6,000 I have put into the employee stock purchase plan at work. I will sell the stock when I am able to in 2017 and will include it then.
-> If you want to see what your net worth is, check out Personal Capital which is free to use.
I am amazed to see that number.
2016 was a CRAZY YEAR for us personally, as well as professionally.
Here are the personal, professional, and financial highlights that led to 2016 being a banner year for us.
We Paid Off My Student Loans
I started off 2016 with a small amount of student loan debt.
I was keeping my little over $1,000 of student loan debt since I thought it would help my credit score. It was my oldest account.
I then realized that a credit score was nothing more than a tool to get more debt. Thanks to Jeremy (Go Curry Cracker) for that realization.
I made the final payment towards my loans in late Spring.
We Paid Off My Husband's Student Loans
My husband still had just over $36,000 left of debt from his undergrad when we started the year.
He was lucky enough to work part-time for his school while getting his Masters and thus only had undergraduate debt.
I had just paid off my student loans and then I paid off my husband's student loans less than 30 days after mine.
Once he put a ring on it, I felt comfortable paying off his student loans.
I Took a New Job
I loved my boss and the team I managed, but I ultimately made the hard decision to leave my job.
I Sold My SUV
I had been reading about this whole one-car-thing on the internet and decided to give it a try.
After 2 years of having a 90 mile round-trip commute, I was ready to get rid of the car.
I gave the car a professional cleaning, painted over some scrapes, and wiped down the hubcaps to prepare the car for sale.
My SUV had depreciated like woah since I bought it but I cut my losses and sold it to a dealer.
I now walk and take a shuttle to work (15-minute commutes are the best!)
We Moved to the West Coast and Downsized
We left the Rocky Mountains behind and moved to the West Coast.
It was really hard to leave the friends we had made over the past 5 years, our beautiful home, and our lifestyle.
The West Coast is way more expensive, faster-paced, and less chill than where we had previously lived.
In good news, I sold $4,500 worth of our stuff on Craigslist when we downsized.
We now rent out our house and someone else pays our mortgage.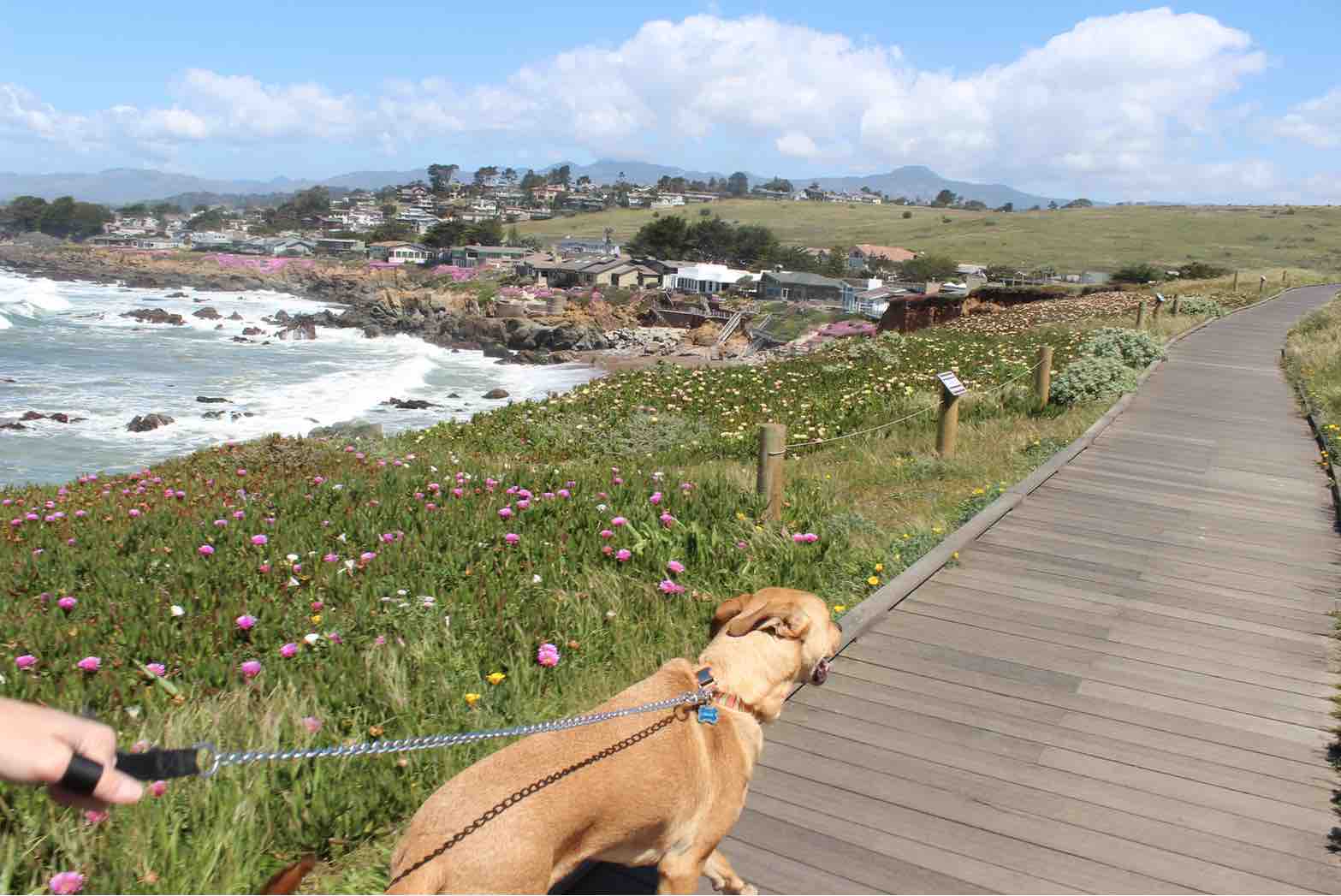 We Kicked Our Savings into High Gear
One of the reasons we were able to achieve a $200k net worth after paying off all this debt is because we had been saving for a few years prior.
While we never maxed out our tax-advantaged accounts, we did put away some pretty pennies in 2014 and 2015.
Yes, we still had massive debt at that time but we saved anyways.
Some would call that a mistake. I don't know what I would call it but it made it pretty nice to start from a non-zero number once we were debt-free.
We now save for retirement the boring way by socking away money in our 401(k)s, IRAs, HSAs, ESPP, Brokerage accounts, Betterment Account, etc.
Life is good.
I Finished My Masters Degree
I have been chipping away at this degree since 2014 and I am so excited to announce that I am done!
I wrapped up my last final two weeks ago.
Check out this post on how I hacked my graduate degree.
I Grew My Blog
I started this blog in 2015 to track my debt pay-off and it's grown tremendously.
I received nearly 40,000 page views last month which still blows my mind.
My goal is to get to 100,000 page views a month in 2017.


I truly believe that I held myself accountable to both my savings and debt goals because of this blog.
Posting about my progress every week has given me the kick in the butt I need.
At first I was afraid to blog because I didn't think I had anything else to add. I decided to just go for it though and I am so happy I did.
I also met some amazing people through this blog both online and in real life.
I'm also making money on the blog now. I'm up to a few thousand dollars in passive income per month.
-> If you're interested in starting a blog, I wrote a tutorial that might help you – How to Start Your Own Blog.
We Got Married!
Most importantly, I married my best friend in 2017.
In true millennial fashion, we had a Harry Potter/ Game of Thrones wedding and it was AWESOME.
I wrote a Frugal Wedding Series for the blog and most recently wrote about how we did our own wedding flowers. I think they came out pretty good for DIY!
It was such a great night!
I'm so excited for what 2017 has in store for us!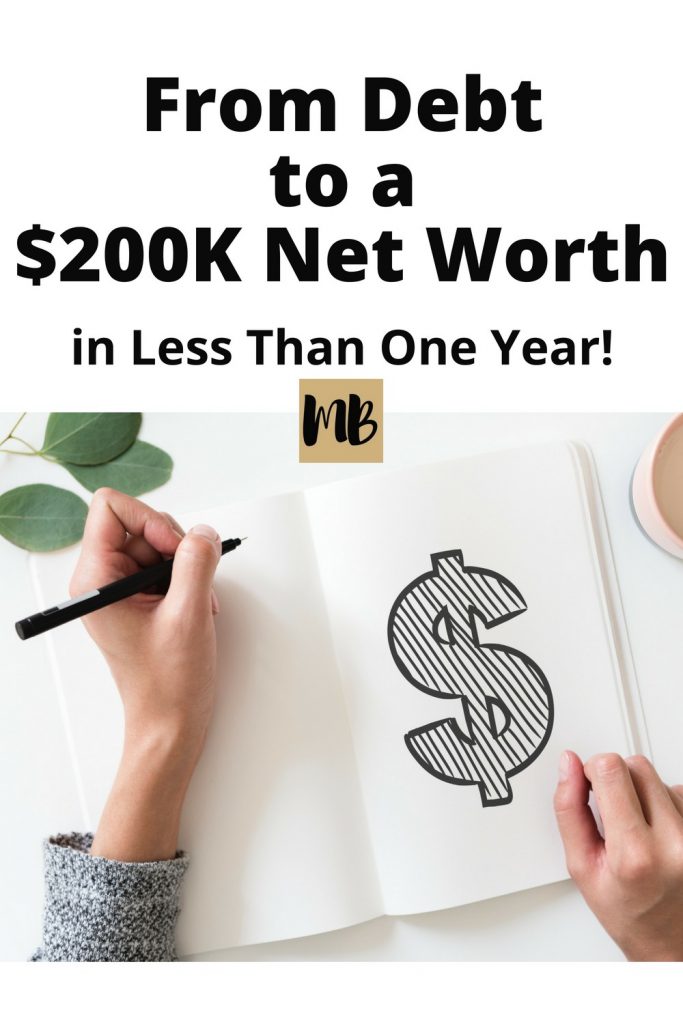 How did you do in 2016? What are your goals for 2017?

Latest posts by Millennial Boss
(see all)