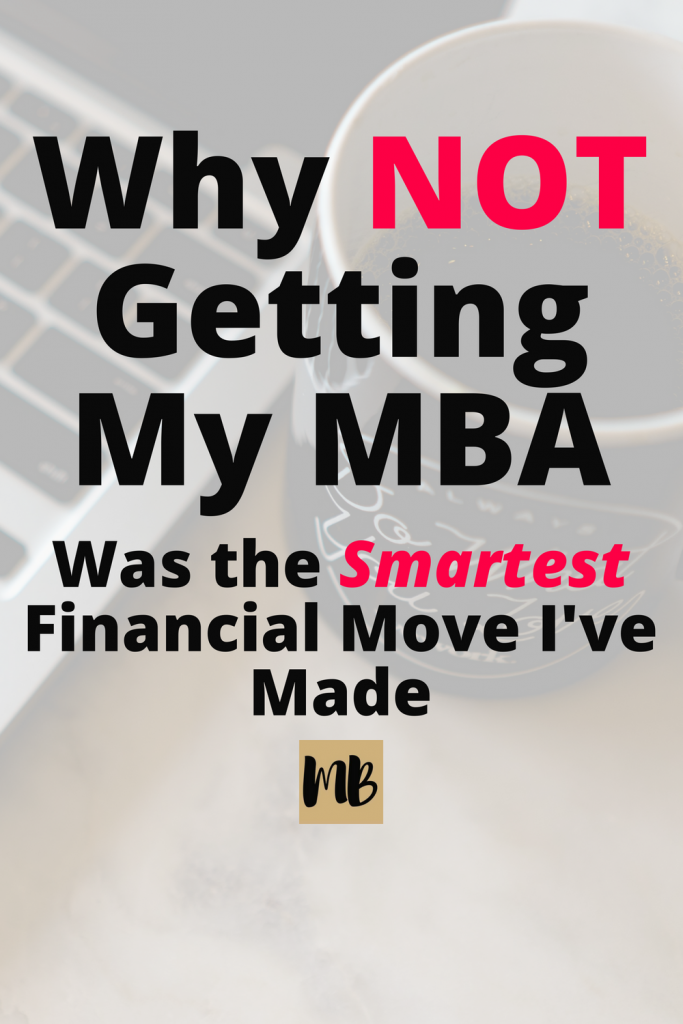 I used to fantasize about what it would be like to attend Harvard Business School.
I could see myself wearing Crimson and living in Cambridge.
I pictured exotic trips with friends, interviews with top consulting firms, and a big fat salary post-graduation.
In late 2012, I bought a GMAT prep book and was ready to buckle down and start studying.
Considering Student Loan Debt and the MBA
In early 2013, I started to acknowledge that I still had $20k+ in student loan debt from undergrad.
I was coming up on my two year anniversary of graduation and yet I had made little progress on my student loans.
One night I was googling student loan debt and came across Joe from No More Harvard Debt.
Joe was a Harvard Business School graduate who left school with over $100k of student loan debt.
He lived a life of expensive cars, meals, and dates until he completely transformed his life and paid off his debt in 10 months.
His blog tracks his debt pay off but more importantly, the personal growth he experienced in the process.
This blog influenced me greatly.
I was surprised to see what was behind the curtain in the life of a Harvard Business School graduate.
It was also the first time I thought about the $100k of debt I would take on by going to business school.
I decided to table my business school pursuits until I could get my undergraduate student loans under control.
I went into full on beast mode and paid off over $89,000 of debt in 18 months.
Realizing Technology Careers Rock
While I never saw myself pursuing a career in technology (my college major was Political Science), I fell into the field and I enjoyed it. I eventually led a team.
I started to realize that there were other ways to make good money and obtain a management position than getting an MBA.
Pursuing a Technical Degree
Now that I was responsible for leading a team, I wanted to have the credentials to back it up. I needed a more technical degree.
While I don't regret getting a liberal arts degree, I definitely see the value in getting a technical degree.
When I look at schools with the top return on investment, I see schools such as Colorado School of Mines and Georgie Tech top the list.
I started researching graduate programs in Computer Information Systems.
Going Part-Time to Minimize Opportunity Cost
If I took my salary and projected raises for two years, then added the cost of school on top of that, I was looking at a loss of nearly $300,000 to go back to school.
I can think of 100 better things I could do with $300,000 (like invest-ha!)
I decided to apply to a part-time program.
It was definitely the right choice for me.
In the two years that I would have been in a full-time program, I doubled my salary and received two more promotion opportunities.
Related: How I Went From $60K in Debt to $200K Net Worth in 1 Year
Finding the Right Part-Time Program
At first, I planned to apply to a program at a local university.
Except the school wasn't thrilled about accepting a student with a non-technical undergraduate degree into the program.
After a harsh call with the school, who said "I wouldn't be able to handle the rigor of the program," I had to come up with a plan B.
(This conversation upset me greatly. I don't like when others place limits on me).
It all worked out in the end though.
My plan B was an online program at a good school.
As a bonus, the program did not require the GRE or the GMAT for admission. I saved countless hours of prep and money.
My Fears About an Online Program
At first, I was hesitant to apply to an online program, especially one without strict admission criteria, because I thought it didn't "look as good" as a full-time program.
My fears turned out to be untrue.
Education is changing and online programs are gaining respect and acceptance.
My degree has added greatly to my resume.
The degree has helped open doors for me.
Maximizing Tuition Reimbursement
Many employers offer $5,250 worth of tuition reimbursement each year.
If you switch jobs in a year, you may be able to collect $5,250 from each employer.
Overall, I received nearly $20,000 in tuition reimbursement over three years.
I've also waited to submit my Fall tuition reimbursement until January of the coming year, which is another saving tip you can use to maximize tuition reimbursement.
I'll be eligible for another $5,250 for 2017 which will bring the total to around $25,000 total reimbursement for the degree.
Related: How I Saved $26,000 in 7 Months
Tax Deductions on Top of Tuition Reimbursement
I did not quality for the American Opportunity Credit (since I was in grad school versus undergrad), the Lifetime Learning Credit (my income was too high), or the Student Loan Interest deduction (my income was too high).
I could have figured out how to use a 529 for my own education but didn't research that option at that time.
Since my first employer only reimbursed 80% of  my tuition, I could though deduct the 20% of tuition I had to pay out of pocket as work-related expenses.
There are certain criteria that need to be met in order to deduct the expenses as work-related such as my employer not requiring the education for the job and meeting a certain percentage of overall income.
Check out the IRS Guide on Tax Benefits for Education for additional detail on the options available to students.
Choosing Classes with My Wallet
I also found a way to lesson the cost of the degree by making strategic course choices.
I noticed that some math and other foundational courses billed at a lower rate than the other graduate courses.
I switched concentrations mid-degree so that I could take advantage of the lower rates.
I also requested and ultimately got a more expensive required course waved (by demonstrating that I had equivalent work experience to the course) and replaced it with a less expensive course.
I chose cheaper electives where I could.
I still learned a good deal in those "cheaper" courses and don't think I missed out by not choosing the more expensive courses.
Do I Regret Not Getting My MBA?
In no way do I regret not getting my MBA.
It's been over 5 years since I graduated college and in that time, I've achieved the professional and financial success I hoped for at graduation.
I've seen many acquaintances from undergrad pursuing their MBAs and going on jealousy-inducing but crazy expensive networking trips. I was able to achieve a post-MBA salary without the cost of tuition, expenses or the opportunity cost of pausing my employment.
As I've discovered through travel rewards, there are many ways to get to the same result.
I don't doubt that MBAs help people get ahead, it just wasn't necessary for me to get an MBA to get ahead.
I just finished the last course in my program earlier this month and will graduate with my M.S. in January.
Are MBAs Worth It?
In an age where the internet has made it easier than ever to actually learn and pick up new skills, many people are questioning whether an MBA actually holds that much value. In the old days it was something that you could use to signal to a potential employer that you had credentials and certain knowledge.
Now, there are other ways to demonstrate to an employer that you can provide value to them. For instance, I often recommend to millennials that working on side projects is actually one of the best ways to get your resume to stand out from the crowd when applying for a job.
The reasoning is simple: Very few people actually work on side projects. By working on one, you can demonstrate to an employer that you are able to take initiative and build something from scratch purely out of your own discipline and curiosity.
It used to be the case that earning certain degrees were the only way to get past the gatekeepers at jobs. Nowadays, thanks to the internet, it's possible to pick up new skills and build things without getting a formal degree.
At the end of the day, you want to be able to convey to an employer that you can be an asset to their company. It seems that there are better (and cheaper) ways to do so besides getting an MBA.
Do you have any tips on hacking your education? Are MBAs worth it?

Latest posts by Millennial Boss
(see all)