Happiness quotes for her
I'm wearing the smile you gave me.

Be the energy you want to attract.

Quiet your mind, free your body.

Good energy is contagious.

My grandmother is in her 90s and she put the following Ralph Waldo Emerson quote in one of my birthday cards one year.
The purpose of life is not to be happy. It is to be useful, to be honorable, to be compassionate, to have it make some difference that you have lived and lived well. – Ralph Waldo Emerson
She was born right after the Great Depression so I can understand how her generation might have a different perspective than millennials on happiness.
It does provide some food for thought though. Is the purpose of life to be happy?
If you are convinced, then here are some more quotes.
More Happiness quotes images for Pinterest
Focus on the good.

Whatever makes your soul happy, do that.

There is sunshine in my soul today.

Positive quotes for happiness
I smile a lot more since we met.

You glow when you're happy.

As long as you're happy, who cares.

Happiness is a habit. Practice it.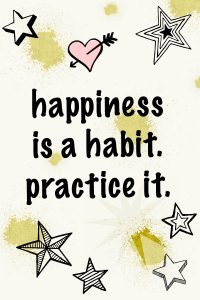 I've always found that focusing on the good and staying busy are the keys to happiness for me.
Studies show that having at least 5 close relationships and being active in the community are also happiness boosters.
That makes sense since I've found that spending time with family and friends improves my mood greatly.
These things may seem silly but I've also found that the following daily habits improve my mood:
A big, cold glass of iced coffee in the morning
A few squares of chocolate after a meal
Hugs
Knocking a few things off of my to-do list
I also get a happiness boost by:
Petting my dog
Going for a 20-minute walk
Seeing the ocean
I don't know why but every time I see the ocean, I get a sense of calm rush over me.
My dream is to own a waterfront property one day.
Sometimes it only takes a few minutes to get a little boost.
More posts with inspiring quotes:
What are your favorite true happiness quotes? What makes you happy?
Share in the comments below.

Latest posts by Millennial Boss
(see all)