According to Psychology Today, a big part of starting your day right is setting your intentions. And what better way to set your intentions than going through some inspiring work ethic quotes?
Here are some awesome quotes about hard work to make sure you're in the right state of mind in the mornings.
Work Ethic Quotes to Motivate You
Here are some quotes about hard quote from famous people to motivate you.
"Talent is cheaper than table salt. What separates the talented individual from the successful one is a lot of hard work." ― Stephen King

"Satisfaction lies in the effort, not in the attainment. Full effort is full victory." ― Mohandas Gandhi

"If you have built castles in the air; your work need not be lost; that is where they should be. Now put the foundations under them." ― Henry David Thoreau

"Three rules of work: 1. Out of clutter, find simplicity. 2. From discord, find harmony. 3. In the middle of difficulty lies opportunity." ― Albert Einstein
What we can learn from these quotes is that it's about the journey and not the destination when it comes to hard work.
Victory feels more rewarding when we have to put a little sweat equity into it, right?
Although, if a few quotes can make the journey easier, I'm all for it.
In my personal life, I have paid off over $100,000 of debt so I know something about motivation. My husband and I packed up our lives and moved to a new state so that we could accomplish our goal…and we did!
Motivational quotes helped us throughout the process and when things got really hard.
Here are some of my favorite work ethic quotes that are not from famous people.
I recommend writing these down in your journal or putting them on a sticky note on your mirror.
Best Quotes about Work Ethic
1. Remember why you started.

Everyone always says that figuring out 'your why' is the key to achieving your goal.
Why do you want to achieve this goal? What are you willing to sacrifice in order to achieve the goal.
Quotes about Motivation
2. Difficult roads often lead to beautiful destinations.

This is easier said than done but sometimes the most difficult paths reap the most beautiful results. Don't get discouraged if it's not a straightforward, easy path to your goal.
3. Make today so awesome that yesterday gets jealous.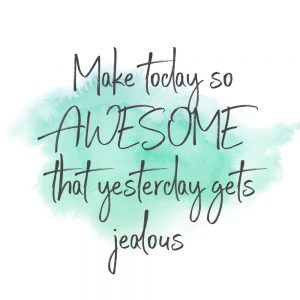 Every day is a new day. When you wake up tomorrow, you have to start from scratch working hard towards your goals.
It's like hitting the reset button each day or having to start over in a video game.
The big picture though is that all of your little wins each day will add up to a big win in the end.
4. Three months from now, you will thank yourself.

Sometimes I like to imagine what future me will think about what I'm doing now. Future you doesn't want you to give up on this goal!
Quotes about Hard Work
5. You get what you focus on, so focus on what you want.

I really do believe in the power of visualization. Many professional sports teams and Olympic hopefuls use visualization in their training.
This means that you can see yourself at the end of your journey achieving your goal.
6. Tell me I can't, then watch me work twice as hard to prove you wrong.

I hate naysayers but you're always going to face them. Don't let them throw you off your path.
The saddest part is when the people who aren't supporting you are your friends and family. Sometimes you have to be willing to be misunderstood for a bit because you know the greater goal is bigger.
7. Don't decrease the GOAL, increase the EFFORT.

Use this quote when you really need to hustle hard!
Related Posts:
Quotes to take Action Now
8. The distance between dreams and reality is called action.

I listen to a lot of podcasts and have been for years. Recently, I've been taking action based on what I'm hearing in the podcast instead of just listening for entertainment.
I try not to keep filling my brain with new information so I don't get overwhelmed. I take action on the first things I learned.
Are you taking action or just consuming information?
9. You are what you do, not what you say you'll do.

Actions speak louder than words. I think we all know this one!
10. The way to get started is to quit talking and begin doing.


Again, it's all about taking action. Every week record one small win in a notebook and after a few months, you'll have made so much progress.
11. We cannot become what we want by remaining what we are.

It's really difficult to let go of some of your identity to become who you were meant to be. Don't be afraid though because the people who loved you then will love the new you now.
Quotes for Discipline
12. Discipline is the goal between goals and accomplishments.

It's all about routine, really. Set good habits every day and you can repeat your day over and over until you get your result.
13. Through discipline comes freedom.

I had never heard this quote before and I think it's one of my favorites. Discipline is usually seen as a bad thing but actually, it's freedom because it allows you to achieve what you want to out of life.
14. Discipline is doing what needs to be done, even if you don't want to do it.

This last one may be a little too real, right? The greater goal is bigger than the small inconveniences each day! Good luck achieving your goals!
PS – I've started to share the occasional inspirational quote on my Instagram. Follow me @millennialboss for some daily inspiration.
Related Inspiring Quotes:
By starting the day right with an inspiration quote, you can improve the chances that your entire day will go right.
How do you motivate yourself in the morning? Let us know in the comments!