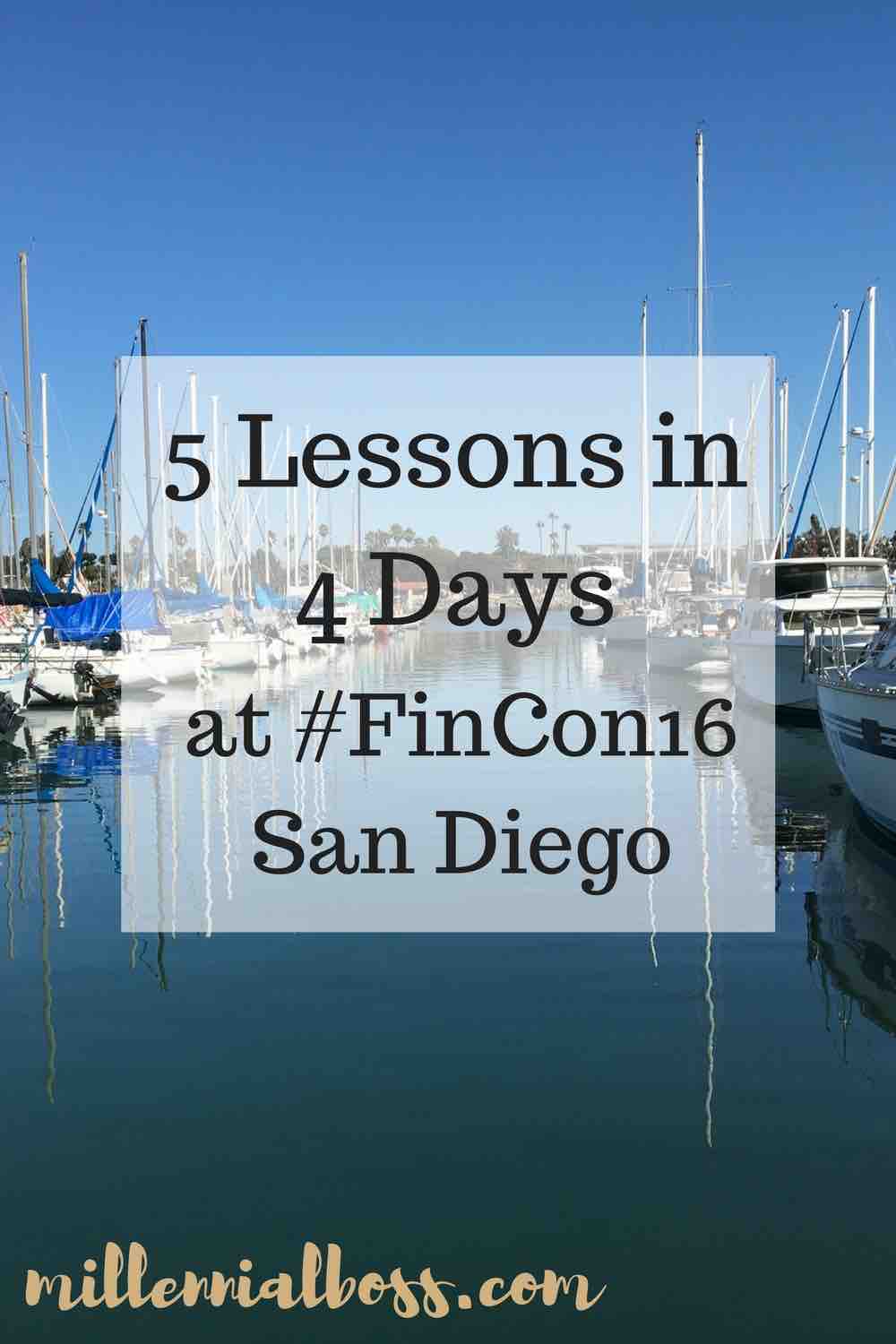 I'm having trouble adjusting back to normal life after spending four days with some of the smartest, most inspiring people I've ever met at FinCon 2016 in San Diego.
If you don't know this already, FinCon is a financial conference where thousands of personal finance bloggers get together and talk about money hang out and have a great time.
If you're on the fence about attending FinCon 2017 in Dallas, read this review of FinCon 2016.
PS – I attended FinCon 2017 in Dallas and it was amazing.  I will be attending FinCon 2018 in Orlando.  Join me here and learn more about the tickets & cost with this link.
5 Lessons from 4 Amazing Days at FinCon
1.  If you want to achieve extraordinary things, surround yourself with extraordinary people.
My trip started on Wednesday night when I arrived to the houseboat Gwen from Fiery Millennials, Jeremy from Go Curry Cracker, and I rented off of Airbnb.
The marina was within a five minute walk to the conference hotel and was the best decision we could have made for FinCon accommodations. We saved hundreds by going with the houseboat and also had access to a kitchen and a sweet rooftop deck where we hosted small gatherings parties each night.
Jeremy brought his wife, Winnie, who is not only a talented blogger too but is also an amazing cook, as well as his son, Julian, who is the cutest thing ever.
Our Next Life, Noah and Becky from Money Metagame, and the Madfientist couple, were some of the awesome FIRE folks I got a chance to hang out with on the houseboat along with many other bloggers and spouses.
I had met Jeremy and the Mad Fientist at the Chautauqua in Ecuador where I first experienced how motivating it is to be surrounded by people who have achieved exactly what I want to achieve. Both GCC and MF retired in their thirties after saving aggressively for many years. They now have the freedom to travel the world and pursue whatever they want in life.
Conferences like FinCon help connect likeminded individuals and help reinforce what some would consider extraordinary views of the world.
Even though I'm exhausted from not sleeping and hanging out with all of these crazy amazing people, I feel more energized than ever to achieve my goals.
I recently paid off $89,000 of debt and started aggressively saving (I saved $26,000 in the first seven months of this year). After FinCon, I'm going to make some tweaks and bump up my savings rate to shave a few years off my timeline to FI.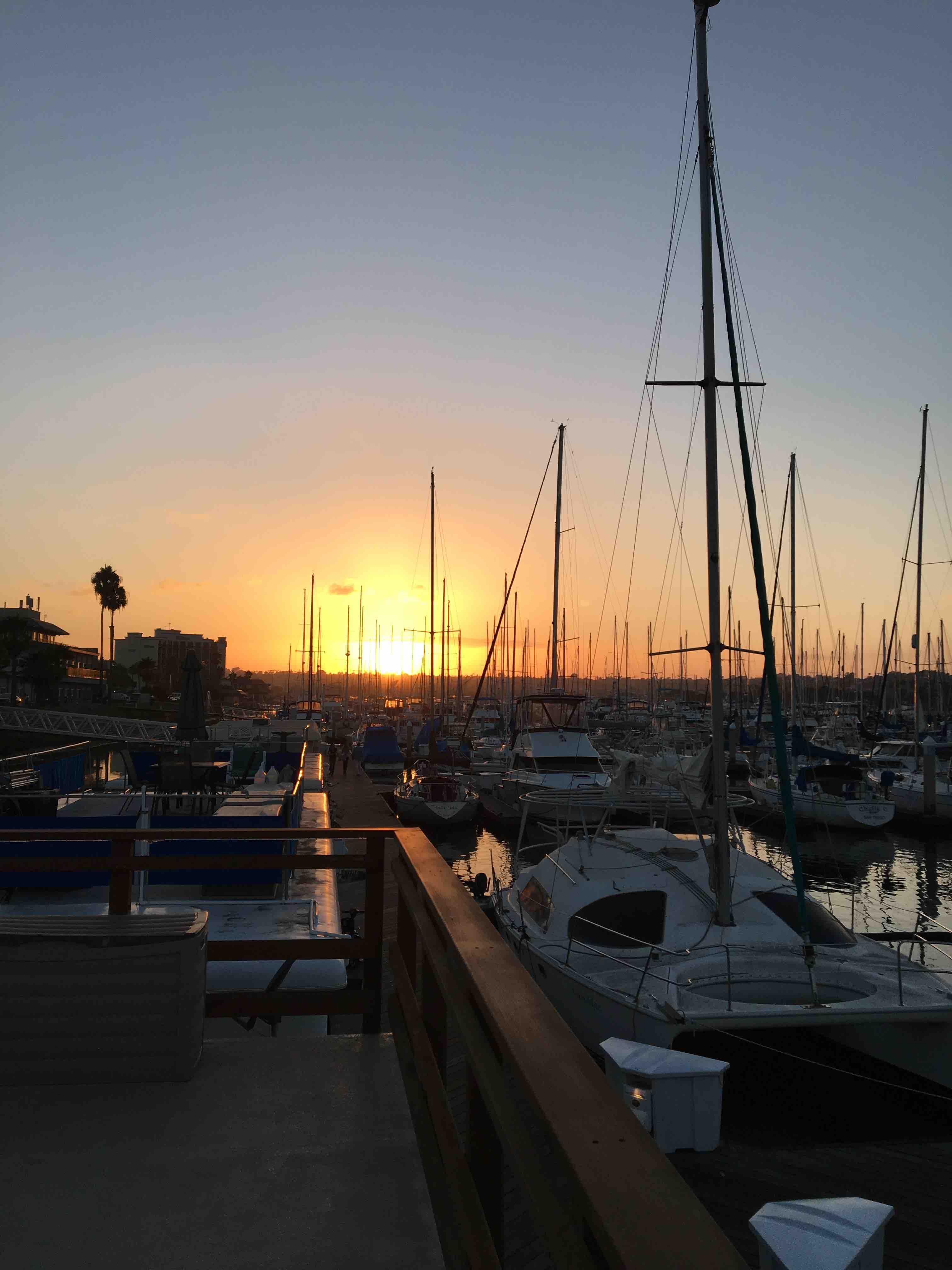 If you're not signed up yet for Airbnb, use my Airbnb link and get $40 towards your first trip and I get $35 towards my next trip. Everyone wins?
2.  Sometimes you have to take a leap of faith.
One of the conversations that really stuck with me was a chat that I had with Bobby from Millennial Money Man, Kate from Cashville Skyline, and Erin from Broke Millennial. All three recently made the switch to entrepreneurship and we were talking about how scary it is to take that plunge.
All three said they were nervous when they took the plunge but it has been the best thing that has happened to them. It was inspiring to listen to their stories.
FinCon is all about drawing advice and inspiration from other people with crazy impressive goals.
3.  Remember why you started in the first place.
My favorite presentation of the conference was the one on Multiple Intelligence Theory by His and Her Money.
The main point of their talk was that as financial bloggers, we have to remember that people learn in all different ways and that reading blogs is only one of those ways.  If we truly want to help people improve their finances, we have to put out content that appeals to visual learners too.
There are so many people out there who can benefit from this information and we owe it to them to get on video (YouTube, Periscope, Facebook Live), as uncomfortable as it may be for us.
I'm personally a little scared of putting out video content since 1) I'm sort of anonymous and 2) I don't like to be on camera. I think I might take the first step towards video though and start a podcast. I talked to a few people about starting a podcast at FinCon so be on the lookout!
It also must be mentioned that the His and Her Money couple gave me major #relationshipgoals. If you haven't seen them talk, check out their podcast and videos. They are hilarious and have so much energy.
4.  Be willing to put in hard work.
I attended Zac Johnson's talk on monetizing your blog and was very impressed. He made a boat load of money during the Myspace days through advertising on a website he created to help people personalize their Myspace pages. He now teaches people how to make money online with affiliate marketing.
The best thing about Zac though is that he has a no B.S. approach to his success. He mentioned that the difference between people who succeed and people who fail is just the willingness to put in the work. He also gave me some pretty great tips to grow my audience in the Q&A at the end of the session.
Zac seems like a really smart and down-to-earth guy (despite the $300k check he got from Yahoo) and I was lucky enough to meet his wife after the session and she is super nice as well.
5.  Find influencers and put yourself out there.
Gwen from Fiery Millennials is one person you need to know. As she mentioned in her review of FinCon, we spent 3 days hanging out, watching sunsets and sunrises on the boat, meeting our favorite bloggers, and learning together. She is on the path to FI too and has an impressive $100k net worth at 25 years old.
Gwen is also super friendly and organized many of the houseboat parties. We all appreciated her outgoing personality since she brought so many of us together. Thanks, Gwen!
Erin from Broke Millennial is another new friend of mine and influencer in the personal finance space. We met up for coffee and found that we had many commonalities professionally and in our personal lives.
Erin made a few introductions for me at the conference and helped me get to know other bloggers outside of the FIRE world. She also is a great sounding board for ideas and has recently landed a book deal! So excited to read her book when it comes out next year and to see her again in Dallas!
If I could give you one recommendation for FinCon 2017, it would be to talk to everyone. Meet as many new people as possible and put yourself out there. If you need a little help, find an influencer and ask them to make an introduction. Everyone is so friendly and there to meet new people too so don't be shy.
It was so fun hanging out and learning with all of these bloggers at FinCon 2016. I can't wait to see everyone next year! In fact, I already bought my ticket.
Related: From $60k in Debt to $200K Net Worth in 1 Year
Related: How to Start Your Own Blog or Website
Are you attending FinCon 2017 in Dallas?  Hope to see you there!

Latest posts by Millennial Boss
(see all)