My husband and I paid off over $65,000 in student loans combined.
At first, we tackled my loans, then his loans, and then recently I started helping my parents pay off the Parent Plus loans they took out for my education.
$65,000 is ALOT of money.
Until we decided to aggressively tackle our loans in 2015, we were paying 6.8% interest to avoid the problem.
Two years later we've since paid off all of our debt but we're left wondering, "was it worth it?"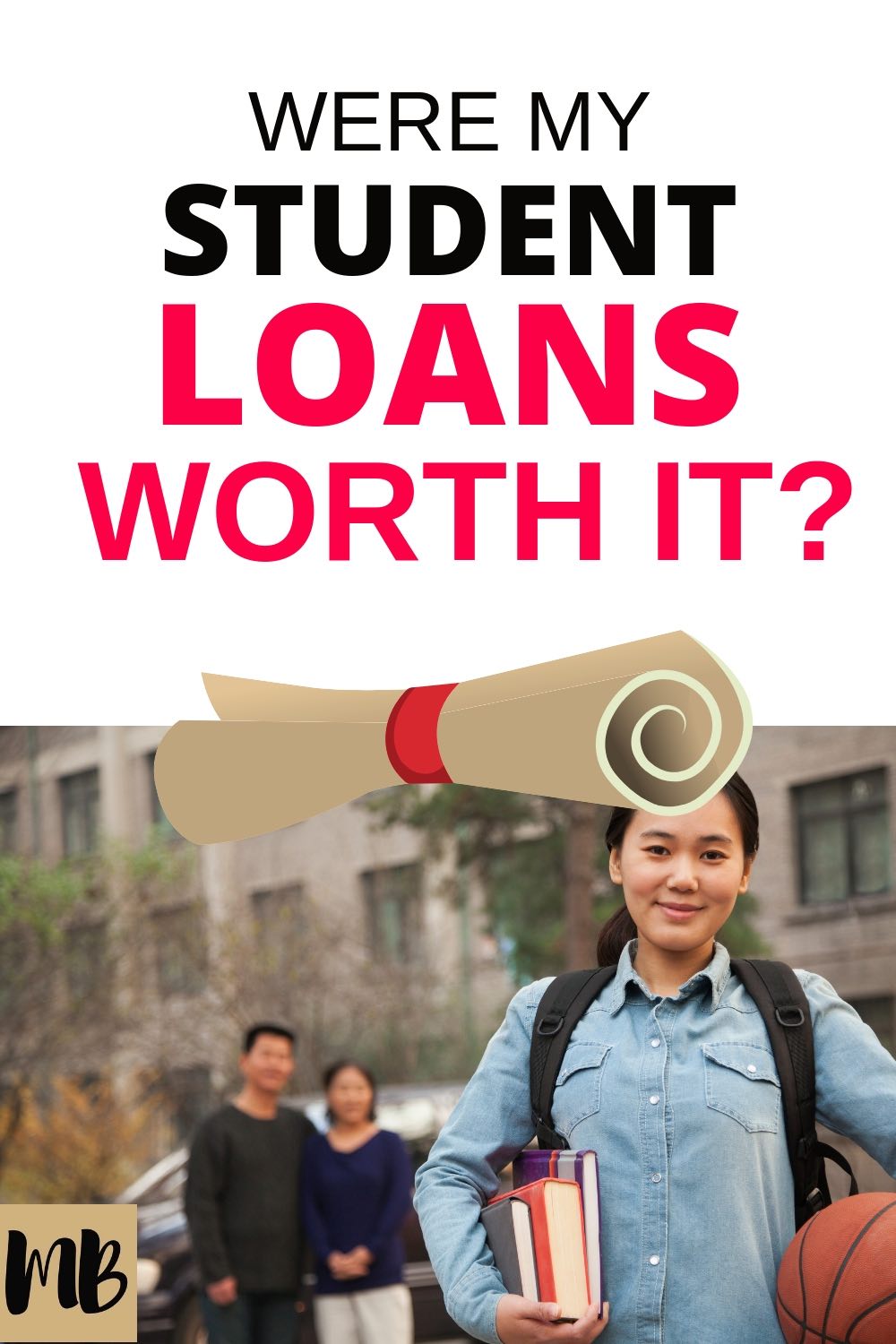 Does It Matter Where You Go To School?
I went to a fancy private school. One of the schools that makes it in the U.S. News Ranking of Best Colleges each year.
It has a large endowment and notable alumni and a low acceptance rate.
It has challenging courses and access to resources and a name that I was told would carry a heavy-weight on a resume.
Did it?
I have a good job now, yes, and there was a time when I got my first "big job" that my school was noted by a recruiter in the recruiting process.
It wasn't a shoe-in though that I would get a good job.
I was unemployed when I first graduated college and spent a few hard months learning that I needed to create my own opportunities and couldn't rely on the fancy name and good grades alone.
In my field, I see coworkers at the same level who went to state school. I see Managers and Directors who went to community college. I see others who don't have a college degree crushing it.
It's easy to look backwards and say that my success was because of my college but it wouldn't be 100% true.
Are Traditional Colleges Worth it Anymore?
I watched Shark Tank Investor, Daymond John, discuss why students shouldn't go to traditional college and I have to say I agree with him (with a caveat that I'm going to get to later in this post).
Here is the video: Daymond John suggests don't go to college
His point is that the workplace is changing and traditional education looks backwards instead of forwards.
The majority of students will retire from jobs that didn't exist when they were in school.
He believes digital courses are a better and cheaper alternative to college.
He finds the fact that 18-year olds can get $300,000 in loans to be ridiculous and so do I.
Related Post: Is an MBA Worth it Anymore? 
Why It's Messed Up That I'm Writing This Post
I feel like a horrible person for sharing these views on education. Here's why:
First, My Parents Chose My Education Over Their Retirement
My parents get so upset when I share my views on education with them so I don't anymore.
They took money from their retirement accounts to help pay my tuition and still owe thousands in Parent Plus loans for my sister's education.
My Dad will work well past 70 because of that.
They were sold the dream and it hurts them when I suggest that it wasn't necessary.
Related: Paying off my Parents Parent Plus Loans
Second, I Received A Generous Financial Aid Package From My College
I received a generous financial aid package from my college so I feel like a jerk for writing this post.
The school really commits to helping lower income individuals afford the school.
Third, I Opened my Worldview in School and Made Incredible Friends
I was able to study abroad, had incredible professors that impacted my thoughts on important topics and made great friends from all over the world.
It was an amazing 4-years for me.
I learned how to network from the other more-connected (and wealthier) students and they might have pushed me to achieve more.
It's hard to say whether that type of environment can be recreated without all being on campus.
What do you think?  Is formal education such as a 4-year college degree necessary anymore?
Related Posts:
How I Paid Off $89,000 Of Debt in 18 Months
Til Debt Do Us Part – Paying Off My Spouse's Student Loans
Helping My Parents With Their Parent Plus Loans

Latest posts by Millennial Boss
(see all)