It feels like New Years Day was just yesterday but we're already a tenth of the way through 2017! Crazy!
How are you doing on your 2017 goals?
To be honest, I'm crushing it in some areas and failing miserably in others.
Goals That I'm Failing On
Workout 200 Times This Year = NOT STARTED
I set a goal to work out 200 times this year and I haven't worked out once!
I just haven't made exercising enough of a priority this year.
I do have a 44 pound Cast Iron Kettlebell

that I keep in the corner of my apartment and everyday I do at least 30 kettlebell deadlifts. Sometimes if I get real crazy, I do swings.
I don't consider that a workout since it takes less than 5 minutes. It's better than doing nothing though.
Luckily I have more than 200 days left in the year so I can still hit my goal if I make the effort. And I plan to!
Schedule More Date Nights with My Husband = IN PROGRESS
My husband and I are addicted to personal development.
Our go-to date for the past four years has been sitting at a coffee shop, working on our blogs, or reading business books, or brainstorming ideas.
We don't really go on normal people dates like the movies or hiking.
One of my goals for this year is to carve out more time with each other where we can just relax.
This is easier said than done for us because we're always go-go-go and we have huge dreams.
We're working on taking time to relax.
Goals That I'm Crushing!
Continue To Further My Career = IN PROGRESS
I graduated with my Masters a few weeks ago, which was mostly paid for with tuition reimbursement. 
I'm now offering 1×1 career coaching to a small number of clients. Click here to learn more.
Pay Off My Parent's Parent PLUS Loans = COMPLETE
Last year, I found out that my parents were still paying Parent PLUS loans for my college tuition. 
For those of you who don't know what these are, Parent PLUS loans are federal loans that your parents can take out for your education.
Unlike direct student loans which have a cap, Parent PLUS loans can be taken out for the full cost of attendance.
Unfortunately, my parents started taking out Parent PLUS loans nearly 10 years ago when interest rates were at 9%. Ugh!
Since they took it out for my education, I had set a goal to help my parents pay off the rest of that debt ASAP.
Just tonight, I paid off the $6,900 of the loan that was left for my tuition.
I had originally hoped to help them pay off the full total but the remaining loans are for my sibling's education.
In the end, I decided to just pay off the $6,900 in my name for now and use the extra cash I have to create cash-flow that can help my parents out in later years.
I've now paid off nearly $96,000 of debt in total. WOWZA.
I also looked into refinancing their Parent PLUS loans into my name. I recommend SoFi if you have student loans that you're looking to refinance. We've helped hundreds of readers save thousands on their student loans by refinancing into paying a lower interest rate. I also know for a fact that SoFi lets you refinance Parent PLUS loans into your name since I asked them about that in 2016 when I was researching doing this.
Generate $18k in Side Income = IN PROGRESS
I set a goal to generate an extra $18k in side income this year.
$18k is the amount you can contribute to a 401(k) and I've consistently maxed out my 401(k) the last few years.
My husband no longer has access to a 401(k) so I want to help him out. I will hire him to help with the blog.
I'm killing it on this goal so far!
Just this January, I made nearly $800 in side income. Most of that money was from blogging. Check out my January side income report for all of the deets.
Even though I still have $17,500 to go, I'm confident with the pace I'm scaling that I'll get there this year.
I'm also offering blog coaching if you're interested in learning how I create passive income blogging. Sign up for blog coaching here.
I also have a physical product business that I plan to launch late February/early March which I hope will generate more passive income.
After hours of research, I made an order for a product and expect it to ship late next week.
My husband made an order for a different product and we're both going to launch our businesses together.
Moving Forward With 2017 Goals
Overall, I'm super psyched with my progress so far on 2017 goals. I've already saved over $10,000 in my retirement accounts and we're rushing towards early retirement.
For the next tenth of the year, I need to focus on improving my health, spending more quality time with my husband, and maintaining my current progress.
How are you doing on your 2017 goals? Are you 10% of the way done with most of your goals?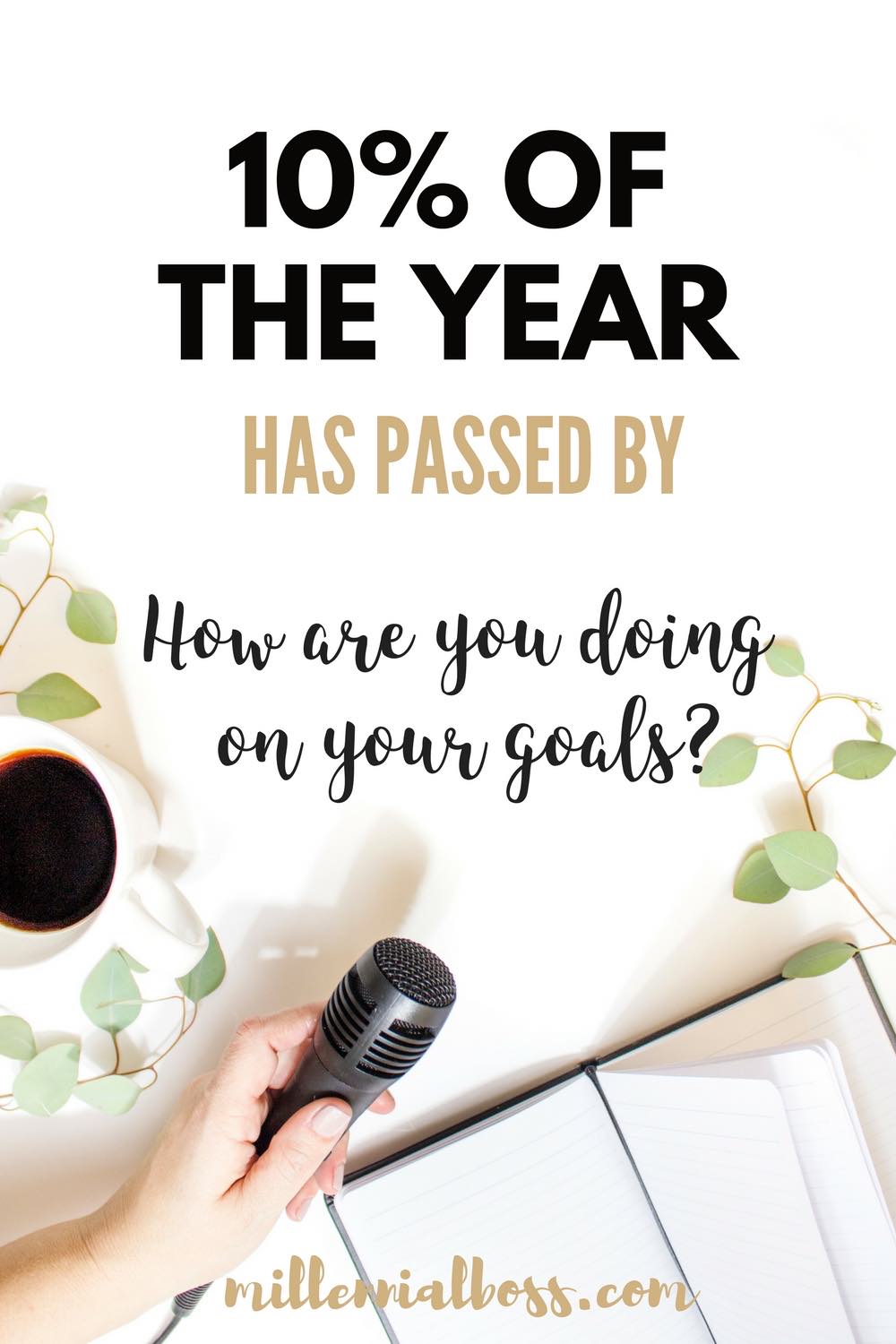 Latest posts by Millennial Boss
(see all)