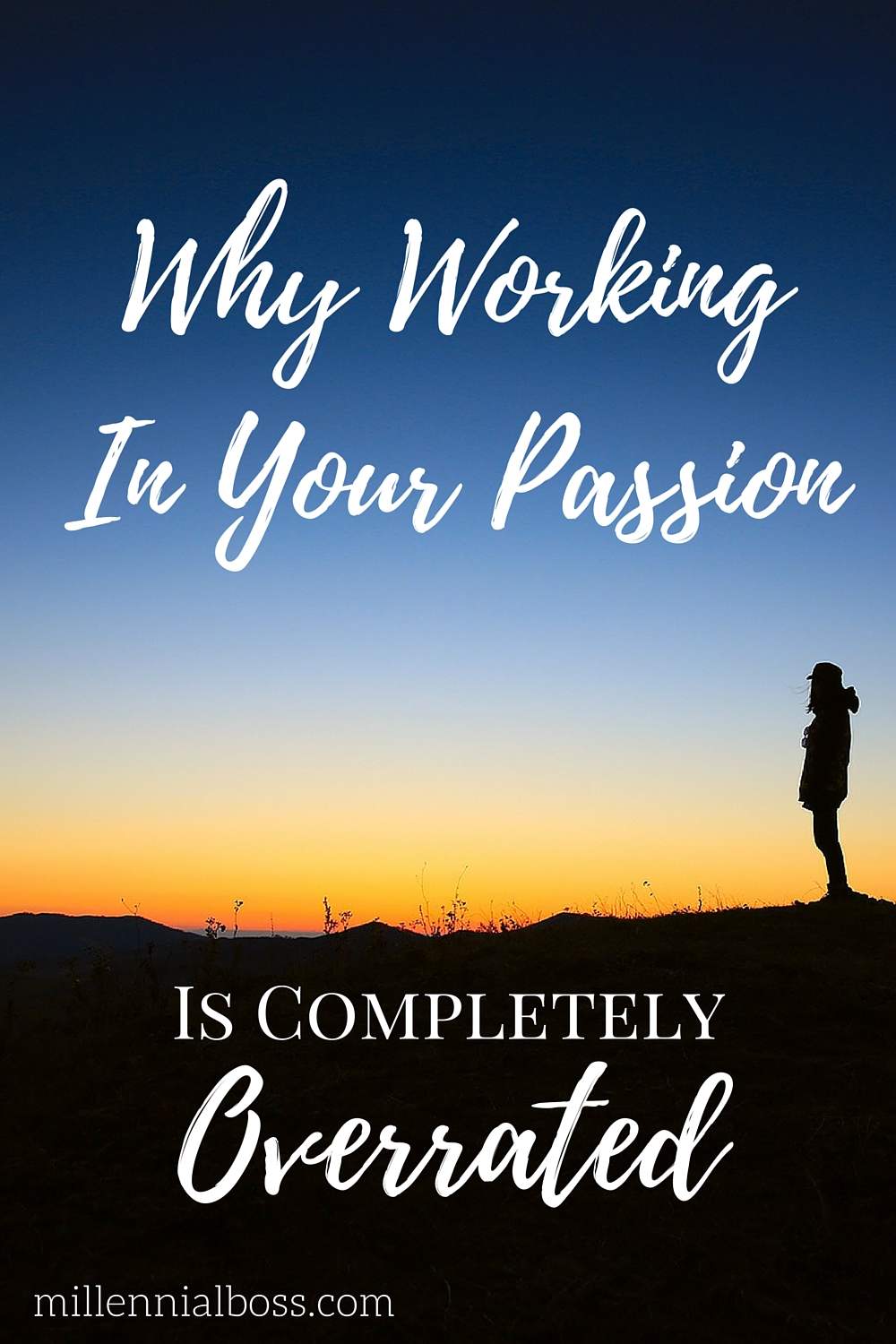 Series: The 5 Things No One Tells You About Work That Are Critical to Success.
Stop wasting time finding your passion
I grew up hearing that I should find my passion and pursue a career that I loved. I'm sure many of you received similar advice. When you love what you do, it never feels like work. Do what you love and you'll never work a day in your life! Sound familiar?
For me, finding my passion was easier said than done. At 18, I had no idea what I wanted to do.
I read books, I searched online, I talked to people in different fields. I took tests such as the popular "What Color is Your Parachute?" test.
None of these pursuits brought me any closer to understanding what it was I actually wanted to do.
I decided to kick off freshman year of college by taking pre-med classes. I knew I wanted to be successful and doctors were successful. Plus, the T.V. show House was very popular when I was entering college and it made being a doctor look pretty cool.
That quickly changed however when I worked at a hospital one summer and didn't love it like I hoped I would.
I then started taking political science classes which I seemed to enjoy much more than the pre-med classes. I made the leap and switched my major from biology to political science. It was fun learning about the world and other cultures. I learned different languages and studied abroad.
One summer I landed an internship in Washington, D.C.. Working around Capitol Hill was exciting but I quickly learned that politics weren't my passion either. I was bummed but still had time to figure things out. College was only half way through at that point.
I kept my major as political science but started to take more law courses. Maybe I could use my political science degree to go to law school. I interned at a non-profit and worked as a paralegal.
Some of the lawyers I worked with strongly encouraged me not to go to law school. They confessed that they were in massive amounts of debt and they didn't seem happy. I met other lawyers who also strongly dissuaded me from pursuing the profession. I eventually abandoned the law school plan too.
By the time I graduated college, I was depressed and felt disappointed in myself. I had tried out three different careers by that point and none made me feel like I thought I was supposed to feel about a career. I hadn't found my passion!
I kept thinking that someday I would find my passion and everyone around me kept encouraging me to keep looking for it. I was lost.
You don't need to work in your passion to be successful
Fast forward five years later and I still don't work in my passion – and I'm OK with that.
In fact, I'm thrilled. I work with cool people on interesting projects and feel financially secure.
I paid off $90,000 of debt and am now building my freedom fund to pursue my passions of travel, fitness, and the outdoors.
I did all of this by coming to the realization that work is work.
Once I got over the romantic notion that everyone should work in their passion, I picked a solid career and focused on moving up quickly.
I've accepted that my work doesn't always light me up and excite me. Work sometimes means spreadsheets, it means learning everything about topics that don't really interest me so that I can become an expert, it means occasional late nights, status meetings, and performance reviews. It means putting extra effort into the exact right places so that I can get ahead.
In hindsight, I wasted years of valuable time trying to find my passion when I could have been been building a strong resume and skill set that would have helped me move up more quickly in my field.
Instead, I have a resume of disconnected experiences that I've had to explain to recruiters and hiring managers.
I've learned to sell my unique background but it wasn't the easiest path I could have taken.
Overall, I don't regret not working in my passion at all. My happiness comes from family, friends, and new experiences.
Why "Follow Your Passion" is Overrated
In the book Tribe of Mentors by Tim Ferriss, three influential and success people share why "follow your passion" is generally bad advice.
The first person to share this sentiment is human rights activist Ayaan Hirsi Ali:
"I have seen so many former students in their late 30s and 40s struggling to make ends meet. They spent their time in college doing good rather than building their careers and futures. I warn students today to be careful how they use their precious time and to think carefully about when is the right time to help. Its  a well-worn cliché, but you have to help yourself before you help others. This is too often lost on idealistic students."
The second person is the Kevin Kelly, the founder of Wired magazine:
"Don't try to find your passion. Instead master some skill, interest, or knowledge that others find valuable. It almost doesn't matter what it is at the start. You don't have to love it, you just have to be the best at it. Once your master it, you'll be rewarded with new opportunities that will allow you to move away from tasks you dislike and toward those that you enjoy. If you continue to optimize your mastery, you'll eventually arrive at your passion."
And the third person to share that passion is overrated is Chris Anderson, the CEO of 3D Robotics:
"Many of us have bought into the cliché 'pursue your passion.' For many, that is terrible advice. In your 20s, you may not really know what your best skills and opportunities are. It's much better to pursue learning, personal discipline, and growth. And to seek out connections with people across the planet. For a while, it's just fine to follow and support someone else's dream. In so doing, you will be building valuable relationships, valuable knowledge. And at some point your passion will come and whisper in your ear, 'I'm ready.'"
To "pursue your passion" is not always a great idea. Instead, it's better to pursue experience, opportunities, and money. As you gain more of each, you'll step closer and closer to actually finding work you're passionate about.
Readers, what do you think about working in your passion? Is it overrated or something that should be pursued?
Save
Save
Save
Save

Latest posts by Millennial Boss
(see all)