This is the first part of a multi-post series: The 5 Things No One Tells You About Work That Are Critical to Success.
#1)  5% of the work you do actually matters
Consider this scenario:
There are two employees in the exact same position, Employee A and Employee B.
Employee A is extremely productive and flies through the items in their queue for the week. A is the recognized subject matter expert and is the heads-down, get-things-done type worker.
Employee B is not as quick at moving items through their queue and does not know the ins and outs of the position like A but B has the presence and the know-how to say the right things in front of the right people at the right time. B is recognized by management and put on the fast-track.
A is resentful that B gets so much credit when A is clearly the better person at the job.
A likely complains about office politics and favorites when B gets all the glory.
Does this scenario sound familiar to anyone?
It happens in offices across the country and it's due to the 5% rule.
What is the 5% rule?
I realized early in my career that 5% of the work I do actually matters. (And when I say matters, I don't mean matters for the good of society, I mean matters for getting promotions, raises, and so forth).
Think about your workload as an iceberg. 5% of the mass is above the surface and the majority is below the surface.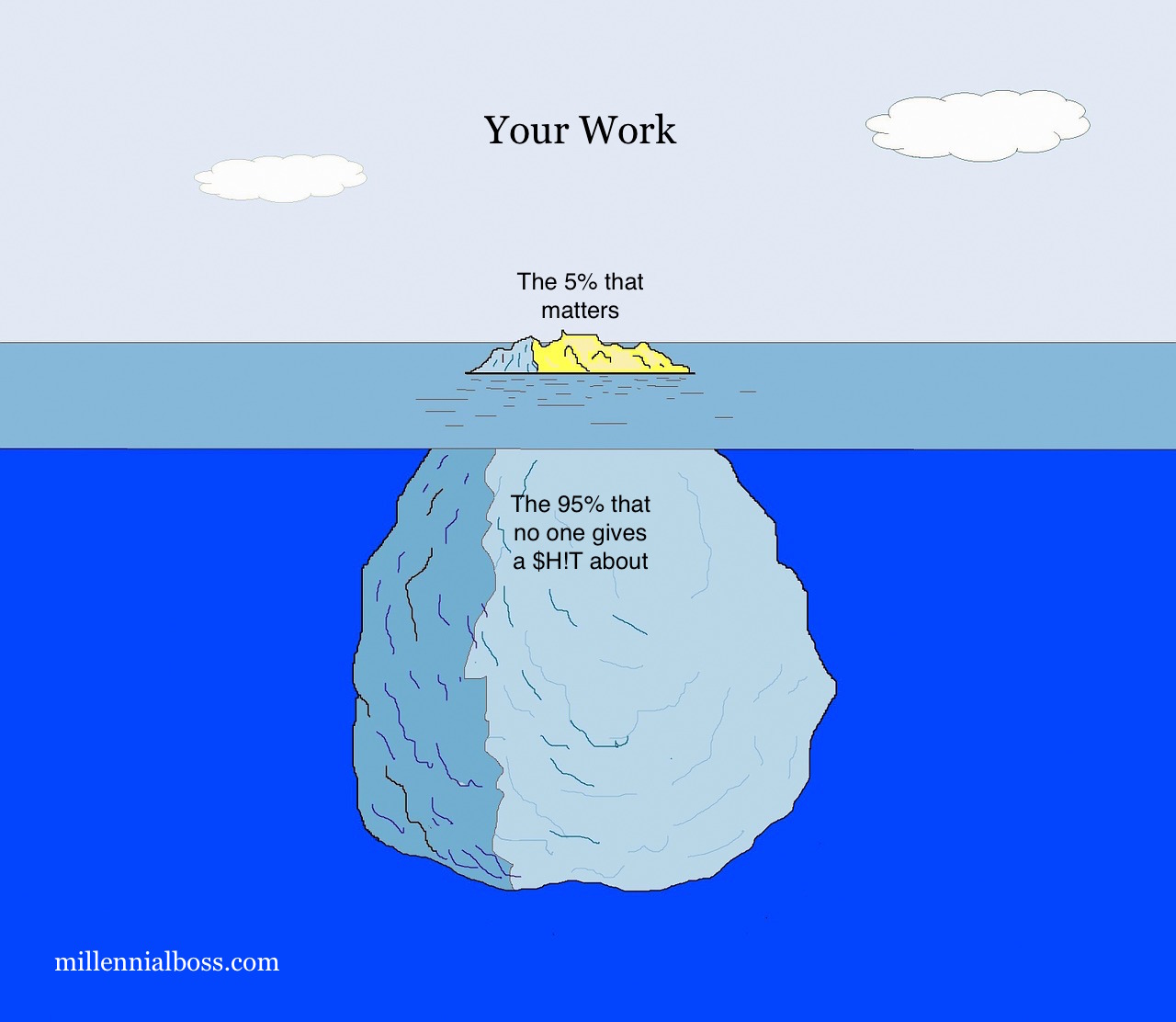 No one is sitting behind you at your desk watching your day to day. That work is the 95%.
The 5% "above the surface" work is the work that will get you promoted. That is the work that the key decision makers and influencers in your office will recognize and remember.
That remaining 95% of work goes unseen. As long as you're not royally screwing it up, it will have little impact on your career progression.
Obviously, being a rockstar in the 5% and the 95% is ideal but don't neglect that last 5%!
How to find your 5%
The key is figuring out what is in that 5% and creating opportunities for yourself to knock it out of the park.
I've figured out what is in the 5% category by asking myself the following questions:
Who are the key decision makers in the office and what is important to them right now?
How do I get myself in front of them and show that I am furthering those goals?
What are the key relationships I need to build and how can I get those relationships to advocate for me?
What does my boss value and how can I create opportunities to demonstrate those qualities or skills in front of my boss?
As evident from the questions above, doing the work is not enough. A key component to killing that 5% is gaining office visibility for your work. It doesn't matter if you're doing great work if it's all "below the surface" and no one sees it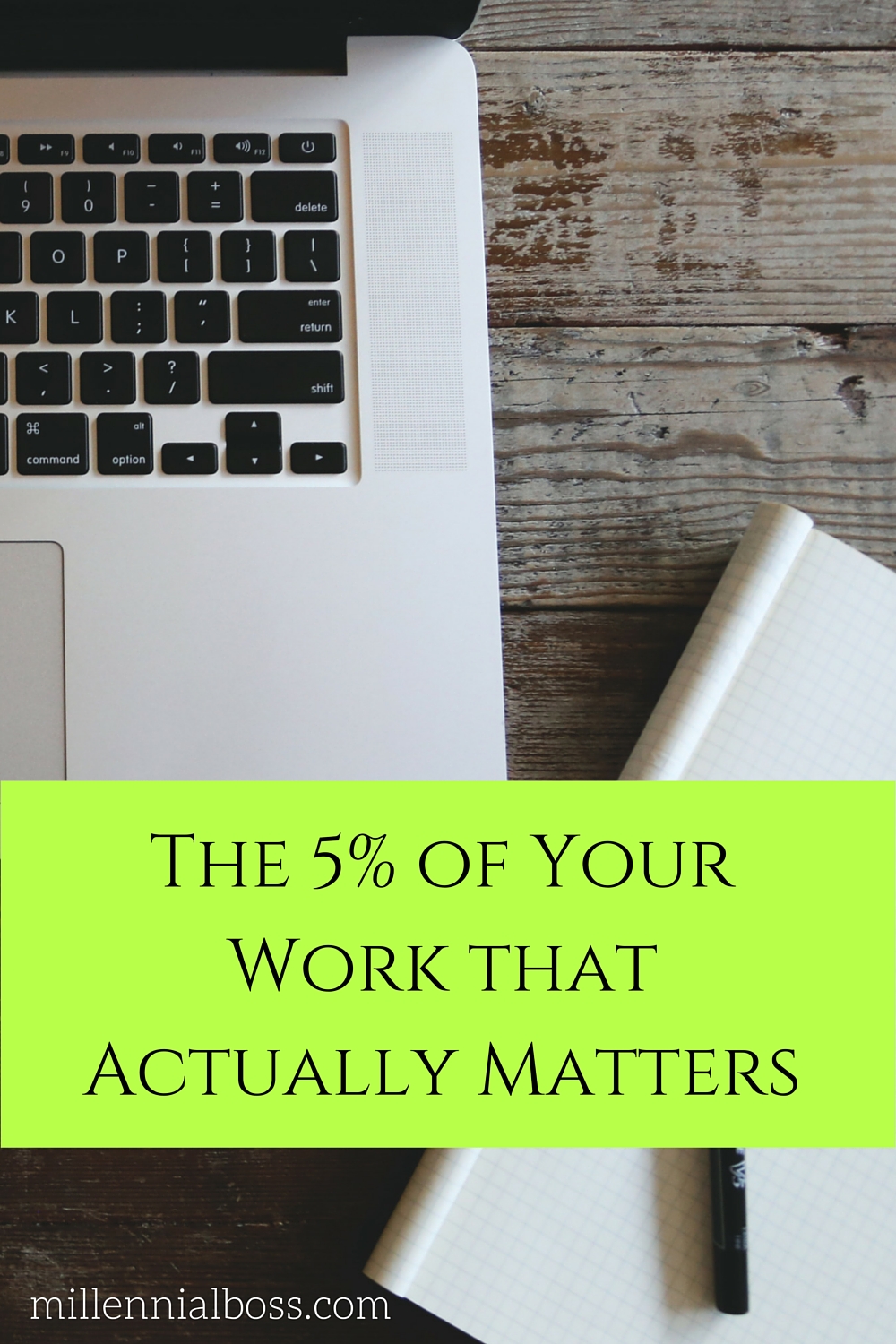 .
If a tree falls in the forest does anyone hear it?
Office visibility is something that you go out and create for yourself.
It is speaking up in important meetings when you'd rather remain quiet, asking a coworker to lunch when you'd rather just eat at your desk, stopping by your boss's office to give them an update when you really don't have to, or volunteering for an important project in a new area when you feel more comfortable taking on the work that you already know.
Promote your 5% too!
I read somewhere that in the blogging world, you can't just put words out in the internet and expect readers to come.  You have to promote your posts too. The corporate world is the same.
Great communication skills are the key to promoting your 5%.
If the Eminem lyrics "palms are sweaty, knees weak, arms are heavy. There's vomit on his sweater already" describe your approach to public speaking than you have some work to do.
Employees that have presence and represent their teams well in public settings will be given opportunities to showcase their 5% that others will not.
Luckily, there are so many free opportunities to improve on your public speaking skills through groups like Toastmasters or just putting yourself out there and learning through experience.
I used to get so nervous speaking in front of groups that I could hear my heart beating out of my chest. When I was in a meeting and we were doing something as simple as going around the room and introducing ourselves, I would freak out before it was my turn to say my name.
I didn't take a Toastmasters course but I did figure out how to calm myself down prior to speaking. I would focus on my breathing, practice what I was going to say ahead of time, speak slower than I wanted to, and basically force myself to do it because I knew it was a great opportunity. When my boss was looking for a volunteer to speak to a few slides, I always raised my hand even when I didn't want to.
Now I love those opportunities. I have a 20 second elevator pitch that I use for those round the table situations. I can give a two sentence sound byte to management so that they can easily understand what is going on, the different options available, and make a decision. I can present well enough that I am given opportunities to represent my team and speak to my work in front of others.
That stuff is all my 5%. When I can crush it, in front of the right audience at the right time, I'm moving my career along so much faster than those killing themselves with the 95%.
Maybe Employee B has it figured out.
Now whenever I hear someone complain about office politics or favorites, I question if they "get" it. The person they are talking about clearly understands the 5% rule and is maximizing their opportunities. Who can fault someone for that?
Don't hate the player, hate the game.
Have you experienced this at work? What's in your 5%?

Latest posts by Millennial Boss
(see all)