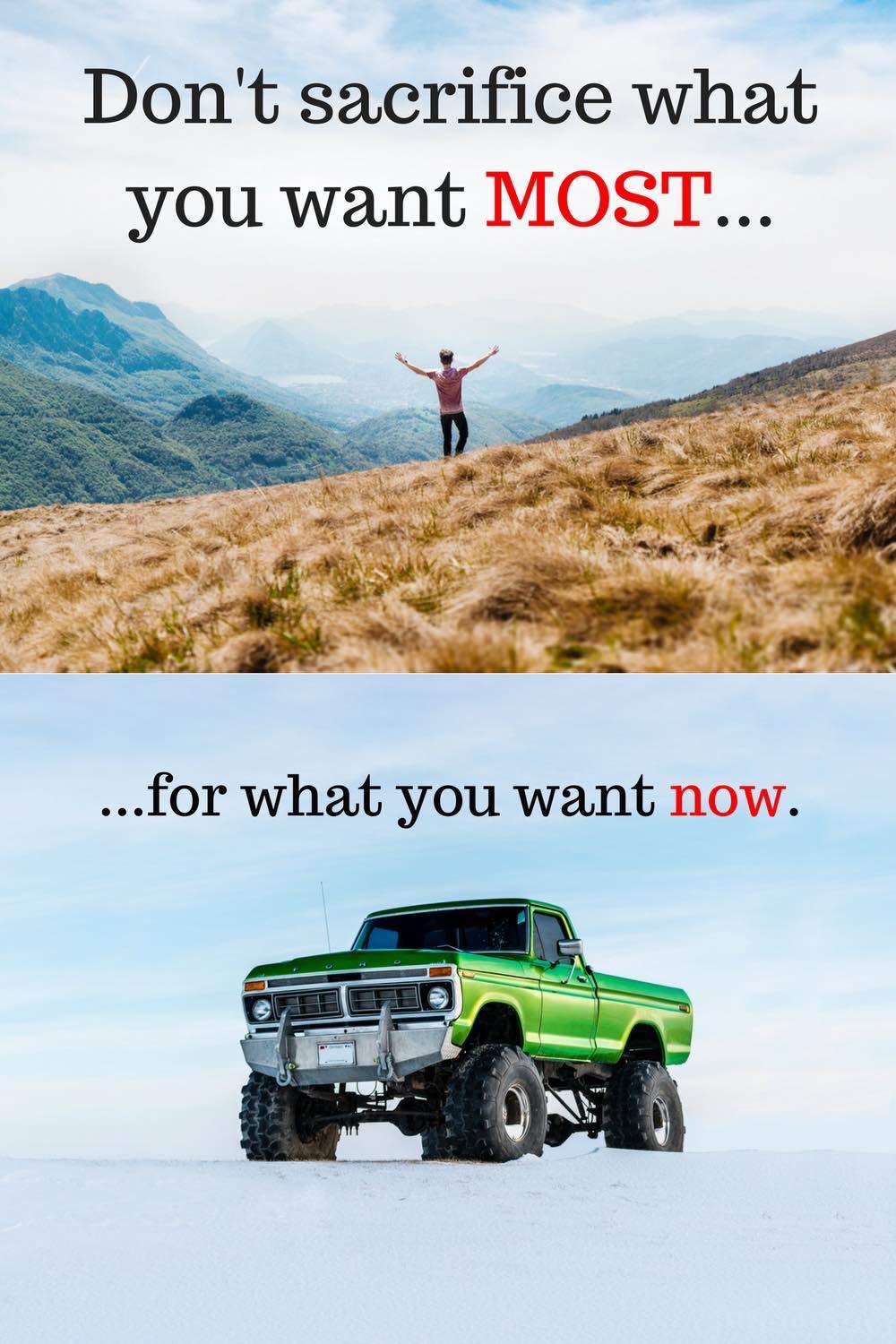 It truly does kill me to say that I really don't want to buy a truck anymore.
I didn't really start questioning my desire to have a truck until we went to the financial gathering, Chautauqua, in 2015.
It was there that I realized a couple things; happiness is more than just having "things" and relationships and experiences are far more valuable.
To really know the full extent of how big of a deal this is for me to not want to buy a truck, there are a couple things you need to know about me; I grew up in the country and I love the outdoors and country music.
'nuf said, right? That's like the trifecta of requirements to own a truck!
I mean, they are so versatile; you can haul things around, these days they're basically a luxury vehicle, and they dwarf most other vehicles.
A good list, for sure.
Well, maybe.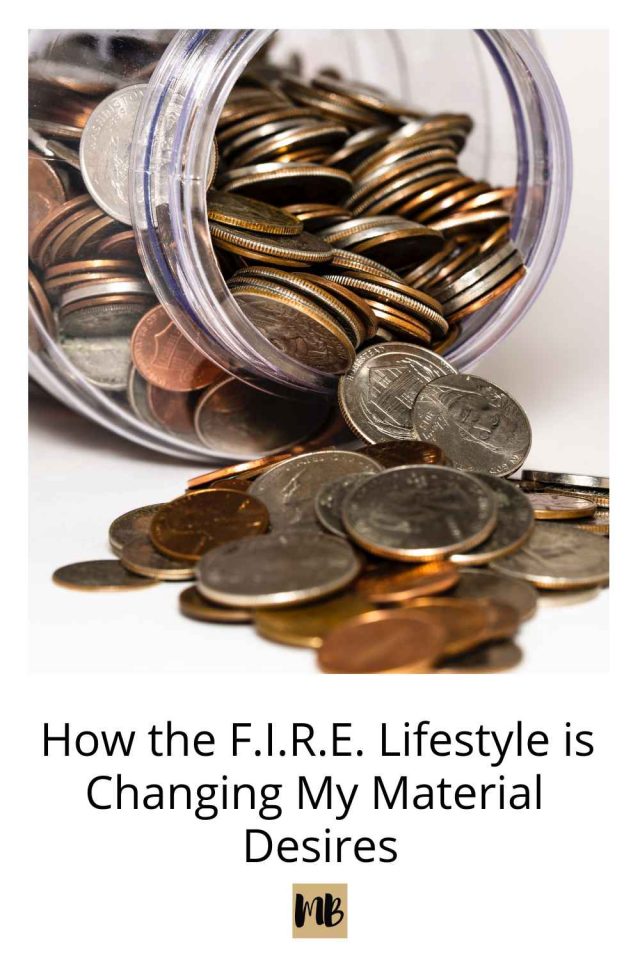 My Beef with the Truck Industry
Apparently I'm not alone in my addiction to wanting to buy a truck.
The Ford F-Series has been the top selling vehicle of any kind in America for 35 years.
Ford has sold enough F-series trucks to circle the Earth 3 times!
The American addiction to trucks is only getting worse.
According to this article on Edmunds, 
Truck popularity is at its highest level in the U.S. in nearly a decade. Trucks have accounted for 15.1 percent of all new sales this year through September, the highest share since 2007 (17 percent). – Edmunds.com
Trucks aren't cheap either. In fact, the average transaction price for a truck has climbed faster than overall auto-industry averages.
The current draw of and loyalty to trucks is especially surprising given that their average transaction price ($43,277 in 2016) has climbed a remarkable 46 percent to since 2006. By comparison, industry-wide average transaction prices ($33,728 in 2016) are up just 23 percent over the same period. – Edmunds.com
And looking back further, Edmunds sheds even more light on how truck prices have soared…
In 2014, what a consumer paid for a car or truck sold in the U.S. hit a record high average of $32,386 — a 17.5% increase compared with 2004, while the average transaction prices for the entire pickup segment has risen to $40,696 over the same period, a 41.3% increase. – Edmunds.com
The truck craze just seems to be getting bigger these days as newer models become more luxurious.
If you ask me, that's just getting a little ridiculous!
What happened to the basic truck, meant for hauling things around? I remember when my dad had a basic Chevy 1500 that he drove into the ground. It had nothing but a cassette player for a feature – that was it!
Instead we see accessory options running the gamut to the point it may take hours to choose your truck.
Oh, and now the number of auto loans are outpacing mortgages! The delinquency on those loans, you ask? Quickly soaring past 2008 levels!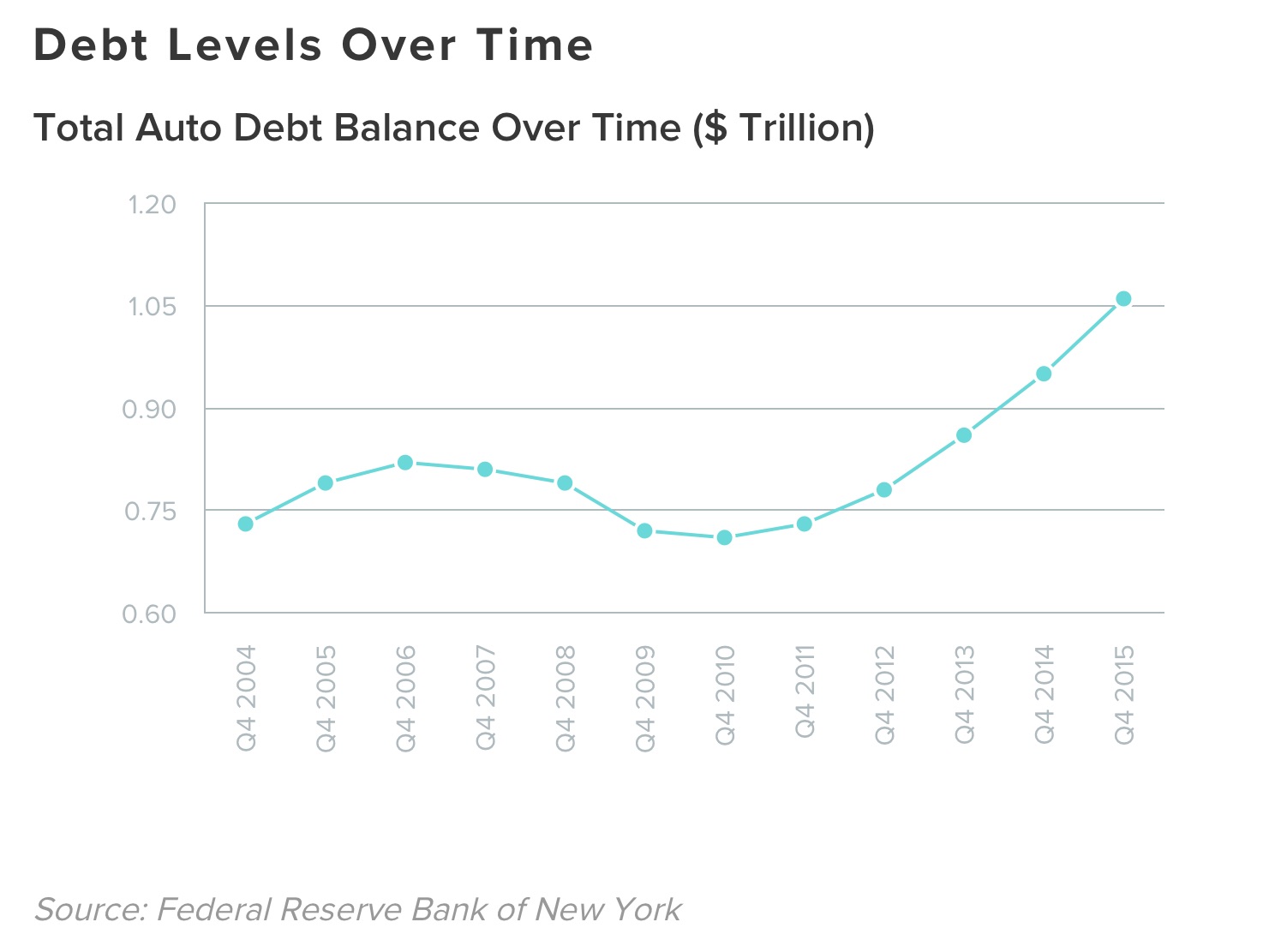 This graph below depicts this increasing debt in an easier visual. As you can see, auto debt has now sky-rocketed higher than anytime in nearly the last 15 years!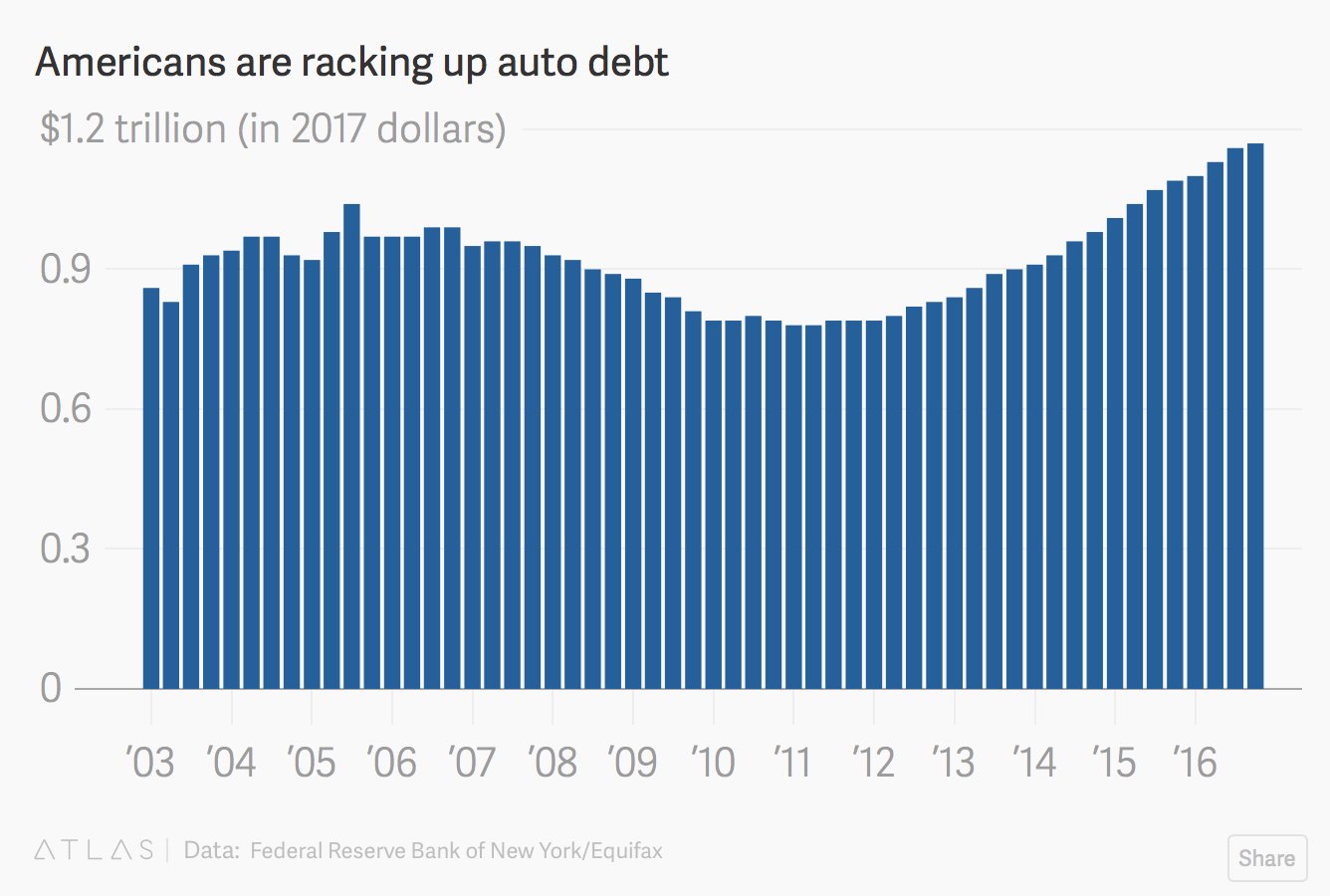 And the delinquency mentioned above…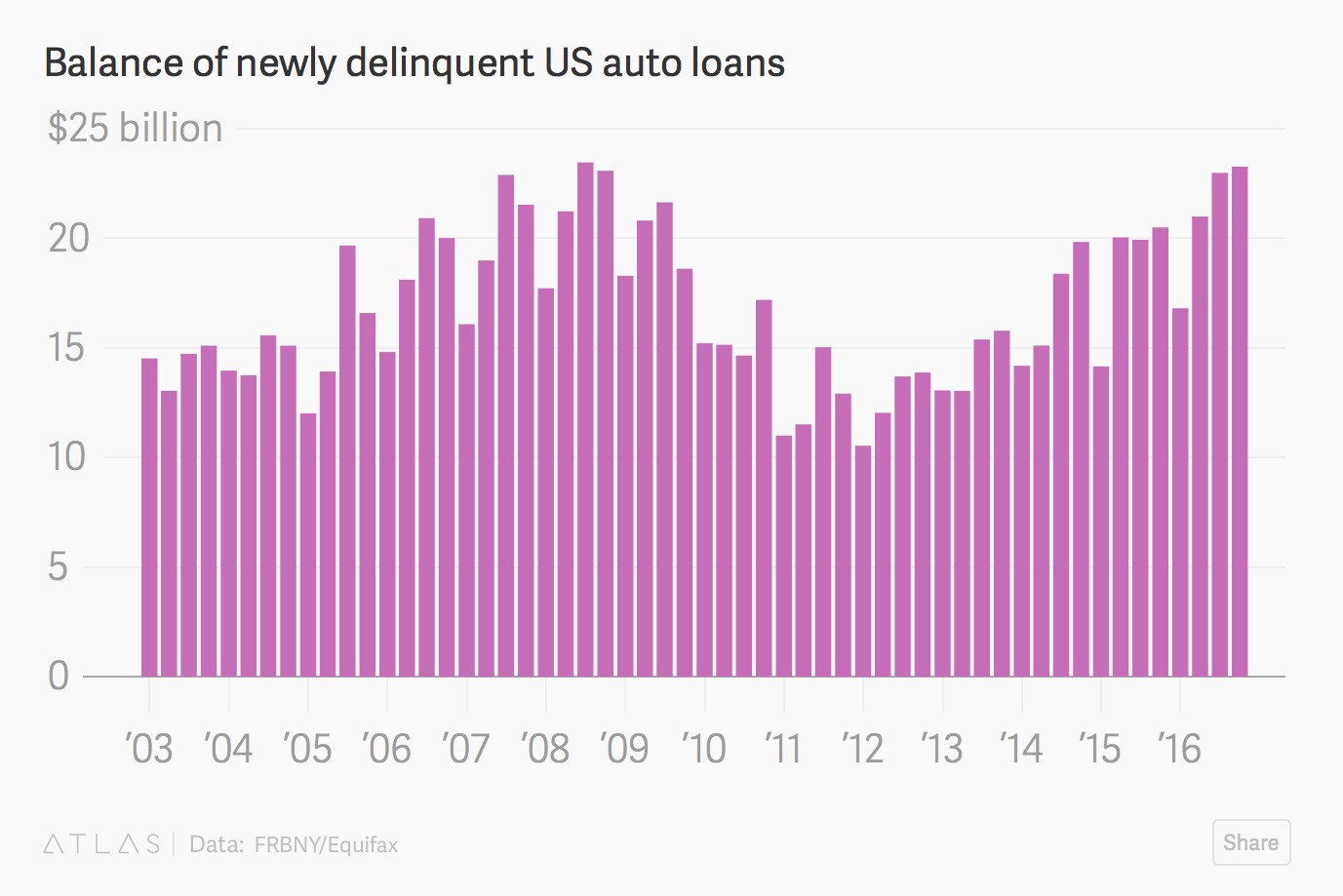 While auto debt dipped for a bit during the 2009 recession and the following years, it has since been on the rise once again as the economy has taken off.
Unrelated to trucks, but totally related to loan debt, we recently paid off our student loans. If you have student loans and want to get a better interest rate, check out SoFi – a student loan refinancing company that could save you thousands over the course of the loan. Our rate was 6.8% which is very high. We could have refinanced for a lower interest rate (which could have saved us thousands) but we didn't know about it.
Click here to check out SoFi
So, basically, the sticker price, debt, and delinquency of payment of vehicles, in general, and trucks, more-so, are vastly increasing.
Yet, the number of trucks bought and loyalty of owners (meaning trade-ins result in buying another truck – usually of the same brand) is also increasing at a record rate.
This doesn't make sense to me; everyone is a statistic of something, but I'd rather be on the opposite side of this one.
I'm done with trucks…
Related Posts:
That FIRE Lifestyle
Once I started learning about just how expensive it actually was to own a truck as well as the FIRE lifestyle, I soon realized that purchasing a new vehicle, let alone to buy a truck, is probably one of the worst ideas for my wife and I.
It's really a no-brainer that you should probably stay away from making large purchases on new, expensive vehicles if you want to retire early. The impending loans that you'd have to pay back, as well as the interest on those loans seem to outweigh any benefit to owning said new, beautiful, awesome, totally-should-have-it truck.
Unfortunately, no-brainer feelings seem to always become mixed with feelings of "well, I really deserve this" or "I've worked hard for so long, why not buy it?"
When these feelings pop in my head, I often think of a quote that has helped me along my way –
"Don't sacrifice what you want most for what you want now."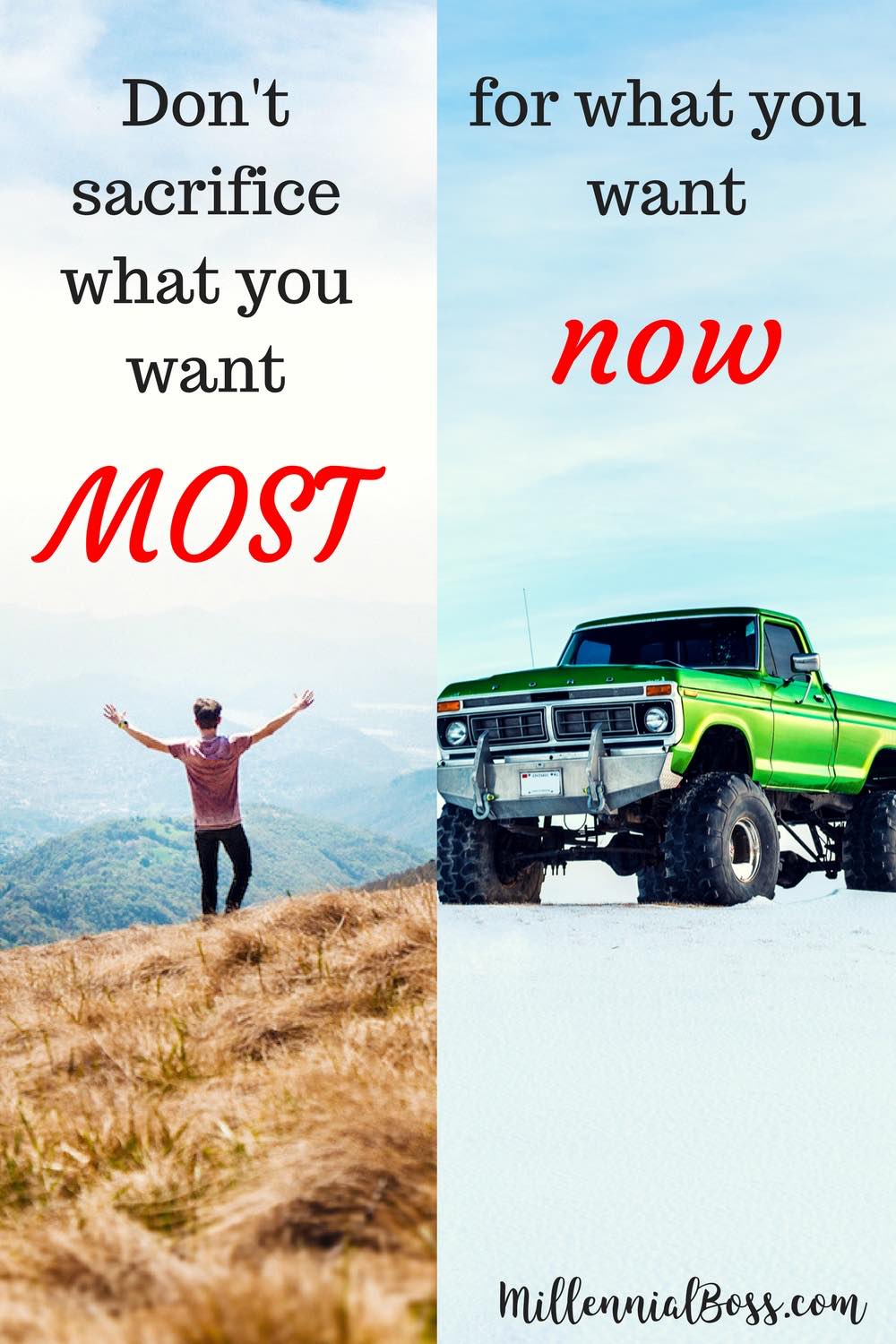 How this Helps…
Thinking of this helps those feelings subside and allows me to keep my attention on our ultimate goal of retiring early and living the life we want most; free from debt and able to do anything we want, whenever we want.
Who knows, maybe some day when we absolutely need a vehicle to get around for our travels, I may just buy a [used, but dependable] truck (insert shocked emoji face here).
For now, it's the frugal life for us as we continue our journey to FIRE.
Full-Circle
So, coming full-circle from being in debt and still wanting big-ticket items to now paying off our debt and keeping the focus on what's important…even though we could totally buy a truck if we wanted to do so.
I guess I've grown up…a little. 🙂
Should You Buy a New Truck?
Deciding to buy a new truck is a highly personal decision, but for me I've realized that what I'd be gaining (a new vehicle) would not be worth the thing I have to sacrifice (money in the bank and an extended timeline to early retirement).
The good news is that I don't feel like I'm depriving myself by not buying a new truck since I've realized that there's a huge difference between frugality and deprivation.
As Vicki Robin, author of Your Money or Your Life, once said:
"Frugality is enjoying the virtue of getting good value for every minute of your life energy and from everything you have the use of."
To be frugal means to only spend money on the things that you deem worthy of exchanging your time for. Sure, I could buy a new truck, but it would mean I have to trade more of my time for money in order to afford it.
By recognizing that a new truck wouldn't have a massive impact on my overall happiness, I can instead save my money and race towards early retirement and financial independence even faster.