New moms like me often wonder what they should pack in their hospital bag and what are postpartum checklist items. Luckily, I had everything I needed and a bunch of things I didn't need. Below I share what was worth buying and what was worth skipping for the hospital bag and postpartum care.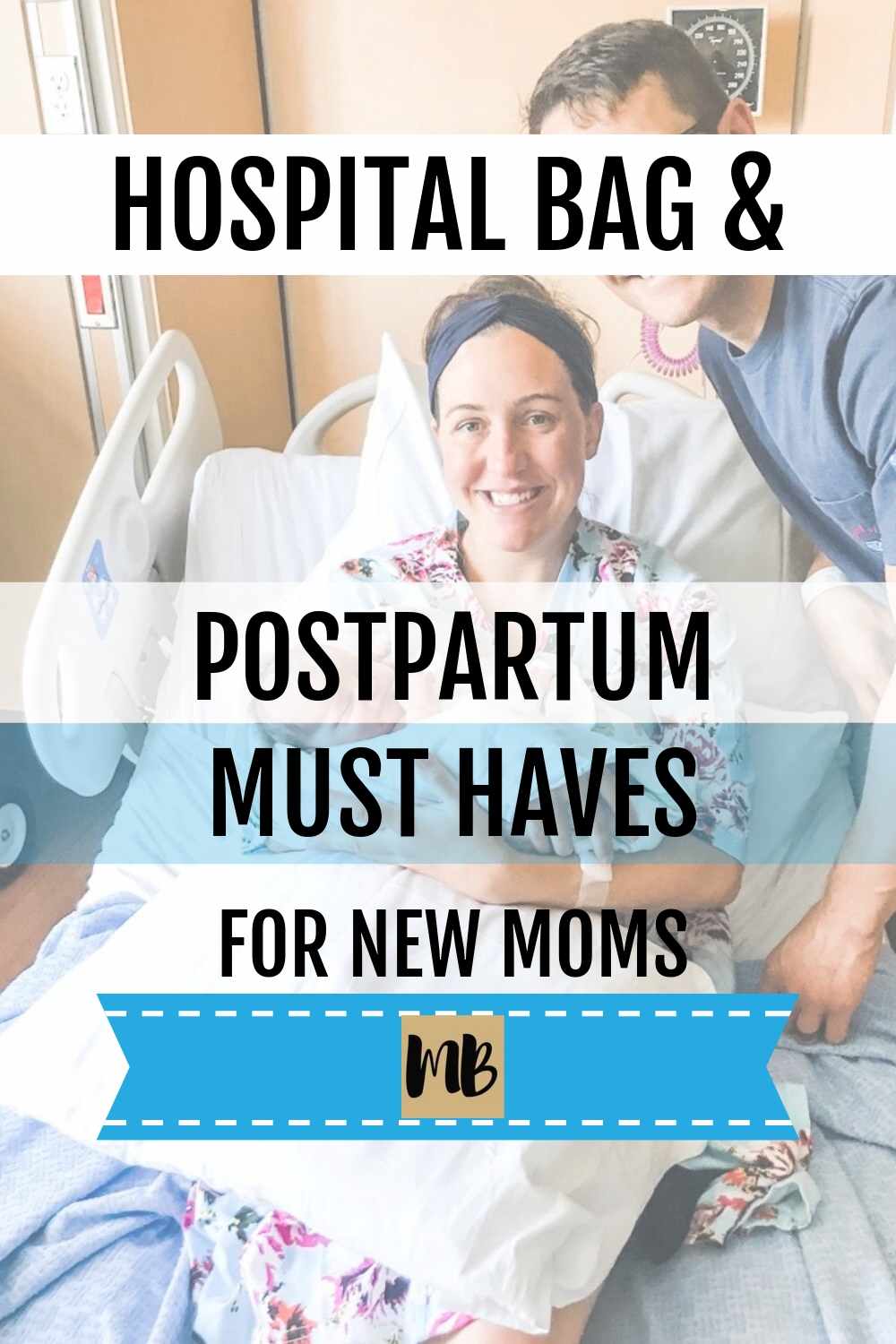 Items I didn't need to pack for my Hospital Bag
I found that I didn't need half the stuff I brought in my hospital bag.
Here are the things I packed but didn't end up using:
Sweatpants
Baby diapers and wipes
Maxi pads and care products
Speaker to play music
Slippers
I didn't need the sweatpants because the I found it easier to wear a nightgown which made things more accessible for the frequent nurse check ups. The hospital provided slipper socks so I wore those instead of my own slippers.
The hospital provided baby diapers, wipes, and all the feminine care items I needed. In fact, I remembered to grab all the extra stuff from the room before I left the hospital to bring home. Do this!! You will be billed for it all anyways with insurance.
I didn't end up playing music during my labor because I didn't want the distraction and then didn't play music after because the baby was sleeping. Your mileage may vary here. This is the speaker I have which is inexpensive from Amazon if you think you'll want to listen to music during labor.
Hospital Bag must-haves
What I definitely needed and was so glad I packed:
Comfy robe
Head band and hair bands
Nightgown
Toothbrush and toothpaste
Change of clothes for baby for drive home
Phone charger
Below are the items I purchased ahead of time and recommend packing in your hospital bag.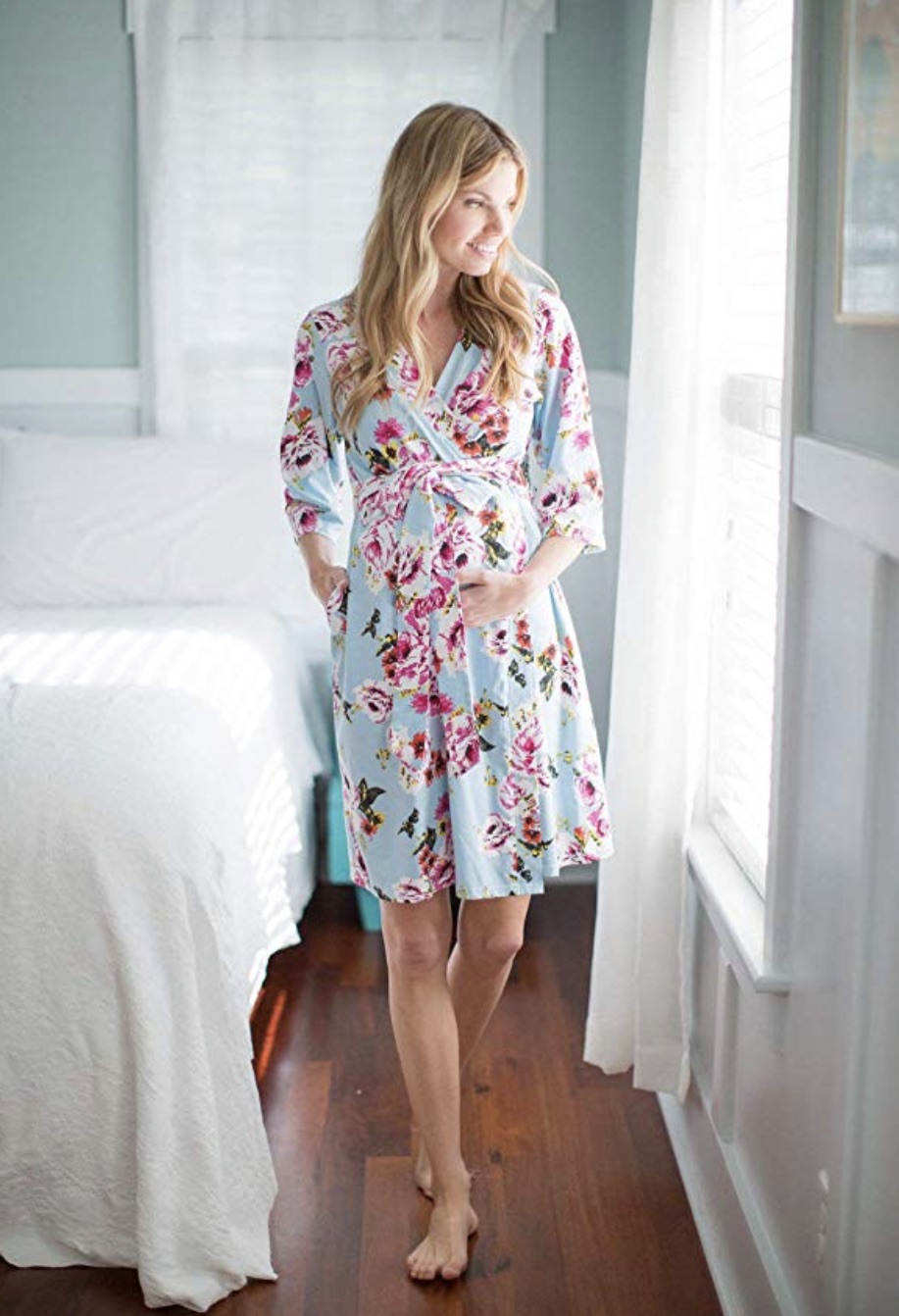 I packed this robe in my hospital bag and I'm so glad I did.
I thought that the robe would make me feel and look more put together after delivery and it worked!
I got so many compliments on it in the hospital and now I wear it every night when I'm up with the baby.
I purchased the S/M size which is for pre-pregnancy sizes 4 through 10 in the color "Isla" (pictured above).
I am 5'6" and the robe fits perfectly.
It comes in 20+ styles and colors and is stretchy and soft.
Buy it here on Amazon.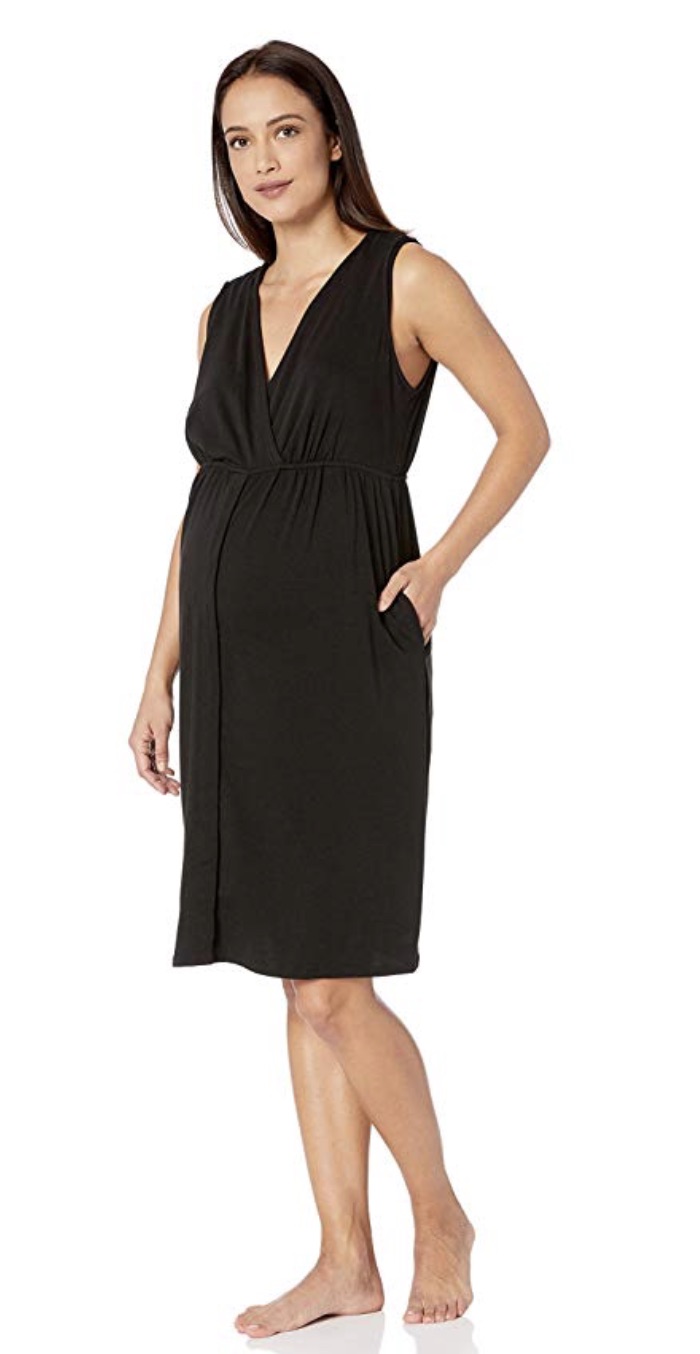 I packed this dress in my hospital bag in the case that I would want to wear it when I was in labor.
It has snaps in the back and front which make it easy to hook up to all the monitoring in the hospital.
It also has a snap front for nursing after baby is born.
I ended up not wearing the dress during labor but appreciated having it after labor.
You definitely want a nightgown or some sort of dress so that the nurses can have easy access to what they need to do for checkups throughout the night.
You can wear the hospital gown after delivery but I know I felt cleaner wearing fresh clothes (and more comfortable with visitors wearing real clothes). I also liked that this nightgown was longer so it covered more of my legs with visitors. Some nightgowns are too short.
I washed both this dress and my robe in Dreft before packing it in my hospital bag so it was chemical-safe for the baby.
Buy it here on Amazon.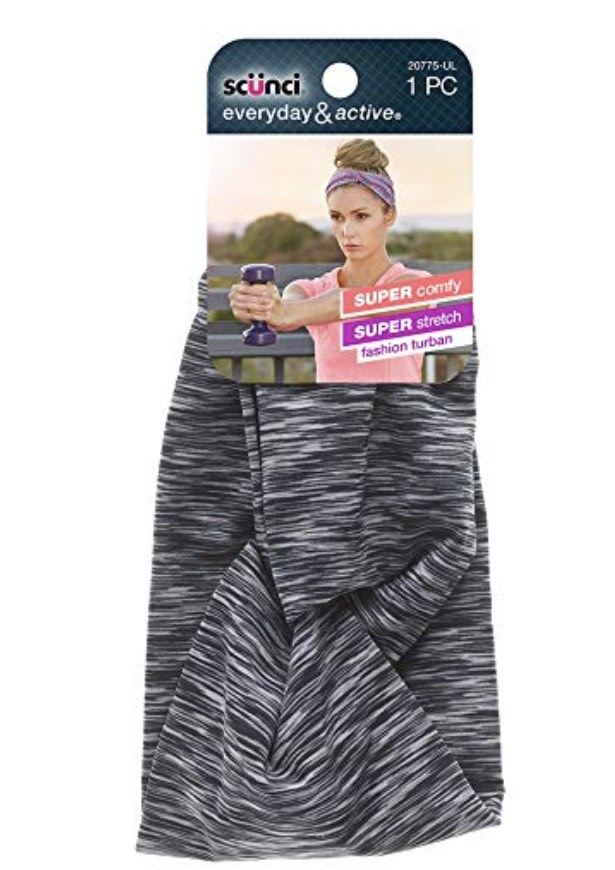 I grabbed this head wrap from the drug store at the last minute and good thing I did!
I was exhausted after delivery and did not have the energy to stand in the shower for very long.
I wanted to be cleaned up for visitors though so I skipped washing my hair in the shower and put on this head band instead.
It covered the parts of my hair that looked sweaty and made me look somewhat more put together.
Buy the head wrap on Amazon here.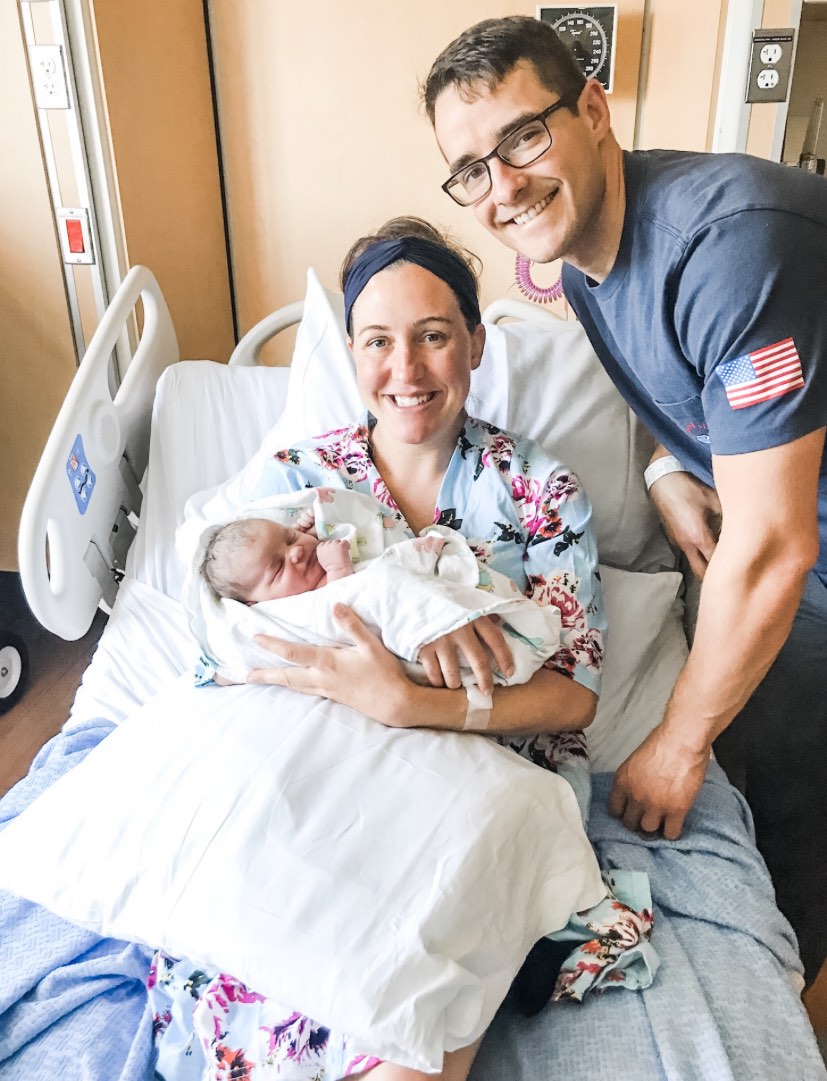 Do you want visitors after delivery?
It's great to have family and friends so excited for the baby but sometimes visitors are overwhelming to a new mom.
I was really tired after a nearly 24 hour labor and I definitely did not want visitors the first night.
I also made it clear I did not want anyone waiting for us to have the baby in the hospital waiting room.
It was nice having that first hour bonding with the baby and getting started with breastfeeding. Plus, I was exhausted, sweaty and smelly and wasn't feeling great for company.
So what did we do for visitors?
We didn't have any visitors besides immediate family and everyone came at once in one visit the day after delivery.
We only stayed 24 hours after birth in the hospital so there wasn't time for more visitors and frankly, we wouldn't have wanted any more.
I was the most exhausted I've ever been in my life and I was already waking up from sleep every few hours for the nurses, the pediatrician, the lab techs, the lactation consultant, to feed the baby, etc. I was also hurting from the delivery.
It would have been way too much to have more visitors come or have anyone stay for a longer visit.
And admittedly, I wanted to hold my newborn, and not pass her around to others all day. It wasn't a protective thing, I just wanted time with her myself.
And I didn't want an audience when I was trying to learn breastfeeding either (it's harder than it looks!)
Keep this in mind so you can set expectations ahead of time with friends and family regarding who can visit and when.
Sometimes dealing with some hurt feelings up front is better than completely overwhelming yourself after delivery.
Tips for the First Week Postpartum
We're about to get real here.
Delivering a baby is rough on your body and that first week postpartum is pretty difficult.
Not only are you insanely tired from delivery and stressed about keeping your baby safe and healthy.
You're also trying to figure out breastfeeding (if that applies to you), managing a rollercoaster of emotions due to hormones, and taking care of your own body's recovery.
You may also be dealing with an overwhelming number of social commitments and visitors who want to drop by and see the baby.
Advice for the first week Postpartum
Here are my recommendations for managing the first week postpartum with a newborn.
Warning, it's going to get real below.
#1: Limit visitors in the first week and set expectations around visiting up front.
I really recommend not having anyone stay in your house with you unless you would be comfortable having your shirt off around them all week (if you're breastfeeding) and can set appropriate boundaries with them.
Breastfeeding in that first week is no joke and you need completely visibility to get the baby to latch properly. I didn't wear a shirt for the entire first week and stealing away into a bedroom is impractical when you're feeding every 2 hours or more for at least 30 minutes per feeding.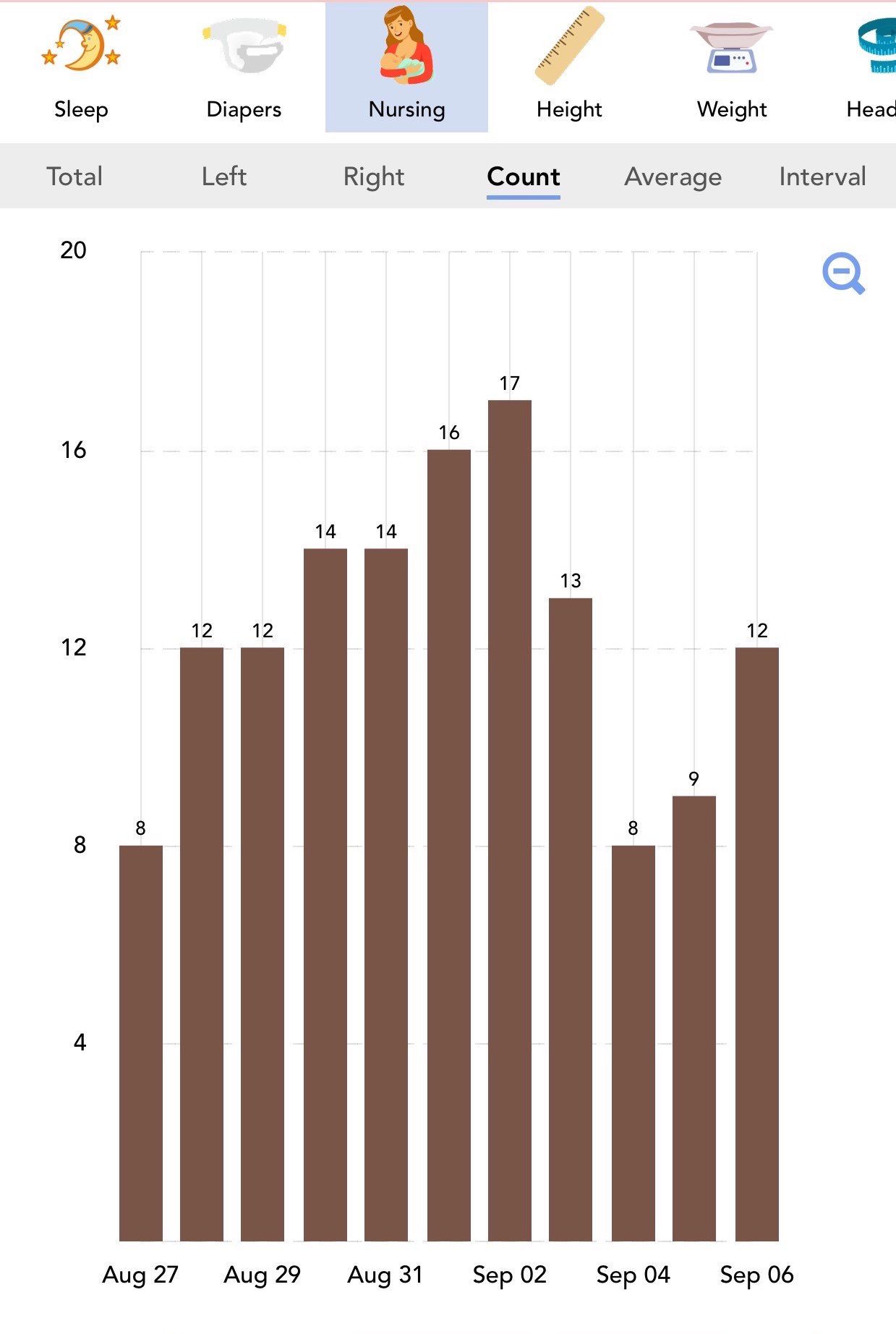 Some new moms give up breastfeeding because they feel awkward in front of out-of-town guests so don't put yourself in this situation if breastfeeding is important to you!
You may also underestimate how difficult recovery will be for you and not want an audience as you handle private matters related to your postpartum care.
You and your partner may also want to figure out how to take care of the baby without a peanut gallery, as well meaning as others may be with their opinions and advice.
You may experience some guilt about asking for alone time in that first week, especially if your family members had different expectations going into the week.
I recommend under-committing to visitors in the first week (or weeks) to give yourself space and time to heal. You can always invite them over later if you feel great and want the company.
Try to get on the same page with your partner regarding visitors ahead of time too to minimize fights. They may not understand what you're going through or feel guilty about not including family and friends and have a hard time saying no.
Did we have visitors in that first week?
Yes! We rented an Airbnb for both sets of grandparents who live in another state. That gave us both our space but allowed them to come and see their new grand baby.
They brought us food most nights. We really appreciated having a prepared meal when we were so sleep-deprived!
We limited visits to short visits though so we could rest and have most of the day with the baby.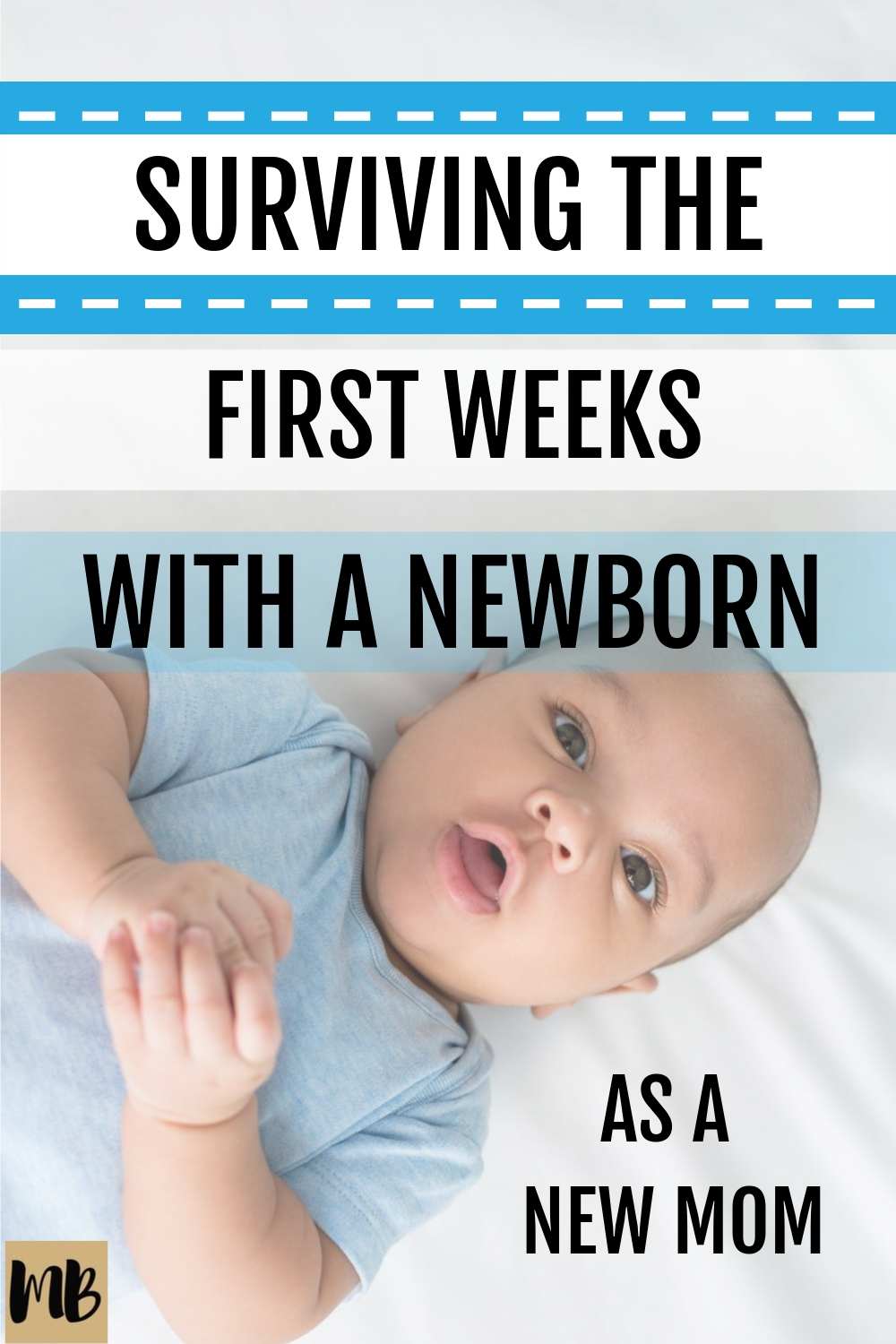 #2: Be ready for emotional overwhelm.
Hormones will go crazy around days 3 through 5. All of my feelings were intensified with the lack of sleep and hormone rush.
Prepare your partner and those close to you that you may experience emotional overwhelm in the first week and will need their support.
This advice also ties in with the advice to limit visitors. If you think that someone will make comments and upset you, delay their visit until after this crucial time.
#3: Make time for yourself.
If you're breastfeeding you can't be away from the baby for too long before they are hungry. And it is often hard to predict how soon they will get hungry before the crying starts.
Pumping can give you some time freedom but there are some cons to pumping so early that I found:
I decided to put off pumping until later.
Even if I couldn't leave the house often in the first few weeks (and I didn't want to leave the baby to be honest) I still needed some space and time to myself.
I was a bit jealous that my husband went to the gym multiple times per week or that he escaped the house for a few hours daily and it felt like I never got a break.
I needed better communication with my husband about expectations regarding schedule. He wanted to go to the gym and I wanted time to take a bath or read a book in the house. Once we started communicating our needs we felt much happier and less stressed.
#4: Research newborn behavior. 
My husband and I took a newborn care class and felt fairly prepared going into week 1. We had never listened to a newborn sleep however, so we spent the first night paranoid about all the weird breathing, grunting, and movement we were hearing and seeing from our baby.
Every five seconds we would peak into her bassinet to make sure she was still breathing!
We really needed our sleep so this paranoia was counter-productive.
If you haven't heard a newborn sleep either, look up some videos on YouTube so you know what is normal and what is a concern.
I was surprised by the amount of noises they make in their sleep!
#5: Find support online.
I joined this Facebook group for breastfeeding moms called Dairy Queens and find it super helpful.
I recommend you join if you are breastfeeding and need support / have questions.
Must have items for Postpartum Recovery
Here are all the products that were critical for me in the first few weeks after delivery.
First, I snagged everything I could from the hospital room including:
The mesh underwear that you can't buy anywhere online
Heavy duty pads
Peri-bottle (if you don't know what this is – you will find out unfortunately or can learn here)
Witch hazel soaked pads
I also bought myself:
Reusable ice packs
Adult diapers
Baby wipes
Meds including Stool softeners and Ibuprofen (prescription from hospital)
I'm not going to sugar coat it, recovery from a traditional delivery is rough! I'm sure C-section recovery is very difficult but I don't have experience with that.
I spent a good deal of time the first week managing the pain. You get through it because you have to do what you need to do to take care of your baby but it's not fun!
Related post: Our Humongous List of Birth Stories by Category
Here are the products I recommend that made it easier.
Postpartum Products Must-Haves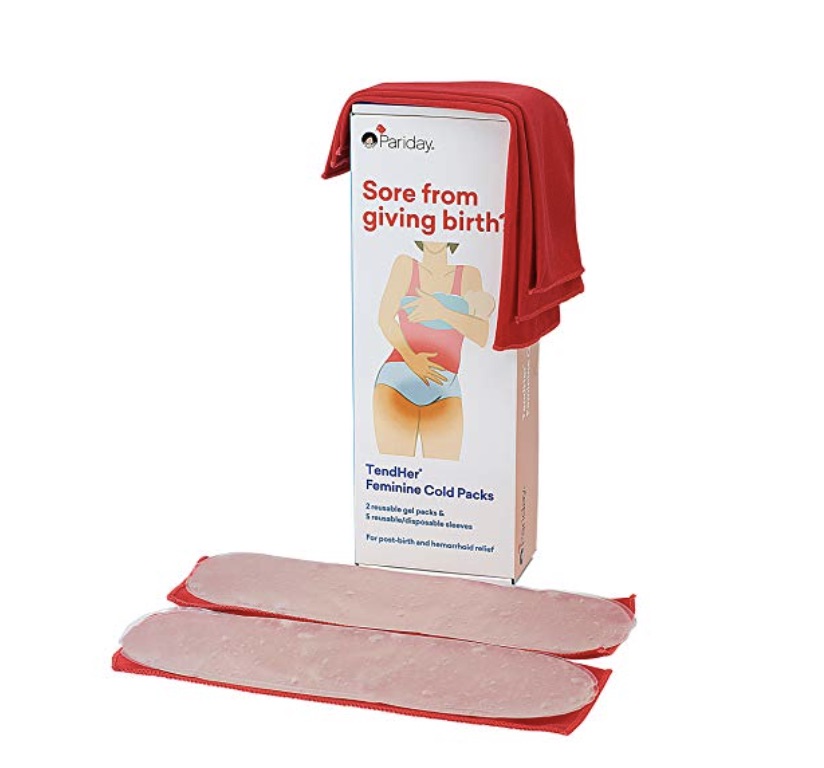 Real talk – these ice packs were a life saver! Even sitting down on the couch hurt me in the first week post delivery.
Put the ice packs in the freezer before you leave for the hospital and wash the red cloths they are wrapped in so you are good to go when you return.
These gel-based ice packs were much more flexible than other ice packs which made sleeping more comfortable.
Buy the ice packs here on Amazon.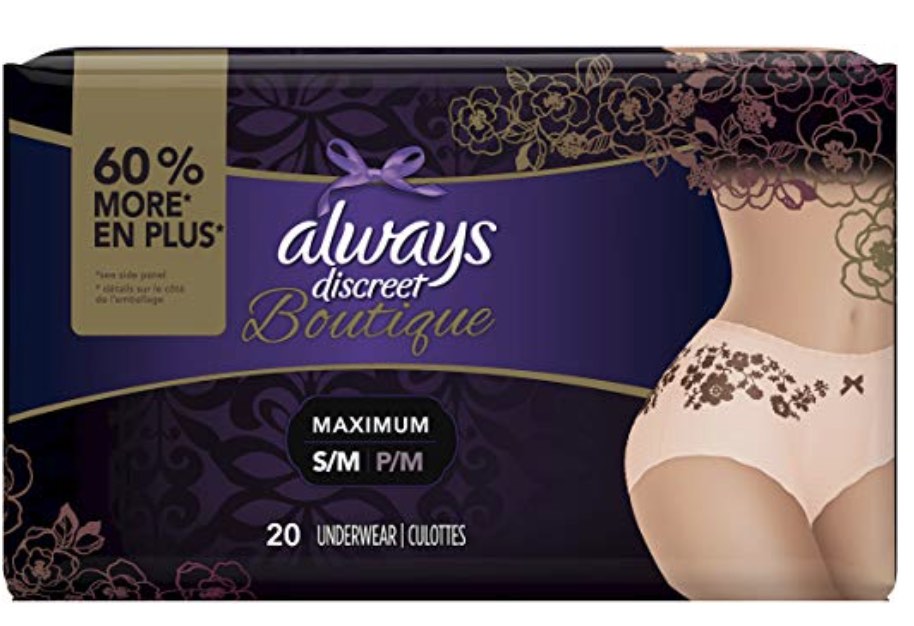 I hate to break it to you but you may be changing more of your own diapers than your baby's in that first week.
I used the Always boutique underwear once my stash from the hospital ran out.
They were fine and stretched quite a bit. There are only two sizes and I got the S/M.
Buy them here on Amazon.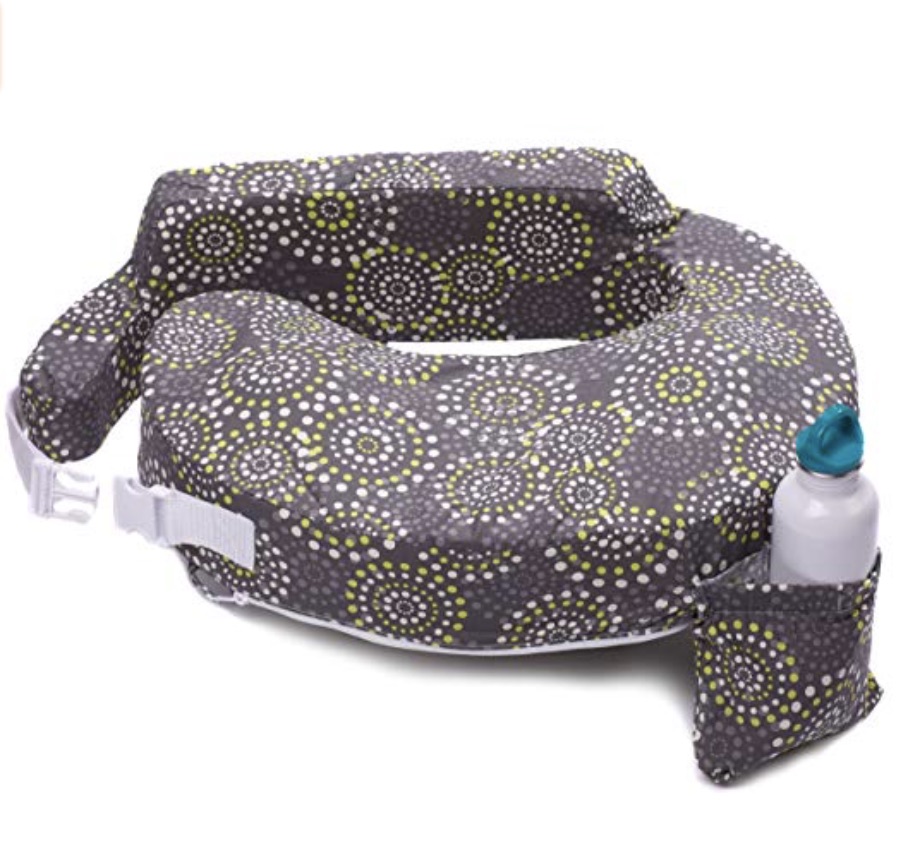 This pillow was gifted to me and I love it!
You strap it around your back and lay the baby on it flat.
It definitely helps your posture and keeps your arms and back from getting tired.
I also found it easy to position the baby for a good latch using the pillow.
Buy the pillow here on Amazon.
Related posts:

Latest posts by Millennial Boss
(see all)