I had the pleasure of interviewing Melissa Fassel Dunn, creator of the course Grouptize, for my podcast.
I was shocked to find out how much money Melissa was making per month through her Facebook community group!
Hint: Almost six figures per year!
Melissa created a Facebook group for her town a few years ago and has grown that group into a six figure business.
Incredible!
How can Facebook groups make money?
Melissa's Facebook group is called "Milton Neighbors" and it is a community group for everyone living in the town of Milton, Massachusetts.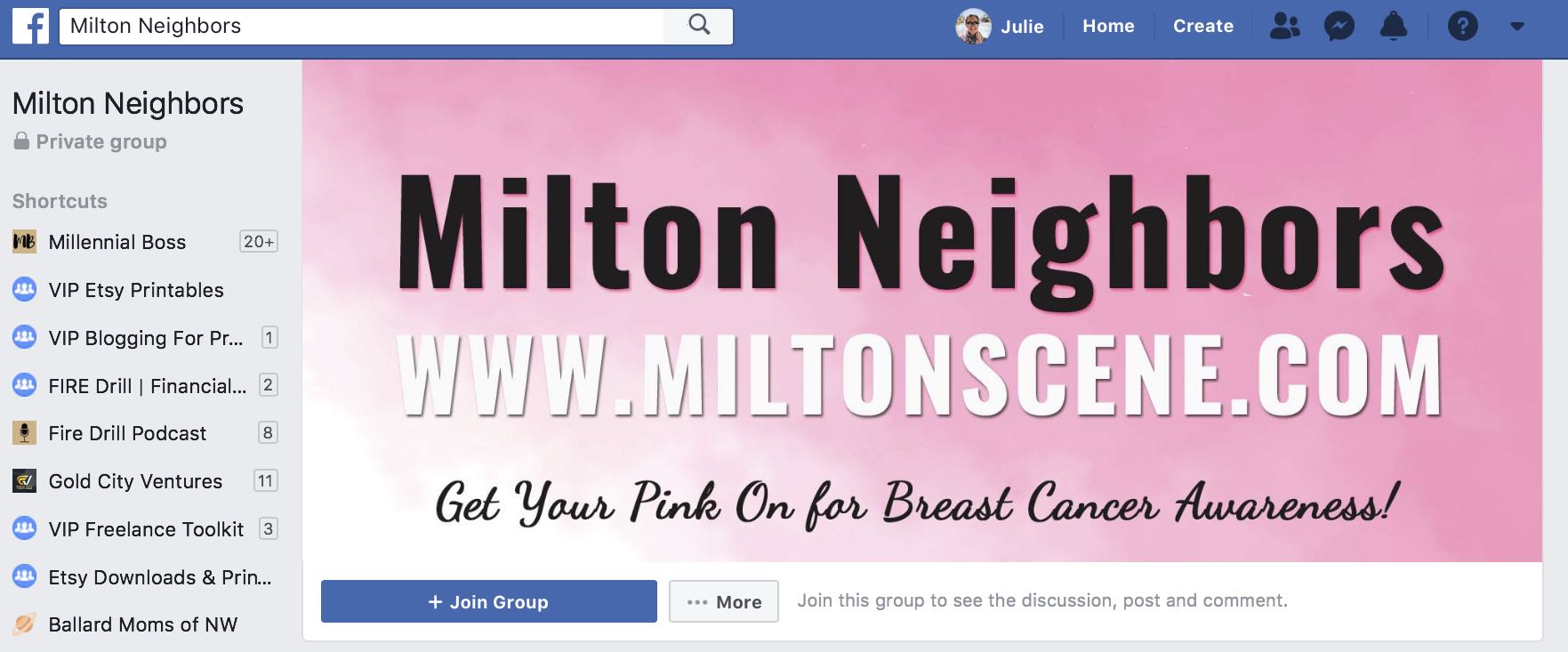 The group has over 10,000 members which is roughly half of the population of Milton!
People use the group to share updates on town happenings, discuss local events, and connect with neighbors.
Local businesses are super interested in advertising in the group because it is hyper targeted to just residents of Milton.
Melissa offers various advertising packages to those local businesses and that is how she has been able to successfully monetize the Facebook group.
Genius!
Examples of local businesses who advertise in the group include:
Realtors
Contractors
Pet Sitters
Gyms
What types of Facebook groups can make money?
Melissa has a Facebook group centered around a town but you can monetize any Facebook group.
For example, let's say you have a Facebook group about pets.
Pet food companies might want to pay you for advertising to reach pet owners in the group.
If you have a Facebook group for tennis lovers, tennis racket companies may want to advertise with you.
If you can attract a niche audience to your group, you can attract businesses that want to reach those members.
How do you monetize a Facebook group?
Monetizing the Facebook group is a little more complicated in practice.
Melissa set up a website, Milton Scene, that supplements the Facebook group.
She also set up an email list where she sends out daily emails to Milton residents who sign up.
Between the Facebook group, her website, and her email list, Melissa can now offer local businesses three different ways to reach Milton residents.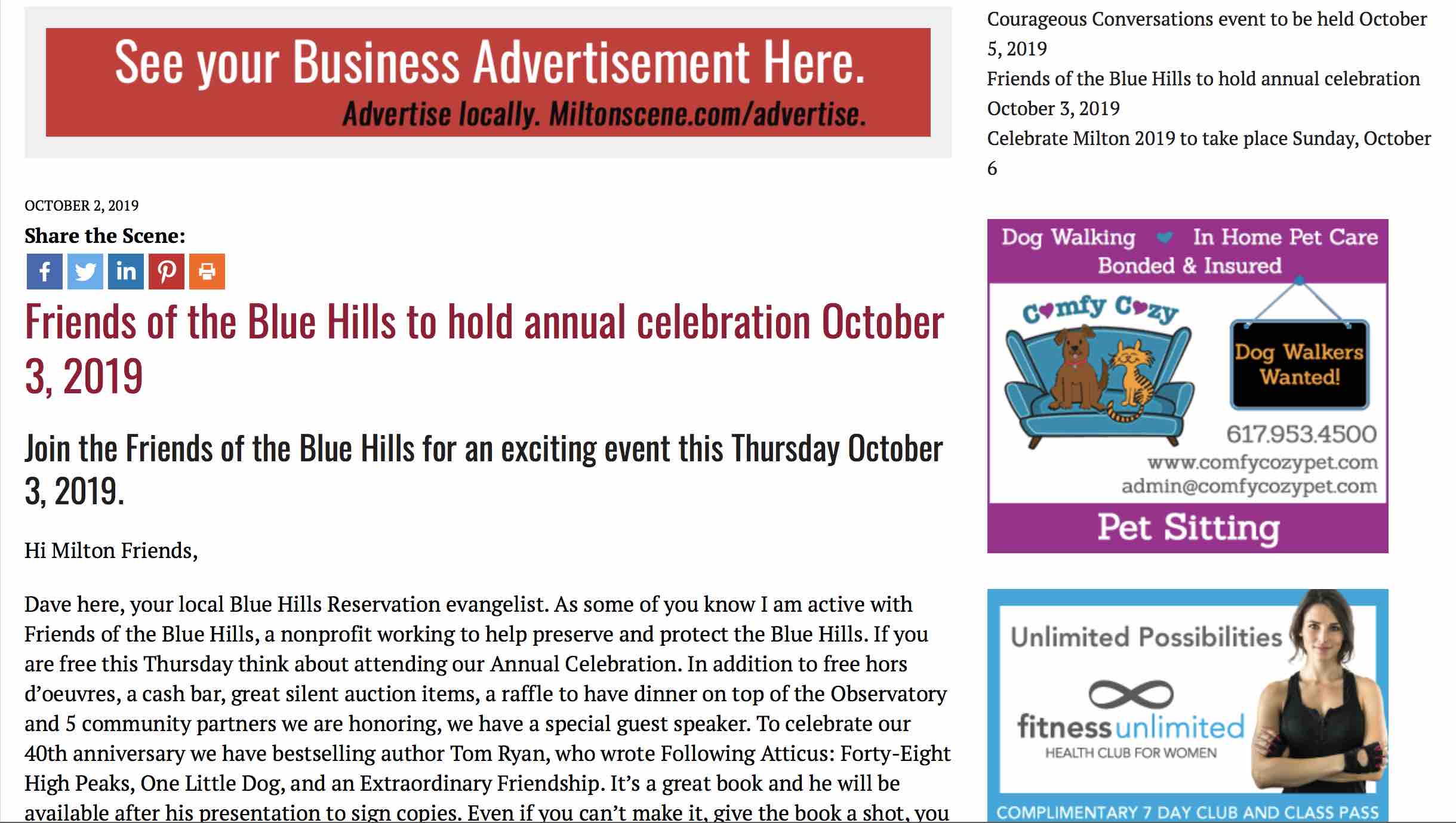 Melissa put together advertising packages and created a system to convert advertising leads into dollars.
She then works with the advertiser to deliver the ads in her Facebook group, email list, and on the website.
Melissa's system is super organized and results in happy advertisers who keep paying her month after month for ad placement.
How much money can you make with advertising from local businesses?
Melissa makes just under six figures from her Milton Facebook group.
She sells each advertising package to local businesses for hundreds of dollars and some north of $1,000.
For example, a realtor will pay her just under $300 to post a new listing on her Milton website.
All the ads add up to a significant sum each month!
It's crazy how much money you can make with Facebook groups.
Can anyone create a Facebook group?
Yes! Facebook doesn't require you to have any official designation to create a Facebook group.
Melissa didn't have to get approval from the town of Milton to create the group.
She just created it. And you can do that too.
What is the Grouptize course?
Grouptize is the course that Melissa created to teach others how to monetize their Facebook groups.
I was lucky enough to take the course prior to my interview with Melissa and it rocks!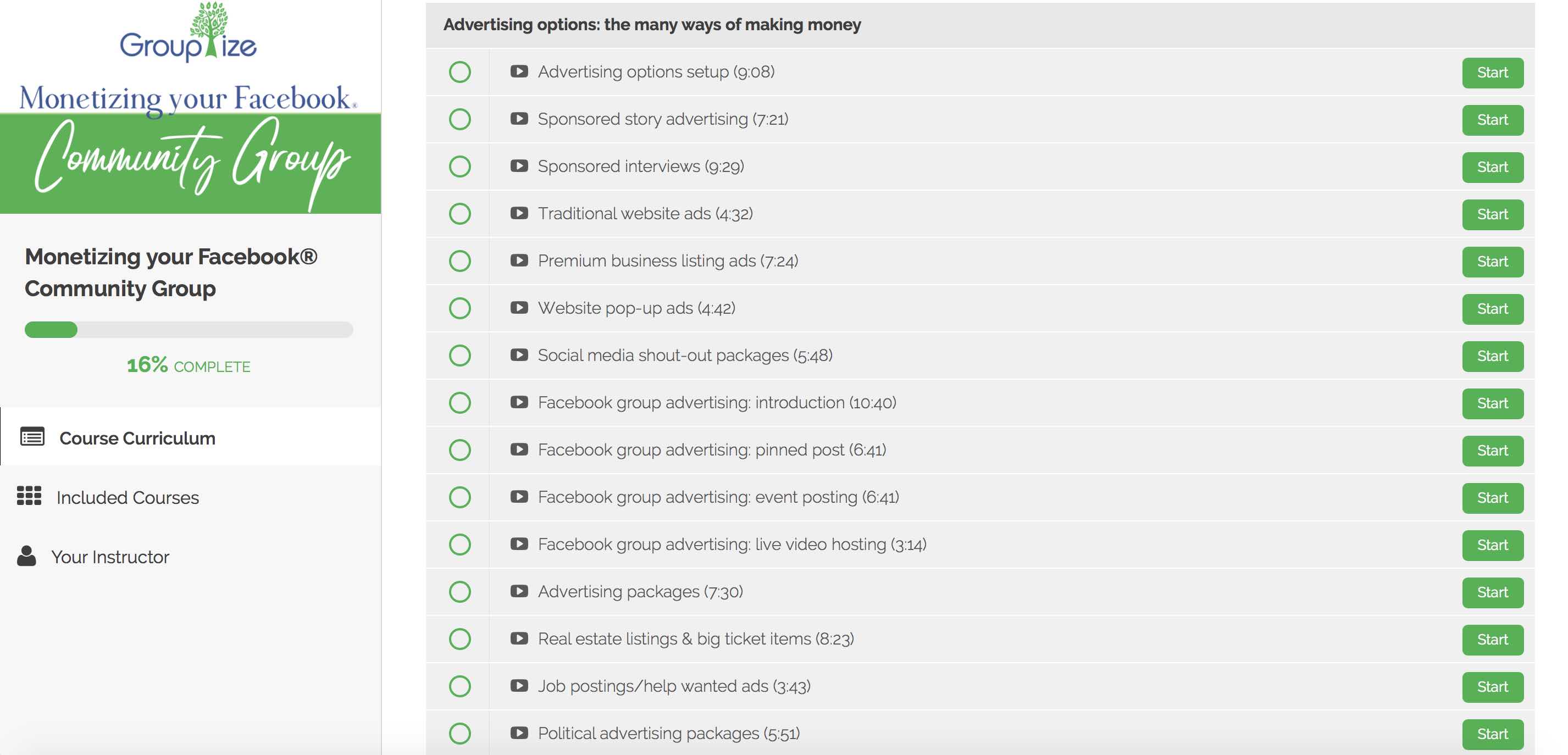 The course is hosted in Teachable and is a series of video lessons recorded by Melissa.
In some lessons, Melissa reviews PowerPoint slides, in others, she screenshares so you can see her computer screen, and in some she talks into the camera.
The lessons are super thorough and detailed!
There are over a dozen info-packed modules.
I feel that I could take this knowledge and create my own profitable Facebook group right away.
What material does Melissa cover in the course?
Melissa explains how to create a Facebook group for newbies so you don't necessarily have to have a Facebook group created going into the course.
She also breaks down how to setup a WordPress website step-by-step giving instruction on:
hosting
plugins
setting up an email list
Related post: How to create a website or a blog from scratch
Melissa covers the various advertising packages she offers local businesses, how she approaches them, and also where she places the ads on her website, in the Facebook group, and in emails.
Everything you need to know to repeat her success is covered in the course.
You just have to put in the hustle!
Do I have access to Melissa for questions?
Yes, there is a Facebook group for course members where you can ask Melissa questions and get support from other course members.
Melissa is extremely knowledgeable and passionate about this subject. She's a major asset to the course.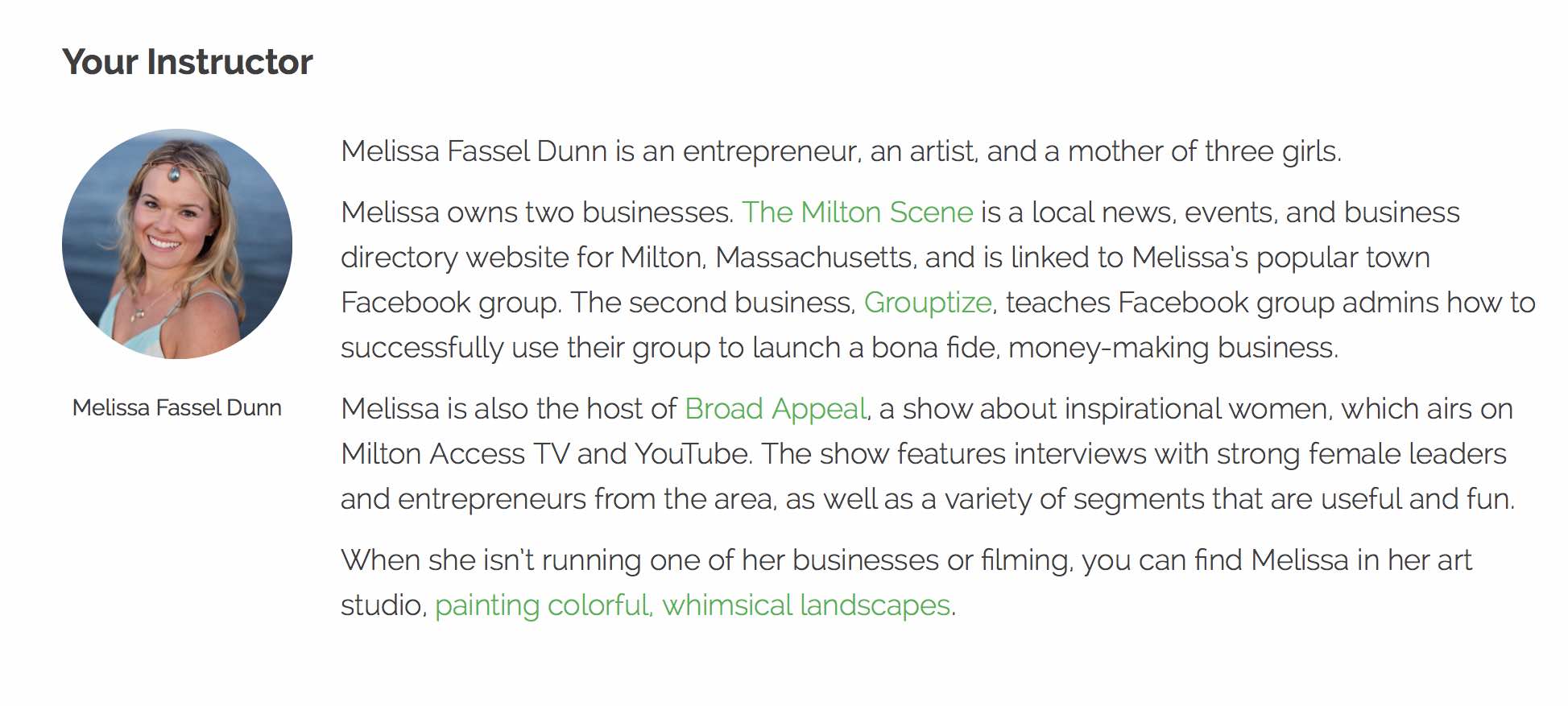 Who is the course for?
The course might be for you if:
you're looking for work you can do from home / remotely
you want to make money online
you're willing to put the effort in to learn Facebook and learn how to set up a website
you understand that you'll have to pitch local businesses to put ads on your site
How much does the course cost?
The Grouptize course is available for signup now.
The price is just under $500 and you can make that money back selling two ads to local businesses.
For example, Melissa charges local realtors $250 for a sponsored story on her website.
The cost weeds out anyone who is not actually serious about starting this business.
If you are serious, you can make great money selling ad space to local businesses.
What do I do if the Facebook group I want to create has already been created?
My husband and I are talking about creating a local group for our neighborhood in Seattle.
There already is a group created for our neighborhood.. but it is not as extensive as the one Melissa has created.
I think I can still attract members to my group even though there is already one there.
I'm actually not worried about the other group at all.
Many people are in multiple Facebook groups so it is not a blocker.
If you think about it, a local business is not going to care that there are two Facebook groups. They will just advertise in both!
They care about reaching the members.
I'm still going to create the Facebook group.
Don't know anything about Facebook?
Melissa added a bonus mini-course that serves as a primer on getting started with Facebook groups.
That will teach you what you need to know.
How do I get people to join my Facebook group?
Melissa has 10,000 members in the Milton Neighbors group and it took her a few years to get there.
I have a Facebook group for my podcast and have grown it to a few thousand members fairly quickly.
I used a few keyword strategies to grow it so quickly.
Bonus offer from me!
For anyone who signs up for Melissa's course through my link here in this post will receive a bonus video from me where I take you behind the scenes of my podcast Facebook group and teach you the 5 strategies I used to grow it so quickly.
I've learned a lot from managing and growing this Facebook group over the years and I'm happy to share.
I never thought to monetize the group like Melissa has down with her Milton Neighbors group, however, so I'm thrilled she created this course and let me take it!
Just send me a note through my contact page after purchase and I'd be happy to send you the bonus.
Interested in doing this course with me? Sign up to take the Grouptize course here.
Super excited to see all the Facebook businesses that will get created out of this!
Related post: Run Facebook ads for local businesses with this Facebook ads side hustle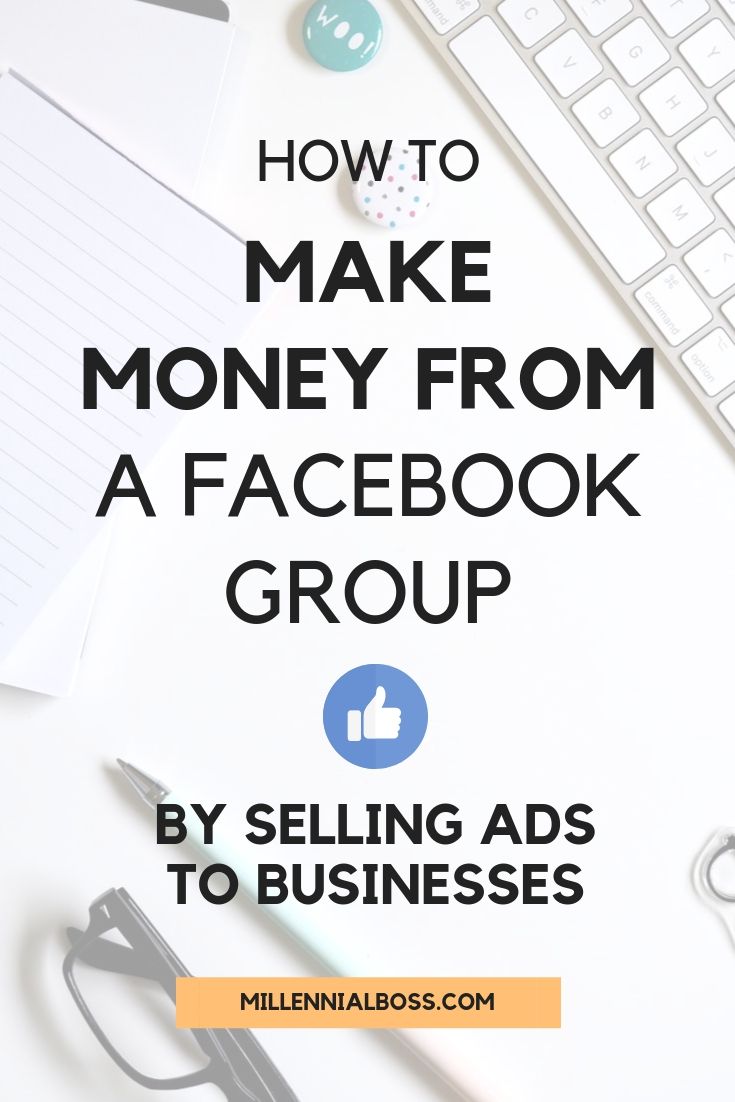 Latest posts by Millennial Boss
(see all)