Backyard weddings are perfect for the couple looking for an intimate, convenient and budget-friendly wedding. Backyard weddings can be as personalized as you want them to be: curtains with vines of florals, chandeliers and a beautiful long table with candelabras and nice linens. With few design restrictions and few rules, the ideas are endless!
We've put together a list of 11 ideas that you can add to your backyard wedding to make is as personalized as you want it to be.
Backyard wedding ideas
1. Set a stage
If your backyard is covered in grass, design a specific area to allow people to go crazy and dance the night away. A nice dance floor helps to define the space and even out the ground for those in heels!
2. Bring Trees Inside Your Tent
Bringing nature inside a tented reception can give your wedding a magical forest vibe. Laden your tables with greenery and beautiful candlesticks, and you've created an elegant wedding that happens to be in your backyard.
3. Color to Outdoor tables
Tables covered in white linen paired with any color of your choosing can add some unique charm to a green lawn. Can be done cocktail tables along with your reception table. Buy white linen tablecloths on Amazon.
Related Posts:
4. Nice entrance
Create a grand entrance into your backyard reception. If you're using a tent, drape back the curtains with foliage and add some topiary with candles. These are cute wedding candles on Amazon.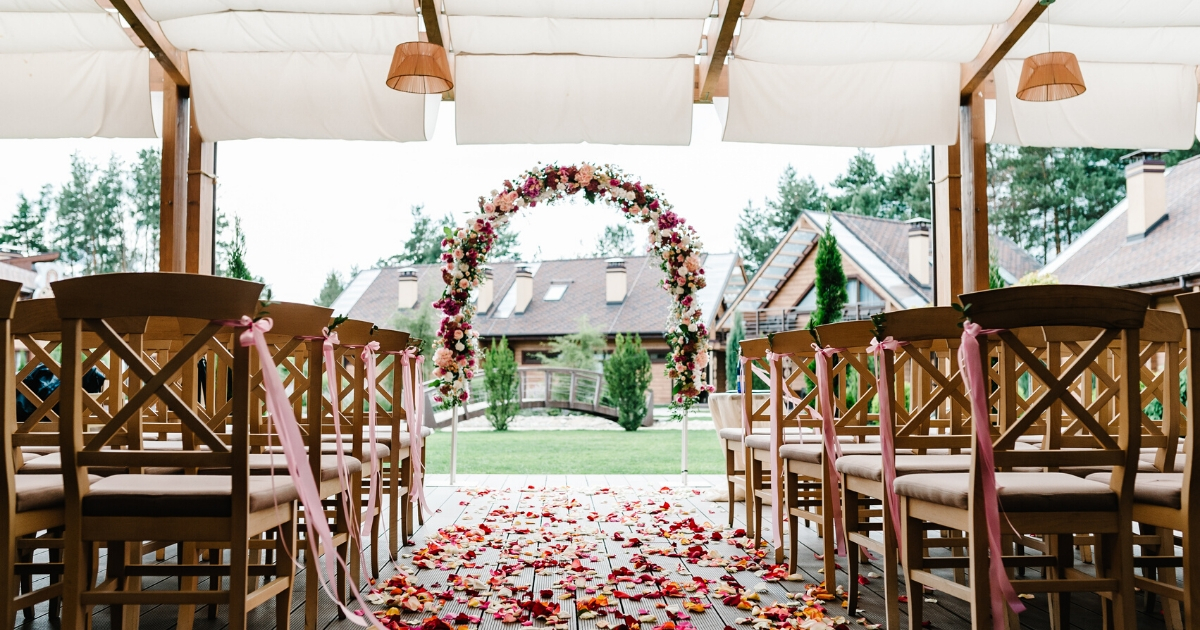 Cool backyard wedding ideas
5. Transform pool
If you've got a pool in your backyard, why not transform it into the center part of your wedding? During the actual ceremony, create a makeshift walkway that could serve as the aisle. Later on you can also use this as the entrance into your reception.
6. Lawn games
Once the ceremony is over and the alcohol is starting to flow, get some lawn games to encourage interaction between guests. Use an oversized Jenga set, some classic board games and a chess set and put them on several side tables on the lawn. Buy a Jenga set on Amazon
7. Long center table
A reception with a long center table makes it feel welcoming and open. A banquet style dinner brings people together as everyone celebrates side by side.
Related Posts:
8. All white
If you're going for a formal wedding, draping everything in white makes everything instantly look clean and elegant. Use gauzy curtains, high-back chairs and chandeliers – your guests are bound to be awed by a majestic wedding. Buy elegant chandeliers like these ones on Amazon.
Backyard wedding reception ideas
9. Food truck
If you're looking for a more casual vibe at your wedding, why not mix it up and bring a food truck to your house? You could risk having guests waiting in line for their food, so consider opting for food that's quick and easy to put together.
10. Destination wedding
If you're on a budget but still want to be able to travel, why not do you reception in someone else's backyard? Some couples have had the idea of renting a home somewhere beautiful such as Yosemite Valley and making their wedding a stunning backyard destination wedding.
11. Restaurant
If you've both got a favorite neigborhood restaurant with a beautiful backyard, why not host it there? Dinner will be taken care of and no need to clean up all the dishes once you're done!
Related Posts:
What are your favorite backyard wedding ideas?