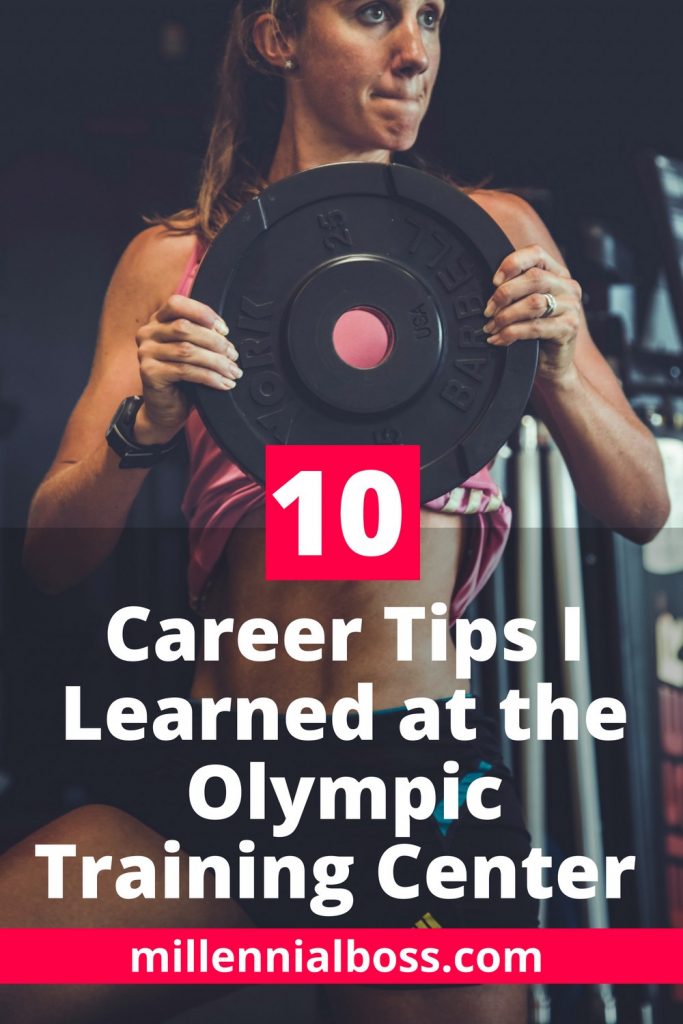 Four years ago I had the opportunity of a lifetime – I interned at the U.S. Olympic Committee in the months leading up to the London Olympic Games.
The experience completely changed the course of my life.
Below are the 10 career tips I learned from interning at the U.S. Olympic Committee.
Related: Ways you're holding yourself back in your career and how to advance your career faster
1.  There are times in your life when you have to hustle
The best part about the U.S. Olympic Committee internship was living at the Olympic Training Center. I lived in the dorms and ate in the dining hall alongside some of the best athletes in the country.
The more I got to know some of the athletes, the more impressed I was by their hard work and hustle.
Many of the athletes I met had put their schooling and careers aside to pursue their Olympic dreams.
Many were without sponsorships and were working odd jobs such as delivering pizzas to make ends meet.
They persevered despite the expenses of traveling to international competitions and the mental expenses of training every single day.
The experience was humbling for me and honestly made me realize that the challenges I face in my life are little compared to what some of these athletes are going through to make their dreams and their country's dreams come true.
I now make side hustles a regular part of my life. Recently, I've:
Started blogging for money. I set up my blog through Bluehost and now run multiple blogs.
Side hustling is a way to make quick money on the side when you don't have much time left in your day. I now know that I am capable of much more than my 9-5 after seeing how hard these athletes work!
Best of all, side hustles help you learn various ways that you can add value to other people's lives and thus earn income as a result. This is important because it helps you develop a mindset to always look for opportunities to grow and earn money.
2.  Show prospective employers how you will add value, not how much you want the job
One day during my internship we got into a discussion about how prospective interns are chosen for the U.S. Olympic Committee Internship.
I heard that so many candidates write in their application that they have been the biggest fan of the Olympic games since they were little and it would be a dream come true to work there.
That conversation made me think. If everyone writes the exact same thing in their application, how can one stand out?
Does demonstrating how much you really want the job actually help you get the job?
I realized right then that I was making a mistake in how I approached job applications.
So many people tell the employer how much they want the job instead of telling them what value they could bring to the position (and making the employer want them!)
When applying for jobs from then on, I've made sure to emphasize how I would add value in a position in terms of my skills and experience, not how much I want the job.
By explaining how much value I'll bring, an employer is more likely to want to hire me because they can see that I'll be a valuable asset to the team that can help the team make progress. Of course, it's great to be compensated for my hard work but it's hard to get compensated if I never land the job in the first place.
By emphasizing the value that I'll bring to the team, I can get my foot in the door. Then, I can think about negotiating salary.
I believe that one piece of advice has led me to land amazing jobs in the time since my internship.
3.  Brands matter
Before I interned with the U.S. Olympic Committee, I had only worked at smaller, less recognizable companies. As soon as I had the U.S. Olympic Committee on my resume, I stood out.
It became a conversion topic in all interviews since.
I've realized that brands matter.
Around the time of my internship, the Olympic brand was one of the top three brands in the world alongside companies like Google.
If you have a choice between two companies, consider the added value that brand recognition will bring to your resume. The benefit here is that once you move on from that job, you'll have a brand on your resume that future companies will be able to recognize, which increases your chances of landing more employment opportunities in the future.
It is not necessary to have strong brands on your resume to get a great job, but it can help. Just keep this in mind when deciding where to work.
4.  Create to stand out
When you're applying to a very competitive job, you need to stand out in some way.
The easiest way to do that is to create something new.
When I first graduated from college, I created a student travel blog which eventually grew into a small community. A student travel startup found my blog and asked to interview me about my experiences running the blog. The informational interview went so well that they asked me to join them as they launched their company!
By the time I applied to the U.S. Olympic Committee internship, I had a resume full of unique experiences and skills that made me stand out.
Overall, my decision to start that small blog led to a chain reaction that ultimately got me hired as an intern at one of the most competitive companies in the world.
Whether it's starting a small company while you're in school or creating a volunteer program, anything you can do to show that you can create helps you to stand out.
Since very few young people actually work on side projects outside of classes or work, the fact that you create anything at all means you'll be able to stand out from the competition easily. It also demonstrates to a potential employer that you're capable of taking action without being babysat or told exactly what to do.
If you're interested in starting a blog, check out my tutorial on how to make money by starting your first blog. I made over $2800 this past month.
5.  Taking initiative is highly valued
My manager at the U.S. Olympic Committee was so busy getting everything ready for London that she didn't have time every day to tell me exactly what to do.
After a few days of surfing the internet whenever I completed my assigned tasks, I started looking for what needed to be done.
Every time I would meet with my boss after that turning point, I would have items ready for her review that she didn't ask me to do but I saw needed to be done (after we reviewed what she asked me to do of course!).
I think she really appreciated my initiative and I noticed she started rewarding me with opportunities to present my work to others in the department.
People stopped viewing me as just the intern and started utilizing me more and more. I no longer had that down time since I was so busy helping others.
By the conclusion of the internship I had been approached about two different job opportunities. I was the first intern that semester to receive a full-time offer.
I truly believe that the opportunities happened because I took the initiative to make myself more valuable rather than waiting for someone else to make me valuable.
6.  Tell stories with data
One of my job responsibilities was to pull metrics for my boss's review. At first, I tried to present the metrics on their own but my presentation of the metrics was boring and ineffective.
I quickly realized that I needed to tell a story with data to grab my manager's attention and give her the context she needed for decision making.
Once I framed the data in terms of stories I became so much more effective and influential in my job.
Some of my suggestions were implemented and ultimately impactful for the company.
7.  Be patient with change
Early in my career, I was impatient with change.
If I saw processes that were ineffective, I'd get frustrated and wonder why people weren't trying to change things right away!
I didn't understand why things were the way they were.
I soon realized that the most impactful and influential people don't make changes with words, they make them with actions.
Don't tell them what they are doing wrong, show them how it can be done better.
They also prioritize their changes to make the greatest impact.
I started out the internship excited and trying to change everything.
I ended the internship understanding that a small list of priorities and strong relationships get things done.
8.  Location flexibility is key
I never considered living in Colorado before this internship (the U.S. Olympic Committee headquarters is in Colorado).
I ended up staying in Colorado for years after my internship because I loved it so much (and mostly for the great job opportunities!)
While I miss my family and friends from time to time, I have been able to grow my career quickly because I've been willing to move.
I also learned through this internship that lower cost of living places exist!
My money went so much further in Colorado than anywhere else I had lived prior.
I will never feel trapped in a high cost of living place again now that I know I could easily move to a lower cost of living area!
9 . Expand your network
Interning at the U.S. Olympic Committee allowed me to meet people from all over the world.
I learned how to put myself out there and not be shy about meeting new people.
I'm now more comfortable in networking situations and seek them out.
This hands on approach to my career has increased my job opportunities significantly.
10.  Sometimes you need to take big risks for big rewards
I was working full-time as a legal assistant and on the path to law school when I accepted the offer to go across the country for an internship at the U.S. Olympic Committee.
I was worried that I was taking a step back by accepting an internship and that I was having some type of quarter-life crisis by putting my law school dreams aside.
I am so glad I took the risk and moved out to Colorado!
I had an amazing internship experience and met lifelong friends.
More importantly though, I met my fiancé through that internship and we're getting married at the end of the year.
As we watch the Olympic Games in Rio, we think back fondly on our time as interns at the Olympic Training Center!
Does this resonate with you?
Do you know anyone who could use this career advice? Please share!

Latest posts by Millennial Boss
(see all)