I lived in Colorado for almost five years and had a season ski pass for the majority of those years. I've been skiing at Breckenridge, Aspen, Keystone, Vail, Beaver Creek, and Copper ski resorts in Colorado as well as North Star in California. Sometimes I took a day ski trip and then other times I rented a place and stayed overnight. Here is what I would pack on a ski trip of various lengths and why.
If you are looking for the ski trip packing list printable and don't want the explanation, you can cut to the chase and download it here.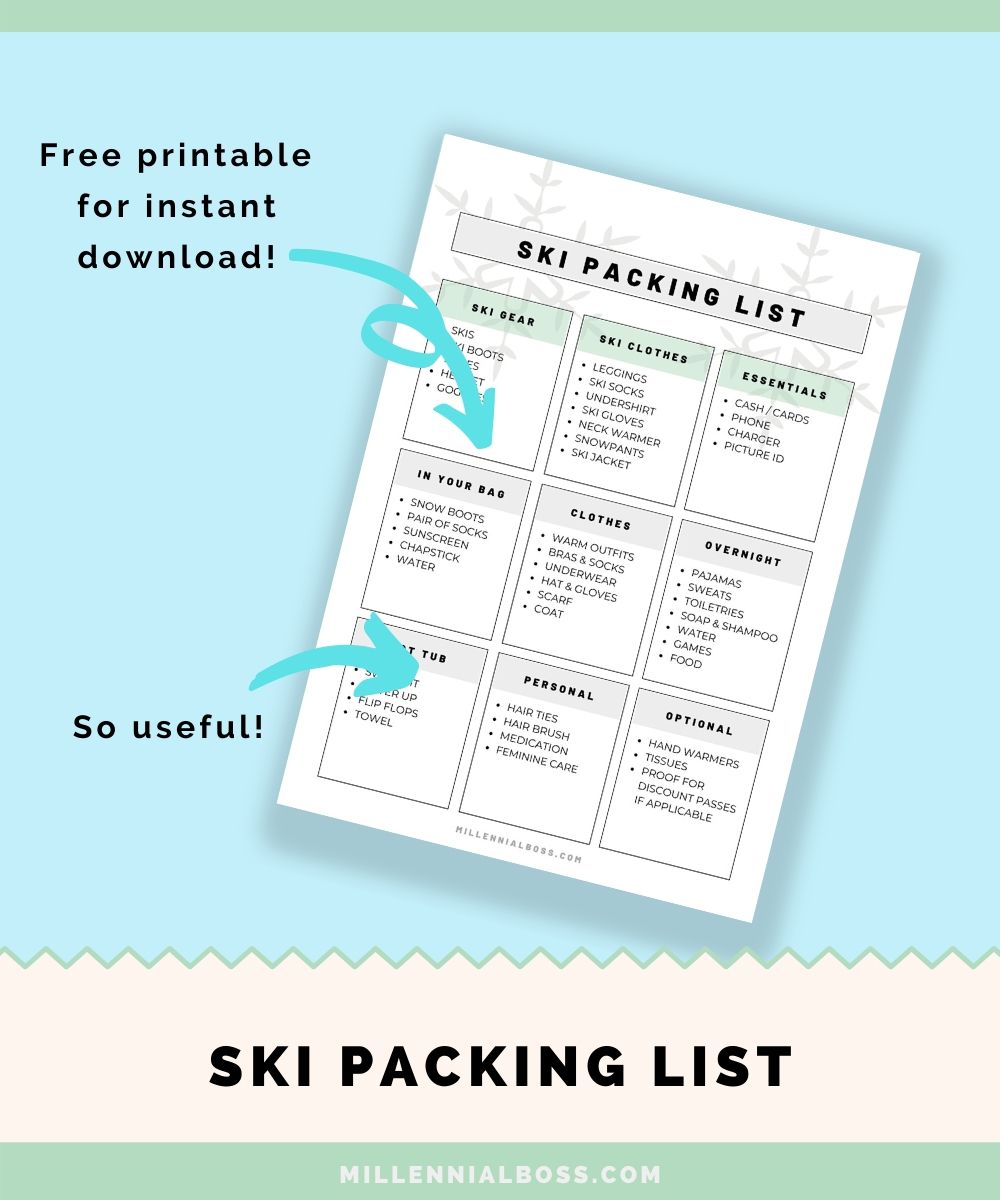 The Do Not Forget This Stuff
There are certain things that you hope you don't forget when you are going on a ski trip but then there are things that you absolutely don't want to forget. Here are those things.
Basics: Phone Charger, ID, and Credit Cards
The address where you are staying if you are staying overnight written down on paper. Sometimes you'll lose service in the mountains and can't always rely on your phone GPS to work.
Proof that you are a student if you are getting a discounted ski pass and that applies to you
Snow boots for walking around when you are not wearing ski boots
Gloves and hat for walking around when you're not wearing your ski gloves and helmet
Ski Essentials that are Not Ski Gear
You'll want actual ski gloves that are thick and warm. I have mittens because my hands are warmer when my fingers are stuck together. My husband uses thick ski gloves with fingers and he's fine for his comfort level.
I have both a ski mask and a neck warmer that covers my nose and neck and pick one or the other depending on the temperature. If you don't use something, your chin, neck, and nose will be freezing. You don't need both the neck warmer and the mask. I only wear one or the other. I prefer the mask which covers my whole face and is made of that performance tech material which keeps me covered but doesn't get too sweaty. Sometimes I wear the fleece warmer later in the season if the full ski mask gets too hot.
You'll want snow pants and then leggings or something tight to go under the snow pants. I've worn yoga pants under mine when I was too lazy to find leggings and it's not the best. They can bunch up in your boots and it's uncomfortable when you pull them off.
You'll want real ski socks.
We have zip up long sleeve ski shirts in that moisture wicking material. We find that is best under our winter ski jackets. If you don't have a special shirt, wear a fleece pull over with as many layers under as you think you'll need. On really cold days I wear the ski shirt and the fleece together.
Bring sunscreen. It may look overcast but the sun is super strong when you're up on the mountain. I got burned a few times in Colorado wearing sunscreen and it's no fun.
Ski Gear
Goggles and a helmet. It would be really hard to see anything without goggles and ski accidents are scary. Don't risk it by skipping the helmet. Almost everyone you will see on the mountain will wear a helmet.
Ski poles. These help you balance and turn.
Skis
Boots
What ski equipment can you rent?
Typically you can rent skis, ski poles, boots, and helmets at ski equipment rental stores near the mountain. The store may offer some other things to buy but it will likely be expensive. Call ahead or research to be sure they offer helmet rentals but many places do.
Can you rent goggles?
No, not typically.
Can you rent ski pants and clothes?
No, not typically.
Should I buy ski gear ahead of time?
If this is something you do rarely, ask a friend or family member if you can borrow their ski gear instead.
If you expect to ski a few times per year it may be more cost effective to buy ski gear. I waited until it was not ski season and then bought from an outdoors store when they were having their big sale. I recommend waiting to make this decision until you are sure you like skiing and you have plans to go a few times in the season.
I recommend buying your own mittens, goggles, and ski clothes. Both my husband and I have our own helmets as well but you can rent them at most places as I mentioned above.
What do I need for a weekend ski trip?
I would bring another shirt in case your shirt gets sweaty and wet. I actually have worn my ski shirt multiple days in a row with no problems but that might gross some people out depending on how sweaty you get on the mountain. You're probably not going to do laundry on a weekend trip so prepare for that. You may also need an extra set of socks. Personally, I will wear socks two days in a row and just dry them on a radiator but that is me.
I tend to be a homebody at night when I'm out all day skiing. On those ski weekends, I make sure to bring food, games, and lots of snacks so we don't have to leave the house. Many of the condo rentals don't have toiletries in the bathroom so bring little shampoos and soap in addition to your usual toiletry bag. I drank tap water on my ski weekends but if you don't like drinking tap water, bring tons of water because you don't want to get altitude sickness due to dehydration.
Example Packing List: Breckenridge Weekend Ski Trip
Breckenridge, Colorado is our favorite mountain town and we spent many weekends there. If I were going to Breckenridge for the weekend I would bring everything I listed above plus warm clothes to explore the town. Ski resort towns like Breckenridge, Telluride, Aspen typically have little downtown areas with shops and restaurants. Come prepared to spend time walking around and exploring the area.
Breckenridge is more casual out of all the places I listed so you don't have to dress up at all. Aspen, Telluride, Vail, and in some ways Beaver Creek are a bit fancier so you might want to step up your game in the restaurants and shops. Now, it is a mountain town so don't think you're going to the Oscars. I just mean that you will see people in fancier attire whereas Breckenridge gives off more casual vibes. I also found Breckenridge to be slightly less expensive.
Related Post: Aspen Ski Trip Report
Ski Packing List Female
Many of you are searching for information on ski packing lists for girls. The only thing I would point out is that some of the resorts won't have bathrooms stocked with tampons so bring whatever you need there. I think everyone should wear chapstick since you can get really dehydrated and sunburnt on the mountain. Bring hair ties because it would be hard to ski if loose hair was falling in your face.
Bring a sports bra that works since skiing is a pretty athletic activity. Bring multiple sports bras if you are staying multiple days. I do re-wear my ski shirt but I will put on a clean sports bra each morning.
Definitely bring a bathing suit since hot tubs are a big thing on ski vacations and you'll probably want to get in one after a long day on the mountain. If you are staying at a resort they'll have towels but if you are renting, bring your own. You'll want flip flops so you don't get snow boots wet walking back to your room.
Above I mentioned that you don't need anything too fancy to go out at night in a ski town although some resorts are fancier than others. Vail and Aspen tend to be on the fancier side in Colorado whereas Breckenridge is on the more casual side.
What else do I need for my skip trip?
Here are a few common items people forget:
Tissues or something to wipe your nose on the mountain.
Hand warmers for inside your gloves and boots if it's super cold. These are a lifesaver and will keep you out on the mountain  longer.
Snacks or lunch so you don't have to pay for an expensive lunch on the mountain. I've put a PB&J in a ziplock bag or a granola bar in my jacket just to give me a little something.
$20 cash in your coat in case you need it. Maybe it's $40 with how expensive things are today!
Do I need a backpack for skiing?
I'll bring my ski stuff in a bag and then just store it in a locker on the mountain when I'm skiing. I trade my snow boots for my ski boots when I get to the locker. You have to pay for the storage but it's not so bad and a couple of people can usually stuff their things into one. It's more comfortable doing it this way than walking with your ski boots on to and from the car although I've done that too.
I typically don't wear a backpack skiing and just stuff everything I need for out on the mountain in my jacket. Other people I know wear fanny packs and that is their preferred storage method. It's really up to you. If you are more of a beginner I wouldn't carry anything on the mountain on your back since you could lose it if you wipe out.
Ski Trip Packing List Printable PDF
I put all of the above into a printable PDF that should make it easy for you to pack for your ski trip. Download that printable here for free by clicking this link. Have a great trip!

Latest posts by Millennial Boss
(see all)