Since I had no personal experience buying cryptocurrency, I asked bitcoin bloggers Money Corgi, Fire Millennial and George to share their experiences and knowledge of cryptocurrency with all of us in a series of guest posts.
If you're like me, you've heard about bitcoin and cryptocurrency, maybe read a little about it, but haven't actually pulled the trigger and purchased.
Here is Part 3 of a three part series exploring cryptocurrency – intended to inform, educate, and entertain.
Part III: Why I Invest Almost 20% of My Net Worth in Cryptocurrency
I asked George to come on today and share his experiences with Bitcoin. George has been a professional poker player for the past five years and has dabbled in Bitcoin, Ether and other forms of cryptocurrency. Here is his story and why he holds 15-20% of his Net Worth in Cryptocurrency.
PS – Not invested in Bitcoin yet?  Get started here with Coinbase.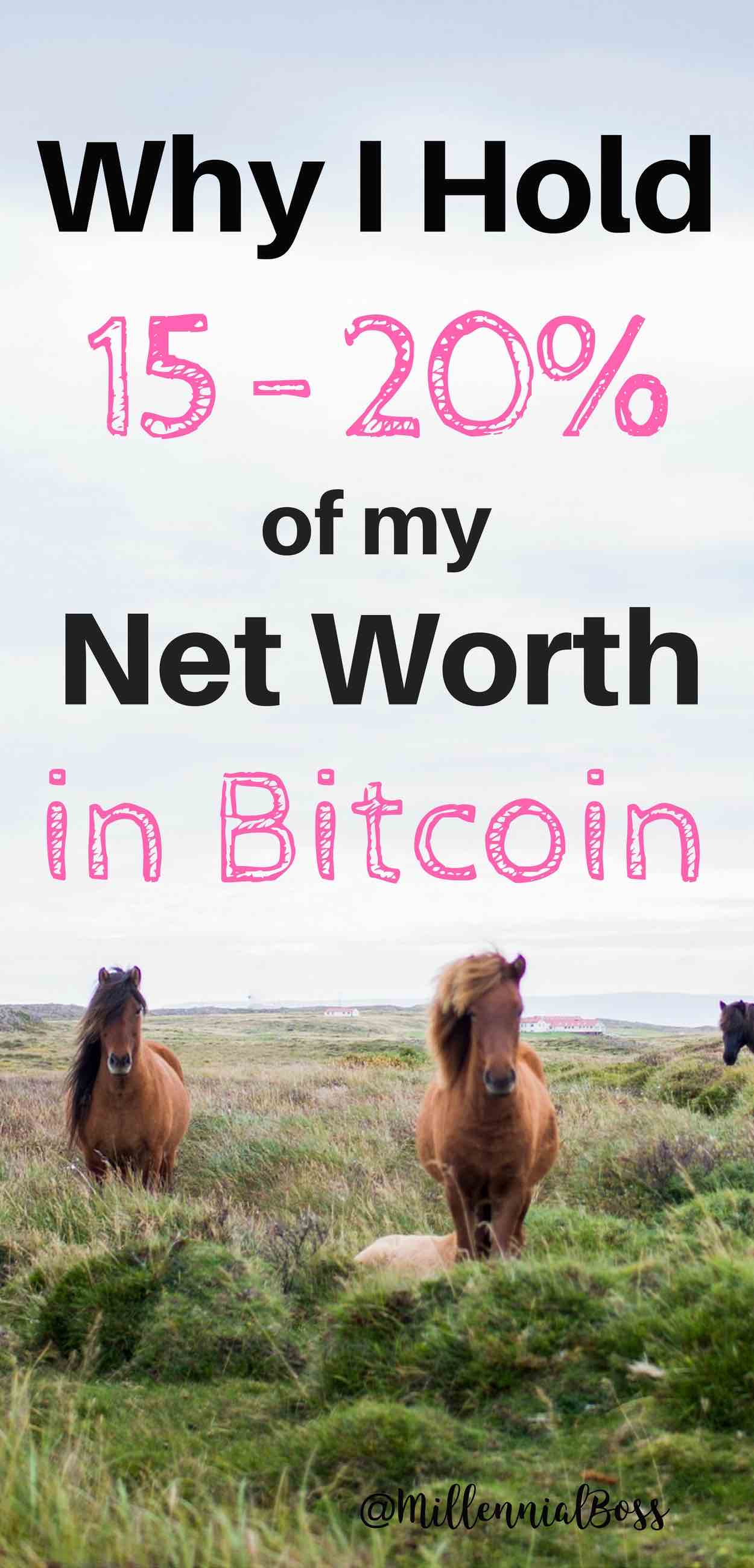 What types of cryptocurrency have I bought?
I bought my first bitcoins in 2012 at ~$20 per coin.  Unfortunately, I spent them immediately, and didn't buy any more until 2015.  I still hold a portfolio consisting mainly of Bitcoin, but have held Ether since 2016, and a small % of other alt-coins.
The appeal of bitcoin is the lack of centralization
The main thing that appeals to me about Bitcoin is its lack of centralization.  Traditional, fiat currency is almost always subject to inflation, as central banks print more money, meaning that year on year your money decreases in value.  In some less developed countries (see Argentina), this can be by as much as 20% per year!
In contrast, there will only ever be 21 million Bitcoin, all in circulation by the early 2020's. When you decide to keep a US dollar in a savings account, you are effectively trusting the US government (and by extension, Donald Trump!), to not do anything to devalue that currency.
A war with North Korea, for example, or printing more money to service debt, could result in US dollar devaluing.
Developed countries in general do well at keeping inflation low, but there is still a degree of trust and uncertainty associated with holding their currency as an asset, and this is why people have looked to assets like gold in periods of recession or war, as it is not controlled by a central body, and there will always be a fairly constant amount.
Will bitcoin cannibalize the demand for gold?
In the future, I see bitcoin increasingly cannibalising the demand for gold, as a kind of hedge against traditional currencies, as it's easier to use, easier to store, and has an even more constant supply.
What is bitcoin and the blockchain?
Bitcoin and other cryptocurrencies are based on an underlying technology called the blockchain. This is a revolutionary technology in its own right, and definitely worth reading more into (here and here are some good starting points).
Essentially, the blockchain paved the way for the formulation of distributed ledgers. Distributed ledgers are good!
For bitcoin, and probably for humanity as a whole. In the bitcoin case, it means that a record of every transaction ever made is stored on the bitcoin blockchain, which is stored on millions of computers around the world.
The really great thing about this if someone wanted to create a fake transaction, they would have to hack at least 51% of all computers with the blockchain on at once, which is basically impossible.
Another selling point of bitcoin is the low transaction costs
The third big selling point of bitcoin is how fast it is, and how small the transaction costs are.  They are much smaller than conventional banks, and in theory if it scales effectively should remain microscopic even as the user base increases.
This leads to a lot of potential future uses for 'micropayments', payments which often don't currently take place because the transaction fees are bigger than the payment itself.
So, why has bitcoin gone up so much recently?
A lot of the demand for bitcoin is fuelled by speculation of widespread adoption in the future (in the same way that Tesla, a company which has never turned a profit, is worth more than Ford.)
However, this year a successful update was made to the bitcoin network allowing it to work with higher volumes of transactions more effectively.
Furthermore, there have been rumours of positive US regulation, and more and more business are accepting it.  In countries like China and Greece, people seek to use bitcoin to escape capital controls too, and Australia's central bank has even talked of creating a bitcoin reserve.
There are reasons to be cautious with cryptocurrency
However, there is reason to be cautious with any cryptocurrency investment.  Negative regulation from a large economy (China or US particularly) would seriously damage the price.
Whilst the Bitcoin blockchain itself is very secure, exchanges where you can buy and store coins can and have been hacked in the past.
It is also extremely volatile compared to traditional assets, so expect big swings. As much of the current price is built on speculation, any sign of failure to deliver on expectations could also result in huge sell-offs.
Why I'm still bullish on bitcoin
Personally, I am still bullish on the long term future of bitcoin, and cryptocurrency in general. We are still at a stage where the real big money, investment banks and hedge funds, cannot invest due to the lack of regulation, so there is a lot of untapped demand out there.
I am also a huge believer in the long term benefits it has over traditional assets.  I maintain around 15-20% of my liquid net worth in crypto, and think this is toward the higher side of sensible for such a volatile asset.
I would counsel against anyone trying to trade short term price swings (generally impossible to out predict the market, even a developing one like crypto), and would advise more of a longer-term strategy.
Even after all of the recent price growth, the current bitcoin market cap is still only 74 billion, compared to Gold (7 trillion) and USD (27 trillion).
At this stage, I still think it is very wise for anyone with spare cash to invest to expose themselves to an asset which has more upside (room to grow) than pretty much any other in the current market. Just be prepared for some big swings along the way!
Where can I go to learn more about bitcoin?
Good Twitter Accounts to Follow; @Coindesk– Good general blockchain news- definite bias to good news though!
@AriDavidPaul, @cburniske– generally well informed people who post a lot about crypto.
Thanks to George for sharing his cryptocurrency experience with us. Follow George on Twitter here, @George_ymb.
Have you invested in Bitcoin, Ether or other forms of cryptocurrency? Why or why not?

Latest posts by Millennial Boss
(see all)