I'm obsessed with the idea of living in a tiny home or a sailboat. That's why I love Kristin at the Wayward Home's blog because she features amazing people who live in vans, sailboats, tiny homes, and campers.
Kristin actually lives in a sailboat in San Francisco and is planning a big round the world trip. I asked her to come on the blog today and share some of her adventure with us. Don't forget to check out her awesome blog, The Wayward Home, for some tiny living inspiration.
How we're planning to live on $40 per day next year so we can travel the world
Every time my boyfriend and I go out to eat, we look at each other and say, "Well, there goes our daily budget!"
That $40 we just spent on pizza and beer in the San Francisco Bay area will have to last us an entire day when we start cruising the world on our sailboat.
And that's not just a day's worth of food, but diesel, boat maintenance, internet, phones. Everything.
When you think about it, $40 per day really isn't all that much for two people to live on. But I think we can do it, and here's why.
We're used to living with less – we've been living aboard a sailboat for a year
Going from a fancy lifestyle to living on $40 per day would be a culture shock, but luckily, my boyfriend and I have been living aboard a 41' sailboat for a year-and-a-half now.
Everything I own in the Bay area is stuffed into the trunk of my car, with a few boxes of childhood mementoes stored in my Mom's' garage.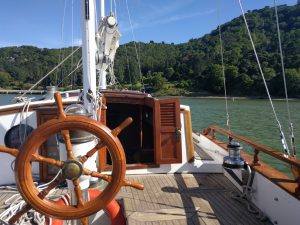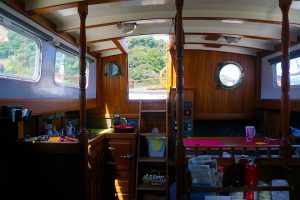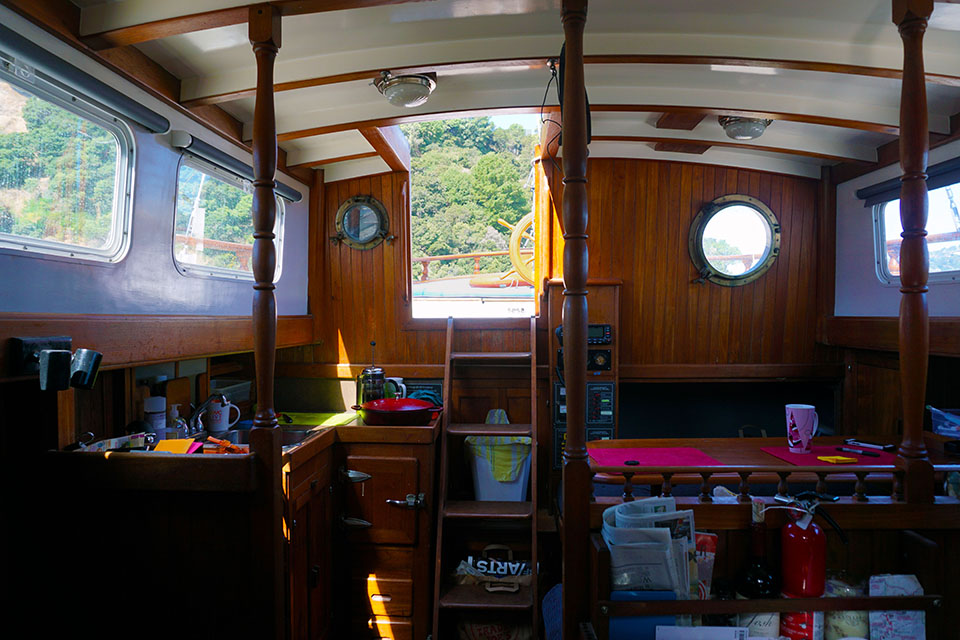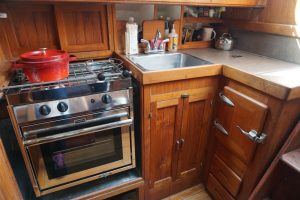 Living on a boat saves us thousands of dollars per month in San Francisco
We've gotten used to living in a small space and saving money; typical rent for a one-bedroom in San Francisco is $3,300, which adds up to  a whopping $40,000 per year!
Our slip fee is around $400 per month and we only spent $5 on utilities.
We'll save money on energy since we'll be off grid
Once we start sailing, we'll be mostly off-grid, powering our lights and heating water using our diesel engine.
One battery charge from a little bit of motoring is days worth of lighting aboard the boat.
We'll mostly cook onboard & catch our own fish
From the years 2015 to 2016, the amount Americans spent on restaurants and bars ($54.8 billion) was higher than the amount they spent on groceries ($52.5 billion).
That's a whole lot of dining out, which can wreak havoc on the pocketbook.
On the sailboat, we're hoping to catch a lot of fresh fish and crab, and learn to dig up clams.
We'll supplement that by stocking the boat full of fresh fruit and veggies and containers of grains, beans, pastas and canned goods.
I've also recently fallen in love with a stovetop pressure cooker, which cooks food so quickly it will reduce the amount of propane we'll need to buy.
Cooking at home more often means we'll also need to drink our booze at home.
We calculated that a beer that's $6 at a restaurant costs just $1 when you buy it in bulk at Costco.
We'll have no utilities or TV
When we're traveling, we won't have to pay for utilities or a TV service like Netflix, Hulu or Comcast.
This will save us loads of money every month. My plan is to bring a bunch of DVDs cruising and also learn how to burn movies to a small USB-drive.
Our only monthly bill will most likely be phone bills, but I use Google Fi so my bill is crazy low.
A basic plan using no data goes as low as $20 per month, with each gig being $10. It also works internationally, so this phone is a win-win situation.
We'll get rid of both our cars
The other day, my boyfriend and I were calculating just how much it costs to own a car. With the price of the car, insurance, gas, maintenance, tolls and wear-and-tear, it costs a boatload of money. I'm excited to give up my car for good, and I'll rent or use Zipcar when I need to drive around.

How we'll pay for a life on the water
My plan to help fund our travel is to work remotely, by freelance writing and blogging. Right now, my goal is to write something every day that's worth $100, which is way over our daily budget.
With that goal in mind, I'll be able to pay for almost everything while also setting some aside.
Possibly, we'll fly home for a couple months per year, so my boyfriend can put in some time working as an electrician to fill the cruising kitty.
Then, we'll head back out again to explore a different strip of ocean.
Related post: How to create a blog or a website for profit
Our $40 per day budget is on the high-end in the sailing community
In the sailing community, even $40 can seem like a high per diem. I've heard of sailing couples that barely spend anything to get by, using a beat-up old boat and surviving mostly on fish and donations.
Then there are others who spend a fortune on a swanky sailboat, and can't imagine living on a low budget.
How much does it cost to buy and renovate a sailboat?
Our sailboat hasn't always been the cheapest investment. My boyfriend spent $30,000 on the two-masted boat, which he then trucked down to the San Francisco Bay area from Vancouver Island, BC.
He's spent the last two years and up to $70,000 restoring the boat for world travel.
It's been back-breaking work, and I remind him that even though the upfront cost seems like a lot, it's still cheaper than paying for a couple years worth of rent around here. It's cheaper than a house.
It will provide years and years of exploration, freedom and travel. It's our tiny, moveable home. And that seems like a pretty good deal to me.
We're setting sail this winter!
I can't wait to cut the lines for good and drift along in the mighty and endless sea. We hope to start in Mexico this winter, then the Pacific Northwest next summer, then after that?
Who knows. The world will be our oyster.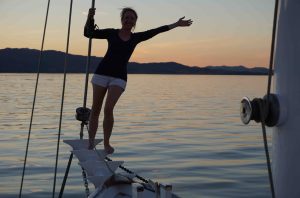 Kristin Hanes is a journalist and writer who lives on a sailboat in the San Francisco Bay. You can follow her adventures at www.thewaywardhome.com
How Much Can You Expect to Spend While Living on a Sailboat?
The amount that you can expect to spend while living on a sailboat will vary based on how frugal you are. As this video explains, you could spend as little as $500 per month or upwards of $2,000 per month depending on how you decide to allocate your spending:
What's the Cost of Living on a Sailboat Year Round?
If you're looking for a detailed breakdown of what it might cost to live on a sailboat for a full year, the couple in this video shares exactly how much they spent buying a boat, sailing it home, and then living aboard in it for a full year in the North Atlantic:
Based on these videos along with Kristin's story, you can see that the amount it costs to live on a sailboat year round depends on a variety of factors.
If you're somewhat frugal, you may be able to spend as little as $12,000 – $15,000 per year, while those who like to spend more could be looking at a total price tag closer to $25,000 – $30,000.

Latest posts by Millennial Boss
(see all)