Andrew is just getting started with his personal finance blog The Incredible Cash Dummy. He's active duty military and plans to earn a full-time income through his blog once he retires in 7 years.
Do you have an epic side hustle or debt payoff story to share with us? We'd Love to Interview You for Millennial Boss.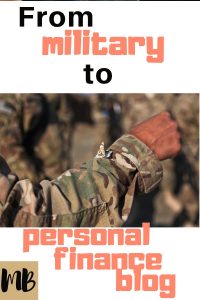 1. Please tell us a little about yourself in a few sentences.
I'm Andrew, The Incredible Cash Dummy! I just started a personal finance blog and I'm dipping my toe into things like affiliate marketing and freelancing. I'm supporting my family on a single median income and I hope to help others in a similar position by sharing what has and hasn't worked for us as we pay down debt and pursue FI.
2. What did you do before you started your own business? If you are still employed full-time, please share a little but about what you do in your day job.
I was (and still am) active duty military. I sit at a desk and poke at a computer all day, but I also juggle a leadership role and several additional duties on top of my main responsibilities.
3. Who were some influencers in your decision to be an entrepreneur?
The biggest ones for me were reading books like Rich Dad Poor Dad, The Richest Man in Babylon, and Think and Grow Rich, which I learned about through both of the BiggerPockets podcasts, and later others like Mr. Money Mustache and Millennial Money Man. Rosemarie Groner of The Busy Budgeter has also been a huge influence and is the reason I started a blog in the first place.
4. How did you prepare to take the leap both financially and in your business? Please reference what you saved, if you learned new skills, if you moved, etc.
I made sure to automate all of our bills and reduce our biggest expenses as much as possible so we'd have some breathing room in case things didn't go well with my business ventures. I also set aside some of the savings I found to pay for things like web hosting and training courses on how to operate a website, how to manage a blog, etc.
Related posts:
5. If you quit your job, were you already making money on the side before you decided to quit your job? Tell us about that. If you are still working full-time, what would make you leave your job?
I'll be eligible to retire from the military in just under seven years, and my goal is to grow my blog and freelancing side hustles to the point where they're bringing in a full-time income by the time I leave active duty. I'm pretty much committed to staying military until I hit 20 years because the pension I would qualify for would make our financial lives significantly easier by supplementing it with online income and investments.
6. Who else works on your business with you? Did you hire anyone to help? When did you decide to bring that person on and how did you find them?
Right now it's just yours truly. I established The Incredible Cash Dummy as a sole proprietorship for simplicity's sake, but I may restructure into an LLC and start hiring VAs if I can grow it to the point where I can't keep up anymore.
7. Can you share any financial details about your business?
It's brand-spanking-new and hasn't earned one red cent yet, but I plan to monetize it via affiliate links and possibly Google AdSense in the immediate future.
8. What was your worst day so far as an entrepreneur and what was your best day? What happened on those days?
I haven't really had what I would call a "worst day" because I'm still so new to this whole entrepreneurship thing, but my best day was when I was able to connect with Mindy and Scott from BiggerPockets and start building a relationship with some of the people who are directly responsible for stoking this entrepreneurial fire in me. I'll also be attending my first FinCon this year, which is a literal dream come true for me!
Related posts:
9. What is one small "trick" or piece of advice that you have learned about reaching customers or making sales? Please be specific and provide something actionable for us.
When it comes to reaching people, nothing will help you make meaningful connections as much as authenticity. Be yourself and let your true personality shine through. People are much more willing to trust (and eventually enter into business transactions with) someone who they can identify with. I've found that presenting myself online the same way I would interact with my personal friends has helped me find a tribe of like-minded people I can share ideas with, and potentially develop partnerships down the road.
10. Give us two truths and a lie about yourself so we can get to know you better personally!
1) I've played drums since I was a toddler and have been a member of multiple metal bands.
2) I once grew a mustache and shaved my head completely bald just to prank my wife.
3) I'm 6'3" tall.
Have you started your own business? Share it with us below.
We're looking to feature entrepreneurs or those who have paid off debt. Sign up here to Get Featured on Millennial Boss Feature Friday.