Rosanna Alicia has an awesome side hustle that recently afforded her the chance to work on a Kate Nash music video. She is a freelance interior and prop stylist in London. Learn more about her story, her mentor, and how she plans to turn her side hustle into a full-time business.
Do you have an epic side hustle or story to share with us? We'd Love to Interview You for Millennial Boss.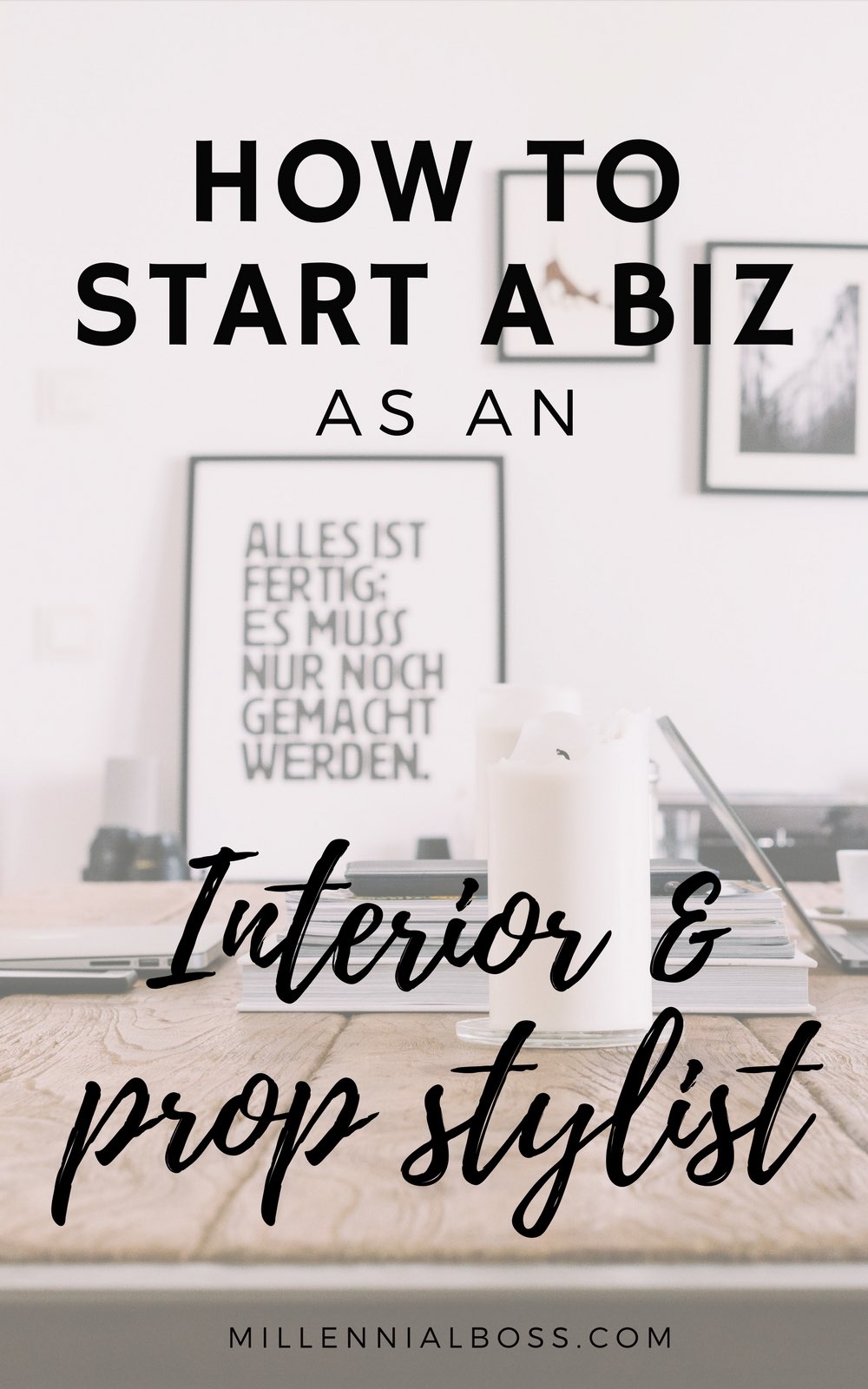 1.  What is your business?
I'm a freelance interior and prop stylist in London. I work on shoots (stills, ads, music videos, press shows, you name it!) sourcing props and styling the set. Basically making everything look pretty! I feel like I'm living the dream; it's so much fun! I also blog about interiors & the industry – check it out if you're interested in styling. http://www.rosannaalicia.com/
2.  What did you do before you started your own business? If you are still employed full-time, please share a little but about what you do in your day job.
I still have my 9-5 job (actually 8:30-5:30!) where I'm an antique furniture specialist at a prop house in west London. It's where I first found out about the industry.
It's basically a huge warehouse full of gorgeous antique furniture and smalls (ceramics, textiles, art, and other accoutrements) that's available to hire for TV, films, and shoots.
My job is to show set decorators and stylists around, advise them about period appropriate furniture, and book there selections.
I graduated from uni with a BA in Classics and it's my first "real" grown-up job. When I started working there I'd never even heard of a prop house, so it was a whole new world to me.
It's a really interesting industry and I love that it's female-dominated – it's great to see women killing it in their field. #girlgang!
3.  Who were some influencers in your decision to be an entrepreneur?
I'd say my biggest influence was Sarah Akwisombe (http://www.sarahakwisombe.com). She quit her say job and launched herself into interior styling and within a year had an Amara-winning blog and an awesome portfolio.
I reached out to her earlier this year and she gave me my first job helping on the shoot for Kate Nash's Call Me music video.
She's been a brilliant mentor and even recommended me for my first Art Director job a few weeks ago on the shoot for Puma X Sophia Webster.
I owe her a lot! The set decorators & stylists that I work with at the prop house have also been an inspiration to me to start freelancing.
It's awesome to see other young women in creative careers earning good money & choosing their work.
Being a freelancer and entrepreneur always seemed like a scary thing to me but the more people I meet who do it, the more it seems like a worthwhile risk to take for the freedom.
4.  How did you prepare to take the leap both financially and in your business? Please reference what you saved, if you learned new skills, if you moved, etc.
The freelance styling that I do at the moment is stabilised by my 9-5. I'm planning to take the plunge and go completely freelance in the new year, which is scary, but exciting too.
I'm already preparing for the switch. Networking is really important in this industry, so I'm making sure to build relationships with the people I work with & compiling black book of contacts.
I'm also learning to drive as that can be really important in securing work – there's a lot of travelling and picking up props which isn't really feasible on the tube!
By the time I go freelance I'll also have at least two month's rent saved just in case – I feel like that's a really important back-up!
Another important thing I've done to prepare is make a website. It's a really important way for prospective clients to be able to see my work, and blogging is also proving to be really fun & hopefully quite lucrative in the future!
5.  If you quit your job, were you already making money on the side before you decided to quit your job? Tell us about that. If you are still working full-time, what would make you leave your job?
I've set myself a date to leave my job, because I'm the kind of person that would keep putting it off otherwise!
By the time the date comes around in January next year, I hope that my on-the-side styling will be regular enough to fully support me… But if it's not I'm still going to go for it & just make up the extra another way! It will just make me work harder.
I hope that my blog will also be contributing well to my income in the future!
6.  Who else works on your business with you? Did you hire anyone to help? When did you decide to bring that person on and how did you find them?
At the moment it's just me, but that may change in the future! One of my best friends from uni is really interested in the industry and we've had some pretty serious conversations about working together, which is really exciting.
At that stage, I'll be able to transition from freelancing to having a small business which was definitely always the aim for me; it just seems so much more do-able with my best friend on board!
I think for a lot of women especially, the idea of starting a business can be a really scary thing, and it's way too easy to doubt your capabilities.
I feel like launching a business with someone else can help give you the confidence you need to go for it.
7.  Can you share any financial details about your business?
Sure! It's a bit of a tricky one because styling rates vary from job to job.
The last job I did as art director for Puma X Sophia Webster was £250 for the day. In terms of money I've put in, it hasn't been much at all!
I have a basic kit bag which includes things like a drill, tools, a multitude of tapes, glues, tape measure, spirit level etc which probably cost me about £100 to put together.
I guess the cost of learning to drive could be included here as that's the primary reason that I'm learning, but I was always going to do that at some stage anyway!
8.  What was your worst day so far as an entrepreneur and what was your best day? What happened on those days?
Let's start with the good stuff! My best day was probably working on the set for Kate Nash's Call Me music video.
It was my first job so I was absolutely buzzing with nerves & excitement! It was a really good first job because it was a super relaxed, informal set-up.
Kate and her team were absolutely lovely, and really encouraging about our work. Because it was a music video, the whole day was really fun and high-energy.
It was great to work alongside Sarah Akwisombe too; I'd been a fangirl of hers for ages (her blog is awesome!) and she's such a good role model for a boss babe.
I haven't had too many bad days so far thank goodness. I guess the most unenjoyable job I've worked on so far was a styling a Christmas press show.
The company I was working for wasn't particularly exciting, with lots of kitchenware and kids' toys. It was really hard to make the products look good because there wasn't much space and hundreds of items to showcase!
It was two long days of unboxing and re-boxing items, essentially. But hey, you take the good with the bad! I still learned a lot & got to work with some great people.
9.  What is one small "trick" or piece of advice that you have learned about reaching customers or making sales? Please be specific and provide something actionable for us.
No matter what your niche, have a website! You need a professional paid-for domain, strong cohesive branding, and the facility to build an email list.
It's an essential way to reach customers and clients. Check out canva.com to make graphics for your site and social media – it's free & super easy to use!
I use Mailchimp to build my email list, which is also free up to a certain threshold. To encourage people to subscribe and give you their email address, offer an "opt-in freebie" on the front page of your website – something that they can download from you in exchange for a sign-up.
Once you have their email address, you can send them your marketing content as often as you like!
On my site, I offer a PDF download of the 'Interiors & Styling Hashtag Bible', which is a doc I compiled of hundreds of interiors-related hashtags, categorised by niche and colour-coded according to size.
It works because it appeals to the people who are interested in my blog content and will help them to reach bigger audiences on social media.
(Download it here)
.
10.  Give us two truths and a lie about yourself so we can get to know you better personally!
1. When I was 17, I saved a family of three from drowning in the sea. 2. I have a pet that will out-live me! 3. I've had four of my paintings sold at Sotheby's auction house! I'll let you decide the truths for yourself 😉
Do you have a side hustle? Share it with us below.
We're looking to entrepreneurs or those who have paid off student loan debt. Sign up here to Get Featured on Millennial Boss Feature Friday.

Latest posts by Millennial Boss
(see all)