Today we hear from Anna, an online coach for women who want to earn and achieve more. She started working for a media and tech company, and then started her own online company when she took a one year maternity leave.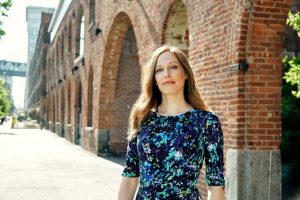 Do you have an epic side hustle or debt payoff story to share with us? We'd Love to Interview You for Millennial Boss.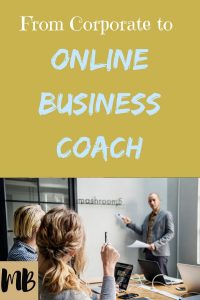 1. Please tell us a little about yourself in a few sentences.
I'm a career coach for busy, ambitious women who want to earn more and achieve more at Anna Cosic.
My mission is to get more women into leadership positions, so that we have an equal part in shaping the future.
I offer 3 month 1:1 online coaching packages where we figure out where you are heading and work out a plan to get there. Most of the work is done on identifying and removing mental obstacles that are holding you back. Email me at [email protected].
2. What did you do before you started your own business? If you are still employed full-time, please share a little but about what you do in your day job.
I climbed the corporate ladder in a media and tech company for almost 10 years.
When I became pregnant in 2016, I saw that as the perfect timing to quit, take one year of self-financed maternity leave and build up my business at the same time.
I have always been intrigued my lifestyle design and entrepreneurship and wanted to try it out.
3. Who were some influencers in your decision to be an entrepreneur?
I've always followed Ramit Sethi since I'm a personal finance nerd. He was the one who got me into the idea of building an online business and the lifestyle that goes with it.
Through his blog, I found Luisa Zhou, whose niche is helping people build an online business while still working a full-time job.
I also have some friends who are entrepreneurs who have always encouraged me.
4. How did you prepare to take the leap both financially and in your business? Please reference what you saved, if you learned new skills, if you moved, etc.
I had a lot of financial success in my corporate career and I saved and invested my money instead of inflating my lifestyle.
This put me in a very comfortable financial position when leaving my job.
I moved from Singapore to New York City and I definitely think that a physical move as well as removing yourself from a certain circle of people and routines can be helpful.
5. Who else works on your business with you? Did you hire anyone to help? When did you decide to bring that person on and how did you find them?
It's only me! And an unpaid friend who has helps me with my website. I plan on hiring a VA when I feel like I don't have the capacity.
But the beauty of my business model is that I can scale my work up and down depending on how much time I have at any given moment.
Related Posts:
6. Can you share any financial details about your business?
Of course! Because there isn't much to share.
Anyone with a laptop and a smartphone can get started doing online coaching. I do all my marketing online through social media. I schedule calls through Calendly, I use Zoom for calls and receive payments through PayPal.
Its an amazing time to be an entrepreneur where the startup costs that previously held a lot of people back have mostly been eliminated.
7. What was your worst day so far as an entrepreneur and what was your best day? What happened on those days?
A huge part of my mindset is not thinking in terms of bad days. I have bad moments all the time, but I don't let them define the day. But my darkest moments are definitely when fear and self-doubt creeps in and I feel lonely in what I'm doing.
The best days are hands down any time a client says that your work together has had a positive impact on their lives.
That's what I'm on this for!
9. What is one small "trick" or piece of advice that you have learned about reaching customers or making sales? Please be specific and provide something actionable for us.
Make sure to have at least five client facing activities per day (outreach, social media, calls, etc.) and be scientific about what's working or not. If you're not closing the sales, follow up on what isn't working in your funnel.
Also, remember that people don't really care about you, they care about themselves. So even when you talk about yourself, try to make it about the client by being relatable.
This builds relationships and will lead to sales.
Related Posts:
10. Give us two truths and a lie about yourself so we can get to know you better personally!
I've lived in 9 countries on 4 continents.
I love warm summer nights with big crowds.
My office background noise is two snoring pugs.
Have you started your own business? Share it with us below.
We're looking to feature entrepreneurs or those who have paid off debt. Sign up here to Get Featured on Millennial Boss Feature Friday.