Charlotte manages a business as a web designer. She had a small portfolio when she was still working at a full time job, and eventually took the leap and focused on a few clients that brought her a decent income. She has met her monthly income goals and has several income streams coming in.
Do you have an epic side hustle or debt payoff story to share with us? We'd Love to Interview You for Millennial Boss.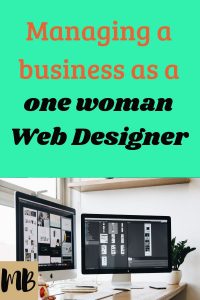 1. Please tell us a little about yourself in a few sentences.
I'm a Squarespace web designer, digital strategist and online educator! My website is Charlotte Ohara
2. What did you do before you started your own business? If you are still employed full-time, please share a little but about what you do in your day job.
I have always worked in tech. Before starting my own business, I worked at a financial services software company and at a tech start up.
3. Who were some influencers in your decision to be an entrepreneur?
Growing up, I had a few family friends who had started their own businesses and were doing really well for themselves, which is what initially planted the entrepreneurial seed. I also read The Four Hour Workweek and that was a huge game changer. I also started following other people online who had neat businesses or worked in the industry that I wanted to get into, and saw that they were able to do it and figured I could too!
4. How did you prepare to take the leap both financially and in your business? Please reference what you saved, if you learned new skills, if you moved, etc.
Oh man, this is such an important question. I truly believe that before starting your own business, you should have at LEAST 3 months living expenses saved up, but ideally 6 months to a year because you never know how long it'll take to start making the kind of money you want. Some businesses have relatively low overhead so your startup costs won't be too crazy, but other businesses will bleed you dry. Another important thing to do before going out on your own in business is to come up with a basic business plan on exactly how you are going to make money. For example, if you're a freelance web designer, you should know how many projects you need to work on every month in order to reach your goals. Then figure out exactly how you're going to get those clients. Know that at the start it's a numbers game because no one is lining up to work with you yet, and that's ok! You have to be prepared to be resilient.
Related Posts:
5. If you quit your job, were you already making money on the side before you decided to quit your job? Tell us about that. If you are still working full-time, what would make you leave your job?
Yes, I had done several websites "on the side" before quitting my job and diving into it full time. My portfolio was pretty tiny but it was enough that I had something to show to those first few clients and from there, I built it up into a bigger, full-time business.
6. Who else works on your business with you? Did you hire anyone to help? When did you decide to bring that person on and how did you find them?
I'm a one-woman show! I have worked with contractors in the past (mostly graphic designers) and whenever I hire them, it's because they can do certain projects better and faster than I could. I never hesitate to spend money on contractors when I know it's going to pay off. So far I've hired friends of friends who I found through referrals, and it's been great. Zero complaints!
7. Can you share any financial details about your business?
Multiple sources of income. One branch of my business is custom Squarespace websites for small/mid-sized professional businesses. I also do consulting and digital strategy. Finally, I sell several digital products and have nearly finished my first online course!
8. What was your worst day so far as an entrepreneur and what was your best day? What happened on those days?
Best day was the first time I hit a major income goal. I had given myself a "stretch" number that I wanted to reach that month and when I actually hit it, I was so overwhelmed and proud of myself that I skipped out of work early, went for a massage, and then cried happy tears over patio drinks with my friends that evening. The worst day was when a miscommunication with a client blew up in my face. I had never experienced a situation like that before and I felt like total crap, embarrassed and frustrated by the situation. No one was happy and I had to pull an all-nighter to get things back on track ASAP. Ultimately things ended up ok but when the project wrapped up, I think both myself and the client were happy it was done. Major lessons were learned here.
9. What is one small "trick" or piece of advice that you have learned about reaching customers or making sales? Please be specific and provide something actionable for us.
One of the best pieces of advice I ever received was to remember that business is a numbers game! In order to work on the types of project I wanted, I had to start out by pitching my services to potential clients. I knew that most of them would say No or Not Now, and that was fine because I focused instead on the few Yes's that came in. Those Yes's made up for any awkwardness or impostor syndrome I felt that might have held me back. Instead of waiting for clients to come to you, it's often best to go out and find them yourself. Make a list of dream clients, companies you'd like to work with, whatever. I have a spreadsheet where I keep track of their names, contact info (email address) and info about my pitches. I pitch my services, follow up, do a free consultation meeting if necessary, and then seal the deal. I work off of a pitch template and it's super helpful.
Related Posts:
10. Give us two truths and a lie about yourself so we can get to know you better personally!
Two truths:
-I ran my business from Bali for 6 months
-I'm bilingual (English & French)
Lie:
-I can drive a motorcycle
Have you started your own business? Share it with us below.
We're looking to feature entrepreneurs or those who have paid off debt. Sign up here to Get Featured on Millennial Boss Feature Friday.